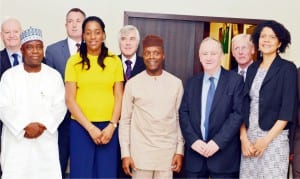 Investors on the floor of
the Nigerian Stock Exchange (NSE) moved a total of 1.202 billion shares, valued at  N9.641 billion in 13,712 deals between February 15th -19th, 2016.
The performance of traded equities however depreciated as the turnover was in constrast to the traded total shares of 1.407 billion, worth N17.277 billion which investors exchanged in 14.914 deals.
On Monday 15/2/16, in investor 283.521 million shares, valued at N2.923 billion exchanged hands in 3,030 deals. Tuesday saw the movement of 290.944 million shares, valued at N2.881 billion in 2,934 deals.
Investors traded a total of 335.612 million shares, worth N1.952 billion, in 2,847 deals on Wednesday (17/2/2016). On Thursday, a total of 119,339 million shares, worth N959.773 million exchanged hands in 2,464 deals.
The end of the week on Friday was the lowest performance as only 172.394 million shares, valued at N925.393 million exchanged hands in 2,437 deals.
According to NSE records, the financial services industry led the market activity chart by volume, trading a total of 1.005 billion shares, worth N6.471 billion that exchanged hands in 8,313 deals. These performances represent 84 and 67 percent of the total turnover of equities by volume and value respectively.
The consumer goods industry followed with 54.333 million shares worth N2.114 billion in 2,365 deals. The performance of the financial services sector was boosted by the activities of Zenith International Bank Plc, Guaranty Trust Bank Plc and United Bank for Africa Plc which moved a total of 500.360 million shares valued at N5.449 billion in 4.011 deals.
According to exchange records, the performance of these banks represent 41.63 percent and 56.52 percent of the sector's turnover volume and value respectively.
ETPs
Investors also traded a total of 93,518 units of Exchange Traded Products (ETPs) worth N1.158 million executed in 48 deals, as against a total of 115.641 units worth N1.285 million transacted last week in 28 deals.
Bonds
The federal government's 150.000 units bonds worth N169.326 million were also traded in two deals, compared to a total of N39, 340 units of both state (1) and federal government Bond (2), valued at N44.246 million executed the previous week in 3 deals.
Index Movement
The Exchange All-share Index and market capitalisation also depreciated by 1.04 percent closing the week's performance at 24, 432.51 points and N8.403 trillion respectively.
Naira Crisis
The crisis rocking the financial sector has depend as exchange rate rose to over N370 per dollar.
The foreign reserve also declined by $1.14 billion. Non-performing loans (NPL) in the commercial banks, records revealed averaged 4.7 percent last year and may increase to 10 percent in the medium team by 2016. This is due to the banks explosure to oil and gas sector.
The NPLs in 17 banks currently are estimated at over N9.9 trillion, though World Bank's loan to Nigeria also stands at over $ 6.29 billion.
At the black market, one US dollar is trading at N385, compared to a year ago when one dollar was exchanged at N160.
The present situation became serious about eight months after the Central Bank of Nigeria (CBN) came up with its foreign exchange restrictions policy on 41 raw material items, the ripple effect has turned out more catastrophic than planned.
Meanwhile the organised private sector and manufacturers are predicting that if foreign exchange available for the import of their raw materials continue to be scare it would lead to the closure of most factories and the movement of some companies to near-by countries, deepening unemployment situation in Nigeria.
Some stakeholders in the financial sub-sector had also urged the president to convene an emergency economic summit to present what they called looming economic recession.