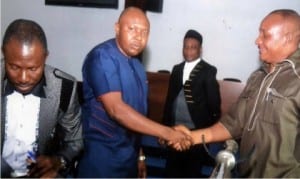 Capital expenditure received the lion share of over N180 billion out of the N307 billion budget estimate of the Rivers State Government for 2016 approved by the State House of Assembly at the weekend. This represents 60 per cent of the total estimates.
Recurrent expenditure was allocated N120 billion, with N55 billion stated for salaries and N18 billion for pensions.
Presenting the budget tagged "Budget of consolidation", Governor Nyesom Ezenwo Wike said it was targeted at consolidating on the development gains achieved by his administration so far.
Wike explained that the budget was tailored towards effective mobilization, equitable allocation and prudent management of public finances, building a modern, productive, diversified and competitive economy to create jobs and empower the Rivers people.
The budget according to him is expected to be funded from federal allocation, value added tax (VAT) and derivation proceeds. About N115billion is expected from the federation account, while N120billion is expected from internally generated revenue (IGR), and N72billion from other sources
A further breakdown shows that the economic sector has the biggest allocation of N76billion followed by the social sector with N53billion, administrative sector has N29.042billion, while law and judiciary is to gulp N770million.
Explaining why about N53billion was allotted to infrastructural development Wike noted, "the reasonable increase in the capital expenditure is in furtherance of our priority to progressively shift more resources from recurrent purposes to development expenditure in line with our abiding determination to promote economic growth and diversification."
It is against this backdrop he further stated that three prominent road projects will be executed next year. These included-the Trans-Kalabari Road, dualization of Omoku/Ahoada Road and Bori/Sapkenwa Road.
He hinted of plans to upgrade the State owned Rivers State College of Art and Science to a polytechnic and the inclusion of Medical College in the state University of Science and Technology.
The governor said  "while our transformation agenda and commitment remains constant, we have taken the state of the economy into account in our revenue projections. Accordingly, we are constrained to keep our projections within realistic limits. To this end, we propose a Budget Estimate of N307, 000,000,000.00 (three hundred and seven billion naira) only, for the 2016 financial year.
According to him, , "Our ambitious revenue target from IGR is underpinned by necessary changes we will introduce to improve the administration of tax. The State Internal Revenue Board has been mandated to implement measures to expand the State's revenue base, block tax leakages and improve revenue collection. "
The  governor also said that the 2016 budget will be  used to address developmental  needs in the area of healthcare  delivery,  access to quality  education,  infrastructure,  empowerment  through small and medium  scale enterprises,  provision  of  adequate security and enhancement of the economy of the state.
Meanwhile, Governor Wike said the 2015 budget performed below average because the immediate past Administration squandered state resources on politics, as available funds were diverted to political and other unproductive ends noting that the implementation of the 2015 budget actually stared when we came in with our development agenda.
On his part outgone Speaker, Rt Hon Ikuinyi Igbani Owaji who presided over the budget presentation praised the governor for according more attention to capital projects.
He said the government has displayed that it has not only come to pay salaries but to give attention to development, and pledged the House, support to ensure it gets approval.