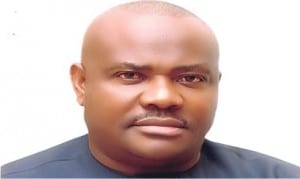 Being a text of the 2016 Budget presented to the Rivers State Governor, Chief Nyesom Wike to the State House of Assembly on Friday, December 18, 2015. Exerpts.
It is my pleasure to
present to this Honourable Assembly the Budget of our administration for the 2016 fiscal year.
Mr. Speaker, recall that we inherited a State that was stuck in social and economic problems and practically dysfunctional. However, we immediately set out to fix the State and deliver on our promises in line with our mission and vision for a new Rivers State within the framework of the 2015 budget.
In the past six months, we have tackled the myriads of challenges head on and made significant progress on all fronts. For example, we have cleared the backlog of salary arrears owed to civil servants and pensioners without any bailout from the Federal Government. We have reconstructed several roads in Port Harcourt through the operation zero pothole programme. We remobilized contractors to continue with the construction of several major roads abandoned by the previous government. Today, we are happy to report the completion of some of these roads while others have reached advanced stages of completion.
The Faculty of Law complex we recently completed at the Rivers State University of Science and Technology is ranked as the best in West Africa. Our law students are today learning in a very conducive faculty building. Besides this, we have kick-started our secondary schools rehabilitation programme. The first phase of this programme is expected to deliver eleven first generation schools across the three senatorial districts.
5. Arguably, we are making progress and things are getting better for our State. Indeed, but for the low finances, we would have registered greater achievements. Nonetheless, we are satisfied with our efforts so far. We have started well. Yes, we are on track to deliver on our mandate and realize God's promise for a peaceful, secure and prosperous Rivers State.
So, today, we are here to consolidate on our gains and take Rivers State to the next level with the 2016 budget estimates within the framework of effective mobilization and allocation of public resources to priority sectors of our development needs. , such as road infrastructure, security, healthcare, education, agriculture and youth empowerment.
The 2016 Economic Outlook Of Rivers State
Mr. Speaker, we are all aware of the poor state of Nigeria's economy. Rivers State, like every other State of the federation, still depends on federal allocation for most of its development revenues. We are therefore going to be affected by the shocks generated by the drastic fall in revenue accruable to the Federation Account and the macroeconomic distortions of the degraded naira and corresponding inflationary pressures.
While we appreciate the efforts and measures taken by the Federal Government to improve the nation's economy, it is obvious that concrete progress will take beyond 2016 to manifest. This means that we must be realistic in our expectations about the State's economic outlook, even as we try to be cautiously optimistic.
Against the background of the gloomy economic outlook therefore, we have decided to fix the base line of our 2016 budget projections on an oil price of 35 USD per barrel as against the 38 USD price fixed by the Federal Government. This leaves us with some difference and comfort zone of 3 USD con8 thereby leaving it may be difficult for us to find sufficient resources to o meet our revenue projections for 2016, even as the baseline is anchored on an oil price of 35 USD, barrel with a comfort zone of not less than 3 USD.
Reflecting and guided by this situation, we intend to be as realistic as possible with our revenue projections for 2016. Basically, we intend to introduce necessary reforms to bolster internally generated revenue (IGR) by blocking leakages and expanding the State's revenue base to the informal sectors of our economy. Furthermore, we also intend to make provisions for a buffer fund from loans and grants from our development partners to fund possible deficits and distortions on our development agenda. However, because this is a fallback measure, we would draw down on such facility only when it becomes economically expedient to do so.
Review Of The 2015 Budget
Mr. Speaker, Hon members, it may be appropriate at this juncture to review the 2015 budget estimate to enable us more effectively contemplate the 2016 budget estimate with the revenue component.
We had approved total revenue of N338, 768,000,000  for 2015, made up of FAAC revenue receipt of N220, 920,000.00, Internally Generated Revenue (IGR) of N98, 228,000,000.00 and other revenue receipts of N19, 620,000,000.00.
Out of this sum total receipts as at September 2015 stood at N94, 581,602,043 representing 43.86% of the actual receipt on total appropriation and 21.72% on actual receipt on the total appropriation for the year 2015.
Similarly, out of the approved capital FAAC of N220, 920,000,000, only N94, 173,958,240 representing 56.14% of the approved FAAC and 24.55% of the total revenue estimate was realized in the course of the year. Furthermore, the total recurrent expenditure as approved for 2015 stood at 119,453,030,710 with actual expenditure of N85, 842,712,665 representing 25.34% of the approved sum for the 2015.
Further breakdown shows that salaries had N60, 973,112,996, which represented 51.04% of total recurrent expenditure while the overhead expenditure had N24, 206,996,358 representing 20.26% of the total recurrent expenditure for 2015, with the actual release of N3, 853,275,679 representing 1.13% of the actual overhead release as compared to the total appropriation for 2015.
Other items had N34, 272,951,356 with actual expenditure standing at N21, 019,682,284 representing 6.20% of the actual in terms of the total expenditure for 2015.
Also, a total of N219, 314,969,290, was approved for capital expenditure for 2015 with actual expenditure of N127, 535,902,006 representing 37.65% of the actual expenditure on the total capital appropriation for 2015. Further analysis revealed that N29, 240,775,000 was approved for the administrative sector with actual release put at N34, 466,919,707 representing 10.17% for the year 2015.
A total of N73, 808,694,480 was proposed for the Economic sector with actual expenditure of N32, 822,514,307 representing 9.69%. Law and Justice had N770, 000,000 proposed for 2015 while only N1, 588,000,000 representing a 0.47% increase above the approved sum was expended.  The Social Sector had N38, 197,500,000 with an actual release of N11, 535,633,503 representing 3.41% for the year 2015. The Special Heads had N77, 294,999,810 with actual expenditure standing at N5, 168, 143, 029 representing 1.53% while others had as approved N48, 423, 413, 785 with the actual expenditure of N419, 546, 913.18 representing 12.38%.
Mr. Speaker, the 2015 budget performed far below projections. While the downward fall of the economy was the major factor responsible for the poor performance, a secondary factor was the near total failure of the previous administration to implement the budget as passed. Rather, available funds were diverted to political and other unproductive ends. Having lost five months, the implementation of the 2015 budget actually stared when we came in with our development agenda.
In the course of the year a further sum of N104, 287,285,108.00 was approved as supplementary budget, bringing the total appropriation for 2015 to N443, 055,285,108.00
The 2016 Budget Estimates
Mr. Speaker, in 2016, we are proposing a budget of consolidation. The policy thrust is to strengthen the foundation, consolidate the gains already achieved and take Rivers State to the next level of development. To this end, the 2016 budget shall be tailored to meet the following policy goals:
Effective mobilization, equitable allocation and prudent management of public finances;
Building a modern, productive, diversified and competitive economy to create jobs and empower our people;
Completing all ongoing basic infrastructure projects and initiating new ones, where necessary; and
Delivering more and better public services with little resources
Mr. Speaker, because we have already taken-off, what we shall do throughout 2016 is to continue on the fast lane to complete all ongoing roads and other projects, initiate and build new roads and other development projects, enhance our security system to make Rivers State safe and secure, diversify our economy through agriculture and industrialization and invest in the future of our youth through human capital development and job creation.
However, while our transformation agenda and commitment remains constant, we have taken the state of the economy into account in our revenue projections. Accordingly, we are constrained to keep our projections within realistic limits. To this end, we propose a Budget Estimate of N307, 000,000,000.00 (three hundred and seven billion naira) only, for the 2016 financial year.
Funding of the 2016 Budget
We expect the 2016 budget to be funded from the traditional sources, including Statutory Allocation from the Federation Account, Derivation proceeds, Value Added Tax (VAT) and IGR. We are projecting N115, 000,000,000.00 (one hundred and fifteen billion naira) from the Federal Accounts Allocation (FAAC) including derivation and VAT. We also expect to generate N120, 000,000,000.00 (one hundred and twenty billion) from IGR; while N72, 000,000,000.000 (Seventy-two billion naira) will come from other sources..
Our ambitious revenue target from IGR is underpinned by necessary changes we will introduce to improve the administration of tax. The State Internal Revenue Board has been mandated to implement measures to expand the State's revenue base, block tax leakages and improve revenue collection.
It is also pertinent to note that part of the development budget will be funded with projects specific loans from our domestic and external development partners.
Recurrent Expenditure
The breakdown of the budget shows that a total of N120, 000,000,000 (one hundred and twenty billion) is proposed for recurrent expenditure. Out of which the sum of N55, 000,000,000.00 is earmarked for salaries, N18, 114,178,637.00 for the payment of pensions and gratuities, while overhead costs is expected to gulp N14, 524,179,815.00.
Capital Expenditure
27. The total projected capital expenditure for 2016 is N187, 000,000.00 (one hundred and eighty-seven billion naira), which gives a capital to recurrent expenditure ratio of 60:40. In terms of sectoral allocation, the figure shows that 15.5 per cent or N29, 042,275,000.00 is allocated to the administrative sector; 29.1 per cent tor N76, 326,194,480.00 is allocated to the economic sector, 0.41 per cent or N770, 000,000.00 is allocated to the Law and Justice sector; and 28.4 per cent or N53, 207,500,000.00 is allocated to the social sector.
The reasonable increase in the capital expenditure is in furtherance of our priority to progressively shift more resources from recurrent purposes to development expenditure in line with our abiding determination to promote economic growth and diversification, human capital development, the provision of physical infrastructure and improving the well being of our people.
Mr. Speaker, we recognize the enormous developmental challenges facing the State, including the high poverty and unemployment rate, low agricultural and industrial productivity, inadequate social and economic infrastructure, large-scale fiscal inefficiencies and growing insecurity. However, we are totally committed to tackling these challenges, restoring hope and securing a better future for our children and grandchildren.
Therefore, we will through the 2016 budget continue to address the critical sectors of our development plan for the State. Accordingly, the 2016 budget is intended to prioritize security, infrastructure provision, education, healthcare, energy security and socio-economic empowerment.
We need to secure our State and make it safe for our people and investors in order to achieve our economic and development objectives of generating more revenue, creating quality jobs and enhancing peoples' living standards.  The rising incidents of kidnapping and other violent crimes across the State and the general sense of insecurity across the nation impels the need for us to more decisive in tackling insecurity and criminality. To counter the security challenges, the Government is committed to significantly increasing resources to support the capacity of the security agencies in the areas of logistics, intelligence gathering, quick response and motivation. Accordingly, we have provided N15 billion naira to the security sub-sector in the budget.
Provision of infrastructure
As we all know the provision of transport infrastructure is critical to the socio-economic advancement of any nation. Accordingly, in 2016 we intend to complete all on-going road projects and kick-start the construction of the Trans-Kalabari road network, the dualization of Ahoada – Omoku road as well as Bori Sapkenwa road.  We shall also continue with the construction of inner city roads in Port Harcourt, Obio/Akpor and the headquarters of other local government areas.  Accordingly, over 53 billion naira is provided for the infrastructure development sub-sector.
Furthermore, given the scarcity of public resources and the huge gap in the State's infrastructure needs, we will use the public private partnership arrangement to mobilize private sector resource for infrastructure development, especially in the areas of roads construction, power generation, education, healthcare and other viable projects.
Development of Agriculture
We continue to appreciate the strategic role of agricultural productivity for achieving the transformation of our economy. We shall therefore continue to invest reasonable resources and efforts toward enhancing agriculture and its value chain. Furthermore, we shall continue to encourage and support our youth with land, capital and capacity to take to agri-business as a profitable commercial venture to reduce unemployment and poverty.
Provision of quality education
As a State we have made tremendous progress on access to education at all levels. However, a lot still needs to be done on the quality and relevance of education, especially given how young school-leavers are finding it difficult to find jobs. We are therefore scaling up resources to enhance the quality of our education at all levels. We will give priority attention to vocational and entrepreneurial education to provide life-long skills and interest in small businesses for our youth, women and persons with disability to be gainfully employed and self-sustaining.
Furthermore, we intend to complete the rehabilitation of more secondary schools and pilot the re-introduction of boarding facilities in public secondary education. We also intend to ensure the formal upgrading of the Rivers State College of Arts and Science to a polytechnic status as well as ensure the takeoff of the Faculty of medical sciences in the Rivers State University of Science and Technology.
Provision of Healthcare
In the same vein we intend improve the healthcare delivery system in the State with a view to drastically reducing infant and maternal mortality, promoting healthy life-styles, providing social safety nets for vulnerable people, and building a healthy and productive population for sustained economic growth. To this end, we have concluded arrangements to upgrade healthcare centres throughout the State with state of the art infrastructure, facilities and equipment. We also intend to provide special interventions for the training and re-training of doctors, clinical officers and nurses' internship, and the elimination of malaria and control of HIV/AIDs
Economic Empowerment
We believe that inclusive growth is only possible with the empowerment of our people to participate and take commanding heights in State and nation's economic opportunities on offer. To achieve this goal, we will continue with implementing viable measures to support and improve the capacity of Rivers men and women to engage in viable business activities. Part of the measures is to ensure that Rivers people are accorded priority consideration in the award of government contracts.
Furthermore, apart from improving the environment for SMEs to flourish, we shall ensure that companies handling major government funded projects concede all sub-contracts to indigenous contractors.
In conclusion, I wish to reiterate the fact that while we are seriously committed, our capacity to deliver on our promises is constrained largely by inadequate resources. However, we remain undaunted and will not be overwhelmed by the challenges.
The 2016 budgets remains one of the basic mechanisms we intend to effectively utilize to consolidate on our agenda for moving Rivers State forward. All that we ask for is your patience, continuous understanding and cooperation. We are not here to fail and we shall not fail to deliver the dividends of democracy to our people.
Before I lay the 2016 proposals before this Honourable House, let me on behalf of the people of Rivers State express my sincere appreciation to Mr. Speaker and Distinguished members for their relentless support towards our administration from the beginning to this moment. We count that this wonderful partnership between us will continue to work harder in 2016 to deliver for the people of Rivers State.
Finally, Mr. Speaker, may I with your kind permission lay before this highly respect Houser, the 2016 Budget proposal for consideration and passage into law.
Thank you all and may God continue to bless Rivers State.