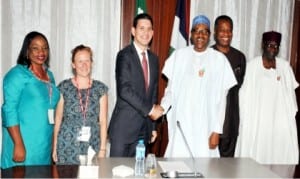 American Motivational Speaker, award-winning
producer and writer, and member of the Eckankar Clergy, Anne Archer Butcher, who recently visited Nigeria, spoke to select editors which included The Tide Op.Ed/Features Editor, Victor Tew, on her spiritual experience, Eckankar teachings, America's perception of Nigeria, the country's security situation and sundry issues.
Excerpts.
Could you share with us your perception about Nigeria before coming to the country?
The first time I came to Nigeria was 12 years ago; I was extremely impressed about Nigeria, and I couldn't wait to come back. It is not a question about my impression about Nigeria; it is about what I experienced when I first came here; it was very interesting. I felt I have come to an ancient land; my deep spirit was rooted here. I got connected to the root.  And I felt it is a powerful place; a very high spiritual place. I know it has its own down side, many difficulties but at the same time, I felt the beauty of the land. And I am very attractive to it, and I am delighted to be back to Nigeria.
1 am sure you have heard about the challenges facing Nigeria – the issue of insecurity, poverty and others. How do people perceive Nigeria in your country?
You know many of the things we hear about Nigeria, are surely frightening. It can scare people away from the country. And it's quite unfortunate. But like I said, I see a beautiful land that is very exciting and powerful, deeply spiritually rooted. On the other hand, we hear about Northern Nigeria, the difficulties that are going on there; we hear about kidnapping, and that gave people the sense that Nigeria is not safe. But, my message to everyone that I know is: until you experience Nigeria, you have not experienced Africa. I say it not because of the infrastructures, it is the hub of the people in the land; it is extremely impressive to me. My husband was with me the last time I visited Nigeria and I had the same experience. And when we stepped out he asked me: 'what you think about Nigerians, the sense of the people they are?' And I said I don't want to tell you just like that. And I said I want to hear yours. We later agreed to write it down and compare notes. And we wrote, and compared notes, it was exactly the same thing. What each of us wrote was: a super race. They are more beautiful than us; even got better teeth than we do; they are spiritually connected than we do. That they feel to us like an ancient people. And that we were glad to be here. And that I cannot wait to come back; that was 12 years ago.
What was your feeling when you were planning to come to Nigeria for the second time, in view of the nation's security challenges? Before I came 12 years ago, my phone was ringing consistently and I went inside to answer the phone; it was my aunt and she said: I call to beg you not to go to Nigeria. I said nobody can stop me because I can feel the excitement of going to Nigeria. I told her I had been to Nigeria and I don't care about the security situation; I know I will be taken care of by Nigerians. That those who are inviting me would have make adequate arrangement for security, and I will be in safe hands. No, I was not concerned about my safety.
What is the importance of the seminar put together by the Eckankar?
The seminar is all about a book, Inner Guidance: Our Divine Birthright, which talks about our ability to have inner guidance of our own. It doesn't matter whether they are members of Eckankar or not. It is to remind everyone that we are all spiritual human beings; who are here to achieve our spiritual destiny. And that we should use this great potential in this life time. We can do that by creating a relationship with God-with the techniques available to everyone. And everyone is invited to the seminar. It will be covering some of the stories in the book and about my own life. I had some dramatic experiences which taught me a powerful lesson; it is not just about me but it is about all of us – who we are, why we are here, what we can do and how we can do that. I came from a very humble beginning, and I found myself – as I was growing spiritually and my life became much bigger. And it is a lesson each of us can acquire; we want to see our life changed for better. It has to start within but through the vehicle of a story.
Leading Edge Review has described your book, Inner Guidance: Our Divine Birth Right as "truly intriguing, inspiring and insightful read for anyone, regardless of their faith or belief system". What really motivated you to write the book?
The book has actually become a national Best Seller because people have shared the content with one another, not because of the campaign. It is my gift to Eckankar – for all the gifts I have received. Yet, why I become more successfully-why everyone is sharing this story, has to do with the story of what happened to me many years ago – it is such a thing people like to hear about because it is very exciting. It was December, like this time- Christmas period, I was in an Island where my mother stays and went to swim in a beach. While I was swimming, I was pulled down by reptile into the ocean; as I found myself out there on Christmas day-with people on the beach, I thought they will rescure me. When I look, I saw a shark-coming towards me and I said I am going to be eaten by shark this Christmas day. It was terrible! I did not understand what was happening, and my heart continued to pound wildly, yet still I felt no pain. I felt the strange hitting sensation slam against me a third time. Then a powerful, smooth, sleek body approached from my right side, and suddenly rose up underneath me, lifting me right out of the water. I was rapidly moving across the surface of the ocean, spreading towards the shore. The surface of the water broke in front of me, and I saw the heaven-sent rescuer on whose back I had just been carried. It was a beautiful dolphin, piercing the wave and jumping through the air in the inimitable way of these intelligent mammals. And I knew life was mystical, powerful than I had ever imagined. I am not alone; we are interconnected spiritually; that was the beginning of the story; and it started to be shared all over the world.
How has that experience shaped your life?
It has been very profound; from the perspective of what is in for me; that is what people want to know. But with the experience, how can I ask for more? I was pulled into the ocean by a reptile, a shark was about to eat me; and I had a powerful, mystical experience of riding at the back of dolphin. If I am that blessed-when I am not in control, then I must surrender to the divine spirit. The dolphin called me to begin to surrender to the divine spirit; I said do with me what you want. When we have that focus, it changes everything. It has strengthened my relationship with God.
Eckankar is one of the  fastest growing religions in the world, including in Nigeria. But for those of us who are not members we  see it as a secret group that practice occultism. What is the religion all about?
Eckankar is a highly spiritual path. It teaches personal responsibility and spiritual freedom. And of course, it can't be a cult. It is very attractive to people because those who are very sensitive to the spiritual life is concentrated. We want teaching that can help us concentrate in divine spirit. Like I said the path is about personal responsibility and spiritual freedom. We respect all religious groups and all lives. Because religions were brought here to help man kind. Let me share my personal experience with you. My husband said to me: No one is going to discuss Eckankar, and I said it is a business meeting, I am not going to talk about Eckankar. I later promised I was not going to talk about it. And we got into the meeting hall and the chairman of the meeting, sitting next to me asked me: are you an Eckist? And I said why would you ask me that? There was nothing to identify me. The man was one of the executive vice presidents of the company we were meeting with. And he said in the college his roommate was an Eckist, and anytime he came visiting him, he always felt him coming. And he said: If I close my eyes now, I see my former roommate.
Is it possible to practice the technique without being a member?
Yes. You can. You can practice the technique. Nothing comes to us unless we are in the state of our own consciousness. We do spiritual exercise. And anybody can do it. You can do spiritual exercise 20 minutes a day.
Is there any connection between Eckankar and other religions?
There is connection. All religious practice peace and love. But Eckankar offers guidance and protection. It is all about service.
Is Eckankar religion elitist as perceived in some quarters?
Eckankar is based on doing daily simple daily exercise, and listening to your own inner guidance, listening to your own inner messages. And then you discover that life is better than it was before.
It is open to all irrespective of status.