Rotary Votes $6.9m For Immunization
On the heels of historic success against polio in Nigeria and across the continent of Africa, Rotary has donated an additional $6.9 million to boost Nigeria's immunization activities and surveillance spearheaded by the Global polio Eradication Initiative.
In a Press Release by the African Press Organization (APO) on behalf of Rotary this was the year when three became two, with the World Health organisation (WHO) removing Nigeria from the list of polio endemic countries leaving just Afghanistan and Pakistan remaining.
With no case of wild polio virus (WPV) reported since July 24 2014, more than a year  has passed with no samples testing positive for WPV across the country. This achievement was a tribute to the hardwork of countless health care workers traditional leaders, over 400,000 volunteers and the government who collectively managed to turn the programme  in Nigeria around by reaching over 45 million children repeatedly with polio is vaccines.
According to the report "polio is on track to become the second human disease ever to be eliminated from the world (with small pox as the first). To data, rotary has helped 194 countries stop the transmission of polio through the mass immunization of children. Rotary's new funding commitment, announced in advance of the October 24 observance of World Polio Day 2015, targets countries where children remain at risk of contracting this incurable, but vaccine preventable disease". The chairman, Rotary's Nigeria National Polio plus "committee, Tunji Funsho said as we celebrate world polio Day in a time.
When we have been removed from the list of polio endemic countries, we must remain vigilant and ensure that all children are immunized against polio until Nigeria is certified polio free and indeed the world is certified polio fee. No child is safe from the polio virus until no more polio virus exists on this planet.
The report which revealed that Rotary has so for contributed $26.8m to African countries to ensure that the disease never returns to the continent said also that outside Africa grants of 6.7 million has been donated for polio endemic Pakistan, $400,000 to Irag and $5.3 million to India saying in total, Rotary gives $40.4 million to end polio world wide.
It would be noted that Rotary, in partnership with UNICEF and the WHO has provided grant funding to polio eradiation initiative as well as working with the government and Rotary members in polio-affected and high rikt countries to plan and carry out immunization activities.
Managing Blood Pressure Naturally
Elevated blood pressure, also known as hypertension, is two or more blood pressure readings greater than 140 mmHg systolic (top number) or greater than 90 mmHg diastolic (bottom number).
If not controlled quickly, it can lead to stroke or sudden death. Below are some of the tips to help you to control high blood pressure naturally.
1.Low-Salt Diet
Minimising salt intake is very important in controlling high blood pressure.One should be careful and selective in the consumption of restaurant foods and packaged foods, including canned soups and frozen entrees, which may be high in sodium. Read food labels and eat less than 1,500 milligrams of sodium each day, or about 3.75 grams or 2/3 teaspoon of table salt. Leave the salt shaker behind and be creative with herbs and spices. Explore ways to enhance the taste of foods with salt-free flavours such as lemon, garlic, ginger, sage, rosemary, thyme and curry.
Moderate Physical Activity
Increased physical activity to 30 to 60 minutes a day helps check blood pressure. Remember that every little bit counts, including taking the stairs, walking around the block on breaks, parking farther away in the parking lot, or getting off at an earlier bus stop. If you are overweight, a loss of 10 pounds can help lower your blood pressure. It is always a good idea to schedule a physical exam with your doctor before starting an exercise programme.
3.Moderate Alcohol Intake and No Smoking
Avoid smoking and excess alcohol as these can increase your blood pressure. Substitute with delicious nonalcoholic fruit drinks and herbal teas such as hibiscus tea, pomegranate juice and green tea.
4.Stress Reduction
Find calming ways to decrease your stress and blood pressure through deep breathing, meditation, counselling, yoga or qigong.
5.Eat More Fruits and Vegetables
Fruits and vegetables provide great sources of blood pressure-lowering nutrients such as potassium and magnesium. Magnesium-rich foods include black beans, okra, spinach, pumpkin seeds and squash seeds. Unless you have kidney disease, you should increase consumption of foods high in potassium such as apricots, bananas, beets, Brussels sprouts and cantaloupe.
These simple dietary and lifestyle changes are safe and effective ways to lower your blood pressure. Uncontrolled hypertension puts you at an increased risk for heart attack, heart failure, stroke, kidney damage and blindness.
If you have hypertension, a naturopathic physician can help you explore herbs and nutritional supplements.
By: Kevin Nengia
Immunization: Health Board Targets Rural Communities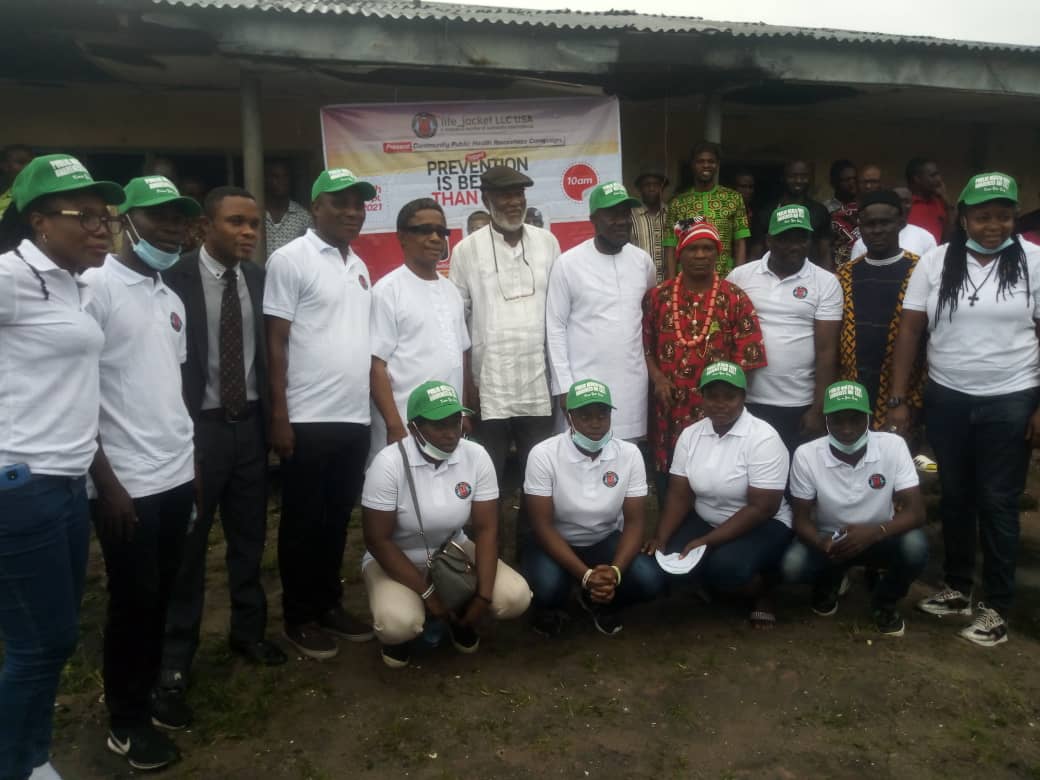 Towards ensuring that immunization campaign achieves its target of over 90 percent, the Rivers State Primary Health Care Management Board, says it has provided modalities for trained health care providers to reach the interiors of the state.
Making this known in an exclusive interview, the Health Education / Coordinator, Rivers State Social and Behavioural Change Communication Committee, Dr Daris Nria, said provisions have been made to take the free immunisation exercise to the rural areas of the state.
Because immunisation programe will be running concurrently in all the local government areas, and these areas will be empowered with boats or other means of transport, as well as logistics.
She used this opportunity to call on the public especially parents and women of child bearing age to avail themselves the opportunity of being immunized against tetanus and other diseases.
In another development, the Maternal and Neonatal Child Health (MNCH) Focal Person, Rivers State Primary Healthcare Management Board, Dr Emen-Jaja stated that the MNCH week slated to commence from 20th – 24th September will provide health care services for children under the age of five years, pregnant women as well as their spouses.
Such services, according to her, include administration of vitamin A, deworming exercise, nutritional screening, general health checks, child spacing and birth registration.
"Both women of reproductive age and their spouses who visit the health care centres would also have free services within the week.
CSO Wants Cancer Treatment Centres In Rivers
The Rivers State Chapter of the Civil Society organsation (CSO) has called on the state government to establish cancer treatment centres in the state to address the current growing cancer cases in the state.
Making the call recently, chairman of the organisation, Mr Dennis Otobo, said going by the status among the community of states in the country, Rivers State needs such centres in strategic areas of the state.
He stated that "going by the position of Rivers State among other states in the country, we are over due to have enough cancer treatment centres, especially considering the State Government's focus on the health of her people".
According to him, "taking some of our cancer patients to other neighbouring states does not tell well of our health services, no matter how we look at it.
"Government should establish cancer treatment centres in the state, at least a one hub treatment centre in each LGA", he said.
Otobo explained that for now, about 99 per cent of treatments for cancer and related services are provided by donor agencies and patients are taken outside the state for treatment, which requires a lot of fund that is mostly not available.
"If government can provide cancer treatment centres in the state, it will not only lessen the impact of the ailment in the state but will also alleviate the suffering of patients who cannot afford going for treatment outside the state", he said.