Dogara Releases List Of C'ttee Heads
The Speaker of House of Representatives, Yakubu Dogara, yesterday announced the Chairmen and Vice Chairmen of the 96 House Committees but the Ministry of the Niger Delta Affairs was yet to get its head.
In the composition of the new committee heads, the Speaker's key men clinched headship of juicy committees such as Appropriation which is chaired by Abdulmunin Jibrin, Rima Shawulu Kwewum heads Army, Nkeiruka Onyejeocha, Aviation, Zakari Mohammed, Basic Education, Chike Okafor, Healthcare Services and Aminu Shehu Shagari Federal Judiciary.
Also not left out were the core supporters of the House Leader, Rep. Femi Gbajabiamila as they were also compensated with juicy committees such as Customs headed by James Faleke, and Rufa'i Chachangi as the Vice Chairman of the committee, Sani Zoro heads the newly created Internally Displaced Persons, IDP and Garba Muhammed as the committee chairman on Solid Minerals.
There was also a balance between the ruling All Progressives Congress, APC, and the main opposition Peoples Democratic Party, PDP, as the ruling party APC, heads 48 Committees, PDP 45 while All Progressives Grand Alliance, APGA and the Social Democratic Party, SDP got one chairmanship slot each.
In the composition, the South heads 46 Committees while the North heads 50.
The House also compensated the South East APC members who were completely sidelined in the composition of the principal officers in line with the spirit of federal character as the two members Chike Okafor and Austin Chukwukere were made chairman Healthcare Services and vice chairman Finance respectively.
Despite the lobbying and bickering among members to head juicy committee, only six members retained the position they headed in the 7th assembly.
Those who retained the headships of their previous committees are Jones Onyeriri, Banking and Currency, Nkeiruka Onyejiocha, Aviation, Nnenna Ukeje, Foreign Affairs, Mohammed Munguno, Agriculture, Shehu Shagari, Judiciary, Nicholas Mutu, NDDC, and Aminu Suleiman, Education.
It was also surprising that one of the key men of the Speaker like Rep. Nnanna Igbokwe was neither considered for chairmanship position nor vice chairman.
The new committees announced by the Speaker were Agricultural Colleges and Institutions chaired by Linus Okorie, Basic Education and Services, chaired byMuhammed Zakari, and Delegated Legislation which is headed by Simeon Arabo,
Others are FCT Judiciary, Laori Kwamoti, Health Institutions,Betty Apiafi, IDPs Refugees and Initiatives on North East, Headed by Sani Zoro Insurance and Actuarial Matters, Olufemi Fakeye, and Tertiary Education and Services which is chaired by Aminu Suleiman.
Because of the numerous institutions and parastatals in the health and education committees, the Speaker split them into two each for effective oversight.
Meanwhile, Dogara has insisted on state assemblies and local government areas having their autonomies even as he has told speakers of state assemblies not to be slaves to their state governors.
He also urged State Houses of Assembly in the country to support moves to grant financial autonomy to them and local governments.
Speaking when he received in audience members of the Bauchi State House of Assembly in his office, Dogara said democracy is facing serious threat at the grassroots as a result of lack of independence for the local governments.
According to him, "There is no meaning to independence of you are not financially independent. Slaves don't build societies, only free men do.
"The only authority for oversight in the state is the state Assembly, but when we transmitted the proposal for amendment to the state assemblies they rejected it."
The Speaker lamented that in a four years tenure, trillions of Naira were allocated to states and local governments but when you visit the state you wont see projects commensurate with the money they received.
He said, "I am not indicting you but speaking to your conscience, our feeling is that there has not been appropriate and effective oversight by the state legislatures."
"I am calling on leaders to rise beyond our differences, unite and deliver dividend of democracy to the people. If we fail to perform, they will not spear us. We should do everything to deliver on our mandate"
The Speaker also expressed gratitude to President Muhammadu Buhari for reposing so much confidence in the sons and daughters of Bauchi state by appointing them into key Federal government offices.
He said, the only way to reciprocate the gesture is for leaders in the state to deliver on their mandates to the people.
The state assembly members were led by the Speaker Hon. Kawuwa Shehu Damina, who commended Dogara for his sterling leadership qualities, and his exhibition of courage, simplicity, dedication, generosity, commitment and service per Excellence.
Shell Donates Subsea Training Facilities To UNIPORT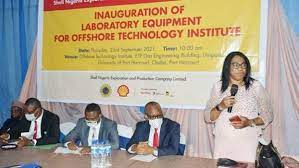 The Nigeria deep-water arm of global energy giant, Shell, has donated multimillion naira laboratory equipment and software packages to the Offshore Technology Institute of the University of Port Harcourt as part of the company's Nigerian content human capital development programme delivered in collaboration with the Nigerian National Petroleum Corporation (NNPC).
Speaking at a ceremony to hand over the facilities to the university, last Thursday, Managing Director, Shell Nigeria Exploration and Production Company Limited (SNEPCo), Mrs. Elohor Aiboni, said, "The donations are aimed at strengthening advanced practical teaching and research in subsea engineering to give the students the required skills and competences for entry level jobs in the oil and gas industry".
The facilities, valued at over $700,000, are in alignment with the Human Capacity Development Guideline of the Nigerian Content Development and Monitoring Board (NCDMB).
Aiboni, represented by SNEPCo's Social Investment Manager, Dr. Gloria Udoh, expressed optimism that with the level of investment by NNPC and SNEPCo in deep-water training via the establishment centres of excellence and donation of cutting-edge information and communication technology centres, among others, Nigerian oil and gas industry would surpass its local content aspiration earlier than projected.
"This investment anchored on the maintenance of subsea infrastructure on Nigeria's pioneer deep offshore field, Bonga, is expected to develop and upskill the cognitive and technical abilities of students who pass through the Offshore Technology Institute for the ultimate benefit of our industry and of our country," Aiboni added.
With the new laboratory and software packages, according to Aiboni, the Offshore Technology Institute is positioned to deliver effective training in engineering design; construction and installation of offshore and subsea structures; computer simulations; civil and construction tests; 3D printing/engravement capability; Measurement/Metering Technology and Robotics; Alternative Energy Technologies; and Data Acquisition Learning System.
In his remarks, Vice Chancellor, University of Port Harcourt, Prof. Onwunari Georgewill, commended NNPC and SNEPCo with its co-venture partners for their goodwill to the university and particularly to OTI, and canvassed more areas of collaboration between the university and its industry partners.
Georgewell said, "This project's completion is timely because it latches on to the university's leadership philosophy, which focuses on advancing education through an integrated learning environment to produce industry-ready university graduates and workforce.
"The current administration of the university places a lot of emphasis on university and industry collaboration and partnership. This donation will therefore enhance the achievement of the postgraduate degree-awarding Offshore Technological Institute in the practical context."
Also speaking, Executive Secretary of NCDMB, Mr. Simbi Wabote, described the human capital initiatives of SNEPCo as commendable.
Wabote added, "I commend your remarkable and consistent collaboration and partnership with the NCDMB towards the development of in-country capacities and capabilities."
Represented by NCDMB General Manager, Corporate Service and Logistics, Mr Halilu Abdulmalik, Wabote said, "Your Nigerian content initiatives are consistent with the objectives and aspirations of NCDMB's 10-year strategic roadmap, and we hope that necessary adjustments will be made to the curriculum to ensure optimal utilization by students in the university community."
Obasanjo, Osinbajo, Wike, Others Bag CAN Awards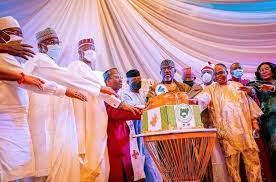 Vice President Yemi Osinbajo, former President Olusegun Obasanjo, Senator Rochas Okorocha, Rivers State Governor, Chief Nyesom Wike, Emeritus Catholic Archbishop of Abuja, Cardinal John Onaiyekan, and Mummy Esther Ajayi, were among prominent Nigerians who received awards at the Christian Association of Nigeria (CAN) Sapphire awards in Abuja, last weekend.
Others, including Pastor Enoch Adeboye, Cardinal Olubunmi Okogie, and Chief Arthur Eze, also received awards at the event; while the kidnapped Dapchi school, Leah Sharibu, won in the Young Christian Achiever award category.
Former Head of State, Yakubu Gowon, and Goodluck Jonathan, Deputy Senate President, Ovie Omo-Agege, Secretary to the Government of the Federation, Boss Mustafa, and some Christian governors, serving and past National Assembly members bagged awards.
The awards were part of activities for CAN's 45th Anniversary Sapphire Celebration Dinner and Award Night.
Earlier in his welcome address, CAN National President, Rev. Samson Ayokunle, had said that the gathering was to celebrate 45 years of the church in Nigeria.
He said that Governance Category awards were for Christians in politics who had shown excellent and remarkable services.
"These include past presidents, serving governors and senators in our assessment that deserve such award.
"An award ceremony is applause of vision, personal discipline and determination; it is an event like this that makes people feel that their works are valued.
"The award is a catalyst that is expected to reinforce the awardees to serve humanity more and more,'' he said.
The CAN president said it was heart breaking that majority of those in Internally Displaced Persons (IDPs) camps were Christians who were displaced by religious fanatics, bandits and gunmen in their territories.
He solicited the awardees' financial support in fulfilling some of CAN's obligations to fellow Christians and bringing to fruition the association's projects.
Obasanjo, who was represented by the Secretary to Government of the Federation (SGF), Mr Boss Mustapha, was the special guest of honour at the awards.
Obasanjo said that the award was significant in that it would encourage other citizens to serve humanity, adding "I will continue to do the best I can to uphold the principles of justice, love, equity, mutual respect, industry and the fear of God which epitomise the church of Christ until there's no breath left in me."
While showing appreciation to CAN on behalf of all the award recipients, VP Osinbajo said Nigerians needed to be more tolerant of other people's views.
The vice president dedicated the award to those who, daily in different locations, distant and near, propagated the message of the love and reconciliation of the gospel of Jesus Christ, sometimes in difficult and life-threatening situations.
He said that the awardees were not necessarily the most deserving of Christians to be given any recognition but by the special grace of God which placed them in the high capacity they served.
He said, "As we have seen in the past few years, there's a growing ethnic and religious chauvinism, and almost intemperate, vehement and violent dismissal of the views of people of other persuasions and faith without adequate consideration.
"At the same time, there is also the rise of cultural and identity politics. The answer to hate and intolerance and conflicts is the gospel of Jesus Christ. We must believe enough in it, to live it out as our article of faith.
"The gospel commands consideration of the views of others, treating them we would wish to be treated. Our words must be of grace, seasoned with salt.
"We must remain constant and relentless advocates of freedom of worship, respect for human rights, fairness, justice, rule of law because they are fundamental to peace and security. We cannot talk of peace and security without fairness and justice, and compliance with the rule of law.
"We are in the advantageous position that our contribution will be more easily noticed.
"So, this award is dedicated to the men who, daily in different locations, distant and near propagate this message of the love and reconciliation of the gospel of Jesus Christ in sometimes even difficult and life-threatening situations.
"And to many who have suffered deprivations, the families of those who have lost their lives by reason of their belief.
"And we are deeply grateful to the Almighty God for the opportunity and enablement to serve in the positions to which we have been referred.
"I bring, also, the very warm felicitations of the President Muhammadu Buhari and the Federal Government of Nigeria on the 45th anniversary of the birth of this foremost association of Nigerian Christians.
"CAN was formed to, among other objectives, nurture the unity of the church in Nigeria and to work with the leaders of other faith and persuasions to build bridges and forge understanding, peace and unity among the various people and faith in our nation.
"CAN has not only been continually faithful to its founding vision, it has become a veritable force for peace, for unity and for social justice.
"Pursuant to the gospel, CAN has consistently spoken up on behalf of the least of those in our society,'' he said.
He said that the current and past leaderships of CAN had acted in full realiasation and recognition of their roles as pivotal stakeholders alongside the government and private sector in nation building.
Earlier, Senator Rochas Okorocha, who noted the dire financial condition of the umbrella Christian organisation in the country, advised clerics to tone down their criticism of those in authority.
He said, "I just want to caution some Christian pastors concerning the way we use our pulpit and the kind of fire of insults and abuses that comes from there. When you abuse those who will give you money where will you get the money.
"The Bible says to pray for those in authority. You need to draw your leaders close. When you draw us closer and tell us what your problems are, it will energise us to help. Money will flow more than you need."
Also, Imam Abubakar Abdullahi, who sheltered no fewer than 200 Christians in Barkin Ladi, Plateau, during an attack, was presented with the Special Recognition award.
The late Obadiah Mailafia, former CBN Deputy Governor, was given a post-humous award of Spokesperson for Oppressed alongside Matthew Kukah, Bishop of Catholic Diocese of Sokoto and Human Rights Lawyer, Femi Falana.
Awards were also given to best candidates in the 2020 Unified Tertiary Matriculation Examination and Senior School Certificate Examination.
Highlight of the event was the cutting of the anniversary cake.
Bandits Free 10 More Kaduna Baptist Students, Keep 11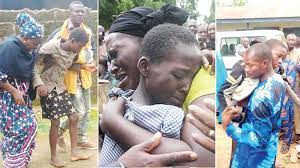 The Christian Association of Nigeria (CAN), yesterday, confirmed that 10 more students of Bethel Baptist School in Kaduna State have been released.
The Vice President of CAN (19 Northern States and Abuja) and its Chairman in Kaduna State, Rev. Joseph John Hayab, said this in a short WhatsApp message to newsmen.
He said, "Ten more students of Baptist High School were released this afternoon. We have 11 now with bandits.
"We are thanking all Nigerians for their prayers and support.
"We are trusting God that the rest will be released very soon. All have been reunited with their parents."
Earlier, 10 students of Bethel Baptist School in Kaduna were released on Saturday, September 18, after spending 74 days captivity of terrorists, with 22 others still being held.
Hayab had said, "10 students were released this (Saturday) evening and have reunited with their parents. We are now hoping for the remaining 21 who are still with the bandits."