PH, Abuja, Lagos Airport Worst In 2015
The Port Harcourt International Airport, Omagwa, has been named the worst international airport in the world for the year 2015.
A report published by CNNMoney and released by The Guide to Sleeping in Airports, also listed airports from Asia, Europe and the Middle East, among the worst.
The survey, which had qualifying responses from 26,297 well-travelled respondents, put Cape Town International Airport, South Africa, as the best airport on the continent.
It said Nigerian airport is riddled with unpleasant and unhelpful staff, alleged corruption, a severe lack of seating, broken air-conditioning and the fact that the arrivals hall is located inside a tent.
The website said the good news, however, is that "some areas of the terminal have been recently renovated, meaning you can expect actual walls, floors and windows. Though it is a far cry from reasonable, improvements being made."
The publication listed the worst airports to include Port Harcourt International Airport (Nigeria), King Abdulaziz International Airport (Jeddah, Saudi Arabia), Tribhuvan International Airport (Kathmandu, Nepal), Tashkent International Airport (Uzbekistan), Simon Bolivar International Airport (Caracas, Venezuela), Toussaint Louverture International Airport (Port au Prince, Haiti), Hamid Karzai International Airport (Kabul, Afghanistan), Tan Son Nhat International Airport (Ho Chi Minh City, Vietnam), Benazir Bhutto International Airport (Islamabad, Pakistan), and Beauvais-Tille International Airport (Paris).
The best airports are, Changi International Airport (Singapore), Incheon International Airport (Seoul, South Korea), Haneda International Airport (Tokyo, Japan), Taoyuan International Airport (Taipei, Taiwan), Hong Kong International Airport, Munich International Airport (Germany), Helsinki International Airport (Finland), Vancouver International Airport (Canada), Kuala Lumpur International Airport (Malaysia), and Kloten International Airport (Zurich, Switzerland).
It also listed the worst airports in Africa in 2015 to include, Port Harcourt International Airport (Nigeria), Khartoum International Airport (Sudan), Kinshasa N'djili International Airport (Democratic Republic of the Congo), Juba International Airport (South Sudan), Djibouti-Ambouli International Airport (Djibouti), Mombasa Moi International Airport (Kenya), Abuja Nnamdi Azikiwe International Airport (Nigeria), Luanda Quatro de Fevereiro International Airport (Angola), Douala International Airport (Cameroon), Lagos Murtala Muhammed International Airport (Nigeria).
However, moved by the plight of air travellers in the state, the Rivers State Government, has begun talks with the Federal Government for the rehabilitation of the Port Harcourt International Airport, Omagwa, in Ikwerre Local Government Area of the state.
The Secretary to the State Government, Chief Kenneth Kobani, told newsmen in Port Harcourt, that the government is concerned over the delay in completion of the renovation works at the airport.
In his words: "Our hands are tied, and it is not true that we are not concerned or that we don't feel the pain of people using the airport, but the problem is that the airport is not directly under us."
It would be recalled that the airport was among other airports undergoing renovation and expansion under the immediate past administration of President Goodluck Jonathan, but was later abandoned in the heat of the political campaigns.
But Kobani promised that the state government would work with the Federal Government to ensure that the airport rehabilitation work is completed as soon as possible, and pleaded with airport users to bear with the government.
He pledged to encourage investors in the state with reasonable tax concessions.
The Secretary to the State Government said the plan is to make the state a tax haven for investors, as he warned local government councils against threatening or impounding properties of companies in the course of their revenue drive.
Kobani said, "We have made it absolutely clear that nobody in any local government should use force or threat, or try to impound properties belonging to companies, they have no authority to do that, they have been warned."

Rise Up Against Herdsmen, Danjuma Tells Nigerians …Says Meyitti Allah Determines What Happens In Presidency …Army Working With Buhari To Grab Lands, Give Same To Fulanis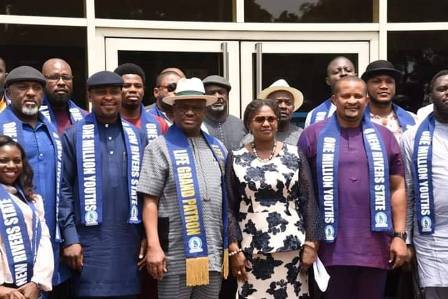 Elder statesman and retired military general, Theophillus Danjuma, say herdsmen have declared war against Nigeria and grabbing lands, urging citizens from every part of the country to rise up and defend themselves before it is too late.
The elder statesman, in a statement obtained by The Tide, yesterday, alleged that the Army was working with President Muhammadu Buhari to grab lands from its original owners in the North, South, East and West and give same to Fulanis from West Africa and beyond.
It further said that while the rest of Nigerians were crying helplessly, Buhari's primary objective was "to use the Nigerian Armed Forces, Boko Haram and herdsmen to fight jihad and massacre the indigenous people, and take over our lands and give to Fulanis", saying that fight has started.
It reads, "The Nigerian Army under Buratai is working with President Buhari to grab lands from indigenous Nigerian owners and give it to Fulanis from West Africa and turn indigenous Nigerian people and land to modern-day Fulani colony.
"Rise and defend your land now, rise now before it is too late. No election until this Fulani killing is stopped and lands grabbed restored back to the people, and the criminals identified, arrested and punished according to law of the land. This pogrom must stop, yes, it must be stopped. We did not elect them to murder us.
"It is a big shame to about 165million indigenous Nigerians from predominantly Hausa North, Middle Belt, Igbo East and Yoruba West to allow; only three million Fulanis (who are Arab Africans) we accommodated to take over Nigeria, and be killing everybody in the name of herdsmen and Boko Haram, and take over our ancestral lands.
"Big shame to the rest of the people crying like fools. President Buhari's primary objective to use Nigerian Armed Forces, Boko Haram and herdsmen to fight jihad and massacre the indigenous people and take over our lands and give to Fulanis have started. They have conquered Hausa, they lost who they are, now, they are fighting and killing people across Middle Belt (Kogi, Taraba, Plateau, Kaduna, Nasarawa, Borno, Benue etc) sacking them from their communities, and Presidency protecting and arming the murderers.
"They have conquered South-West by half through Tinubu dynasty, after Middle Belt, they planned to work over South-West to gather strength to fight the South-South and South-East. This will be the battle of Armageddon. It is a shame for indigenous Hausa, Igala, Tiv warriors, Idoma, Igbo, Yoruba, Calabar, Kalabari, Benin, Ishan, Urobo etc to name but few to seat and watch Buhari destroy and turn Nigeria to Fulani colony.
"This is a war against 165million Nigerians declared by three million Fulanis headed by Buhari. It is time to rise and stop Buhari and his gang of murderers called Fulani herdsmen. He is their patron and his loyalty goes to the Fulanis in West Africa and Arabs.
"If you are a soldier, police, members of National Assembly, professor, academicians, governors, from these indigenous 165million being used by Buhari to destroy your ancestral inheritance and your people, you should be shamed and do everything now to stop Buhari.
"Because in the end, after using you to destroy your people, you yourself will be destroyed. We must all say no to Fulani herdsmen destruction now and stop them. Miyetti Allah now determines what happens in the Presidency. They warn constitutionally elected governors of states and threaten destruction and Nigerian Army supports them.
"This is not about politics, its pogrom and ethnic cleansing by Buhari and his gangs. Let the indigenous Nigerians rise now, and say enough is enough. Our soldiers should refuse Buhari and Buratai's command and secure their people.
"Senate and House of Representatives should stand up to their duties and stop this evil before Buhari destroys every one. Enough is enough. We are tired of mass burials of innocent people from across Middle Belt killed and murdered by Meyitti Allah and Fulani herdsmen and their land stolen and renamed.
"It is time to rise up boldly against these killings and land grabbing, and let us all say 'no to grazing route' and planned illegal land grabbing by Federal Government to give herdsmen in the name of open grazing and ranching. Ranching should be a private business, not government business. Let us all throw away our divisions and fight this war, unleashed on indigenous Nigerians by President Buhari and his Fulani herdsmen which he is their life patron," Danjuma said.
He further said the Fulani herdsmen and Boko Haram were not tax payers, saying, "They are foreigners – Arab Africans. This is more than religion. Both indigenous Christians and Muslims are massacred under the supervision of President Buhari. It is land grabbing", he added.

Rivers Remains My Top Priority, Wike Affirms …Lauds One Million Youths For Contributions To Poll Victory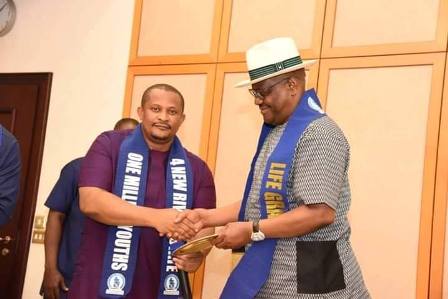 The Rivers State Governor, Chief Nyesom Wike has reiterated his commitment to the development of the state, saying that Rivers State remains his top priority at all time.
Speaking during a courtesy visit by the leadership of One Million Youths for New Rivers State at the Government House, Port Harcourt, yesterday, Wike said that he was working to place Rivers State at the top.
He said: "My commitment is to Rivers State. My focus is on whatever will make Rivers State to be a leader amongst the comity of states.
"We are working to have a positive impact on the lives of the people of Rivers State, to make sure that we have to protect the interest of Rivers State".
The governor noted that his commitment to Rivers State is beyond political consideration.
"No party is above the interest of Rivers State. Any party without the interest of Rivers State, will not have any connection with me. That does not mean that I don't have the interest of my party, but Rivers State is paramount."
Wike assured youths that many of them will be captured in the next set of appointments by his administration.
He charged the youths to remain loyal and not allow busy body politicians mislead them.
"Loyalty by the stomach is not full loyalty. I urge you to remain faithful to the state. Don't allow busy body politicians to make you do what you are not supposed to do", he said.
He appreciated the contributions of the leadership and membership of the One Million Youths for New Rivers State to his re-election.
He said that the support of the group is in the interest of Rivers State, and urged the members to remain focused on the growth of the state.
On the next governor of Rivers State, Wike said that only a prepared and determined leader will emerge, adding that only those with the capacity to lead will win the governorship seat of the state
In his remarks, the National Coordinator of One Million Youths for New Rivers State and Deputy Speaker of the Rivers State House of Assembly, Hon Ehie Edison berated members of the APC for attacking the Abuja residence of Dr Peter Odili.
He said that the vision of the One Million Youths for New Rivers State was beyond elections, hence they are working to empower youths.
"The vision of One Million Youths for New Rivers State is beyond elections, it is centred around improving the leadership skills of Rivers youths from secondary schools and tertiary institutions.
"In practical demonstration, we immediately launched N2million youth empowerment scheme to 10 youths from two separate local government areas at N200,000 per person, solely for small scale business support", he said.
Edison also noted that the group has created an education and health department to cater for the needs of registered members.
The group called on the Rivers State governor to support them with additional funds to empower more youths across the 23 local government areas of the state, explaining that the group will follow the direction of the governor for the 2023 elections.
He said: "As 2023 approaches, One Million Youths for New Rivers State will not be engaged in political projects whatsoever, for now. Our interest is in your direction and instruction. You have given Rivers State, a sense of purpose, sacrifice and vision. Only those certified under your leadership will get our support irrespective of personal relationship."
Edison lauded Rivers State governor for transforming Rivers State into the Headquarters of projects and construction.
He also commended the Rivers State governor for empowering youths through appointments, political placements and contracts.
The deputy speaker of the Rivers State House of Assembly urged the Rivers State governor to seek higher office to contribute to the transformation of Nigeria.

Buhari Recognises Kyari As 'Deputy President' -Ex-Emir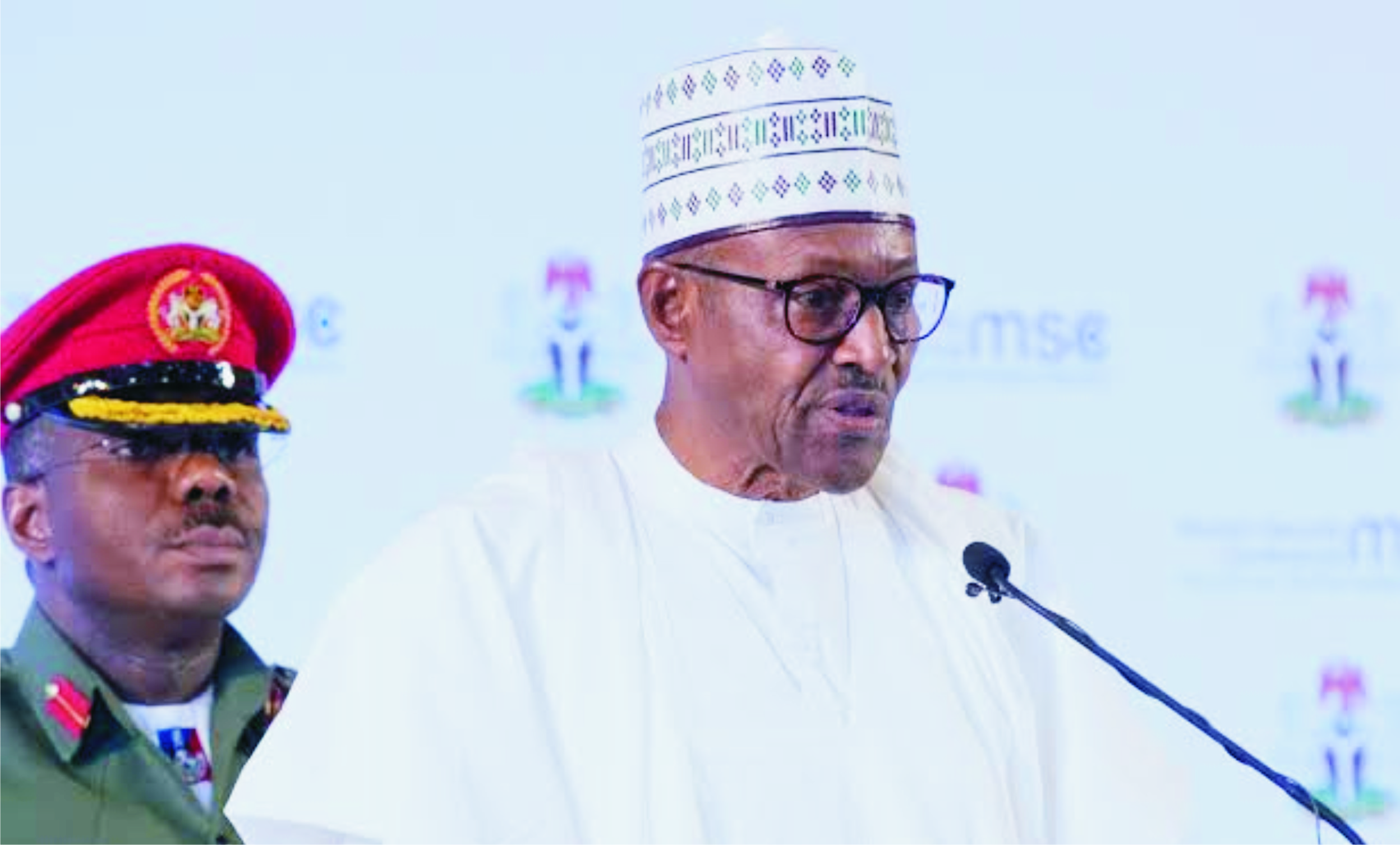 Former Emir of Gwandu, Major Mustapha Jokolo (rtd), has alleged that President Muhammadu Buhari recognises his Chief of Staff, Abba Kyari as "deputy president."
Gwandu was reacting to the face-off between the National Security Adviser (NSA), Babangana Monguno and Kyari over the coordination of the country's security.
He urged Buhari to sack both Monguno and Kyari for being "greedy and selfish" in the discharge of their duties.
The former Aide-De-Camp to Buhari during the President's military regime stated while featuring on a radio programme in Kaduna.
Jokolo reminded both Kyari and Monguno that Nigeria was greater than any individual; hence they should remember that all was watching.
He said: "The misunderstanding between them was borne out of greed, selfishness, if not, these two are brothers. They are all Muslims and from the same tribe. President Buhari had brought them to assist him in different roles, why then should there be any conflict of roles?
"Truly, General Munguno had complained, but he did not refer his complaints to the right people. He should have written directly to President Buhari, on how he felt about his Chief of Staff. This is because Buhari tends to recognize his Chief of Staff as his 'Deputy President.
"Buhari had said everything should be done through the Chief of Staff, this implies that Buhari has given him limitless power and he can do anything. But this is a misnomer."
It would be recalled that a circular from the office of the NSA had a few days ago alleged that Kyari had hijacked the coordination of security leadership in Nigeria.
In the circular, Monguno had alleged that Buhari's Chief of Staff had sidelined him in making strategic decisions in national security operations.
Meanwhile, a chieftain of Yoruba socio-political organisation, Afenifere, Pa Ayo Adebanjo, has described President Muhammadu Buhari as an "illiterate" who does not know what restructuring means.
Adebanjo said Buhari's illiteracy was taking Nigeria back to the dark ages by refusing to implement resolutions on how to restructure the country.
The Afenifere chieftain decried that the country has not been lucky in electing the right political leaders since the return of democracy in 1999.
He spoke at a lecture titled: 'Restructuring: Building a Knowledge-Based Economy', organised by the Voice of Reason in honour of her Founder, late Prince Goke Omisore in Lagos, yesterday.
Adebanjo also stated that Buhari was less-concerned about the future of Nigeria.
According to Adebanjo: "Despite far-reaching resolutions submitted to President Muhammadu Buhari on how to restructure Nigeria politically, economically and socially, Buhari is less-concerned because he does not know what restructuring means.
"President Buhari is an illiterate, he does not know what restructuring means, he is less concerned about the future of Nigeria, he is only bothered about his cows."
The elder statesman urged youths in the country to form a movement that would ensure they regain power from the old generation.
"I am 92 now; I want to challenge the younger generation to take their destiny into their hands.
"There is little to what I can do, the energy is no longer there.
"I want you to take the bull by the horn, take Nigeria back from the hands of your oppressors and build a society that will make you proud among your fellow young people in the global economy," he said.