Concept Nova, Nigeria's most innovative Information Technology Company is proud to announce the launch of a
brand new Mobile App called "NovaTrak"
This app which is now available for download on Google Play Store on Android devices has been designed to enable new and old Concept Nova clients monitor their asset (cars, trucks, containers, ships etc…) anywhere and at any time, via an internet enabled android device.
Other features of this Mobile App includes:
Detailed reporting on how long asset has been placed on idling
Determine the location of asset, (know where a vehicle has visited, time spent at the location, fuel consumption etc…)
Receive notifications on restrictions set, when specific actions occur (e.g. over speeding, geo-fence, ignition on/off)
Alerts on maintenance scheduling
Improves driver behaviour (due to effective monitoring)
Effective fuel-monitoring solution
This app further enables individual's access unique product offerings by Concept Nova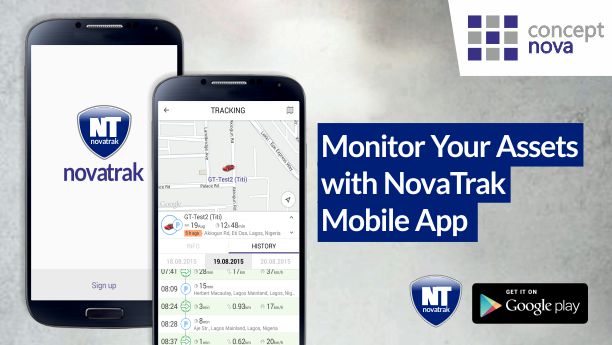 Itiekhao Ikpeminogena, General Manager, Concept Nova speaking on the development said: "At Concept Nova, we are excited about the launch of this brilliant mobile App which further extends the convenience of ease of asset control using any of our tracking products, as well as the ability to access self-enabling features such as Over Speeding, Geo-Fencing and alerts when a vehicle's ignition has been turned off/on. This app creation is hopefully the beginning of greater things as Concept Nova continues to develop new innovative products across all levels in Nigeria".
The app interface built with functionalities like "search" and "browse" to ensure both new and old customers enjoy full control of their assets at any given time.
Download the NOVATRAK App from the Google Play Store on http://bit.ly/NovaTrak
Concept Nova is a proudly Nigerian company and can be contact on or visit http://www.concept-nova.com/novatrak/help  to learn more.