Evolution Of Information Systems
Before the 1960s, information systems were predominantly basic. The available programme served the following purposes: electronic data processing (EDP) functions as transactions processing, accounting and record-keeping. EDP refers to the use of computer systems in recording, classification, manipulation, and summarising of data. EDP is synonymous with transaction processing systems (TPS), information processing or automatic data processing. These process data from business transactions facilitate the updating operational databases, and generating business documents. Good examples include accounting systems and sales and inventory processing.
In the 1960s, computers received an additional role: data processing to useful informative reports. This introduced the management information systems (MIS) concept. This new role sought to develop business applications which offered managerial end users predefined management reports that supplied managers with relevant information for decision-making. Management information systems are a source of information represented in form of reports and displays utilized in business decision making. These include sales analysis, cost trend reporting systems, and production performance.
By the 1970s, the pre-defined management reports no longer seemed adequate in supporting various decision-making needs by management. As a means of satisfying these needs, decision support systems (DSS) emerged as a new information management system. These new information systems serve to provide various managerial end users with both ad hoc and interactive support systems for their decision-making processes. Generally, decision support systems offer interactive ad hoc support for managerial decision-making processes. Examples of these include product pricing, risk analysis systems, and profitability forecasting.
In the 1980s, microcomputers were first introduced into the workplace, with a profound impact on organisations. There was rapid development of microcomputer processing power, application software packages (such as Microsoft Office), as well as telecommunication networks. This resulted in the new end user computing phenomenon. End users were able to use their own computing resources in the day-to-day job needs, thus eliminating their reliance on indirect support of centralized organisational information services department. However, it was realised that majority of senior executives did not use directly the MIS reports or the analytical modelling capabilities of the DSS. This inspired the introduction of the executive information systems (EIS) concept that provide critical information from existing MIS, DSS and other sources to meet information needs of senior executives.
At the same time, there were significant breakthroughs in the development and use of artificial intelligence (AI) methods to business information systems. The reducing need for physical human intervention led to the freeing up of knowledge workers to attend to more complex tasks. Expert systems (ES) together with knowledge management systems (KMS) brought about the new role for traditional information systems. ES could now serve as consultants to users through the provision of expert advice in particular subject areas. Today, ES or KMS serve as expert advisers and consultants to users. They include credit application advisor, maintenance diagnostic systems, and process monitor. KMS are crucial in supporting the creation, organisation and relaying of business knowledge in the organization
In the period between the mid and late 1990s, there was a revolutionary development of enterprise resource planning (ERP) systems. This is an organisation-specific form of strategic information system. It incorporates the various departments of a firm from operations to accounting to human resources among others. The main strength of these ERP systems is that they have a common interface for the different computer-based organizational tasks and their precise integration and data sharing required for efficient strategic decision making.
MIS to e-Commerce
The exponential development of the Internet and other interlinked global networks during the 1990s significantly improved the ability of information systems in the workplace. As a result, web-enabled and Internet-based enterprise, commerce systems and global electronic business have become commonplace in today's business enterprises.
Present information systems still undertake the same basic functions they did over half a century ago. These include processing of transactions, record-keeping, provision of useful and informative data to management, and provision of support to processes and accounting systems of the organisation. Nonetheless, there is a significant change in the form of greater ability of information systems to integrate various system functions across different applications and greater connectivity across similar and differentiated system components. Today's management systems also provide organisations with the ability to relocate such critical computing tasks as processing, data storage, and presentation that enable taking of advantage of the existing and potential strategic and business opportunities.
The continued technological innovation promises increased development in the capabilities of information systems as focus turns on how to increase the speed and coverage of the systems. There is therefore the potential for increased integration and greater flexibility in the future. The Internet, its related technologies and support applications, have significantly evolved the manner in which organizations function and people work. It also impacts the way information systems provide support to business processes, managerial decision-making and create competitive advantage. Businesses are increasingly taking advantage of Internet technologies by web-enabling their business processes and creating innovative e-business applications. Today, e-business refers to the utilisation of various Internet technologies in the workplace and business processes and engaging with customers and other business stakeholders.
The internet and Internet-like networks (intranet and extranet) are now the primary IT infrastructure providing support to various commercial applications in many companies. Most businesses are now dependent on various e-business applications in re-engineering their internal business processes, implementing electronic commerce systems with customers and other stakeholders, and promoting enterprise collaboration among different business teams and workgroups.
Modern decision-making Information systems support various management decision-making at different  levels of management. These include tactical management, strategic management, and operational management.
Strategic management relates to the typical roles of the board of directors and the executive committee consisting CEOs and top executives. This refers to development of the overall corporate goals, policies, strategies, and objectives, which comprise strategic planning process. Also, it relates to monitoring of the strategic performance of the business and its overall trajectory in the economic, political and competitive business environment.
Tactical management – Increasingly, business professionals both in self-directed teams and business unit managers are developing short- to medium-range plans, budgets, and schedules. The plans contain specified policies, procedures and business goals and objectives for the different subunits of the organization. There is also allocation of resources and monitoring of performance of the organisational sub-units
Operational management – Operating managers and members of various self-directed teams are increasingly developing such short range plans as weekly production schedules. These are useful in directing the use of resources among different sub-units as well as the execution of tasks following established procedures, budgets and schedules.
Information systems that enhance the value of information include data warehouse, data mining, and online analytical processing.
Data warehouse (DW) – It is used for storing data extracted from various operational databases, external databases and other databases. Thus, it is therefore a central source of corporate data that has undergone cleaning, transformation and cataloguing for use by management and other business professionals. This data is used at the crucial step of data mining, analytical processing, market research and key decision support.
Data mining (DM) – Data retrieved from DW databases as well as static data are extracted for business processes. The extracted data aids in identifying hidden patterns and trends in historical business activity; making it an important tool for decision-making within an organization. The strategies that management generates are what enable them to gain a competitive edge as well as improve their business performance..
Online Analytical
Processing (OLAP)
OLAP enables managers and analysts to examine interactively, and manipulate, large amounts of detailed and consolidated data from many angles. It involves analyzing complex relationships within data items that are stored in data marts, DW and other multi-dimensional databases. An OLAP session takes place online in real time, with rapid responses to a manager's or analyst's queries, so that their analytical or decision-making process is not delayed.
Wori is a US-based Systems Analyst
COVID-19 Vaccination: Role Of Local Leaders
It was a matter of time, but COVID-19 vaccination has already started to generate heated arguments following a hint that the Federal Government could start sanctioning anybody who refused to be vaccinated.
Dr Faisal Shuaib, Executive Director,  National Primary Health Care Development Agency (NPHCDA), disclosed this at a recent press conference in Abuja. He, however, said that implementation was dependent on availability of the vaccines.
"The Presidential Steering Committee and the Federal Ministry of Health are exploring ways of making vaccines more available to all Nigerians, including federal civil servants and corporate entities.
"Once these vaccines are made equitably available to all Nigerians, then we will need to have a frank discussion about justice, fairness and liberty that exist around vaccine hesitancy.
"So, you have a right to refuse vaccines, but you do not have the right to endanger the health of others," he said.
Already, attempts have been made by two states – Ondo and Edo – to make COVID-19 vaccination compulsory, especially for public servants and members of the public who wish to gain access to certain places.
These places include religious worship centres, banks and public buildings.
However, those attempts and the suggestion that the Federal Government might sanction those who refuse vaccination have been criticised by some trade, professional and religious associations.
 The Nigeria Medical Association (NMA) and Joint Health Sector Union (JOHESU) that kicked against the compulsory vaccination, said that government should rather embark on advocacy and persuasion, than coerce citizens into getting vaccinated.
The spokesman for JOHESU, Mr Olumide Akintayo, said the policy would only be sensible if there were enough vaccines to inoculate eligible citizens.
Akintayo stated: "If you are thinking of it in terms of responsibility, it makes sense; but practically, we all know it is an impossible task.
" If all the doses that have been sent to Nigeria since this outbreak is less than 10 million, how do you enforce that kind of policy in a country of over 200 million people?
"You don't just come up with policies that are not backed by common sense; you don't just say things because you want to talk. It would have made some sense if the vaccines are available for everyone."
The General Secretary of the NMA, Philips Ekpe, said citizens could not be forced to be vaccinated against COVID-19 the same way they had the right to reject medical treatment.
Rather than being forced, he said Nigerians should be made to understand the need to be vaccinated. 
According to him, although they cannot be forced, citizens who refuse vaccination should stay in their houses so that they don't endanger others.
He said: "The Federal Government needs to make people understand the reason why they need to be vaccinated. They have the right to say no. You cannot force people. People have the right to say no to medical treatment.
"But you should let them understand the dangers of not getting vaccinated.
"For example, if you want to travel out of the country, if you are not vaccinated, you will not be let in. The reason is because the other country you are going to won't want to endanger the lives of its citizens.
"Let them understand the importance, but then if they refuse, they should stay in their houses and not go out and endanger others."
Experts believe that properly communicating the advantages of being vaccinated, through the use of existing structures, such as religious and cultural institutions, would yield better results than subtle threats.
Communication connotes persuasion, even on occasions when the purpose of a piece of communication is not to persuade, there is still the need to win over the audience to accept the message.
In this era of fake news, and when the social media is awash with conspiracy theories against vaccination, persuasion must first be deployed to get the attention of citizens.
The burden increases tremendously when there are cultural and religious stereotypes which could prevent many adherents from accepting that being vaccinated is safe.
This challenge is not peculiar to Nigeria. In the U.S. for instance, vaccine hesitancy is responsible for over 90 per cent of all COVID-19 related hospitalisation.
Getting some Americans vaccinated has been so challenging that many people have been offered monetary incentives to convince them to get vaccinated in an unusual case of persuasion.
In Nigeria, where religious and traditional leaders are custodians of faith and culture respectively, they wield great influence on devotees and those institutions can be deployed to boost vaccination drive.
Historically, religious and traditional rulers often employ the cognitive process of persuasive communication to change an entrenched social perception or public opinion hindering required public support for relevant people-oriented policies.
Leaders have the influence to subtly appeal to the target to listen, accept, comprehend and act.
Therefore, before considering the stick, government should first explore the use of carrot.
Religious and traditional leaders can help in giving correct messages on vaccination as well as being role models, making sure that they and their loved ones too are vaccinated.
Faith-based and culture-based organisations can also collaborate with other leaders to sensitise communities on the benefits of vaccination and to also dispel the many myths and disinformation about it.
King Bubaraye Dakolo of Epetiama Kingdom in Bayelsa has been putting this practice to use, since vaccination was first rolled out in Nigeria in March.
"The arrival of the vaccine brought a huge relief to our kingdom. I mobilised my people to carry out awareness campaigns in the various communities to guard against apathy.
"My council chiefs and I led by example in being vaccinated early. When the people saw that, they were fully convinced that the vaccine is not harmful.
"We made it clear to our people through town hall meetings that the vaccine is safe and is designed to save humanity.
"We equally reminded them how some persons who refused to be vaccinated for poliomyelitis in the past are suffering the consequences of their actions today," the traditional ruler said. 
According to the WHO COVID-19 Dashboard, Nigeria had administered 4.4 million COVID-19 vaccine doses as at Aug. 31, 2021. Out of that number, 2.9 million Nigerians have been fully vaccinated, according to the NPHCDA.
With a fairly efficient vaccination structure, owing to many years of immunisation against polio, the Nigerian government should activate collaboration with religious and traditional bodies in its vaccination drive.
Experts, including health professionals and public administrators, believe that involving these leaders in advocacy and public enlightenment will lead to more people accepting to voluntarily get COVID-19 vaccination.
Of course, with just a paltry 0.7 per cent of the population vaccinated, the key indicator for any punitive measure for avoiding vaccination will be subject to availability of the vaccines.
However, to achieve the goal of vaccinating 40 per cent of its 200 million population before the end of 2021 and 70 per cent by the end of 2022, Nigeria will need more than availability of vaccines.
There has to be the acceptance and willingness of the majority of its population to be vaccinated.
One of the crucial and effective way to achieve that is to work with religious and traditional leaders.
By: Kayode Adebiyi
Adebiyi writes for News Agency of Nigeria.
Food Preservation: Time To Check Traders' Excesses
Have you ever bought oranges, mangoes, bananas, plantain and some other agricultural produce and wondered about their taste? Were they plucked before maturity? Were they cooked or ripened with chemicals, especially calcium carbide among others? Were they washed with detergents?
Calcium carbide is a chemical compound that is industrially used in the production of calcium cyanamide for fertilizer and also in welding. When calcium carbide comes into contact with water it produces acetylene gas that hastens the ripening of several fruits such as mangoes, bananas and apples.
These are some unscrupulous practices by traders in the various major and minor markets around us that pose a big threat to human health.
Food is one of the necessities of life, besides shelter and clothing. Through food, the human body is nourished with various nutrients, including carbohydrates, proteins, vitamins and minerals essential for making a person healthy.
In as much as human beings cannot survive without food, how the food is handled after harvest and during storage can be a big threat to a person's health and general well-being.
Agriculture analysts believe that apart from the abuse of fertilizer application at various stages of planting, the use of chemicals for storage and ripening of fruits has become a huge cause for concern. So also is the washing of fruits, vegetables, nuts and root crops with detergents.
According to them, general abuse of agricultural produce, especially beans and other grains by traders in markets and vendors or retailers at different selling locations have reached an alarming stage.
It is common today to see fruits, vegetables, nuts and root crops retailers and vendors washing them with detergent. Equally disturbing is the traders' use of carbides to ripen fruits and pesticides like Sniper on beans to prevent or remove weevils' infestations.
Chief Akanbi Adeoye, the leader (Babaloja) of Ikosi Market, popularly known as Jakande Fruit Market, Ketu, Lagos State, blames fruits and vegetables vendors and retailers outside the major markets for such practices.
"Our information and security officers have not made complaints about such incidents in this market.
"Here, fruits and vegetables are sold on wholesale basis to traders from all parts of the state and they carry them in bulk to their various markets and selling locations,'' he said.
Mr Adebayo Damola, a trader and wholesaler of plantain, pears, avocado, pineapples and bananas among others, says those who use carbide to ripen fruits and vegetables and wash them with detergents do it outside the major markets.
"Here, we are middlemen to farmers who entrust us with their produce which come straight from their farms.
"We sell in bulk to traders within and outside this market and they take them to places where they sell.
"However, l know that fruit and vegetable retailers and vendors use carbides to make them ripe fast.
"I know too that some wash them with detergents to remove the soil and make it clean enough for display to attract customers,'' he said.
Damola says that in using carbide to ripen fruits, it is not sprinkled on the fruits or vegetables, but dropped at the centre after arranging the fruits in circular form and then cover with cloth.
He adds that it is the heat generated by covering it with cloth that causes the fruits and vegetables to ripen within 20 hours to 24 hours.
An agricultural engineer and retired staff of the Federal Ministry of Agriculture, Umudike, Umuahia in Abia State, Mr Mba Agu, says it is not the duty of traders to apply agro pesticides like Sniper on gains, especially beans.
"The application of pesticides on any agricultural produce, especially on beans and other grains, is for agriculture professionals and not traders.
"Agriculture professionals are trained to apply agro pesticides and insecticides on agricultural produces in a way that it will not be harmful when consumed.
"The problem is that people think that they can use Sniper and any other pesticides on agricultural produce without the input of those trained to do so.
"All pesticides and insecticides are bad and dangerous, at the same time still useful when used in correct proportions.
"If wrongly used, they become hazardous and dangerous for consumption and become cause for an array of health issues,'' he said.
Sniper is one of the agricultural pesticides used to control insects and pests on grains and seeds and other wide range of produce.
Sniper contains Dichlorovinyl Dimethyphosphate (DDVP) 1000mg, Sodium Sulphate and Enzymes as recommended by the World Health Organisation (WHO).
Agu says there are three methods through which pesticides can be applied on beans and other produces for storage.
According to him, the pesticides are mixed in the material at recommended doses, sprayed around the warehouse for bulk storage or surface of the material in a container.
Agu believes that it is time pest control officers leave their comfort zones and enter the markets to sanitise the abuse of pesticides application on grains, especially beans.
He says it is time too that the National Agriculture Council dispatch its seed law enforcement officers to the markets to regularly take samples of grains for laboratory test and analyses.
For Dr John Olaoye, an agriculture engineer and lecturer, Department of Agriculture, University of Ilorin, farmers are and should always be encouraged to minimise the application of pesticides on beans, grains and other produce during storage.
"This is because during the planting stage, a lot of pesticides are used at flowering stage to protect it from pests.
"At the storage stage, it is advisable to use natural materials like pepper or by exposing the produce to oxygen.
"If you must use pesticides and there are residual content on the produce still remaining, it is still harmful,'' he said.
Olaoye notes that the properties in DDVP pesticides were such that can vaporise.
According to him, if professionally applied, by the time of cooking at a boiling point of between 75 degree centigrade and 100 degree centigrade, the material will vaporise and will not be part of what is consumed.
"However, there are herbal formulations which are natural that can be used to prevent grains and other agricultural produce from pests and insects attack that were not harmful,'' he said.
Olaoye says that since the market is the prerogative of the local government councils, the councils should revive their community and public health officers as was the case in the 1950s, 1960s, 1970s and early part of 1980s.
He adds that it is not enough for the local government to collect levy and issue receipts without doing the work of sanitising what comes out from the markets and upgrading the market structures.
The Unilorin teacher says that the community and public health officials check traders, what they have in stock, how they are stored and displayed for sale to ensure they are good for consumption.
They also stamp animals before they are slaughtered for sell as meat in the markets, adding that they also visit houses and test water from public mains and boreholes from which the occupants are drinking.
According to him, it is a pity that community and public health officers are not part of our system any more. However, the sooner the community and public health workers are brought back, the better it will be for everybody. Therefore, it behoves the government, especially local government councils, to be up and doing to safeguard the health of the citizens.
Dr Ikechi Agbugba, a vegetable expert and lecturer, University of Port Harcourt, says the misuse of any chemical on agricultural produce is a killer.
"How on earth will anybody wash fruits and vegetables and any other produce with detergents? What happens to water and sponge?
"This happens because traders always prefer the easy way out.
"The government has to be proactive to be able to check the excesses of traders and food vendors by apprehending and prosecuting offenders,'' he suggested.
According to him, it is better to wash fruits and vegetables with clean water and sponge.
Agbugba says research works have shown that traders and food vendors are ignorant of the implications of what they are doing. He notes that organising and encouraging traders to form associations and get those doing similar trading to register is the easy way to enlightening traders on this.
"The market crier is useful in reaching them and telling them how to improve on handling hygienically the wares they have for sale,'' he said.
On the whole, the federal and state ministries of agriculture should deploy their seeds law enforcement officers and pest control officers to major markets and produce retail outlets to ensure that what they are selling is good for the body when consumed by unsuspecting consumers.
By: Chidinma Agu
Agu is of the News Agency of Nigeria.
Tackling Nigeria's Refugee Crisis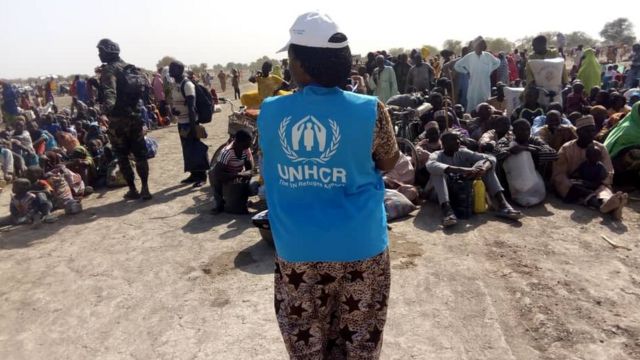 Even as the world marked the 70th anniversary of the adoption of the 1951 Geneva Refugee Convention this year, there have been increasing attempts lately by some governments to disregard or circumvent the principles of the Convention.
The UN adopted the convention establishing the rights of people forced to flee their home countries following the creation of UN High Commissioner for Refugees (UNHCR) the previous year shortly after World War II.
However, there has been rising need for the international community to uphold the key principles of refugee protection as laid out in the Convention, including the right of someone fleeing persecution not to be sent back into the path of harm or danger, especially now that the world refugee crisis caused by conflict, poverty, war, violence, mis-governance and climate change has continued to drive more people out of their homes.
This is as some governments attempt disregarding or circumventing the Convention's principles, through expulsions and pushbacks of refugees and asylum seekers at land and sea borders, to the proposals to forcibly transfer them to third states for processing without proper protection safeguards.
According to Article 1 of the Convention, a refugee is a person who is outside his/her country of nationality or habitual residence; has a well-founded fear of persecution because of his/her race, religion, nationality, membership in a particular social group or political opinion; and is unable or unwilling to avail himself/herself of the protection of that country, or to return there, for fear of persecution.
The Convention not only ensures that refugees get another chance at living through the recognition of their human rights, but also stresses the importance of international cooperation in tackling the problem.
Filippo Grandi, the UN High Commissioner for Refugees, said that the treaty is a crucial component of international human rights law and remains as relevant now as it was when it was drafted and agreed.
 "The language of the Convention is clear as to the rights of refugees and remains applicable in the context of contemporary and unprecedented challenges and emergencies – such as the Covid-19 pandemic," Grandi said.
Globally, over 82.4 million people have been forced to flee their homes and among them are about 26.4 million refugees, half of whom are under the age of 18.
According to the UNHCR flagship report for 2020, Turkey continues to host the largest number of refugees with about 4 million people, 92 percent of whom are Syrian refugees.
Mr John Mckissick, UNHCR Deputy Country Representative in Nigeria, said that one out of 95 people on Earth today had been forced to flee his or her home to either become internally displaced or crossed the border to become a refugee.
According to him, Nigerians have become refugees abroad as a result of insurgents actions, non-state armed groups and organised criminal gangs.
Violent conflicts in some regions continue to increase the occurrences of displacements, leaving citizens with no option but to become refugees or settle in Internally Displaced Persons(IDPs) camps.
Over the last decade, violent attacks of bandits and the Islamist group Boko Haram as well as communal clashes have continued to escalate in Nigeria's North-East, North-Central and North-West regions, according to UNHCR.
To help, UNHCR says it is providing 'protection-by-presence, in the field through strategic protection monitoring, vulnerability screening, provision of material assistance and subsequent individual protection referrals to service providers.
The Agency is also advocating for increased access to social and basic services for displaced persons, respect for the Civilian and Humanitarian character of IDPs camps and a better protection environment overall.
Dr Wole Kuniji, an international law expert, said that to combat the refugee crisis in Nigeria, there should be a focus on the "root cause approach."
Kunuji, a lecturer in the Department of Jurisprudence and International Law, University of Lagos, emphasised that the root cause approach addresses the foundational causes of the increase in refugees.
"The refugee crisis currently all over the world is caused by conflict, poverty, war, violence, mis-governance, climate change, among others.
"Let us figure out solutions to these causes and implement them before the situation escalates," he said.
Suffice to say that all hands must be on deck to tackle and eliminate these root causes if Nigeria will be free from the menace", Kunuji said.
According to him, the provision of Article 33 of the Refugee Convention on  the principle of 'non-refoulement' was the most significant and constitutes the cornerstone of the international refugee protection.
The provision refers to the practice of not forcing refugees or asylum seekers to return to a country in which they are liable to be subjected to persecution.
It asserts that a refugee should not be returned to a country where they face serious threats to their life or freedom and is now considered a rule of customary international law.
Kunuji said that the principle of non-refoulement was also the anchor of the Nigerian Refugees Act, adding that it must be appropriately followed.
Speaking on consequences for the violation of the provisions, Kunuji added that there should be an accountability and monitoring mechanism in the act.
This, he said, would mandate the National Refugees Commission to report to a relevant committee on what has been done regarding the provision.
"It's one thing to have provisions in place and it's another thing to have the political will.
"One way to ensure that there is a process of accountability is for the refugees commission to present a report every year on how they've helped or enhanced the implementation of rights of refugees.
"The UNHCR has a duty to continue to supervise and monitor the  implementation of the provision under the Convention and the Nigerian act," he said.
On the other hand, Mrs Toyin Saraki, Founder, Wellbeing Foundation, said that research and development approach needed to be employed to tackle the refugee crisis.
Saraki, an advocate for refugees, said this could be driven by the philanthropic community in Nigeria.
According to Saraki, the philanthropic sector in Nigeria is ready and would happily partner the government in a more meaningful way, to make the lives of refugees better.
 "This will allow the philanthropic sector help the government not just with funds but also at the frontline with key knowledge that can drive impact."
She added that her foundation believed in the need to make optimum health and social care outcomes a reality for the refugee population.
"We know that every  refuge deserves the right to health guaranteed in any host location, powered by health enhanced certifiable identities.
"Every refugee should have a health record and. We need the government to be able to plan to look after the health, education and care of refugees in our national budget.
"We cannot close our eyes to the infringement of the rights of refugees because any of us can be in such position tomorrow."
"I believe that the community approach is where we need investment to be increased so that we can lift the host community and prepare for the refugee community that keeps increasing."
"It is quite clear that every sector in Nigeria is going to have to come together to prepare for this emergency," she said.
By: Busayo Onijala
Onijala writes for the News Agency of Nigeria.