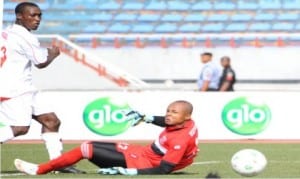 The Technical Ad
viser of Kwara United Football Club of Ilorin, Tunde Abdulrahma, has  extolled the performance of the centre referee, Patrick Nworie from Enugu State during their match on Wednesday.
Nworie was in charge of the Match Day 27 tie between Kano Pillars and Kwara United in Kano.
A seventh minute strike by Rabiu Ali from a free kick in the Glo Premier League match gave Kano Pillars the maximum three points in the game.
Abdulrahman who described the referee's performance as "100 per cent the best'' said Nworie performance was one of the best he has seen this season both home and away.
He then urged him to maintain such a display.
"If this man (Nworie) continues like this, the sky will be the beginning of his limit.
"If he can keep this display, we will see him in the World Cup very soon.
"If we can get this kind of performance week in week out, our league will improve dramatically,'' he said.
Abdulrahman said Nigeria was full of talented people and the league organisers should continue to encourage referees like Nworie.
The coach said if not that his goalkeeper was late to follow Ali's free kick, he would have returned from Kano with at least with a point.
"I'm very happy with my boys today. There are lots of positives from this game today, and we will go home to see how we can maintain it.
"If not because football is football, I'm supposed to be in Cloud 9 by now,'' he said.
Kwara United will now host Abia Warriors in Ilorin on Sunday in a Match Day 28 fixture.