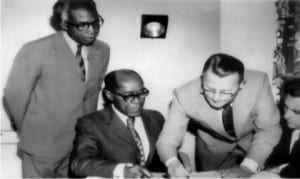 Radio Broadcasting began
in Nigeria in 1933 less than one year after the British Broadcasting Corporation launched in Empire Service.
The BBC commissioned the Empire Service by 9:30am on Saturday in December, 1932 by Lord Reith to link home government in Britain with British colonies and territories across the world.
Nigeria as a British colony or territory therefore benefitted from the radio broadcasting experiment which began in form of radiffusion.
It is on record that the Nigerian Broadcasting Service (NBS) was established on April I, 1951 after a transmitter was sited in Nigeria but was commissioned on June 1, 1952 by the Colonial Governor at the time, Sir John Mcpherson.
Evidence also shows that Tom Chalmer was the first Director General of what is today known as Radio Nigeria.
Howqwever, Nigerian Broadcasting Service transformed to Nigerian Broadcasting Corporation (NBC) in April I, 1957.
It-is common knowledge that one factor that facilitated the transformation was the landmark motion by D. S. Adegbenro at the House of Representatives, Lagos in March 23, 1954;' calling for the transformation of Nigerian' Broadcasting Service into a statutory Corporation to remove the impression that NBC was merely an organ of government.
Worse still, the nationalist leaders at the time criticised NBS for relaying mostly BBC programmes and broadcast less of Nigerian content.
It is worthy of note that while NBS and NBC were on amplitude modulation band called (AM), the first frequency modulation station (FM) in Nigeria was Metro FM formerly called Radio Nigeria Two which was established on April 22, 1977 in Lagos .
One thing is clear; a· major restructuring of radio broadcasting in Nigeria took place in 1978.
For instance, Lagos, Ibadan and Enugu Stations of Nigerian Broadcasting Corporation were fused with the Broadcasting Company of Northern Nigeria.
Consequent upon this fusion in 1978, NBC and Broadcasting Company of  Northern Nigeria were further transformed to Federal Radio Corporation of Nigeria, FRCN which Nigerians have today.
Interestingly, NBC radio stations were handed over to state governments while members of staff of NBC were given options to remain with the state radio stations or to stay with the new Federal Radio Corporation of Nigeria, FRCN.
Better still, the various state governments where NBC stations were sited automatically inherited the staff and property of NBC or FRCN as the new name is today.
Rivers State Government in 1978 shared in the experience and also inherited staff and property of NBC or FRCN as the case may be. Late Sonny Joe, Ms Gloria Fiofon. Goddy Williams, Brother Watson Asako, Eric Uzoma and late Jumbo Finarisa were among some of the staff inherited.
To be specific, the Rivers State Broadcasting Corporation (RSBC) as Radio Rivers under Chief Olu Banibo Fubara as General Manager made its maiden broadcast using its station identity and call signee on June I, 1978 with mostly inherited NBC FRCN facilities in Port Harcourt.
Mambo Tumbowei, signed on the station using Radio Rivers AM as the call signal at the time.
No doubt, NBC stations at William Jumbo Street, Forces Avenue, AM Stations at Ozuoba in Obio/ Akpor Local Government Area are truly property of RSBC and the uncompleted building of NBC at Degema Street were the property inherited.
In fact, the Degema Street building was completed by the Rivers State Government and is currently serving as the broadcast house of the corporation.
Unfortunately, the administration of Governor Peter Odili during his first tenure handed the premises and equipment of Radio Rivers to Daar Communication.
Overnight, members of staff of Rivers State Broadcasting Corporation (RSBC) operating the AM Station otherwise called Radio Rivers One were forced out of the Ozuoba Station.
This was how the Am Station largely seen as the Community Station became moribund and in turn, influenced negatively of programming of the present day Radio Rivers Two 99.1FM.
Consequently, a multi-ethnic state like Rivers State lost its indigenous languages in radio broadcasting.
It would be recalled that on July 28, 2015, officials of Daar Communication paid a courtesy visit to Governor Nyesom Wike during which the Managing Director of  Daar Communication, Raymond Paul Dokpesi Junior requested for a Certificate of Occupance (C.of. O) for the property.
Governor Nyesom Wike on his part thanked Daar Communication for supporting  his electioneering campaign and promised to ensure that they obtain the said document.
Under a democratic leadership, Rivers people would like to appreciate how the AM premises was transferred to Daar Communication for which Certificate of Occupancy is being requested.
No doubt, it was the sudden collapse and death of AM Station that led to the widening information gap between government and the governed in the state as broadcast in languages were accorded little or no time on FM.
It would be recalled that when the Rivers State Broadcasting Corporation was established in 1973, it commenced its television service known as RSBC – TV before the radio services at the present day NTA premises along Mgbuoba.
It is on record that the RSBC TV was taken over by NTA during the restructuring of   television services in 1976 under the General Olu Obasanjo regime.
Better still, NTA inherited some members of RSBC TV staff who were willing to stay with the newly formed NTA .as well as the premises till today as spelt out under the restructuring.
For instance, Pastor Shyngol Nwigwe and Elder Eddy Wilcox were among members of staff of RSBC TV inherited by NTA after the TV restructuring in Nigeria.
It is unclear the kind of restructuring that took place in Rivers State that Radio Rivers AM Station handed its premises and facilities to Daar Communication for which Daar Communication is requesting Certificate of Occupancy.
Rivers people need to be carried along.
Similarly, the immediate past administration handed over the Old Obi Wali Cultural Centre, Abonnema Wharf Road to Silverbird Communication without any tender or bidding while the administration of Dr Peter Odili again handed the Rivers 'State Public Health Laboratory at Ndoki Street to National Agency for Food and Drug Administration, (NAFDAC).
The purpose of this write up is therefore to task government to create adequate awareness to promote understanding in the effort to bring about a virile government and not to question the authority of government.
Since Rivers State is multi-ethnic in nature with seventeen orthographies of 17 Rivers languages approved by relevant authorities it is overdue to restructure the State Radio Broadcast Stations for optimum performance, Radio Rivers and Garden City alike.
The ongoing staff verification exercise by the Wike administration is a right step in the right direction including audit of property of Rivers State Government where Daar'Communication occupies in Ozuoba.
Baridorn Sika