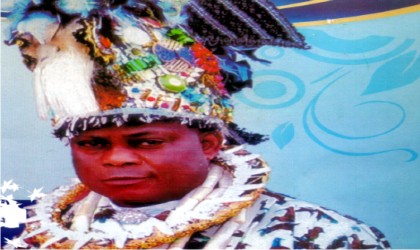 The chairman, Okrika Divisional
Council of Chiefs (ODCC), Chief Nemi Wisdom Adoki described it as a triumph of a people's resilience, yet many others saw the formal installation of Inimieari F. I. R. Gobi Olei XI as a reward for hard work, service to community and indeed dedication to noble courses.
Before Gobi Olei XI, there had lived in Abuloma, community, in Okrika chiefdom, ten occupants of the stool. Although without formal government recognition, the people found in their leaders, light and strength of character that ensured unrepentant followership.
The journey of centuries finally ended last Saturday, when the Gobi Olei War Canoe House was formally recognised with the installation of Inimieari F. I. R. Gobi Olei as the eleventh Occupant of the stool. It was indeed a colourful ceremony that Abuloma people and indeed friends of the War Canoe House will not forget in a hurry.
As early as 8am Saturday, the community was agog with drum beats, gaily dressed women and men and all manner of festivities, awaiting the arrival of the members of the ODCC at the Abuloma Civic Hall.
At exactly 10.30 am the initiation for malities started, with the formal introduction of the Chief-elect by the Chairman of the Gobi Olei War Canoe House, Mr Precious T. Gobi, where upon he was grilled by the ODCC Excutive Head.
To become a chief, among several other considerations, the person must have a house of his own in the community, must be legally married, must not have been an ex-convict, and must have basic education. More importantly, such a choice must enjoy the unanimous support of all families (oko's) within the House.
Prior to the public questioning, a committee set up by the ODCC, must have screened any chief-elect and reported finding to the committee of the whole before installation. The installation day edition is to enable any dissenting voices to speak-up against the installation, or for ever remain quiet.
That done, the chief-elect was then dressed by three other chiefs, namely: Chief Amba Kwani, Chief Soye Wilson Jamabo, Ogboru (The Third) and Chief (Prof) Opuamabe. He was then formally inducted into the ODCC as a recognised chief of Orkika chiefdom, after more than a century of struggles for formal recognition.
It was indeed a journey that constantly reminds members of the Gobi Olei House of the helplessness of their forebears. And indeed a history replete with exceptional communal unity, perseverance and indeed determination to have things right. That indeed is the destination which the formal installation of Inimieari Gobi Olei XI, eventually became.
From the Abuloma Civic Hall, the celebration moved to the precincts of the UPE Primary School Abuloma, where chiefs, and other invited guests, in turns eulogised the newly installed chief, in ways that truly justified his choice.
Speaker after speaker described Gobi Olei XI, as a very distinguished servant-leader whose contributions to the larger Abuloma community are awesome and his commitment to its development, overwhelming.
Until his choice as Chief of Gobi Olei House, Iniyeimiari was chairman of the Abuloma community Development Committee, CDC, after serving as vice between 2010 and 2012. He was also Vice Chairman, Abuoloma Chairmen Assembly, a position he utilized to foster unity, love and sense of purpose among all war-canoe houses in the community.
Also eventful is the chief's social life. He was pioneer chairman of Ibise-Amamie Age grade of Abuloma from 1977-1986 and held other positions like Financial Secretary, Building  Committee, Community Secondary School, six block building and was also Provost of the Tekena Douglas led CDC.
He had his primary education at the Abuloma/Amadi Central State School from 1971-76, Kalabari National College (KNC) from 1977-1978 before moving over to Okrika Grammar School, Okrika 1978-1984.
He recently graduated from the Industrial Service Centre, Civil Servants Progamme, Batch 4, 2013-2014 of the Rivers State Polytechnic, now Ken Saro Wiwa Polytechnic, Bori, Rivers State.
An astute leader, unrepentant sickler for communal growth and development and indeed positive role model of the youth in Abuloma, Gobi Olei XI means different things to different people. Those who consider his drive for community cohesion and unity, too fast for their pace, see him as stubborn while those keen on seeing Abuloma gain the needed limelight see him as a proactive leader.
In whichever divide one finds oneself, there is no disputing the fact that the young man has indeed impacted positively on his environment and is linked to virtually every development effort of his people ranging from environment, education, health and indeed youth development.
That perhaps accounts for the number of men, women and the youth that turned out enmasse to celebrate history last Saturday. It was indeed an occasion that revealed the best in the average Abuloma son and daughter, as they filed out in their colours and different dance steps in celebration of a long journey of struggles and perseverance that eventually culminated into a formal recognition of and eventual initiation into the prestigious Okrika Divisional Council of Chiefs (ODCC).
Four-term member of the Rivers State House of Assembly and immediate past member of the Greater Port Harcourt Development Board, Chief James Fuayefika Bilogbolo, in a speech at the event described Gobi Olei XI as a likeable youngman whose progressive attitude to communal unity and growth are indeed exemplary.
He commended the Gobi Olei War Canoe House for their steadfastness in fight for the most desired recognition denied their fore bears for ages and urged the people to rally round their chief for further development of the House and indeed the Abuloma Community.
Hon Fuayefika commended the new chief for providing the much-need rallying point that formed the elixir for the eventual choice, screening and installation of a Head Chief for the Gobi Olei War Canoe House.
In his installation speech earlier, Chairman of the Okrika Divisional Council of Chiefs (ODCC) Chief Nemi Wisdom Adoki described the chieftaincy institution as a very sacred one, designed to uphold and protect the people's rich cultural heritage.
Chiefs, he said, must live an exemplary life of leadership, compassion, wisdom, love and dedication to service. He urged them to be proactive to modern developmental imperatives by serving as social engineers, motivators and indeed master-servants striving for rapid communal growth and development.
Chief Adoki described Chief Gobi Olei as an example of master-servant traditional head, who had contributed meaningfully to the development of his people and advised him to continue.
In an interview with The Tide shortly after his initiation into the ODCC, Chief Gobi Olei said his royal  house could now heave a sigh of relief. He recalled the struggles of his predecessors who as Gobi Olei One-Ten, failed to get government recognition until his eventual choice as Gobi Olei XI.
He described the journey as a torturous one but said the end indeed justifies the means. He attributed the success to team work, unity, cohesion, dedication to the struggle and indeed determination of House members who were poised to jump every obstacle in the road to the coronation.
Highlight of the installation/initiation ceremony was the taking of oath of allegiance and the traditional chieftaincy banquet, amidst pomp and pageantry.
Soye Wilson Jamabo