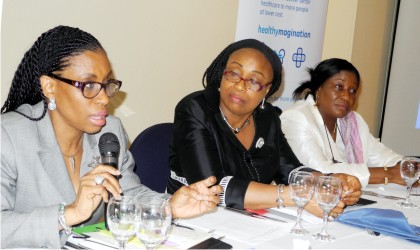 Concerned Nigeri
ans note that the number of doctors in the healthcare centres across the country is inadequate considering the nation's population estimated at more than 170 million.
They opine that the Nigerian situation in this regard does not represent the recommendation of the World Health Organisation (WHO) that there should be one doctor, at least, to every 600 patients.
Expressing concern about the inadequate number of doctors, the Medical and Dental Council of Nigeria, says that no fewer than 35,000 medical doctors are presently practising in the country in spite of the size of its population.
But medical experts insist that massive exodus of medical professionals from Nigeria in search of greener pastures in foreign countries is the cause of the shortage of medical doctors.
Dr Anthony Omolola, the Chairman Association of General and Private Medical Practitioners of Nigeria, Lagos chapter, noted that the brain-drain problem could be checked if the government improved on the welfare package of doctors in the country.
He admitted with an analyst's view that "there is a disproportionate concentration of medical professionals in urban areas.''
Omolola also advised that Nigerian Government should give more attention to primary healthcare to reduce disease burden in the society.
Sharing similar sentiments, Dr Osahon Enabulele, the former National President of Nigerian Medical Association (NMA), said poor human resources planning and unsatisfactory working conditions, among others, were responsible for the dearth of medical personnel.
According to him, because of inadequate infrastructure and remuneration packages, a sizeable number of physicians, nurses and other medical professionals are moving out of the country in droves.
"Most of these doctors are presently working in U.S., UK, South Africa and other neighbouring African countries, where medical personnel are treated better,'' he observed.
"In addition, more than 100,000 applicants show interest in studying medicine and surgery annually but less than five per cent gets admission.
"Universities cannot admit more than a certain quota based on the policy of National Universities' Commission (NUC).
"This is due to lack of infrastructures in our universities but the onus lies on the government to increase funding for education to put in place requisite facilities.
"This in turn would increase the number of applicants admitted to study medicine, increase the number of medical graduates and reduce the current doctor-patient ratio,'' he said.
Enabulele urged the Federal Government to increase budgetary allocation for residency programme of young doctors and improve salary and welfare packages of medical personnel to make those that are qualified stay in the country.
He said Nigeria had shortage of specialist doctors because the appropriate authorities placed little or no importance on training of doctors and other health professionals.
"The ratio of patients to doctors in Nigeria is appalling. It is about one doctor to 8,000 people; in U.S. and UK, it is one doctor to 100 people,'' he said.
Expressing concern about shortage of doctors in Nigeria, Dr Biodun Ogungbo, a consultant neurosurgeon, said there were 50 neurologists and 40 neurosurgeons in the country — doctors who specialise in the diagnosis and treatment of conditions affecting the nervous system.
"This shortage of neurologists means that Nigerians do not have access to neurological services. Even if they do, it will be expensive and unaffordable to most people,'' he said.
Further to this, observers note that there is only one diagnostic centre in the country at the University College Hospital, Ibadan, where the elderly —aged 65 and above — can receive specialist attention.
They note that Nigerian medical doctors also prefer popular areas of medicine such as obstetrics, gynaecology and surgery, the development, they believe, has contributed to inadequate personnel in healthcare.
But Dr Nathaniel Adewole, a gynaecologist in Abuja, gave other reasons for shortage of medical doctors
"Many students study the profession against their desire, so some went into business after the training.
"Also, some female doctors, due to marital issues, could decide not to practise medicine as it would affect the family life,'' he observed.
He also decried lack of space in the government hospitals, insisting that none availability of enough accommodation had posed problem for some young doctors to do internship.
"Space is the major barrier for graduated doctor to do their internship, once there is space they will be taking; so it is done batch by batch,'' Adewole explained.
This, notwithstanding, analysts opine that to meet the recommendation of WHO, Nigeria needs 283,308 additional doctors to maintain standard healthcare of its population.
Medical experts, therefore, appeal to the three tiers of government to address the deteriorating working conditions of doctors and dentists in primary and secondary healthcare by upgrading facilities in their domain.
Nwachukwu writes for News Agency of Nigeria (NAN).
Jacinta Nwachukwu