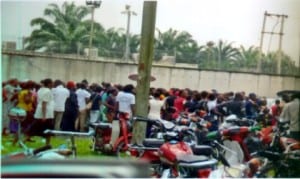 Investors at the floor of
the Nigerian Stock Exchange (NSE) on Monday moved a total of 66.48 million shares worth N808.55 million which exchanged hands in 1,001 deals.
Market capitalisation declined by N41.65 billion, closing at N11.07 trillion, compared to N11.11 trillion recoded by NSE last Friday.
All-Shares Index (ASI) also depreciated by 122.01 points, closing at 32,416.33 points as against 32,538.34 points reported by the NSE on Friday.
A total of 22 companies made gains in their transactions, 29 companies lost while the trading of 56 companies remained unchanged.
The gainers chart was led by 7-Up which made N4 gain per share closing at N194 per share. This was followed by WAPCO which made N3.50 gains per share closing at N104.5 per share.
Forte Oil, flourmill and ETI followed with N2,50k and 35k gains, respectively, closing at N192, N34 and N22 per share, respectively.
Total PLC lost N8 per share to lead the losers chart, closing at N157 per share respectively.
Seplat and Guinness followed with N5.95 and N4.80 losses per share closing negatively at N336.05 and N147.2 per share, respectively.
Meanwhile, shareholders have berated the low attendance of members at Annual General Meetings (AGMs) as they tasked the Securities and Exchange Commission (SEC) to make policy directing companies to repackage proceedings at the meeting.
Shareholders noted that less than two percent of the shareholders of quoted companies attend their companies AGM globally.
Lilian Peters