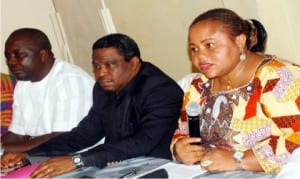 The Depot and Petroleum
Products Marketers Association (DAPPMA) on Thursday, blamed inadequate foreign exchange facility from banks to the inability of marketers from importing petrol into the country.
The Executive Secretary, DAPPMA, Mr Olufemi Adewole, disclosed this in an interview with  newsmen in Lagos, against the backdrop of the ongoing lingering fuel scarcity.
According to him, most marketers are faced with the challenges of getting foreign exchange facility from banks to fast-track petroleum products' importation.
"The business of oil and gas importation involved changing naira into dollar to be able to import products, but banks often refused to give foreign exchange facility.
"Most marketers who had licenses to import products could not import due to foreign exchange challenges.
"Some marketers who imported some cargoes of petrol into the country, which cost around 18 to 20 million dollars, found it difficult to pay their foreign partners in dollars because banks were not giving foreign exchange to marketers.
Adewole said that the inability of marketers to access banks foreign exchange contributed to the ongoing fuel scarcity in the country.
He said that marketers were also constrained due to the burden created by unpaid subsidies.
According to him, the current foreign exchange crisis in the country, as well as the failure of banks to advance loan facilities, make it difficult to consider importing fuel.
Some of the major marketers, who preferred not to be quoted, said that the inability of government to pay subsidy debt of more than N300 billion also contributed to the lingering scarcity.
The marketers said they were unable to import fuel in the last two months due to accumulated debt— as a result of the outstanding subsidy.
A former Publicity Relations Officer of PENGASSAN, Mr Seyi Gambo, urged the Buhari administration to urgently address the issue of downstream, describing it as the major problem confronting the nation.
According to Gambo, oil cartels and other actors in the sector, had held the country hostage for too long, and full deregulation is the ultimate solution to the problem.
"With deregulation, there is guarantee of product availability and once the products are available, factors of demand and supply will dictate the pricing,'' he said.