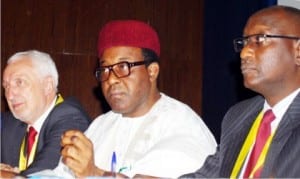 The erstwhile Chairman of the Nigerian Union of Journalists (NUJ) Rivers State Council, Mr. Opaka Dokubo, has said that the payment of two months workers' salaries owed by the past administration in the state is a test of how workers will fare under the new leadership of Governor Nyesom Wike.
Dokubo, who made this known in an exclusive interview with The Tide in Port Harcourt yesterday said the non-payment of workers' salaries has exposed workers to untold hardship which has also affected other sectors that depend on state workers' salaries for survival.
The NUJ boss who is also a civil servant noted that workers salaries should be treated as a priority by government, adding that "people need to live before enjoying any other facility that government can provide".
He said that most workers cannot pay their children's school fees, use their cars, pay their house rents, among other things, stating that "this is not a pleasant situation at all.
"Some have borrowed money and are now left at the mercy of money lenders who keep compounding the interest of the borrowed money.
Pensioners are worse off because they depend mainly on their pensions to take care of themselves.
In her own contribution, the Chairman of Nigeria Association of Women Journalists (NAWOJ) Rivers State Chapter Mrs Lilian Okonkwo appealed to Governor Nyesom Wike to treat the issue of salary payment urgently, adding that even though there are issues, workers salaries should occupy the first place.
She noted the need for the governor to handle this case with the same urgency he used in clearing the heaps of waste that littered Port Harcourt streets on assumption of office.
The NAWOJ Chair said that the salary problem has affected the association seriously as most of the members are civil servants, adding that "it is difficult to access fund anywhere because members can no longer pay their dues and contributions".
If this setback continues, workers would start looking for alternative businesses to generate fund. This will bring laxity which will definitely reduce productivity".
According to her, "clearing the salary arrears would be a plus to this administration that has promised to be workers friendly".