Text of valedictory speech by His Excellency Governor Chibuike Rotimi Amaechi, Con, Governor of Rivers State, on May 28 2015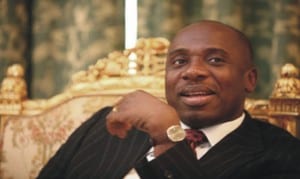 My dear people of Rivers State,
Once more I address you as the Governor of Rivers State, and historically, the last as the Administration we have anchored these past seven years reaches its home stretch. Together, we have made it a date with History. Together we have run a race anchored on God and His might. We have shown the world that together, we can overcome our giants in a manner peculiar to our destiny. It has been our honour to have served Rivers people at a time such as this and it is with a lot of gratitude to God that we draw the curtains on what has been an eventful and successful tenure. Our History has added pages in honour to our determination to harvest and harness the best in our diversity.
When God gave us the privilege to steer the mantle of leadership of our great state in 2007, we arrived with the zeal to leave the state better than we would have met it. The obvious risks and booby-traps were not lost on us. We foresaw the long, narrow, winding road ahead, but we trusted that God would guide us and true to His faithfullness, God has proved His goodness and mercy.
In the face of daunting challenges that threatened our future, insecurity leading the pack, we hit the ground running and soon, our state became a haven and factory of sort. Across the three senatorial districts, we distributed development projects to meet peculiar demands of the people. We had a deliberate programme to transform the life of the Rivers man and woman, boy and girl. As far as we were concerned, no sacrifice was too great to make; no consecration was too demanding to offer if only it was for a better and greater Rivers State. Our decisions hinged on your choices as we believed you were the reason God called us to service.
In 2007 when we came on board, life in Rivers state was placed at mere street value with bandits sharing our communities into various fiefdoms of their choice. Life itself became a burden. Our potentials as a people had become a burden as our youths had exchanged their strength with banditry. But we resolved that as long as we lived, our state would not be an Armageddon, a central pot for war and drug lords. We understood how dangerous it was to engage those hoodlums but we were resolved to engage them for the sake of Rivers State. No sacrifice would be too much for our beloved state.
Dear Rivers people, our journey had not been one without sharp bends and cliffs. As you all know, we have had to work even when it was unpalatable to defend the territory and heritage bequeathed us by our brave forbears and progenitors. No true steward of the people's resources would stand by and watch it be systematically balkanised and taken away one resource after another. We stood our ground that we were elected to give our people leadership using our God-given resources. We became cannon fodder to prevent the rape of our collective destiny and our children's future. We decided that our resources must be committed into our future. We rejected the retrogressive thought that our commonwealth should be in the pockets of a few persons. We insisted that public service demanded probity and fiscal discipline. That became our mantra and the people our motivation.
Today we are resolute that faced with the same dilemma, we would put our people and their interest first over and over again.
My dear people of Rivers State, as we submit our scorecard to History, and to you, we affirm that we did our best in the circumstances in which we found ourselves. We do not pretend that we achieved all our dreams and aspirations or that we were perfect and beyond reproach. Rather we submit to you that we worked with sincerity of purpose and accountability.
There is no doubt that Nigeria, in the last seven years, went through severe social and economic downturns. Rivers State suffered no lesser consequence. Despite what is now a colossal national decline, our Administration maintained a healthy balance sheet. For the years running, Rivers state maintained an economic and fiscal rating only associated with solid economies. We ensured that our civil servants received their salaries, as at when due until only recently. As at today, we have commenced the payment of April salaries and parastatal pensions. We have made the requisite provisions and expect all salary payments to be concluded as funds are received
In the midst of redundant national economic output, greased by dwindling revenue, our Administration maintained steady economic policies favourable to marginal growth. Rivers State maintained her leadership spot in Nigeria's rung of economic rating. Under our watch, Rivers State economy and potentials for doing business grew to a position of envy that outside Lagos, our state was Nigeria's next economic giant.
Today, Rivers state is the least indebted state with a loan portfolio of N17.7 billion to banks owed as follows:
Agriculture loan from the Central Bank of Nigeria – N2 billion
Zenith bank plc  – N15.7 billion.
Our loan from Access bank will be on zero balance by the end of the month.
With regards to contractor loans, our indebtedness is as contained in the various handover notes of the ministries, departments and agencies.
With regards to our pensioners we owe three months payment arrears although parastatal pensions will stand at two months of arrears with the current payments that we have begun. You will recall that when we assumed office our pensioners were owed pension arrears of over N4.5billion. A situation, which we found unacceptable and strove to resolve. It is our firm belief that those of our compatriots who have served our state so meritoriously should not be denied the benefit of retiring in peace and comfort. We recommend the same attitude to those who may come after us.
Sector by sector, our policies promoted healthy competition where rivalry was positive and dynamic.
PHYSICAL AND SOCIAL SECURITY
By the time we came into office, armed gangs had practically overrun the entire Rivers State. There was no other option to us than to fight. In doing so, we were aware that the battle would be in both physical and social fronts. We also realised that Rivers State is the nerve centre of the hydrocarbon industry entrusted with pipelines to export terminals. We therefore had the duty of protecting the national economic asset. We began with massive weaponry to the police and other security agencies.  Apart from heavy involvement in training and welfare of security personnel, the Rivers State government invested heavily in top class security equipment and is the only state with a central command security structure that enables all security agencies in the state share information in real time. This was how the war against organised crime and armed gangs began.
EDUCATION
Education is one the strongest areas of focus by this Administration. Under our watch these last seven years, our educational system witnessed transformation in infrastructure and service delivery.
Although constrained by the reduction of our revenue by more than half, our administration is proud of undeniable successes in our educational sector such as infrastructure revolution: Building and equipping over 311 world class primary schools and five model secondary schools; The retraining and recertification of teachers with the involvement of the British Council in Port Harcourt; Total elimination of strikes and disruptions by takeover of payment of salaries of primary school teachers amounting to about N2bn per month; Recruitment of 13,210 teachers; Establishment of the Quality Assurance Agency; Introduction of Free Education up to secondary school level; Abolition of all fees in schools; Annual oversees scholarships in strategic branches of knowledge; Establishment of skills acquisition institutions to draw attention to self-employment and entrepreneurship; and above all, the outsourcing of management of schools in the state.
The icing on the cake perhaps is the transformation of the UST from 79th to best state university in Nigeria and 12th over all best. There is also the establishment of a university of education.
As part of the Administration's deliberate academic growth policy, we sent our children to schools overseas, while working on improving our facilities in the state. Back home, we sent others to rated secondary schools and universities. We are proud of our achievements in the education sector; and are equally proud of our children who proved that given conducive locale, they could compete with the world's best and brightest. We have given over 3000 scholarships to our deserving children within and outside the country. Even with mounting pressure and competing interests made the education of our children a priority as indeed it should be. N800,000 ( Eight hundred million Naira) has been released to the Rivers State Sustainable Development Agency in this light to enable it pay down some of its obligations to our scholars.
HEALTH:
The philosophy of this administration remains the need to create easy access to healthcare through preventive healthcare delivery policy, disease control, boosting access to primary healthcare facilities to reduce pressure on the secondary healthcare centres (General Hospitals), and reduction of foreign medical trips by establishing world class health facilities in the state.
Our programs in healthcare these seven years promoted child and maternal mortality. We committed personnel and resources to a better healthcare delivery for our people. Thus, we are proud of such milestones as 436 additional doctors, 400 additional nurses employed; 160 modern primary healthcare centres built, Kesley Harrison specialist hospital built; The Maxilo-Facial specialist medical facility at Garrison Junction; Self-Destruct Syringe factory; 1000-bed hospital ongoing; The war against malaria especially the bio-larvicidal factory that is ongoing; the total war against epidemics such HIV/AIDS, Polio and Ebola; and tackling Glaucoma and Cataract.
Worthy of note is the Ebola scourge, and how Rivers State emerged with minimum casualty rate.  Recently, the Rivers State Government was honoured for standing Ebola to the face. The fight tasked our best in men and resources. We quickly harnessed global comradeship built out of a universal fear that unless mankind overcame Ebola, the earth would be turned into a morgue. We rallied our people to alertness and healthy habits. The media was summoned to a race against time, and to the glory of God, with the hard work of our professionals and the support of Rivers people, the federal government of Nigeria and international development agencies we were able to defeat Ebola. This is a testimonial to what is possible when the people and Government work together.
PHYSICAL INFRASTRUCTURE
Our administration faced the battle against infrastructural decay with all seriousness, realising that there is a direct link between state of infrastructure and the growth rate of any economy. The administration has so far completed 90 per cent of the Phase 1A of the Rivers State Monorail, completed two major interchanges, two flyovers, 25 bridges, and five shore protection projects. We have also completed 890 kilometres of the on-going 1,424 kilometres of road projects across the state. There are over six land reclamation/shore protection projects at Andoni, Opobo, Buguma, Abalama, Olumbie/Owukiri Island, Oba-Ama-Okrika with over 1,140,000km completed.
POWER
In the power sector, we built two brand new power stations in Afam while also completing and expanding the ones at Omoku (150 Mega Watts), Trans-Amadi  (130 Mega Watts), and Eleme (75 Mega Watts), aiming to reach a target of 750mw. This is in addition to seven transmission stations (132/33 Kilo Volts) and Distribution Injection sub-stations 33/11Kv built. All this was before the power sector was privatised and we equally ensured that our people had a stake in the sector through equity acquisition.
MEGA CITY PROJECT
The Mega City, also known as the Greater Port Harcourt City is one of the biggest most single construction project in this part of the country. The Greater Port Harcourt City dream is now real, despite slowing down due to dwindling revenue.
This project was planned  an eight-year rolling budget knowing that the mega city is capable of growing the state's economy by three per cent (GDP) through massive infrastructural projects such as the New Stadium, New UST, major roads, bulk infrastructure, sewage system, water, power, and housing amongst others.
Already, construction of the all-important M10 Road expected to be an economic highway from the Port Harcourt International Airport in Omagwa to Onne seaport which houses the world's fastest growing oil and gas free zone. There is also the M1 Road expected to open the new city to the south. There are different housing schemes going on there including the 2500 unit housing estate as well as the 1080 Mixed Use Housing Units.
FISCAL MANAGEMENT
This administration has made significant strides in treasury management reforms as well as transparency initiatives including biometric screening and reduction of wastages through ghost salaries; automation of salaries and wages; prompt payment of correct and increased salaries until now; steady and positive international ratings; sanitising the financials. We have built a system of Internally Generated Revenue (IGR) that brought sanity, self compliance, direct payment to only one government account, and a monumental increase from N2.5Bn to N7.8Bn per month. The reform measures have continued to pay off, though there is room for improvement to get to the desired target.
CARING FOR THE ECONOMICALLY ACTIVE POOR
My brothers and sisters, any governance system that permanently leaves out the economically active poor would be deemed a huge failure. We set up the Rivers State Microfinance Agency (RIMA) early in the life of this administration. Through the work they have done, this administration by end of 2014, revived the businesses of over 10,000 micro entrepreneurs across the 23 Local Government Areas of the State consequently bringing visible impact via job creation and enterprise promotion. A Micro Finance Bank has also been approved for the state by the Central Bank of Nigeria. In fact, RIMA was nominated by the CBN within the last 2 years (2013 and 2014) for Best State Government initiative award in micro finance. If given sustained support, the RIMA model is capable of totally reintegrating the economically active poor in the state to the mainstream economic highway.
As we have always said, we are humans and therefore must be subject to human limitations, but we are proud of our efforts in creating grassroots millionaires as a pointer to our youths that the new way to go is entrepreneurship and being self-made. The most important achievement to me is that we have opened up the governance space and proved to our people that the Governor is still one of us, and not a masquerade up there in the firmament. We have proved that the people's money can be wholly devoted to building infrastructure and improving the general welfare of the people.
This is not an accountability speech and so, every single thing we have done has been documented for posterity. Our handover notes contain all the activities in each unit of the government; what was done and what is left undone. The financial account is also available to guide the incoming administration and stand as witness to all those who sincerely seek the truth.
My dear people of Rivers State; we knew from the onset that any democratic society that wishes to make quick progress must find a way to ensure smooth succession from administration to administration. This however starts from a free and fair election where people are allowed to choose the next leader. This task however is not for one group, but a sacred responsibility for all contending camps. The overriding principle is the freedom to aspire but also to give way to popular choice, whether the electorate is wrong or right. Thwarting this process through any form of violence is totally unacceptable. The Constitution however provides for ways of seeking redress and those who toe this line of action are also accorded recognition as true democrats. This administration has done everything to ensure that this fundamental process is kept alive. Today, we have elected governments at all levels; federal, state, and local councils.
CONCLUSION
It is with all humility that we thank the Almighty God for the opportunity he granted, not just us, but to all those who do not have golden spoon in their mouths in this part of the world to also aspire to the highest positions of leadership. This is a legacy we must bequeath the next generation so that all shall enjoy the inalienable rights and privileges of a freeborn under the law.
We thank Rivers people for their love and steadfastness. Your accommodation and acceptance of our service and even our weaknesses, your commitment to our beloved state and your prevailing prayers through some of the darkest patches of our governance, have made our trek easier and the journey worthwhile. May our good Lord reward and bless you richly.
I must on a personal note thank my devoted and beloved wife, Judith, for her support in all my political travails. She has been the wind beneath my sails, as her prayers have propelled me and strengthened me when all else failed.
Our children have been wonderful all the way. They have given up much of their childhood and made sacrifices to enable me be a father of all. Posterity will indeed reward them well.
I thank members of my cabinet. The lessons we have learned are useful for tomorrow. We thank those who defended us but we thank more those who persecuted us, for they helped to bring out our character.
Let us pause for a minute to honour the souls of all patriots who died in the course of the struggle especially those who were killed during the recent presidential and governorship elections in our state. It ought not to be so. Democracy gives our people the inalienable right to make their own choices and no one should die for not believing in the others view. We make a solemn pledge to the families of all who have died that we will never forget them and that their blood shall not have been shed in vain.
I have saved the last of my thanks for the best – The defenders of our democracy and the bulwark behind our government – the members of the Rivers State House of Assembly. As we bow out, I must express my debt of gratitude to members of the Rivers State House of Assembly, especially the Rt. Hon. Otelemaba Dan-Amachree, who as Speaker, chose service to the state over temporal affluence. When it mattered most, the true Honourable members of the House preferred to save Rivers than their pockets. Our people remain grateful to them as History stands to pat their gallantry.
The incoming administration will find all necessary documents required to take off and understand the government. The Deputy Governor is our liaison with the incoming administration and has been directed to accord them all necessary assistance as they may require.
Government is continuous and records are the vital link between two administrations. All assets and liabilities belong to the Government. As we vacate the seat we had occupied for seven years and seven months, we leave with the deep joy that comes from a high sense of accomplishment; the firm satisfaction that we came with a determination and we are leaving highly fulfilled because we tried to do justice to any and all that came our way.
We fought to protect the assets and interests of Rivers State just as we pursued our projects with great zeal within the financial space available. Whatever is left undone is for those taking over from us.
My beloved people of Rivers State, It was a great honour and privilege to have served such a great people at this time, but there are times and seasons and having run our course, and in obedience to our Constitution, we gladly step aside but remain eternally indebted to Rivers State and its people.
Finally, we ask that anyone the Administration offended be gracious enough to forgive. We never came as perfectionists. We have been just as frail as any other human being. We had exercised our Oath and Allegiance on behalf of our people. The best intent could have been misconstrued. To such persons, we render apologies beyond words.
God bless and keep our beloved Rivers State.
Thanks you
Rt. Hon. Chibuike Rotimi Amaechi, con
Governor, Rivers State
May 28, 2015