Profiles Of 10 Hottest Artistes In Nigeria …Their Earnings Per Show
The Nigerian music scene
has witnessed a phenomenal boost in recent times and yes we can go head to head with the best of them world wide. I dare say our music is being heard across continents and our artistes can boast of having performed at International concerts with sold out show.
The Tide's Entertainment brings to your reading pleasure the list of the 10 hottest artistes in Nigeria as at now. Of course, we cannot possibly fit the vast amount of highly talented musicians in 10 slots and so, we have selected 10 artistes that have become household names based on their singles within the first half of 2014 to date starting from the 10th position to the 1st, as well as their earnings per show as at last year, enjoy your reading!
10   D-BANJ
To rap up this list is Kokomaster aka'Eja  nla", aka Kiniwin Fun Fun, aka Bangalee, D'banj.
Since the success of Oliver Twist in 2012, it has become really difficult to forget D'banj.
Although, it is uncertain what has become of his music career since leaving the now disbanded Mo'Hits crew, Dapo Oyebanjo has found other ways to make the news.
He formed his own music Label DB records which already is home for his kid brother, Kay Switch as well as new acts like Tonto Dike and producers 2 Kris and Deevee. He also bagged an ambassadorial  position with the United  Nations in the agricultural sector and received the patent to produce Kokogarri.
D-banj was also proud winner for "Best Selling African Artiste Award at this year's world music awards and then there was the buzz that his song "Bother You" gathered being the original sound track for the movie Half of a Yellow Sun. He is second in terms of charges per show which is between N6 and N7 milion
9   Yemi    Alade
From peak talent hunt, a gem was discovered and polished till it gleamed. After emerging first in the hunt, Yemi entered the hallowed halls of the Nigerian music industry. Her first attempt "Fimisile", got peoples attention, but she could not seem to hold it for long till she came out with "Ghen Ghen Love," but even that could not get her that far. However, her search for Johnny fused with highlife and Afro-Pop was a sensational hit and the video released this year sealed the deal.
To our amazement, she further released a French version of Johnny, making her the first Nigerian artiste to release a song entirely performed in French. With the video of her new single "Tangerine" out, Yemi has risen to become one of the few sought after females in the music business. The songstress takes between  N2  to  N2.5 million per show.
8    PATORANKING
Thanks to the smashing success of "Girlie O" and the previous release of "Alubarika", patoranking has finally gained prominence. The Reggae cum dance hall singer is enjoying his spot in the lime light especially after the highly popular remix of "Girlie O' where he featured songstress, Tiwa Savage.
He also got featured on Seyi Shay's "Murda". Perhaps it is his magnetizing patua style as described in the article featured on MTV 1999 that earned him the title of new face of Naija dance hall and to further back it, he won City People Award for Dance hall/Reggae Act of the year.
In terms of collaborations, his latest effort with Olamide on 'Bora' has gotten mostly good reviews. While most will argue that patoranking is still rising, I would say he is fast rising and one of the most talked about this year. He earns a conservative sum of N3 million  per appearance.
7     PHYNO.
Phenomenal rapper of Eastern descent, Phyno is most definitely hot. And I am not just taking about his hair or tattoos, stunnaz and shades. Since causing an uproar with well received tracks like 'Ghost mode' and man of the year (Obago) Phyno has stayed blazing. Breaking his 2014 career year, was the release of his debut "No Girls, No Glory." An album that housed now popular tracks like "O Set".
'Alobam'  'Parcel' and Anam Versace" which have dominated requests on the airwaves.
In the re-wake of Mo'Cheddah's music carreer, her choice for a feature on Destination, was with none other than Phyno. He has been swinging action and turning up at several club gigs and industry night sessions where he literally shuts things down with his electrifying performances. He also earns between N3 and N4 million per show
6   Flavour
High Life King and Maestro, Flavour is especially popular for his impeccable looks.
Like that of the Greek god of thunder, Thor and of course his waist whining artistry, while he is steady owning the indigenous category with his choice selection of Afropop and high life songs, his fans (Motonly  Music lovers) are spread across various arts and genres. Flavor has been busy touring countries in Africa as well as the Eastern cities in his origin, Nigeria.
He bagged the award for "Best Live Act' at this year's MTV Africa Music Awards and has been nominated in various categories for the soon-to be held Nigerian entertainment awards. Sources have it that his present lowkey status is by no reason of the hardwork and effort he is putting into a forth coming album yet to be announced.  We await in earnest ! He is also among the 4th highest paid artistes in Nigeria as he charges between N4 and N5 million per appearance.
5     P-Square
Singing duo, Peter and Paul Okoye aka P-square are no dobut one of the hottest Nigerian artistes in demand. This is by evidence from their large fan followership in Nigeria, South Africa, Atlanta USA and Canada, where they have continued to tour and sell out shows. Their tribute video to Pop/RNB music legend, Micheal Jackson titled, "Personally  broke  barriers when it crossed borders and attracted the attention of Jermaine Jackson (Micheal Jackson's brother )who openly appreciated their work.
Their track of 2014 would be "Taste the Money, a song that has enjoyed generous airplay on radio frequencies and has become a fave at various party gigs, and not forgetting their feature on Eastern rapper Phyno's O'Set. There has also been speculations about a collaboration with international rapper T.I, bigger things are indeed. Pop pin' They are the highest paid hip-hop act in Nigeria as they are paid between N9 and 10 million per show.
4     Olamide
King of YBNL nation, Olamide remains one of the most consistent artistes in Nigeria right now. With his trade mark indigenous hip-hop style, he has managed to dominate a major part of the music industry and that is not child's play considering the short time we have known  him.
Apart from thrilling us this year with several hit tracks: 'Dansaki' 'Make us Proud' FF Wale," 'story for the gods ' and even more recently, "Awon Goons Mi" . He has been featured in so many remixes we have lost track. From Lil Kesh's Shoki remix to the Bora freestyle with Patroanking  and 'Lambebe' with major Banks, Olamide is without a doubt in a class of his own with so much street credibility and fan base. He earns N3 million per event performance.
3    TIWA SAVAGE
If you  call her the reigning queen of Nigeria's music clan, you will not be far from the truth. Aunty Tiwa's Mefeoric rise to fame is nothing short of spectacular considering she has just one album to her name. Her efforts in the past year is still getting her accolades and she has not rested in her oars.
Though she has just one single this 'Love in Yellow' a love themed song, her collaboration with Patoranking on 'Girlie O' Remix and Waje's 'Onye' not to forget the mavins "Dorobuchi" further cements her immense talent. The release of her "Wanted" video was a refreshing break from the norm even though it almost went awry due to the controversies surrounding it.
That she won MTV Africa Music Award for Best Female Artiste and City People  entertainment Award for female musician of the year as well as performing at the BST. Experience is proof of her right to claim a spot on our list. Tiwa Savage is in the league of artistes that go for N2.5 to N3 million per show.
2    WIZKID
What is a list like this without a Wizkid? Wizkid has found one too many ways to keep staying above, not only on his game, but also on the charts. While we are still in earnest anticipation of his sophomore studio album with release dates that have shifted almost a full calendar year, Wizkid has continually released songs that stir up frenzies in the media space. He  is one of the very few artistes who can boast of a revered online presence, the first Nigerian musician to actually hit over a million followers on twitter, a feat he achieved in February  this year. Wizkid is the fourth in the row of highest paid artistes as he takes between N4 and N5 million per event.
There has also been speculations of an international studded feature on his up coming album which may include Wale, Chris Brown, Justin Bieber and Rihanac he shared instagram photos to confirm that wizkid has constantly sold out arenas for concerts and tours in and outside of Nigeria. This year, he made the special quest feature for UK, another star on his general rank.
1  Davido
No doubt, the hottest artiste in Africa presently. Davido has proven that he is not just a rich kid toying with music. While we were still reeling from "Skelewu," an undeniable hit which fetched him the 2013 Headies song of the year norm award, he put us into frenzy when he released 'Aye' early this year, a fantastic love ballad, as if that was not enough his collaboration with South  Africa' Mafikhi Zolo on "Tchelete" was the Icing of the cake.
As of  now, Davido is BET's Best International Act (Africa), Best male artiste and artiste of the year at the MTV Africa Music Awards, Ghana's Music Award, Africa  Artiste of the year and Male Musician of the Year at the City People  Awards. Is it any wonder he is at the top of our list? Though he has not released any other single this year, the ones he has done together with his collaboration such as 'Gallardo' with Runtown, Lil Keshi's 'Shoki' among others together with his awards have earned him the top spot. He currently earns between  N5 million and above per show.
– Additional Reports from Naija.com

Dead Fishes:Environment Groups Demand Palliatives For Bonny Residents
Two environment groups in Nigeria, the Bonny Environment Consultant Committee (BECC) and the Association of Environmental Lawyers of Nigeria, have decried the devastating impact of the massive dead fishes floating along the Bonny coastline in Rivers State which they say have destroyed economic lives of the inhabitants of the area, with a call for the provision of palliatives to them.
The groups which made their position known in separate interviews with The Tide in Port Harcourt said it was not enough to unravel the causes of the dead fishes on the coastline but that there was the need to provide palliatives to the people whose livelihoods have been adversely affected by the ugly incident.
The Chairman of Bonny Environment Consultant Committee, Prof. Sodeinye Abere, who described the incident as disturbing, said on confirming the veracity of the massive dead fishes on the Bonny coastline, his committee directed the people to stop harvesting, buying and eating fishes for now, thereby temporarily putting on hold their means of livelihoods.
According to him, "the stench of the dead fishes alone is very, very disturbing. Ordinarily, the coastline dwellers enjoy the cosy breeze that comes in and refreshes their bodies. It is no more the case. More than that, with the Coronavirus issue restricting people's movement, again, the ordinary Bonny man can go behind of his house at the creek and fetch fish to subsist with, but he cannot do that any more. The economic load now would be so much on the ordinary natives."
To cushion the effects of this seeming disruption of the people's socio-economic wellbeing, Prof. Abere said there was the need to provide palliatives to them. "Palliative measures are also solicited because our people waiting to die of Coronavirus should be alive first", he said.
He pointed out that there was also the need not to only investigate the circumstances surrounding the dead fishes but also the physiochemical properties of the water where the fishes live, stressing that if not properly handled, the situation can become a pandemic in Nigeria.
On his part, the President of the Association of Environmental Lawyers of Nigeria, Dr Samuel Chisa Dike said the body was disturbed by the development and urged the Federal Government to treat the issue the same way it is treating the COVID-19 pandemic.
Dike, an Associate Professor of Energy and Environment Law at the Rivers State University, stressed the need for critical stakeholders to work together to address the issue.
" You never can tell who has consumed this specie of fishes since one month now. And we want to be sure that government is sensitised about it, because there is the tendency to tell the people about the danger of consuming the fishes but another thing is what happens to their economic lives?", he queried.
By: Donatus Ebi

COVID-19: Man O' War Distributes Hand Sanitisers To Eneka Residents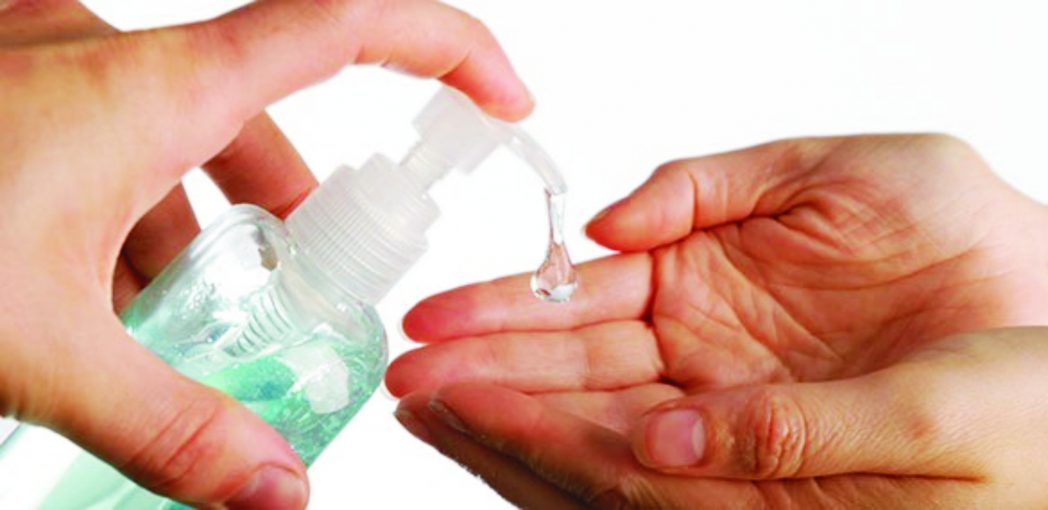 The Rivers State Command of the "Man O' War" Nigeria has distributed thousands of hand sanitisers to residents of Eneka and other communities in the Obio/Akpor Local Government Area.
The State Commandant of the paramilitary organisation, Barrister Dignity N. Nwieke, told newsmen during a sensitisation programme on the coronavirus pandemic in Eneka that, the move was to complement the effort of the State Government at checking the spread of the disease to the state.
Barrister Nwieke said the sensitisation programme which started in Obio/Akpor Local Government Area will be taken round the 23 local government areas.
According to him, as a responsible organisation the Man O' War will not wait for the Rivers State Government to shoulder the burden of checking the spread of the disease alone, stressing that the organisation must play its part in ensuring that Rivers State is coronavirus free.
The State Commandant also called on other organisations and agencies to assist the state governor towards combating the COVID-19 pandemic.
"Governor Wike is trying. He needs the support of everybody to succeed," he said.
Nwieke also called on the people of Eneka and other communities to maintain the highest level of personal hygiene, by washing their hands regularly with soap and running water, avoiding handshakes and keeping their environment clean.
He also called for support to the paramilitary organisation.
Some beneficiaries of the hand sanitisers commended the organisation for the gesture.

RSG Probes Causes Of Dead Fishes As Andoni Communities Raise Alarm Over Likelihood Of Epidemic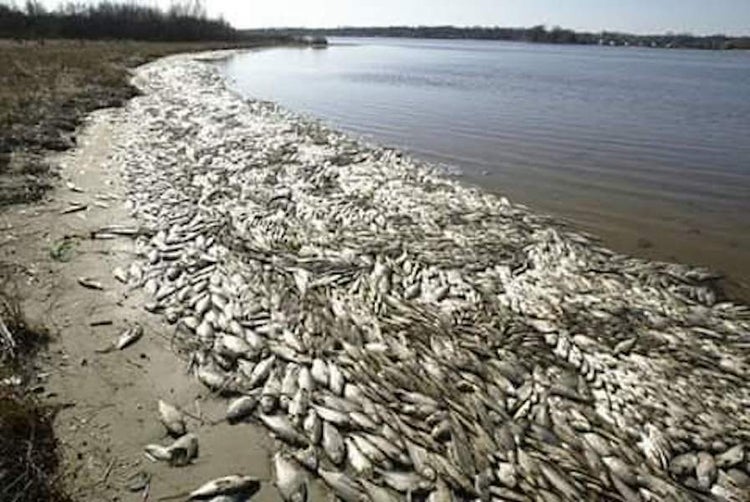 The Rivers State Government says it will investigate the incident of thousands of dead fishes along the Bonny and Andoni coastal waterways.
The State Commissioner for Environment, Dr Igbikis Tamuno, said this in a press release while reacting to reports of floating dead fishes along the Bonny and Andoni waterways.
The release signed by the Commissioner, Dr Igbikis Tamuno said the government will investigate the cause of the dead fishes.
The Commissioner also urged indigenes of coastal communities both in Bonny and Andoni not to eat the dead fishes.
Meanwhile, residents of some coastal communities in Andoni Local Government Area have alleged the presence of thousands of dead fishes along the Andoni River.
According to the residents, thousands of dead fishes are being washed ashore by Atlantic waves.
Speaking in an interview with The Tide, a resident of Muma community, Engr Joshua Ngo said the area may experience an epidemic if the decaying fishes are not properly buried.
Engr Ngo, also said, multinational companies operating in the area are denying being responsible for the incident.
According to him, the incident has deprived fishermen of their sources of livelihood as the entire coast stretching from Muma to Finima in Bonny Local Government Area has been polluted.
The community leader also called for the entire coastal environment of Andoni stretching from Oyorokoto to Ibot-Okpon Obolo to be fumigated in order to save the communities from epidemic.
Ngo also called for the communities to be compensated with relief materials.
Also speaking, the Chairman, Community Development Committee (CDC), Ngo mainland, Mr Clement Clement Sunday, called on the government to act urgently as hunger may force the people to feed on the dead fishes.
Sunday also told The Tide that all oil companies operating in the Andoni territorial waters have denied responsibility for the dead fishes.
"We have contacted companies operating in the area and they said they don't know what caused the death of the fishes.
According to him, more than 20 communities in the coastal environment are on the verge of starvation as the decaying fishes have polluted the entire source of water source.
"I want to call on the government to come to the aide of the communities as the decaying fishes are all over the water surface.
"Hunger is looming," he said.
Meanwhile, an Environmentalist, Mr Iniruo Wills, has urged the National Oil Spills Detection and Response Agency (NOSDRA), to probe the cause of death of fishes along the Niger Delta coastline.
Wills, in an interview with newsmen in Yenagoa, noted that dead fishes littered the coastline across Delta, Bayelsa and Rivers States.