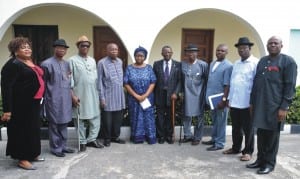 The Rivers State Gover
nor-Elect, Chief  Nyesom Wike has dared the All Progressives Congress (APC) in the state that he would dissolve the newly installed  local government chairmen and councilors in 22 out of 23 LGAs of the state because they lack legal foundation to stand the test of time.
Speaking at the inauguration Public Lecture in honour and his Deputy-Elect, Dr Ipalibo Harry Banigo in Port Harcourt, Chief Wike stated that the LG election conducted by the Rivers State Independent Electoral Commission (RSIEC) did not meet up with the Electoral requirement, but forcefully imposed on the people of the state.
He minced no words that his administration would dissolve the LG councils arising from the May 23 council polls conducted by RSIEC as he is sworn-in as the state governor.
Chief Wike who promised to reopen courts in the state as soon as he gets the mantle of leadership, said the President-elect, Muhammadu Buhari would even support him to dissolve the councils, if he means to abide by rule of law.
He described the last LG council election as corrupt and waste of over N4.4 billion of tax payers in the state.
Meanwhile, the chairman of APC in Rivers state, Chief Davies Ibaiamu Ikanya has said the in-coming administration has no power to sack the elected chairmen and councilors given the clean bill of health by RSIEC.
He said it is only court or tribunal that has right to dissolve any elected council, if found wanting.
He argued that if state government has the reserved power to dissolve councils, the Federal Government also has the power to dissolve the state government.
He called on the newly elected chairmen and councilors not to panic over what described as empty threat by Chief Wike.
Enoch Epelle