The Concept Group Nigeria is launching its first ever Career Portal which is a developed innovative system for top talent across all levels of qualification and experience,to have access to a variety of career opportunities with various companies within The Concept Group. This portal was created to enable a more streamlined, responsive recruitment process for candidates who apply.
The Concept Group is a holding company established in 1992. Subsidiaries under the Group include Rosabon Financial Services – Nigeria's Leading Equipment Leasing and Financial Intermediary Company, Concept Nova –A Bespoke Enterprise Software Development Company and Percy Aitkins – A prominent foreign exchange company.
TheConcept Group is currently experiencing exponential growth with focus on recruiting talents with not just the right set of skills but also with the right attitude and personality. Candidates who are goal driven and are looking for an innovative and fast pacing working environment to apply their talents would be appropriate for the organization.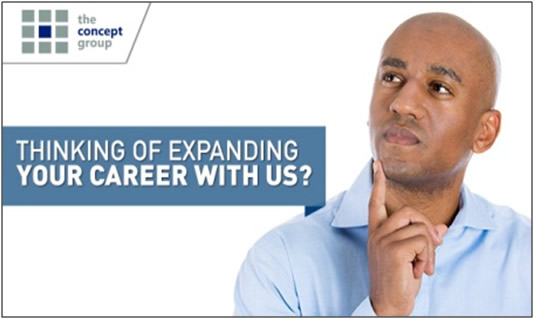 Working with The Concept Group sets candidates on an exciting and rewarding career pathway. In a typical work environment, career growth is usually constrained to a time frame. At the Concept Group, career advancement is purely merit based and is not time bound. Thiscompany's ethos -"Great People make Great Company "exemplifies their passion and commitment to recruit great minds that seek to move the company to a great level of accomplishment than where it already is. Typically, talents will be constantly engaged with worthwhile experiences, responsibilities and accomplishments.
This seamless online hiring process comes in four stages thatenable the HR team identify candidates that best fit The Concept Group culture. One major advantage to this system is the career recommendation that comes with this hiring process based on candidates' skill sets. Candidates are not just placed in any position that they applyfor; rather personality test and selection process enables the HR team placethe individual in a role where his/her skills and experiences can be best optimized.
This career portal is also optimized for mobile devices, so users can access job listings and other information on the go.
For more information about The Concept Group career portal contact the HR team  07045700523 or send an email to info@conceptgroup-ng.com Visit www.conceptgroup-ng.com to apply for that dream job now!