On many occasions,
human rights activists have expressed concern about the increasing rate of human rights abuse.
They observe that there are many cases of sexual violence among others with impunity and everyone is at risk of being a victim or affected.
They advise that stakeholders should take proactive measures at curtailing the increasing rate of human rights abuse, especially among children and women.
A non-governmental organisation, Women's Aid Collective, believes that one of the steps to protecting human rights is to facilitate the passage of Violence against Persons Prohibition Bill in the National Assembly.
The organisation calls on committees on Human rights in the National Assembly to take pragmatic action to stop any form of violence against persons.
Stressing the need for the passage of the bill,  the founder of the organisation, Prof. Joy Ezeilo,said that the laws in Nigeria did not provide adequate protection and strength to combat sexual and gender-based violence.
"Adequate and effective remedies are not available for victims of sexual and gender-based violence in spite of the numerous human rights violations they suffer.
" They go through a lot in search of justice and become stigmatised and jeopardised in the process,'' she said.
She said that the organisation's legal clinics had attended to more than 33,000 clients on the issues of human rights abuses.
She noted that the abuses included denial of inheritance, assaults, battery, child abuse, neglect, harassment, intimidation, sexual assault and rape, among others.
"A big chunk of these cases are on the gender-based violence, rape, defilement, denial of property, housing and inheritance rights'', she said.
Ezeilo said that the passage of Violence against Persons Prohibition Bill "is overdue and it will, unarguably, bring succour and effective remedies to millions of victims who have suffered in silence without recourse to justice.''
She, therefore, urged the National Assembly members to ensure justice for all by passing the bill into law.
Sharing similar sentiments, the Minister of Women Affairs, Hajia Zainab Maina,observed that the non-passage of the Violence against Persons Prohibition Bill had impacted negatively on vulnerable Nigerians.
She said in a forum in Abuja recently that the passage of the bill would provide legal instruments for fighting cases of abuse and defilement of children.
According to her, the bill will also encourage mutual resolution of marital conflicts by spouses without resorting to forceful eviction by either of the parties.
"Cases of administration of acid bath on partners in a feat of jealousy will decrease because the punishment recommended by the bill is enough to serve as a deterrent.
"I want to call on these distinguished senators to make it happen for Nigerians by passing Violence against Persons Prohibition Bill as a special and unique gift to Nigerian women and the nation as a whole.
"I join others in lending our voices to the speedy passage of the bill into law," she said.
Expressing concern about the rising cases of human rights abuse in Nigeria, Senate President David Mark, opined that the recurring cases of violence was a threat to peaceful co-existence among Nigerians.
Inaugurating the public hearing on Violence against Persons Prohibition Bill, Alternative Dispute Regulatory Commission Establishment Bill, Mutual Assistance Criminal Matters Bill and Proceeds of Crime Bill recently in Abuja, he said the incidents of violence had become notorious that all Nigerians must fight.
"Hardly a second passes without a case of violence against persons being witnessed on our streets or recorded in police stations. We should therefore condemn it, be it in public or private life,'' he said.
He expressed the Senate's readiness to enact legislations that would not only stand the test of time but ensure that "Nigeria is respected and reckoned with in the comity of nations.''
In his view, Sen. the Chairman, Senate Committee on Judiciary, Human Rights and Legal Matters, Umaru Dahiru,said that violence in any form was despicable and condemnable.
"It is disheartening to observe that the phenomenon of violence against persons has become a way of life today in Nigeria and is seriously threatening the family.
"In this regard, I would urge all Nigerians to rise against all acts of violence which have become one of the greatest challenges in our society today'', he said.
He said that when the bill was signed into law, it would prohibit, prevent and punish all forms of violence in the society.
"It will provide maximum protection and remedies to all victims of violence as well as eradicate violence in private and public places,'' he said.
To ensure quick passage of the bill, the Wellbeing Foundation Africa, in partnership with the International Federation of Women Lawyers (FIDA) and the Legislative Advocacy Coalition on Violence against Women, has been working to facilitate its passage into law.
The foundation notes that the passage of the bill is important "given that more than 70 per cent of women worldwide have experienced physical and/or sexual violence in their lifetime with more than two-thirds of Nigerian women believed to have experienced physical, sexual and psychological abuse in their villages.''
The foundation, therefore, urges stakeholders to support the petition for the passage of the bill into law and help more women and girls lead safer, healthier and peaceful lives.
Nwachukwu writes for News Agency of Nigeria (NAN)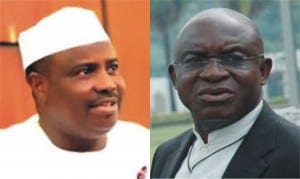 Jacinta Nwachukwu