Polls: Onne, Bodo Monarchs Endorse Peterside
The traditional rulers of Onne community and Bodo community in Eleme and Gokhana local government areas, respectively have endorse the candidature of  All Progressives Congress (APC) Dakuku Peterside for the governorship of Rivers State in the April 11 elections.
The traditional ruler in Onne has also described the Peoples Democratic Party, PDP as enemy of the people of Eleme.
The traditional ruler said this during the All Progressives Congress (APC) ward rally which took place at State School, Ogale, Eleme.
"Your Excellency, it might interest you to know that there are Internally Displaced Persons (IDPs), in Rivers State, today. The people of Ekporo are displaced persons in our state, they are refugees in their fatherland because power is in the hands of one man and his wife, so they decided to dehumanise us.
"Here in Eleme, we are working hard to ensure that PDP suffers a humiliating defeat in the hands of APC, it is a promise that must be accomplished. I speak as a paramount ruler because I know my people and my people know me. If my people are angry and I speak, when they hear my voice, they will be calm.
Today, like other days, I am asking them to reject PDP so that they can be free. They have no choice than to believe me because we are all victims of PDP's oppression, intimidation and harassment. PDP has even taken that which God gave us because they are in power in Abuja", he said.
The chief assured the governorship candidate of the APC Dr. Dakuku Peterside,  of his peoples support for him and his party. Okpabi said the entire people of Eleme are working for Peterside because they believe he can liberate them from the oppression of the ruling party.
He warned his subjects of the dangers of voting for PDP, a party that continues to inflict pains on his people for no particular reason.
He called on Eleme people to use both the presidential and gubernatorial elections to free themselves from slavery and domination, adding that a vote for PDP is a vote for an enemy, which translates to total obliteration of Eleme land.
In his speech, Peterside commended Eleme people for their rare courage and determination to move ahead, even in the face of unjustifiable harassment, adding that "if you don't change them now, they will continue to molest you and trample on your rights".
The APC governorship candidate, who promised to protect the interest of Eleme people, pledged to urgently address the issue of unemployment by providing jobs, building of cottage industries and providing funds for small businesses.
He said the APC government at every level will also work for the wellbeing and progress of every Nigerian, irrespective of geographical location, age, sex, creed or party affiliation. Stating that justice, equity and fairness will constitute the critical building blocks of his administration.
Similarly, the traditional ruler of Bodo in Ogoni Kingdom, His Royal Highness, King John Berebon, has said that he is solidly behind governorship candidate of the All Progressives Congress APC in Rivers State, Dr. Dakuku Peterside,.
The monarch made the statement when the Greater Together Campaign Organisation led by Peterside paid him a courtesy call in his palace in Bodo City.
Berebon also declared his support for APC and its presidential candidate, General Muhammadu Buhari.
"I am very happy to welcome you, Your Excellency. All of us in Bodo are confident that God will see you through because you are a peaceful man and we believe in you; so we will continue to pray for you. You have honoured our palace, God will honour you. You have also honoured our people, so God will honour you.
"I wish to state that I am solidly behind you and the APC. I was a school boy when Buhari came here to commission the Niger Basin project many years ago. I believe you are a blessing to this community. I know that APC-led Federal Government with Buhari as president will be beneficial to our towns and region. So we are voting APC all the way", he added.
In the same vein, spokesperson for the palace, Chief Livinus Kiebel,  said Bodo people are traditionally APC and would remain so because the party serves their interest.
In his welcome address, spokesman for the community, Sir Clement Menegbo said it will be disastrous for Rivers State to entrust the leadership of the state into the hands of men without integrity and of questionable characters who cannot seriously say why they want power.
"Money was not shared in bags, which is why we have crisis in Rivers State. Rather than open the state's treasury to a few, Amaechi chose to build infrastructure and improve the living conditions of his people, that is why they are persecuting him. This election is about our future and our life. We must support Peterside and the APC so that our dreams will come true", he said.
Responding, Peterside called on the people to be peaceful and law-abiding.
"The people of Bodo must be concerned about peace. Tell our children that this election will come and go, political parties will come and go, but Bodo will remain. I am concerned about peace and security because without peace, there will not be progress. Nobody should deceive Bodo people.  If you place everybody who wants to be governor on a pedestal, I am the only one who has a stake here.
"My brother attended St. Pius, Bodo, and my childhood friends are from here. I cannot be governor and look the other way. I know the challenges of Bodo, and I will pay attention to this place because I belong here. So, vote for me so that we can build together a greater Bodo".
He said he will always defend their interest like he did when he staged a walk-out over the non-budgetary allocation for Bodo—Bonny Road, during Federal Ministry of Works budget presentation. Urging them to vote and leave the rest to him, adding that political interest must be reciprocal.
Meanwhile, Deputy National Secretary of the All Progressives Congress, APC , Oji Ngofa, has described his party, as the hope and emancipator of his troubled people of Eleme.
Ngofa, who was recently appointed caretaker committee chairman of Eleme Local Government Area made the declaration at State School, Agbeta, Onne during a ward rally by APC governorship candidate in Rivers State, Dr. Dakuku Peterside.
He said every Eleme son and daughter already knows that the alternative to APC is slavery and oppression adding that they are not prepared to be slaves in their country.
He called on voters in Eleme and the entire Rivers State to reject the PDP. According to him, the ruling party represents the worst form of subjugation and repression.
"I am here to affirm as deputy national secretary of our great party, that the mantra of change has taken firm roots in our local government. APC represents our hope and the only means of our survival. Without APC, Eleme is finished. Therefore, we will give everything to the party, including our blood, if necessary.
In his remarks, member, Rivers State House of Assembly and APC candidate Josiah Olu,  said Eleme will deliver block votes to Peterside and the APC.
"We are for APC. Though we are under serious threat from the ruling party, our loyalty will continue to be with APC because they have peaceful and God-fearing people like Dakuku. I am happy that everybody here fully appreciates the fact that this election is all about our future, so we are not leaving anything to chance", he said.
Responding, Peterside promised to pay special attention to Eleme because of its potentials.
"PDP should not even get a vote here and you know why. On my part, I promise to work with you. Nobody will harass you again because they are not God. They boast because they have power but I want you to put your hope in God. I will fight for you, I will protect your interest and I will complete every project that Governor Chibuike Rotimi Amaechi started. Let me also assure you that our government will recognise and give special place to women and the youth", he said.
Dr. Peterside reminded the people of Onne that his government will be driven by the desire for peace, unity and economic opportunity for all Rivers people.
Nigeria, US Sign Pact To Reduce Illicit Trafficking Of Ancient Arts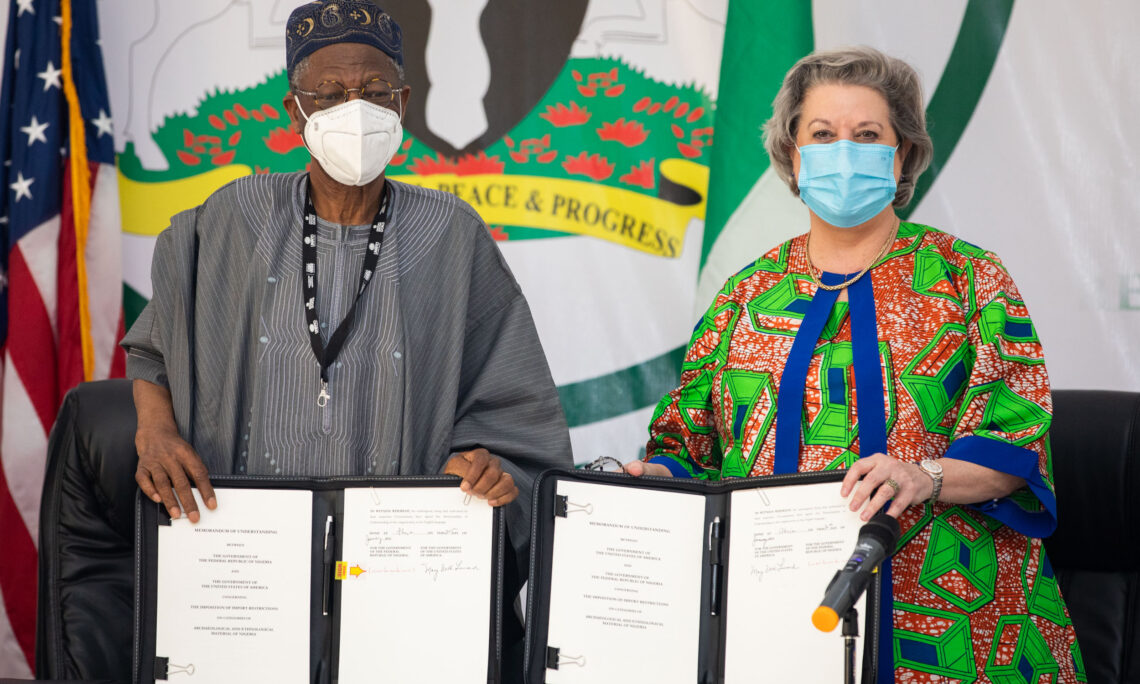 The Federal Government and the United States, yesterday, signed the Cultural Property Implementation Act (CPIA) Agreement.
According to the Minister of Information and Culture, Lai Mohammed, the CPIA would reduce the pillage of Nigeria's ancient arts which are mostly smuggled to Europe, the US and other places for the benefit of art collectors.
Mohammed said the signing of the MoU became necessary because, despite all efforts by the Ministry of Information and Culture and the National Commission for Museums and Monuments, with the assistance of law enforcement agencies, to prevent illicit export of the nation's archaeological and ethnological materials, widespread looting and illicit excavation of these materials still continue.
He said this when he signed a Memorandum of Understanding on the CPIA with the US Ambassador to Nigeria, Mary Beth Leonard, in the presence of the Minister of Foreign Affairs, Mr Geoffrey Onyeama, in Abuja.
Special Assistant to the President on Media, Office of the Minister of Information and Culture, Segun Adeyemi, disclosed this in a statement titled, 'Nigeria, US Sign Pact To Reduce Illicit Trafficking of Ancient Arts.'
Mohammed was quoted as saying, "This legislation was enacted by the United States to restrict the importation into the US of archaeological materials ranging in date from 1500 B.C. to A.D. 1770 as well as ethnological materials, including those associated with royal activity, religious activity, etc from nations that have entered into the kind of bilateral initiative that we are signing here with the United States today."
The minister said on the basis of the agreement, Nigerian antiquities being imported into the US without the requisite export permit will be seized at the border of the US and returned to Nigeria without the arduous and costly task of going through the labyrinth of judicial and diplomatic processes.
"We are optimistic that this agreement will reduce the pillage of our irreplaceable archaeological and ethnological materials, as the market for these materials is being shut in the United States against illicit traffickers.
"The agreement will last for an initial period of five years. If it works well, as we anticipate it will, it shall be renewed for a longer term. We implore other friendly nations to take a cue from the United States of America and join us in finding means to prevent the illegal importation of our antiquities into their countries," he said.
The minister, who thanked the US Government, in particular the US Embassy in Nigeria, for making the MoU possible, said the Nigerian Government looks forward to a diligent implementation of the landmark agreement, so it can become a game-changer in the nation's efforts to prevent the looting of its priceless ancient works of art.
In her remarks, the US Ambassador to Nigeria, Beth Leonard, said the agreement was aimed at preserving, restoring and protecting Nigeria's cultural heritage.
"In Nigeria, over the past decade, the US Mission has partnered with the Nigerian government and state institutions to preserve cultural landmarks and sites through projects worth over one million dollars and funded by the US Ambassador's Fund for Cultural Preservation.
"Just last November, I signed a grant award to digitally survey the Busanyin Shrine located within the Osun Osogbo Sacred Grove. That $125,000 grant will help document a series of shrines within the Grove and provide training to local professionals in digital tools and cultural heritage management," she said.
Three Out Of 10 Nigerians Are Mentally Sick -Reps
The House of Representatives has said that three out of every 10 Nigerians have one form of mental illness or another.
Quoting the World Health Organisation (WHO) statistics, the House added that over 20,000,000 Nigerians were currently suffering from various degrees of mental illness or disorder without psychiatric health care.
To this end, the House mandated its Committees on Health Institutions and Healthcare Services to liaise with the Federal Ministry of Health towards improving mental health facilities around the country and further carry out serious sensitization of Nigerians on this issue.
It also asked the Committee on Health Institution to explore the modalities of liaising with stakeholders in the health sector to promote, educate and sensitise Nigerians on mental health.
The resolution, however, followed a motion titled "Need to Address the Rising Cases of Mental Health in Nigeria" presented by Hon. Uchechuku Nnam-Obi from Rivers State and considered by the House at yesterday's plenary.
Presenting his motion, Nnam-Obi noted that the World Health Organisation (WHO) considers mental health as a state of well-being in which the individual can cope with the stress of life, work productively and contribute to the community.
According to him, mental illness manifests in mood disorder, anxiety disorder, trauma-related disorder, personality disorder, old age-related disorder, substance abuse disorder or mental pattern that causes significant distress or impairment of personal functioning.
He said: "According to the World Health Organisation statistics, over twenty million Nigerians are currently suffering from various degrees of mental illness or disorder without psychiatric health care.
"Three out of 10 Nigerians have one form of mental illness or the other, presently there is no mental health legislation in Nigeria. However, the Nigerian mental health policy is the only framework that has access to mental healthcare, dealing with mental and neurological disorders in Nigeria, discouraging stigmatisation against persons with mental disorders and has institutionalised standards for Psychiatric practice.
"The increase in cases of depression is traceable to multifactorial inter and intrapersonal issues which leads to suicidal death in the country and this requires urgent attention.
"Nigeria has only 130 Psychiatrists with over 20million citizens suffering from mental disorders.
"With the few functional Mental Health Facilities and inadequate mental health practitioners in the country, mental health cases are left for traditional practitioners, hence the upsurge in mental health in Nigeria.
"The statistics are troubling and the continued lack of a legal framework on mental health in the country will simply cause the situation to degenerate"
Adopting the motion, the House gave six weeks to the committees within which to carry out the assignment and report back to it for further legislative action.
Wike, PDP Govs Commiserate With Tambuwal Over Brother's Death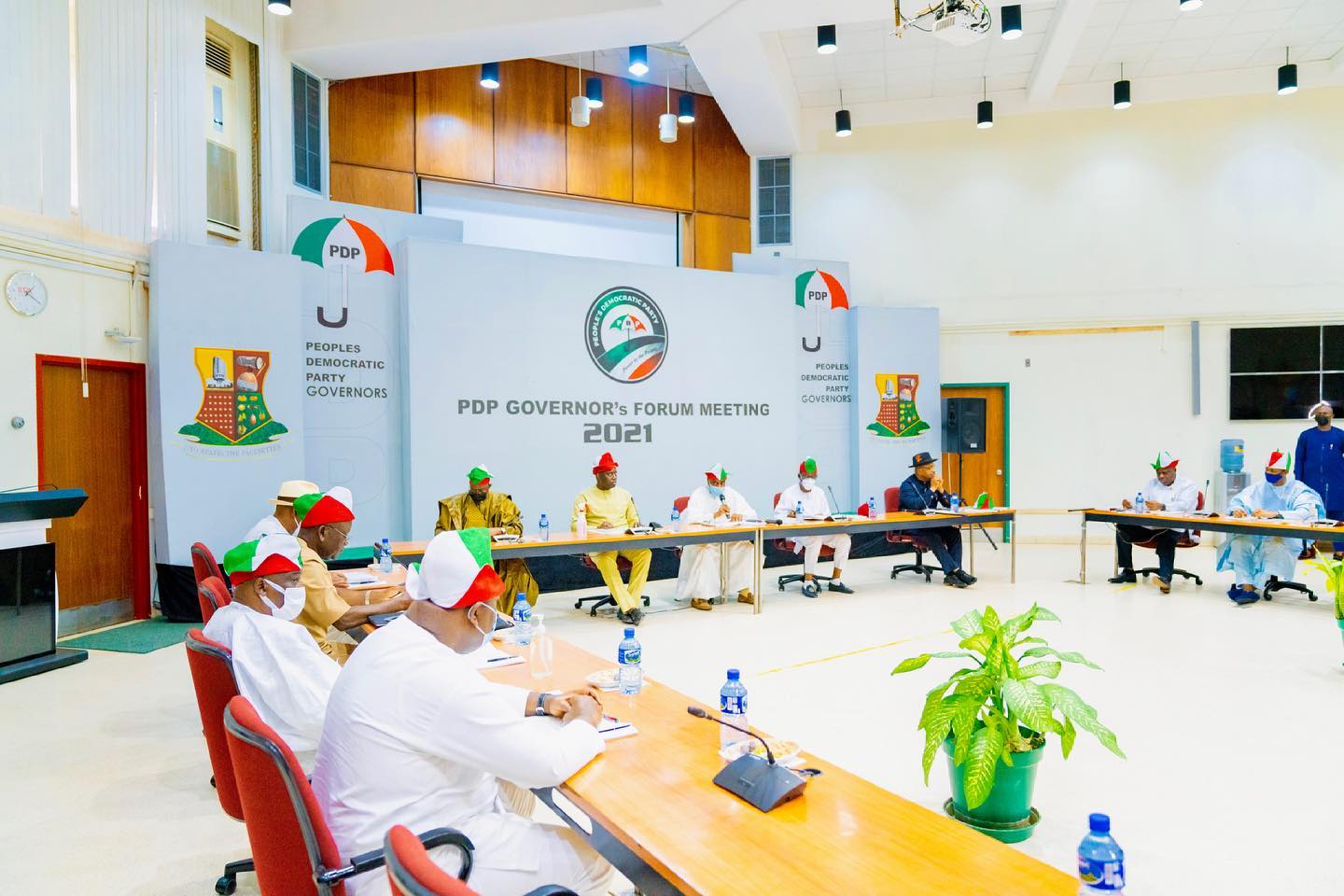 Representatives of the Peoples Democratic Party (PDP) Governors' Forum, yesterday, paid a condolence visit to the Sokoto State Governor, Hon. Aminu Tambuwal over the death of his elder brother, Alhaji Muhammed Bello.
Bello, who is also the Waziri of Tambuwal, passed on in Sokoto, last Tuesday night at the age 87.
He was the head of the Tambuwal family.
On the PDP governors' delegation were, Governors Okezie Ikpeazu of Abia State; Nyesom Wike (Rivers); Ifeanyi Ugwuanyi (Enugu); Oluseyi Makinde (Oyo); and Ahmadu Fintiri of Adamawa State.
The Vice Chairman of the PDP Governors' Forum, Dr Okezie Ikpeazu, who led the delegation, said they were in Sokoto to commiserate with Tambuwal and his entire family over the sudden death of his elder brother.
"We feel your pain, and we understand that a great vacuum has been created, not only within the caliphate, but across Nigeria and other places where Daddy had sphere of influence. We believe that God Almighty will grant you the fortitude to bear this great loss.
"We are, however, consoled by the fact that Daddy left legacies that will remain indelible; one of them is your very good self and your impact and contributions to our dear country."
The governors urged the Tambuwal family, particularly the Sokoto State governor, to remain strong, steadfast and uphold those virtues which the late Waziri of Tambuwal, cherished so much.
In his response, Sokoto StateGovernor, Hon. Aminu Tambuwal, who is the PDP Governors' Forum chairman, said the entire Tambuwal family was gladdened by the condolence visit.
According to him, his late elder brother, who lived his life in the service of community, held the family title, Waziri of Tambuwal for 37 years after the demise of their father.
"We are, indeed, very highly consoled not only by your presence, but your words of consolation. For you to have left behind whatever you are doing in your respective states to come all the way to Sokoto this afternoon, shows clearly how you sympathise with us and how close you are to us. I assure you that we appreciate this."