Benvic C. C. Overcomes Panthers, Goes Second
Benvic cricket club of
Port Harcourt triumphed over panther's cricket club of Port Harcourt by two wickets in the on-going 2014/2015 Rivers State cricket league championship to climb to the second position.
The match which was played at the weekend marked the end of the first round of the league which kicked-off on December 15th,  2014.
The second phase of the League is expected to commence on the 21st of this month.
According to one of the organizers, coach Tonye Timunadi, the season has been going on well and the clubs are expected, to raise their games in the second phase of the season.
Meanwhile, the opening match of the second round is scheduled to hold between the two clubs that ended the first round of the league, Benvic C.C. and panthers C.C. of Port Harcourt.
It would be recalled that whales C.C. of Port Harcourt is leading the league table by 118 runs followed Benvic C.C. who defeated pathers by two wicket.
Olympics: Nigeria's Ese Brume Leaps Into Final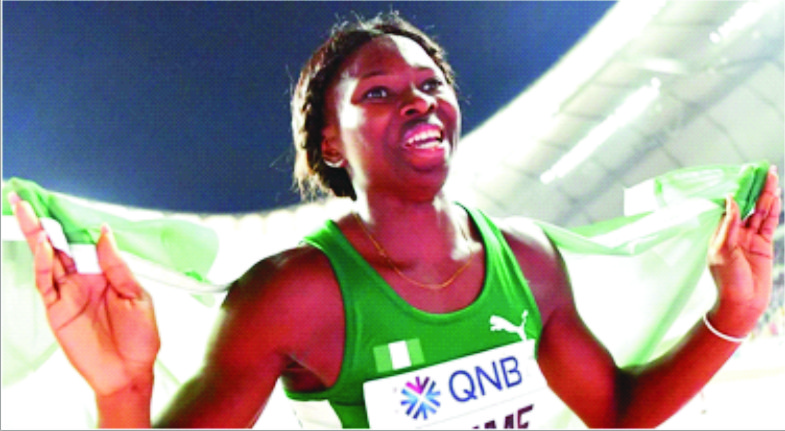 Nigerian athlete, Ese Brume yesterday, reached the final of the women's long jump event at the ongoing Tokyo 2020 Olympic Games.
Brume placed fourth with a 6.76m jump to claim the final spot in Group B.
Reigning World Indoor champion and three time European indoor champion,
Ivana Spanovic was first in Group B with a jump of 7.00m, while current world champion Malaika Mihambo, a German, was third with a 6.98m leap. British Virgin Islands' Chantel Malone (6.82m) came third.
The 25-year-old Brume, who won bronze at the 2019 World Championships in Doha, is seen as one of the country's strong medal prospects in Tokyo, having jumped a distance of 7.17m at the Chule Vista Festival in California in May to shatter Chioma Ajunwa's 25-year long jump record of 7.12m.
Brume's jump is also the World Lead going into the Olympics.
She was the only Nigerian athlete who reached the final of her event at the 2016 Olympic Games in Rio, where she placed fifth with a leap of 6.81m.
In Group A, Americans Brittney Reese (6.86m) and Tara Davis (6.85m) placed first and second, with Swede Khaddi Sagnia (6.76m) and Great Britain's Abigail Irozuru (6.75m) also qualifying in third and fourth places.
Don't Blame Dare, Okowa For Athletes Disqualification Ogba
A former President of the Athletics Federation of Nigeria, Solomon Ogba, has urged Nigerians not to blame Sports Minister, Sunday Dare and newly elected AFN boss, Tonobok Okowa, for the 10 Nigerian track and field athletes disqualified by the Athletics Integrity Unit last Wednesday.
Tidesports source reports that the athletes were expelled from the Games following their failure to conduct the mandatory three out-of-competition tests before the commencement of the Olympics.
Ogba blamed the affected athletes and the Shehu Gusau-led board of the AFN for failing to ensure the tests were conducted in the last three years.
"Every athlete knows it that when you are going for the Olympics, you need three out-of-competition tests. The conducted tests should have at least 21 days interval," Ogba said.
"So, this new board of the AFN led by Okowa couldn't do that. They were able to conduct just two tests. The last one they were to conduct for the athletes didn't meet the 21-day requirement."
On the role of the sports ministry in the matter, Ogba said there was no where in the world where sports ministers supervised the testing of athletes, adding that it was the duty of the Gusau-led board, who were receiving correspondences from the World Athletics, that should have ensured the athletes conducted the mandatory tests.
"It's not Sunday Dare's fault, it's also not his duty. The minister even approved funds for the second tests for the athletes. Where in the world do sports ministers conduct tests for athletes? It's the job of the federation, but the last board didn't do their job.
"Many of the athletes based abroad didn't also go for the tests, these are sports people who should know the rules."
Olympics: Edo Tips Adegoke For Podium Finish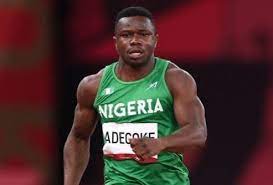 Chief Press Secretary to the Edo State, Deputy Governor, Ebomhiana Musa, has backed Nigeria medal hopeful, Enoch Adegoke for a podium finish at the ongoing Tokyo 2020 Olympics.
Adegoke qualified for the semi-final of the men's 100m at the weekend after he emerged first in his heat with a new personal best time 9.98secs.
Tidesports source reports that Adegoke beat Asian record holder, Femi Ogunode, and British star, Zharnel Hughes and 2021 World leader Travon Brommel to win his 100m heat.
The Edo State Government adopted the athlete before the Games and donated $10,000 to him for his preparations for the trip to Tokyo.
An elated Musa, while speaking with newsmen said he was confident that Adegoke would win the country a medal.
"Before his adoption, the government saw a future in the young man. This is just the beginning of his career and the sky is the starting point for him.
"All that the state government saw in him and decided to adopt him, give him necessary support towards the Olympics as well as a $10,000 cash gift, is beginning to yield dividends.
"We are very proud of him so far and confident that he is going to finish at the Olympics on the podium.
"There is also a huge promise waiting for him here if he gets a medal for the country. We are going to shock him."