Bakassi: The Lingering Question
A recent report that about 3,200 Bakassi
returnees were still living in refugee
camps within Nigeria is nothing short of a scandal.
According to the report, Senator Florence Ita-Giwa had indicated that the displaced people, including men, women and children were desperate to return to their respective communities.
"I am again appealing to the Federal Government to urgently resettle the 3,200 Bakassi people still in refugee camps. These people have identified and are able to know where they are from originally. So, they cannot continue to be refugees in their country…", she said.
Indeed, given the roles expected of the Federal and Cross River State Governments, the displaced persons of Bakassi should not be singing the same old song years after the implementation of the Green Tree judgement.
The International Court of Justice or World Court had ceded Bakassi Peninsular to Cameroun in its October 2002 ruling, ending decades of dispute between Nigeria and her Francophone neighbor over the oil-rich Bakassi.
The judgement, nevertheless, gave inhabitants of Bakassi up till August 14, 2013 to decide whether to remain in the territory as Camerounian citizens or relocate to Nigeria.
But just as those who opted to stay back were said to be complaining of consant harassment and intimidation by Camerounian security forces over tax default dating back to 1993 when Nigerian troops took effective control of the area, their counterparts who made bold to return are yet to be reintegrated into the Nigerian society.
The situation actually raises questions because of the consistent lackluster interest taken on the Bakassi matter from the beginning. To express their disappointment, the people of Bakassi had, at a time, threatened to seek self rule.
Only recently, and in spite of the existence of a United Nations-backed Mixed Commission on Bakassi, officials of Cameroun were alleged to have carried out unilateral delineation of the boundary where more Nigerian communities were carved into Cameroun. So far, only the Nigerian Senate has promised to investigate the matter.
The Tide is very worried that the Bakassi returnees are not getting the attention they deserve from their country. In the first place, some hard facts that could have facilitated justice at the World Court were not canvassed at the trial, while the window for appeal was also not explored at least, to satisfy Nigerians that the government did all it possibly could in the matter.
We are also worried that the ordinary Nigerian and communities have failed to integrate the returnees, even when a lot of them know no other place as home other than Bakassi where they were born.
The Tide believes that people constitute a major asset of any country and therefore deserve to be treated with dignity, especially when the fate they suffer stems from the lack of sufficient interest on the part of successive governments in Nigeria.
It is simply not enough to put some returnee families in school premises and continue to supply them with food, clothing and toiletries for close to two years now. The people cannot continue to live on such daily hand-outs; they need permanent resettlement. After all, President Olusegun Obasanjo had, immediately after the court verdict, promised that new settlements would be built for former Bakassi residents in Akpabuyo Local Government Area of Cross River State where they are currently camped as refugees.
We, therefore, expect that the Federal Government, Cross River State Government and even the UN will ensure that the Bakassi problem does not continue to break the people and glorify destitution in the country.
Finally, we cannot fail to note the love of these returnees for Nigeria. What they have gone through in the few years should have been enough for them to declare for Cameroun or go back and seek self rule. The least Nigeria can do is to stand up for her people and quickly too.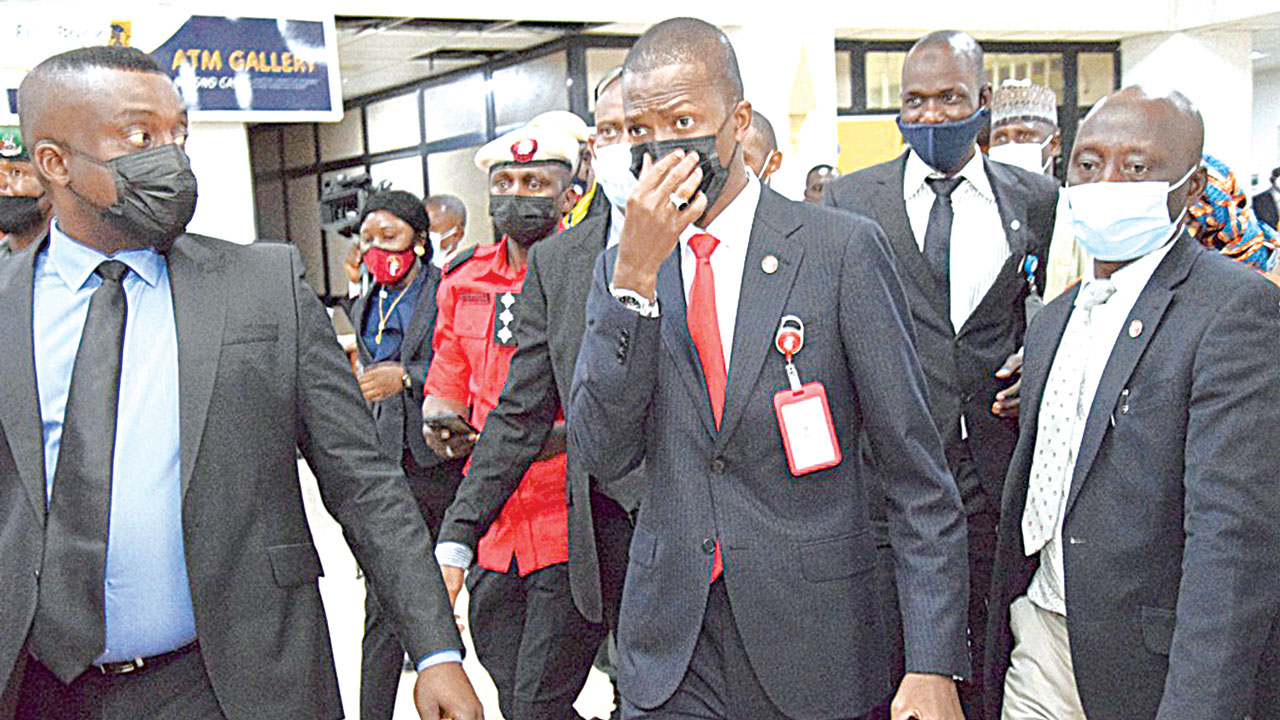 During an end-of-year assessment of its operational activities for 2021, the Economic and Financial Crimes Commission (EFCC) promptly declared to Nigerians that it recovered over N152 billion; $386.2 million; £1.1 million; €156,246.76; 1.7 million Saudi Riyal; 1,900.00 South African Rand, and 1,400.00 Canadian dollars between January and December 2021.
A spokesperson for the commission, Wilson Uwujaren, said in a recent statement that the recovery also included a digital currency component with 5,36957319 Bitcoin and 0.09012 Ethereum. The operations by the headquarters dominated the recoveries with N67.2 billion, $375.6 million and £1.1 million, according to the news release.
Uwujaren revealed that the anti-graft agency secured 2,220 convictions across all its commands in 2021 with the Lagos Command recording the most convictions — 481, closely followed by the Ibadan Command with 324 convictions, while the Port Harcourt Zonal Command had 230 convictions. Curiously, the EFCC failed to indicate the cumulative cases in court in the year under review.
The convictions obtained by the commission in 2021 are the highest since its establishment. Prior to 2021, the highest number of convictions was reached in 2019 at 1,280. The record of 2,220 in 2021 is 127.5 per cent better than in 2019. The record 2,220 represents a 98.49 per cent success rate in prosecutions as the commission lost only 34 cases during this period.
We heartily commend the EFCC chairman, Abdulrasheed Bawa, and his staff for their industry and dedication despite the challenges of criminal litigation in the courts. The organisation should keep on motivating all categories of staff for greater efficiency through capacity development and other incentives and ensure that perpetrators of economic and financial crimes are denied the benefits of the proceeds of crime.
As an agency charged with the responsibility of recovering looted assets in Nigeria by arresting and prosecuting offenders, a day hardly passes without the commission inviting jittery and errant politicians and corrupt persons for questioning. It is no longer hearsay that this "eagle" deployed by the Federal Government has gouged many preys and is pursuing others.
Since its inception during former President Olusegun Obasanjo's administration, the EFCC has had cases against prominent Nigerians, and what often begins as a light grilling sometimes does climax in a jail term, with victims having to part with considerable sums as bail. Some are acquitted following marathon trials that pass through multiple courtrooms.
The Federal Government may have earned credit for recovering stolen funds or property in Nigeria. Its posture is laudable even though the administration is not the right bet considering the tattoos of banditry, insurgency, kidnappings, hunger, insecurity, poverty, and unemployment engraved on the face of the average Nigerian.
Despite the latest figures projecting the EFCC's achievements, the question on the lips of many Nigerians is: where does the anti-graft agency channel recovered looted funds? In other words, where does the confiscated money reside? In deposit accounts earning interest? Nigerians need to know and maybe see concrete steps that are being taken with these funds.
Although the EFCC had at different times claimed that recovered funds were lodged in a Federal Government's consolidated account in the Central Bank or deposited in some interest-yielding accounts on the instruction of the courts, revelations unearthed when Bawa appeared before a House of Representatives ad hoc committee investigating the status of recovered loots mainly under its former chairman, Ibrahim Magu, proved otherwise.
Various transactions were flagged by the committee, some of which included unauthorised transfers to and from the EFCC account. The Attorney General, Abubakar Malami, had in a series of letters to the President accused Magu of diverting billions of Naira of recovered funds, as well as failing to act timeously on a presidential directive to investigate the controversial $9.6 billion P&ID British firm that secured a gas contract in Nigeria.
Funds recovered by the EFCC should be accounted for and be used to tackle youth restiveness. As a realistic approach to reducing crime, insecurity and unrest that many Nigerians have grown accustomed to, some of these funds should benefit unemployed graduates. Whatever challenges such an approach may pose, the Federal Government can respond to them in its own way.
It is expedient for Nigerians to be privy to credible information about the recovery of looted assets, identities of the perpetrators or those associated with corruption cases, as well as details of their prosecution and the composite number of cases in court within a review period. This is what we need to know to appreciate the exploits of the anti-graft agency.
Military's Claim And Fight Against Terrorists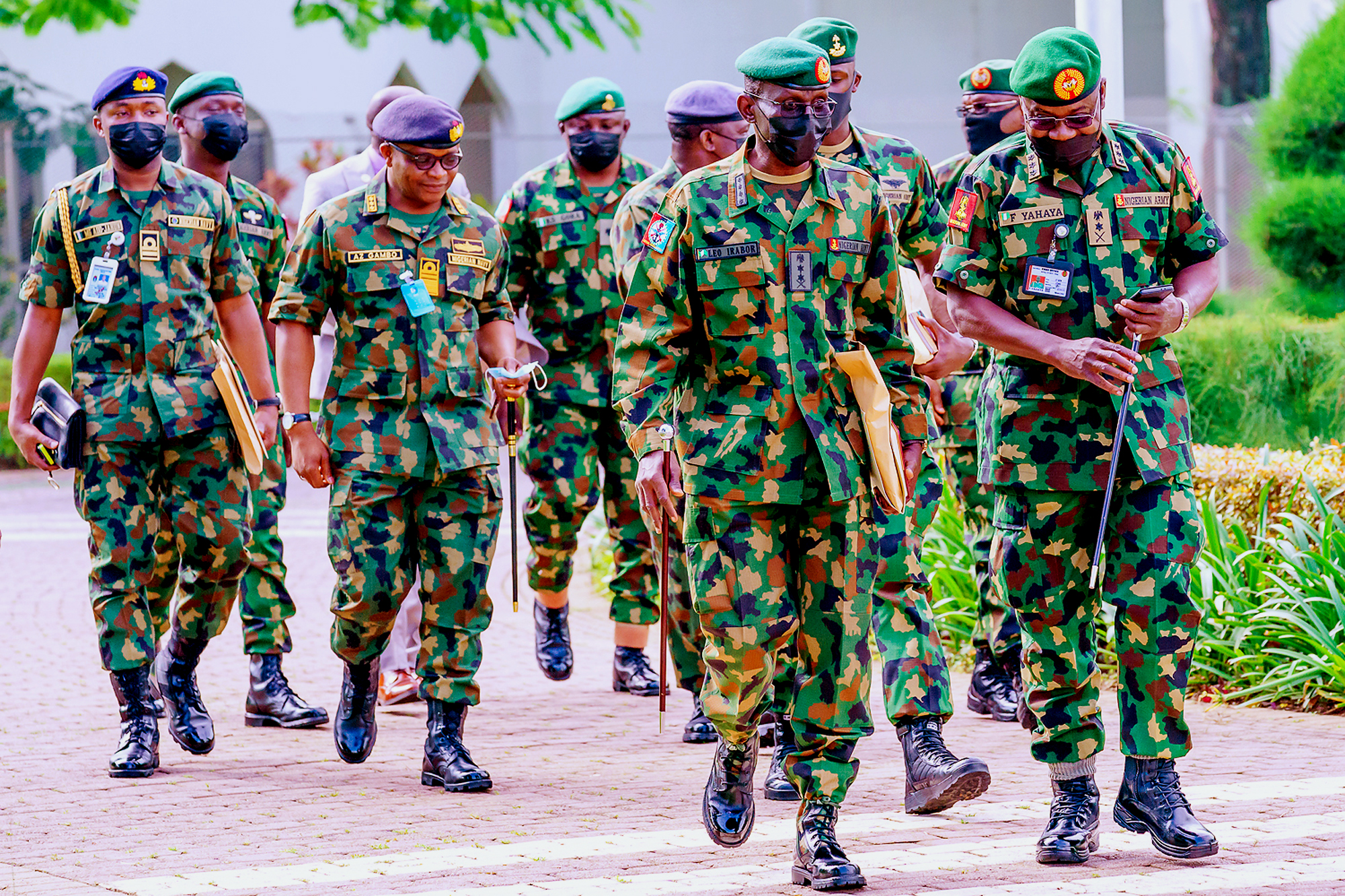 A new assertion by the Defence Headquarters (DHQ) that soldiers on counter-insurgency and other internal security operations across the country killed 1,910 terrorists, bandits and other criminals between May 20, 2021, and January 6, 2022, may have broached more questions than answers. The DHQ further affirmed that soldiers arrested over 700 terrorists, bandits and other criminals and released 729 kidnapped victims from their abductors.
The Acting Director of the Defence Media Organisation (DMO), Major-General Bernard Onyeuko, made this clear in a briefing. He maintained that 24,059 terrorists and their families comprising 5,326 males, 7,550 females and 11,183 children gave in to troops in the North-East within the period under review.
Onyeuko revealed this while providing an update on military operations over the last nine months. He said the blitz against terrorists, bandits, kidnappers and other criminal groups had led to the annihilation of several hide-outs of the criminals, retrieval of copious arms, ammunition, weapons together with gun trucks and devastation of several unlawful refineries in the South-South part of the country.
While it is not in question that the military is doing its best in the anti-insurgency war, the impact of the presumed achievements is yet to be felt by Nigerians. If the military has done so much, why do we still have all kinds of occupied territories? Why are killings and kidnappings by terrorists, bandits and other criminals on the upward turn? Why does the military consistently trumpet their ostensible triumphs against these criminals but stoutly deny reports of army fatalities in incursions?
If the Nigerian government's rehearsed claims of military conquests over criminal elements, especially insurgents are anything to go by, why does violence persevere in the country's North-East and North-West? Why have abductions, ambushes, and deadly suicide bombings continued unabated in large proportions? Although military operations have discomfited terrorists' capacity to hold territories to an extent, Nigerian security forces are drawing back from securing the region's enormous rural areas from attacks.
In the areas surrounding Lake Chad, the Islamic State of West Africa Province (ISWAP) — which split from Boko Haram in 2016 — seems to have acquired a stronger basis. Hundreds of thousands of civilians are still forced out and living in internally displaced persons (IDP) camps and neighbouring host communities, unable to access their land or return to their villages in diverse parts of the country including Benue State.
President Muhammadu Buhari was first voted into office in 2015 primarily because of the past administration's inability to defeat the Boko Haram insurgency and end insecurity in the land. Sadly, more than six years into his administration, Nigerians have perceived more attacks from insurgents in more states outside the North-East. Also, banditry, other forms of crime and violence remain humongous challenges in the country.
Recall that seven months into its first term in 2015, Buhari's administration had invented the phrase that Nigerian militant group, Boko Haram had been "technically defeated" and said Borno was in a "post-conflict stabilisation phase", in defiance of the continued attacks. This statement rang increasingly hollow for a reasonable length of time. But the group and its by-products have never gone away to date.
Similarly, the immediate past Chief of Army Staff, Tukur Buratai, had said that the Boko Haram terrorist group had since been worsted but the Nigerian military was fighting an international criminal gang known as ISWAP. According to him, Boko Haram had been chased out of the North-East, and the band of international criminal gangs operating under the guise of ISWAP would also be pursued and hunted down. As can be seen, ISWAP and Boko Haram have metamorphosed into even more potent force.
Last year, there had been nearly 100 attacks, according to one estimate. Some military bases and towns, including Geidam and Damasak, a hub for aid workers, were overrun. Hundreds had been killed and weapons carted away, while food and medicines were looted. These and many other happenings confirm that the disparate pronouncements of successes by the military in the anti-insurgency war could be simulated, after all.
That does not, however, suggest that the nation's military has not been recording victories in the war. Indeed, the armed forces have largely restricted the terror groups to three North-Eastern states of Adamawa, Borno and Yobe. But the terrorists are still able to assail civilian and military targets, killing hundreds of people. A recent spike in lethal violence has led many to wonder what is at the root of the authorities' failures.
An over-reliance on a military strategy to tackle insurgents is at the essence of the nation's inability to deal with the danger. That is why, regrettably, almost 11 or 12 years into the counter-insurgency undertaking, we are not observing major attainments. With the latest declaration of bandits as terrorists, Nigerians expect to see reinvigorated actions in that line.
Recently, the Borno State Governor, Professor Babagana Zulum, alerted Nigerians that two local government councils in his state were under the full control of terrorists. This must be viewed seriously. The fact is that to crush insurgency or terrorism, our nation needs more than a military operation. Its root causes have to be recognised and addressed. Lack of good governance that leaves the population poverty-stricken, embittered and uneducated is one extensive root cause.
There are outstanding government initiatives that are meant to speed up development in the North-East, but little advancement has been made. There is also the National Counter-Terrorism Strategy which entails economic development and counter-radicalisation, in addition to the utilisation of troops. But it seems that the strategy is not being fully carried through.
Experts say the endemic hand-to-mouth existence in the country, particularly in the North-East, and the insurgents' violent approach facilitate the continued recruitment of generation after generation of combatants. People are willingly ready for enlistment just to remain alive. Along with de-radicalisation, there should be a tremendous surge in military action similar to what was seen in Iraq and Syria when the Islamic State group's so-called caliphate was dismantled.
That Wike's Bold Move Against Soot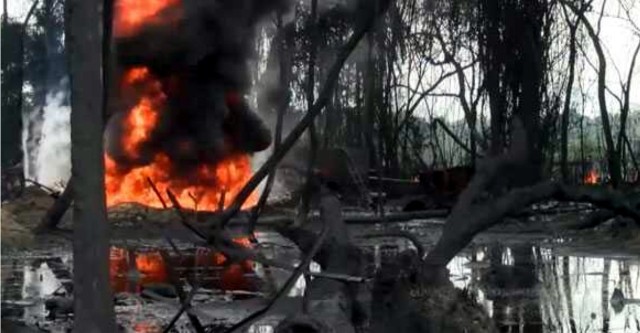 Following the painfully obvious failure of the Federal Government and its security agencies to rein in those behind illegal oil bunkering and artisanal crude oil refiners in Rivers State, the Governor, Chief Nyesom Wike, lately declared war against operators of the crude oil refineries in the state.
The audacious action of the governor specifically aims at tackling the environmental threat induced by soot, emanating from the illegal refining of crude oil in parts of the state. Consequently, Wike directed the chairmen of councils to go after all the illegal crude oil refining sites and shut them with immediate effect. The state Chief Executive made this declaration in his 2022 New Year address to the state.
Measures were outlined and effected to tackle the soot, which have been successful so far. The Rivers State Task Force on Illegal Street Trading has been executing hit-and-run raids on some illegal crude oil refining sites in Port Harcourt and arresting several persons. Again, many identified illegal crude oil refining spots and activities in the state have either been shut down or virtually destroyed.
Governor Wike had recently declared 19 persons wanted for operating illegal crude oil refining locations, directly responsible for soots prevalent in the state. Barely 24 hours after the declaration, the Rivers State Police Command officially announced that its operatives arrested and paraded 18 persons implicated in illegal oil refining activities in various parts of the state.
Recall that a report by a technical committee set up by the state government to investigate causes of soot in the state a few years ago disclosed that the soot was engendered by subversive activities of illegal refiners and the alleged complicity of security agents, among others. A reviewed report of Prof. Roseline Konya's findings indicated that about 22,077 persons had suffered needlessly from respiratory-related ailments in the last five years.
Medical experts have associated the persistent soot in the state with rising cases of cancer and infertility. Their assertions were corroborated by a recent study published in the Journal of Health and Pollution titled: "Exposure to Heavy Metals in Soot Samples and Cancer Risk Assessment in Port Harcourt, Nigeria." According to the researchers, the study was carried out to determine the presence and levels of heavy metals in soot along with a cancer risk assessment of heavy metals exposure in Port Harcourt.
A specialist and consultant surgeon at the Rivers State University Teaching Hospital (RSUTH), Port Harcourt, Dr. Ibifuro Green, said about six million residents of Rivers State faced the risk of developing cancer of the lung and other respiratory problems, following the never-ending raining of cancerous hydrocarbon elements, commonly referred to as "black soot" on their environment. This startling revelation should be of genuine concern to all.
Meanwhile, the gloomy predictions by many health professionals are that if nothing is done urgently to halt the soot, many residents might experience chronic respiratory diseases, heart problems and an increase in mortality rate. This is becoming real as some persons, who have found it very difficult breathing while in Port Harcourt, have relocated to other places.
We commend the governor for listening to the cry of Rivers people by resolving to take on all crude oil thieves and refiners precipitately. While successes recorded in the war against oil thieves are acknowledged, we urge security agents to collaborate closely with council chairmen and traditional rulers to complement the governor's efforts towards ending the public nuisance in their locations.
Rivers people cannot be their own implacable enemies. We must collectively fight this peril. The hazard we are faced with is becoming worrisome. Everyone who lives and does business in Rivers State should be solicitous about the soot and its effects. Time has come to end the impending catastrophe. It is necessary to know that the combined effect of soot and COVID-19 poses an existential threat to all residents of the state.
Those aiding and abetting illegal bunkering activities in different parts of the state who have been identified should be named, shamed and prosecuted, regardless of their political affiliations and status. Wike has shown that he is decisive and firm in prosecuting the fight, as a success in the war cannot afford favouritism. Residents must report shrewd operators of illegal crude oil refineries and other damnable activities to task forces set up at the state and local government levels for immediate action.
Furthermore, a strong institutional capacity for the judiciary is imperative. The Rivers State Assembly should exercise effective oversight, insist on the swift prosecution of offenders, and demand accountability from all recognised groups and institutions involved in the anti-soot crusade. Civil society organisations in the state should not give up but join the fray through unrelenting public engagements. There should be no cover-ups and sacred cows.
There is a need for the Federal Government to vigorously collaborate and assist the Rivers State Government in finding a lasting solution to this crisis. It is quite amazing why the federal authorities, whose security agencies have further complicated the soot situation by their collusion, have failed to take interest in ending this challenge. This is mainly the Federal Government's business that requires a collective and inclusive solution as quickly as possible.