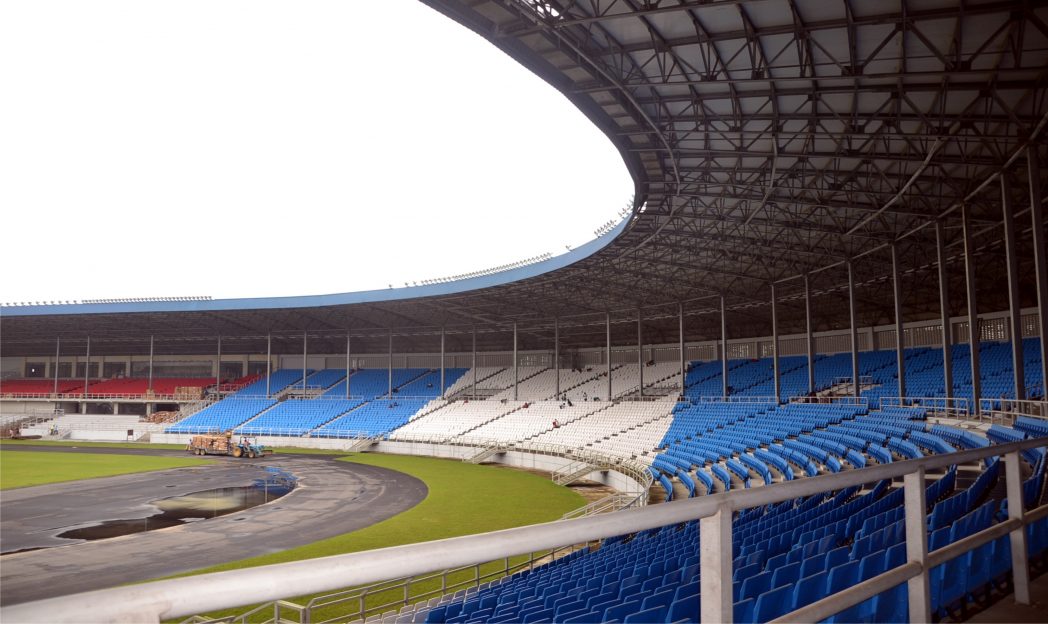 His Feats:
– Setting up of the Songhai Farms
– The N20bn Agric revolution     ,
-Initiated the Greater Port Harcourt City
– Construction of one of the best stadia in Nigeria
– Building and equipping 180 health centres across          the State
– Constructed many roads and schools .
– Embarking on first-ever monorail to ferry 40,000
passengers daily
– Scholarship to over 2,000 students in universities               abroad
– Rescuing the UST to world class staus
– Free education with free books, uniforms, sandals,          etc
– ICT -driven education system with free laptops
– Building of 500 out of planned 750 world-class
primary schools
– Building and equipping 180 primary healthcare
centres, two tertiary health institutions
– Employment of hundreds of medical doctors and               nurses
-Employment of 13,210 fresh teachers
– Invested over N100bn per year for roads, bridges              and social amenities
-Built over 1000 km of roads
– Built two additional power stations in Afam and
completed three inherited ones
– High international financial rating, latest by S&P,
affirmed 'B', stable outlook
– And many more
Preamble
This analysis is aimed
at showing sterling economic achievements for which Governor Chibuike Rotimi Amaechi would forever be remembered. It is also to point out the intrigues and the politics of this misunderstood leader and some of his actions that led to his present exalted position in the politics of Nigeria.
Early Political Career
University of Port Harcourt (UNIPORT) in Rivers State was where Chibuike Rotimi Amaechi laid the foundation of his political life, particiipating actively in student union politics, especially in the National Union of Rivers State Students (NURSS), of which he was president, and the National Association of Nigerian Students (NANS).
After graduation, he cut his teeth in politics as secretary of the now defunct National Republican Convention (NRC) in Ikwerre Local Government Area of Rivers State from1992 to 1994.
He was special assistant to Peter Odili, the then deputy governor of Rivers State, and also a member of the Board of West Africa Glass Industry as well as Risonpalm Nigeria Limited.
He was secretary of the Caretaker Committee of the Rivers State Chapter of the disbanded Democratic Party of Nigeria (DPN) in 1996 during the transition programme of the General Sani Abacha junta.
In 1999, Amaechi contested and won a seat to become a member of the Rivers State House of Assembly to represent his constituency.
He was subsequently elected Speaker of the House of Assembly as well a chairman of Nigeria's Conference of Speakers of State Assemblies.
He was re-elected into the State House of Assembly in May 2003 and equally re-elected Speaker. A master's degree holder, Amaechi assumption of office as Governor based on a Supreme Court judgement after PDP dumped him despite his convincingly winning the party's gubernatorial ticket, remains a mystery to many political watchers in the country.
By May 2015 Amaechi would have spent eight years as Governor of Rivers State. He is currently Chairman of the Nigeria Governors' Forum (NGF). His unprecedented feats in the transformation of Rivers State have won him many international and local awards as well as the respect of great world and Nigerian leaders.
His Feats
The administration of Amaechi has recorded several feats, among them the following: Setting up of the Songhai Farms and the N20bn Agric Scheme that revolutionised agriculture in the State; initiated the Greater Port Harcourt City to decongest the present Port Harcourt City and construction of one of the best stadia that hosted the 2010 National Sports Festival in the new city; building and equipping 180 health centres across the State, constructed many roads and schools, embarked on a monorail- the first of its kind in Nigeria  which upon completion will transport 40,000 passengers daily.
Another feat is the offer of scholarship to over 2,000 students in Nigerian higher institutions and spending of about N20bn on Rivers students in foreign institutions. Then there is the building of a world-class university  which when completed will turn out well equipped graduates that will hold their own in any field and compete with the best in the world.
There is also the building, in Rivers State University of Science and Technology (RSUST), of a hostel that will accommodate about 6,000 students in addition to housing all the lecturers of the university. The university will be fully ICT compliant.
It is important to point out here that the Rivers State Government is among the few in Nigeria that offer free education and free health delivery to its people but stands apart as the only State offering free edu- cation, free sandals, free books and free uniforms in Nigeria. About 200  primary schools have been set up in 200 communities, a feat that no other state is yet to accomplish.
Under Health; so far, about 100 medical doctors have been employed  to staff most of the Health Centres in the rural areas. The Rivers State Government has currently embarked  upon the eradication of malaria vectors  from the State. The Health Centre  at RSUST will soon be opened to the public. The State was lauded last year for its daily commissioning of a health centre over a 60-day period in 60 communities in its 60-60-60 initiative. The Dental Hospital located in the Garrison area of Port Harcourt will soon be opened.
The Rivers State Government invested over N100bn per year from 2008 till 2011 in provision of roads, bridges and social amenities. In this regard, the Government has engaged in the construction of 800km roads with 250 already completed. It also commenced work on 10 major bridges, with 3 already completed while 20 minor bridges were started, with four completed.
Other projects include 2 flyovers/interchanges under construction; 6 land reclamation/shore protection projects at Andoni, Opobo, Buguma, Abalama,Olombie/Owukiri Island, Obo Ama, Okrika, with 1,1400,000km completed; 2 major markets and a shopping mall under construction (phase 1 of Mile 1 Market housing 960 shops and two banking halls completed).
Apart from all these, the Rivers StateGovernment has built three power stations at Omoku (150 Mega watts), Trans-Arnadi (130 Mega watts) and Eleme (75 mega watts). The security and freedom the people of Rivers State are now enjoying can only be appreciated if the scenario in the State before Gov. Amaechi assumed office is replayed.
It is on record that Rivers State has again been affirmed a 'B' international rating by leading international financial analysis agency, Standard and Poor's (S & P). The long-term outlook for the state was revised upwards from last year rating of "Stable" to "Positive" on the strength of significant ongoing infrastructural investments (in roads, ICT, healthcare, education and urban renewal) and relentless efforts to transform the public finance framework. All this would help lift the state's social and economic status in the long run.
In appreciation of these feats, the Rivers State Governor, Chibuike Rotimi Amaechi, has been conferred with the prestigious SERA award for his contributions towards the social development of Rivers State, in line with the objectives of the Millennium Development Goals (MDGs), especially in the areas of Health and Education.
While I know the difficulty in managing public funds, Governor Amaechi has demonstrated a high level of skill, integrity and probity in this regard. The numerous projects completed and ongoing in the State is a clear indication that the Governor indeed deserves encomium from all and sundry rather than being vilified by some people.
He and his team certainly deserve kudos for prudently utilising the public funds. To Malcolm X, "When you have a philosophy or a gospel- I don't care whether it's a religious gospel, a political gospel, an economic gospel or a social gospel – if it's not going to do something for you and me right here and right now – to hell with that gospel."
One can state unequivocally that Governor Amaechi has invested the resources of the people of Rivers State wisely and judiciously. This is not surprising to keen watchers of this administration. History will surely be fair to Amaechi and his team.
Amaechi and Jonathan before the crisis:
Reminiscing on the orchestrated problem between President Jonathan and Governor Amaechi, two great sons of the Niger Delta, I took out time to study the gladiators and the bond between them which, ordinarily, should have made their friendship impenetrable. The word bond means something that binds, fastens, confines, or holds together a cord, rope, band, or ligament, something like an agreement or friendship that unites individuals or people into a group.
According to Catherine Beecher, "The principle of subordination is the great bond of union and harmony through the universe" and according to Rainer Maria Rike, "I hold this to be the highest task for a bond between two people: that each protects the solitude of the other:"
Facts available to me show that these two great exponents of democracy share similar family background – raised in humble families and experienced the pains of being educated by poor parents.
President Jonathan won the hearts of Nigerians with his expose that he was that student who trekked to school without a shoe, while Governor Amaechi also won hearts by revealing that he had a sandal and one pair of trouser which he washed every weekend to be used the following week for the major part of his undergraduate days. The two political leaders are products of UNIPORT and are among the Port Harcourt big boys.
Although President Jonathan is the older of the two, Amaechi has greater political experience. He has been in politics right from his days in the university, eventually becoming the only Nigerian that was a Speaker of a State House of Assembly for eight years and at the same time Chairman, Conference of Speakers in Nigeria, while later becoming Chairman of the Nigeria Governors' Forum (NGF).
President Jonathan, on the other hand, is the first PhD holder (not honourary) to preside over the affairs of the country and the only Nigerian that left the academic environment where he was a Lecturer after having a stint with the defunct OMPADEC and rose to become a Deputy Governor (Bayelsa State), Governor, Vice President,  Acting President and  President all this without contesting a single election.
Talking of the significance of their names, Chibuike means "God is all Powerful" and "Rotimi" an abridged version of "Oluwadurotimi" meaning "the Lord stands by me", while Amaechi means "who knows tomorrow?".
On the other hand, Ebelechukwu which is the native name of the President, means "God's Mercy". Remember the popular phrase, what is in a name? One does not need to be a sage to know that all the meanings embedded in their names are playing out nicely in their lives.
While President Jonathan as the Vice President of Nigeria was suffering every humiliation in the hands of the cabal during the Umaru Musa Yar'Adua-led administration, Amaechi proved to be a reliable pillar of support behind him.
When President Yar'Adua passed on and Jonathan was being pushed around, Amaechi was among those in the forefront of ensuring that Vice President Jonathan assumed office as the President of the Federal Republic of Nigeria when the National Assembly out of their wisdom came up with the Doctrine of Necessity.
During the 2011 elections, Governor Amaechi, not minding some other options available to him, opted to rally other Governors to ensure that President Jonathan won the PDP ticket and during the election proper, Amaechi delivered two million votes from the State to ensure that Jonathan got elected as the 14th President of the Federal Republic of Nigeria.
Not done with all this affection to his own brother with whom he shares some invisible bond not known to many Nigerians, Amaechi went ahead even while President Jonathan was the Vice President to ask him to nominate candidates to his Cabinet in Rivers State.
This resulted in the nomination of Israel Owate, a professor, who was once the president's classmate, as the Commissioner for Education. Unfortunately, Owate could not drive the vision of the governor on education as fast as the governor wanted, so he was dropped.
Amaechi requested a replacement from Jonathan, who this time norninated Moses Ahubele, who manned the Ministry of Empowerment and Employment Generation till he died after an illness in the later part of 2010. After the 2011 general elections, Governor Amaechi requested from the president and he graciously nominated Charles Okaye, who still serves as the commissioner for chieftaincy and community-related affairs.
Amaechi's Travails:
Despite his great show of love to President Jonathan, Governor Amaechi has been subjected to monumental humiIiation by the presidency. A few examples: The plane of the Rivers State Government was grounded for no just cause, the PDP Structure in Rivers State was taken away from Amaechi, his election as the Chairman of NGF duly certified and acknowledged worldwide was annulled by President Jonathan and his cohorts.
As if that was not enough, Arnaechi was suspended from a party he so much loved and spent so much to build. Indeed, if not for divine providence, he would have been illegally impeached by five legislators in a House of 32 members; a Police Commissioner was posted to haunt, insult and abuse him publicly, calling him a despot. What is more, governors that came to visit him were stoned! In the eyes of Nigerians, Amaechi stands as a great man while in the eyes of those haunting him he is a persona non grata.
The Reasons:
Governor Amaechi's rnajor sin apart from his feats in governace and his assistance to President Jona than is his love for his State and readiness to protect the interest Rivers State.
The chairman, House of Representatives Committee on Service Matters, Andrew Uchendu once raised an alarm that Amaechi's life had come under threat from the Federal Government and its agents.  He too recounted several actions and threats to the governor, from Kano incident to the Odudu Ondo one. Who would believe that a person of the status of Governor Ameachi irrespective of his relationship, respect and love he exhibited towards his own brother the President could be so haunted, humiliated, frustrated and his State turned to a war zone even while his brother is still the President of the Federal Republic Nigeria? That is the irony of  life. Let the world judge!
Commenting on the perceived sins of Governor Amaechi, one of his closest allies, former Commissioner of Works and current Chairman of the Petroleum Downstream Commitee of the House of Representatives, Dakuku Peterside, said in a recent  interview: "Some persons also claim that he is too forthright and I don't know what crime that is called. However, the biggest unsaid problem in the perception by certain persons Presidency that Governor Ameachi has ambition to aspire to higher office.
The attempt to crirninalise ambition, if any, is the root cause of the perceived problem in NGF. The second strand is speaking truth to power as can be seen in Governor Amaechi's comments on Sovereign Wealth Fund, Excess Crude Account, Rivers-Bayelsa oil well issue, fuel subsidy, East-West road, Adamawa PDP, amongst others:
Achinike Godwin William-Wobodo, senior special assistant to Governor Amaechi on Inter-Governmental Affairs, who holds an LLM in Criminal Law and Practice and is currently pursuing a PhD in Money Laundering and Anti-Corruption Law,in his own submission stated: "The induced situation is caused by third party elements, who are either driven by the hunger for power or jealousy.
Hear the illustrious son of the State and former Minister of Petroleum Resources, the professor, Tam David-West: "I'm particularly worried about the trend, not only because I am a Rivers State elder, not only because I am a strong supporter of Amaechi without any regret, I am also worried as a Nigerian because what is happening to Amaechi underscores a terrible Nigerian paradox, which I call the paradox of excellence.
"We support him because those of us who grew up in Port Harcourt as a famous 'Garden City' knew how the city changed to a rotten city. And Amaechi, who is also a Port Harcourt boy, returned the city back to its glorious 'Garden City' status. Any person that does not realise this is not only blind but terrible:"
This great sage reminded Amaechi's opponents that he who laughs last, laughs best, stating with emphasis that the governor would laugh last because his first name, Chibuike, means God is strength:
How Amaechi, others, were pushed to the APC.
The desperation to completely destroy Amaechi led to his departure, alongside six other PDP governors, to form the New PDP, with five of them later joining the mega opposifton political party, the APC.
Explaining why, Amaechi Said: "At various times, as the one whom  you gave your mandate, I had cause to complain about the marginalisation of our State and our people despite our huge contribution to the national coffers and our unflinching commitment and support for the ruling PDP.
While the political and economic importance of Rivers State cannot be contested, we continue to hold the shorter end of the stick. A few instances may suffice: Our oil wells have been ceded to Bayelsa, Abia and Akwa Ibom states. Even after we got a judgement that the oil wells were wrongly ceded to Akwa Ibom State and should be returned to us; only dry wells that were no longer producing  oil were returned.
"In the specific case of the Soku oil wells, despite a decision reached that the monies should remain in an escrow account till all matters concerning it are resolved, the Federal Government continues to pay  neighbouring Bayelsa State the revenues meant for Rivers State in a classic case of robbing Peter to pay Paul. It is indeed noteworthy that we have made several representations formally and informally on this matter.
A second instance is the total absence of federal presence in Rivers State. The National Good Governance Tour provided a good opportunity for  the Federal Government to showcase its presence in Rivers State. The tour, if nothing else, proved that there was not much to show in a state that is the cash cow of the federation.
The East-West Road remains abandoned, work has been deliberately slow on the Port Harcourt International Airport, the third busiest airport in the country, while all airports started along with it have long been completed and ommissioned.
The Bonny-Bomu Road that leads to the only functional liquefied natural gas project remains uncompleted.
In the midst of all these, our administration went ahead to fix federal roads to the tune of N103bn. Several representations and letters after, not one kobo has been repaid. The Federal Government is actively discouraging investments in Rivers State:
Conclusion: Good name better than gold;
When the powers that be in Abuja chose to chastise Governor Amaechi left, right, front and back to make him look unpopular before his constituency in order to prepare the ground for his ultimate removal from office, I saw whose interest they were serving and warned that they would inadvertently help Amaechi to become not only stronger but also triumphantly victorious at the end of the day. Many people dismissed my prediction with a wave of the hand. This has happened.
Today, despite all the attempts to bring him down, Governor Amaechi has proved himself an icon, hero and soldier of democracy. Some of the feats of this great leader of our time include making Port Harcourt the World Book Capital City, dogged fight for the oil wells and other rights of Rivers State and her people, as well as award-winning achievements in Education, Agriculture and Health, etc.
The latest proof is governor's recent decoration as an Associate Fellow of the United Nations Institute for Training & Research (UNITAR), Geneva, Switzerland.
Culled from Business Day.