The Federal
Government recently approved the release of N14 billion for dry season farming.
The release of funds for dry season farming has indeed become a practice as N9 billion was released in 2013 for the same purpose.
The release of the funds underscores the importance government attaches to dry season farming.
According to available statistics, Nigeria has over 82 million hectares of arable land not fully utilised because of predominantly rain-fed farming practised in the country.
President Goodluck Jonathan, who spoke recently in Abuja at the official launch of the Dry Season Farm Support Programme, said government would sustain the dry season food support programme.
"Our resolve to expand this dry season programme is strong and subsequently it has to come up in October so that they will get all that they need before the commencement of dry season.
"To demonstrate this, I am today announcing N14 billion to support dry seasoning farming for 2014 season.
"As more states come on board we will continue to increase the amount of money.
"We will continue to work with farmers and that is why I am announcing today that the support will become a national policy.
"Our nation shall be green, our barns shall be filled and our farmers shall prosper," the president said.
The president said that the programme launched in 2011, was designed to add an additional 20 million metric tonnes of food to the country's domestic food supply.
Alhaji Mohammed Yusuf, Director, Federal Ministry of Agriculture, who spoke recently in Bauchi at a stakeholders meeting of the Growth Enhancement Support (GES) scheme, said agricultural inputs would be provided farmers under the dry season farming programme.
Yusuf said that in Bauchi State alone, the Federal Government provided incentives to 10,000 dry season rice farmers.
According to him, each farmer received three bags of fertiliser at 50 per cent discount and 25kg of improved rice seeds.
Yusuf said that more than 400,000 farmers from 19 participating states were being supported under the 2013/2014 dry season GES scheme.
"The effort produced more than one million tonnes of rice during last year's dry season farming with just over 200,000 farmers drawn from 10 states.
"We intend to double or even triple the production this year.
"We have already carried out sensitisation campaign across the state, identified genuine farmers, enlightened them and assessed their level of preparedness in respect of land and source of water.
"I am happy to inform you that our farmers are ready; they have prepared their lands in clusters and ready for planting. Very soon, we will commence distribution of the inputs," he said.
The director advised the farmers to utilise the inputs to expand their production capacity, adding that the problems of processing and marketing had been addressed through the value chain initiative.
Dr Emmanuel Adanu, Director, Dams and Reservoir Operations, Federal Ministry of Water Resources, urged farmers to embrace irrigation farming, as it can deliver greater crop yield than rain-fed farming.
He noted that irrigation farming was more productive because it was usually regulated and more focused than rain-fed farming.
According to him, that is why the southern part of the country is being encouraged to use the dams located in their areas for irrigation.
"We are encouraging people in the South now to go into it, though in the South we don't have a long period of dry season for them to do continuous irrigation.
"So, we encourage them to go into some irrigation because the production from irrigation normally is better than rain-fed agriculture," Adanu said.
Adanu said the North engaged in irrigation agriculture more because it has a longer period of dry season and abundant expanse of land than the South.
Mr Charles Ovweigho, the Manager, Asaba Area Office of Benin-Owena River Basin Development Authority, said that dry season rice farming would soon start at Illah, Delta after the inauguration of Illah irrigation project.
He said that the N200 million irrigation project was for dry season rice farming.
Ovweigho explained that 100 hectares, out of the 200 hectares earmarked for rice farming, was irrigated for dry season farming.
"The contract for the irrigation was awarded in 2012 and the project will soon be inaugurated by the Minister of Agriculture," he said.
Ovweigho said the farm project extended to the neighbouring Ebu community, where 100 hectares was acquired, adding that 15 hectares had also been cleared in the community.
Ovweigho said interested large-scale farmers would be allowed to farm on the land after fulfilling some obligations.
"This is a Federal Government project and it is all over the country; no restrictions or discrimination is placed on anybody," adding that interests of host communities would be protected.
Ovweigho said that farmers currently on the land, only paid for the cost of land preparations, adding that when the irrigation system becomes operational the cost would also be subsidised.
Stakeholders want the government to complete the various irrigation projects spread across the country, to ensure the success of the dry season farming programme.
Okoronkwo writes for the News Agency of Nigeria (NAN).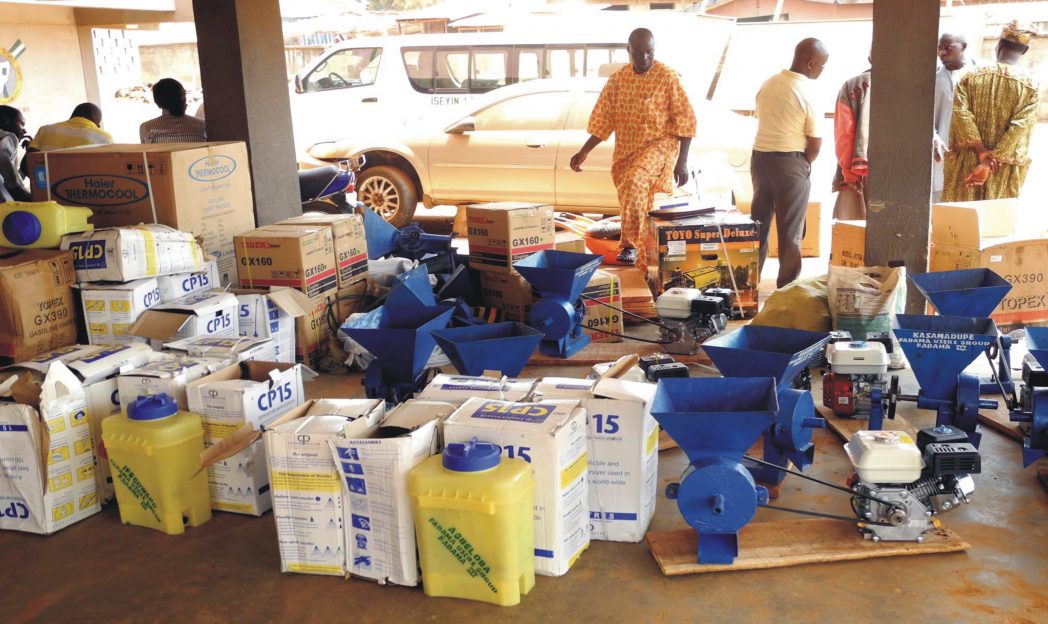 Chijioke Okoronkwo