Rosabon Financial Services has been named the recipient of this year's "African Financial Quality Service Award" by the Institute for Government Research, Leadership and Technology, Abuja.
This annual award program recognizes organizations that exemplify the highest level of operational and strategic excellence in information technology (IT) in Nigeria.
On receiving the award the MD/CEO Rosabon Financial Services, Chukwuma Ochonogor said; "We are indeed humbled and very honoured in receiving this award. It goes to show that Rosabon financial has been placed on the tables as the big financial players in this country and our outstanding work is being noted and recognized accordingly, this will definitely mark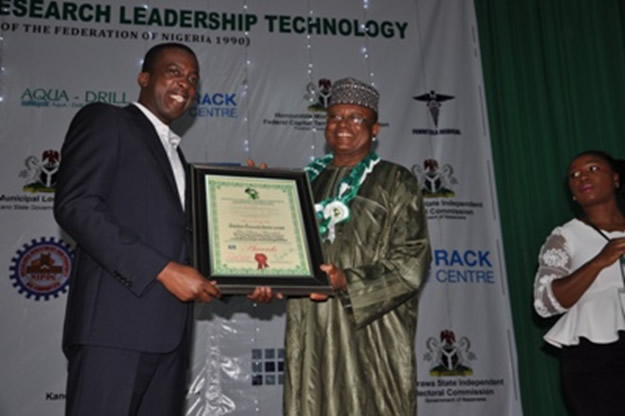 the beginning of incredible things to come".
The firm provides flexible and convenient access to lease acquisitions, loan financing, financial planning, counseling and related services that enable long-term productivity, growth and better compatibility with a dynamic and complex economic environment as can be found in River State.
The organization prides itself in delivering value-added services to its customers and has set in place packages to facilitate the growth of young businesses in Nigeria. As a result, three financial products were carefully designed to suitably meet the peculiar and specific needs of individual customers and business owners alike.
The Rosabon Earning Program (REAP), is a financial product designed to accept and grow funds from individuals with the principal and interest paid back upon maturity.  REAP is targeted at individuals, especially recent graduates who are fully or self-employed in various institutions across different sectors of the economy. Individuals with a need to save towards a long term project continue to benefit immensely for this product as it encourages a disciplined saving culture.
Maureen Nwosu, an entrepreneur, states that, "The accrued interest has really come in handy, which I have used to start and grow a good number of personal projects. Also with them I enjoy impressive customer service and they are always at my beck and call when I request for any financial actions to be taken on my investment''.
With REAP, an agreed amount is placed by customers monthly over an agreed duration of time typically 2-5 years after which customers receive the amount they originally placed plus interest per annum at the expiration of the agreed duration of time.
Through the Rosabon Win-Big Monthly Note (RWIN), a long-term financial placement offering of the company with a life cycle of 30 days, every customer is given the opportunity to earn up to 600% in monetary value with the initial placement amount.
Occupational therapist, Mensah Kwame, excited about his benefits accrued from RWIN, said "I have won several times through one of their product promos and whenever I want to part-liquidate the response and delivery time is immediate without any hassles.
Boutique financial product Rosabon Treasury Note (RTN) is a tenor-based placement, offering highly competitive interest rates for individuals and corporate groups. It is targeted at self-employed and working class individuals, corporates, and small to medium businesses.
Asides Rosabon's offerings to Port Harcourt's financial market, it has placed great value in the timeliness, flexibility of its services and overall a premium customer experience. Furthermore, Ms. Onyeokoro said "We make all information readily and easily accessible to the customer with our stellar customer and client services reps, making sure all your questions are answered and your financial goals are achieved."
Their offices are located at Imperial Plaza Plot 129/131 Olu Obasanjo Road, Port Harcourt. For further enquiries, visit here or call 07045332608, 07045017096.