AWC Stops Rivers Angels' League Matches
The forthcoming
Africa Women Championship, (AWC) scheduled to kick off in Namibia on the 11th of next month has put on hold all outstanding Nigerian Women Profession Football League matches involving Rivers Angels Fc of Port Harcourt and other clubs.
This follows a directive from the Nigerian Football Federation, NFF, owing to the involvement of 14 players of the Rivers State clubside and others across the country in camping exercise and preparations of the Super Falcons for the championships.
The Super Falcons only last week moved into camp for final preparations for continental competition.
According to the assistant coach of the team, Whyte Ogbondah in an interview with Tidesports at the weekend, the matches are postponed till further notice. He said that the club could not execute any match with the absence of their key players.
"14 of our key players have gone into National camp as to keep fit and enhance their performance for the task ahead," he said.
However, the coach has said that the team would not relent in their effort to win the double this soccer season, adding that, they are committed to their trainings.
Meanwhile, the team is still leading the 2014 Nigeria Women Premier League (NWPL) table with 39 points from 17 matches played so far, three matches on standby and one league match to be played.
It would be recalled that their away matches expected to play last Wednesday was postponed indefinitely.
Tokyo 2020: Adegoke, Amusan Break Nigeria's Olympic Records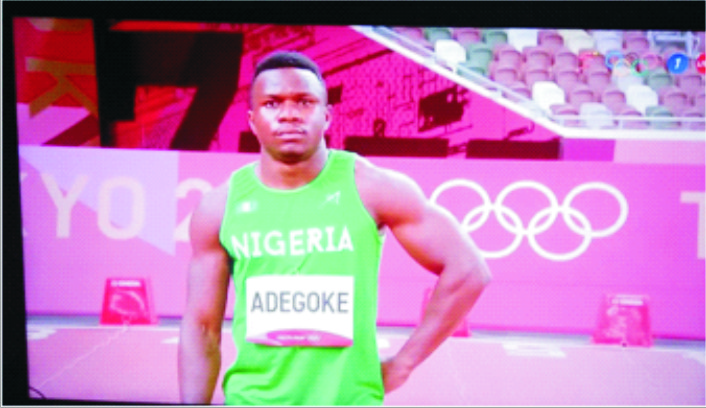 Enoch Adegoke and Tobi Amusan have broken Nigeria's records in athletics at the Olympics.
Adegoke became Nigeria's first 100m Olympic finalist since 1996 clocking 10.00s in heat 2 of men's 100m semis.
With this, he broke a 25-year record after Davidson Ezinwa at Atlanta in 1996.
On her part, Amusan wins her first semi-final in 12.62s to become the first Nigerian since Glory Alozie at Sydney 2000 to qualify for the 100m Hurdles final at the Olympics.
She broke Nigeria's 21-year-old record.
Nigeria's Oduduru disqualified, Itsekiri advances in men's 100m
The men's 100m semis was a tight race that ended in a photo-finish, with Adegoke ending up in second place in 10.00secs, the same time as American T. Brommell, with Great Britain's Zharnel Hughes, who clocked 9.98secs, in the first place.
Compatriot Usheoritse Itsekiri crashed out in the semi-finals of the men's 100m after he finished seventh in his heat in 10.29secs.
Adegoke's 10.00secs is the slowest among the eight athletes who qualified for the final, and the Nigerian, who clocked 9.98secs on the way to the semis, will be hoping to be in the form of his life to end up on the podium.
In the women's 100m hurdles event, Amusan clocked 12.62s to book a place in the final, which comes up today.
Olympics: Nigeria's Ese Brume Leaps Into Final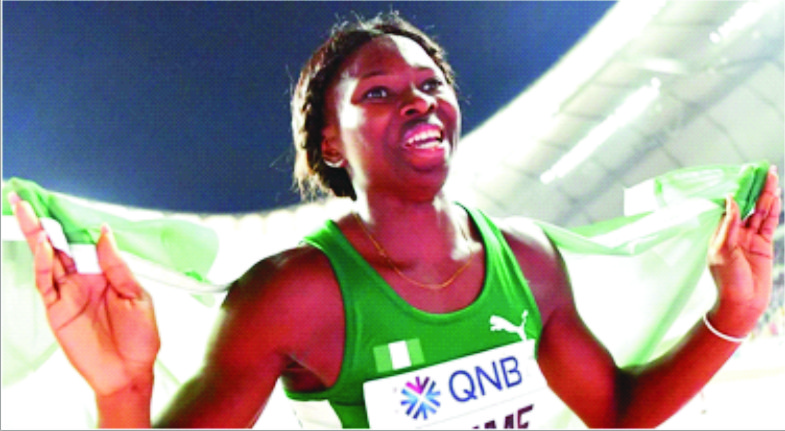 Nigerian athlete, Ese Brume yesterday, reached the final of the women's long jump event at the ongoing Tokyo 2020 Olympic Games.
Brume placed fourth with a 6.76m jump to claim the final spot in Group B.
Reigning World Indoor champion and three time European indoor champion,
Ivana Spanovic was first in Group B with a jump of 7.00m, while current world champion Malaika Mihambo, a German, was third with a 6.98m leap. British Virgin Islands' Chantel Malone (6.82m) came third.
The 25-year-old Brume, who won bronze at the 2019 World Championships in Doha, is seen as one of the country's strong medal prospects in Tokyo, having jumped a distance of 7.17m at the Chule Vista Festival in California in May to shatter Chioma Ajunwa's 25-year long jump record of 7.12m.
Brume's jump is also the World Lead going into the Olympics.
She was the only Nigerian athlete who reached the final of her event at the 2016 Olympic Games in Rio, where she placed fifth with a leap of 6.81m.
In Group A, Americans Brittney Reese (6.86m) and Tara Davis (6.85m) placed first and second, with Swede Khaddi Sagnia (6.76m) and Great Britain's Abigail Irozuru (6.75m) also qualifying in third and fourth places.
Don't Blame Dare, Okowa For Athletes Disqualification Ogba
A former President of the Athletics Federation of Nigeria, Solomon Ogba, has urged Nigerians not to blame Sports Minister, Sunday Dare and newly elected AFN boss, Tonobok Okowa, for the 10 Nigerian track and field athletes disqualified by the Athletics Integrity Unit last Wednesday.
Tidesports source reports that the athletes were expelled from the Games following their failure to conduct the mandatory three out-of-competition tests before the commencement of the Olympics.
Ogba blamed the affected athletes and the Shehu Gusau-led board of the AFN for failing to ensure the tests were conducted in the last three years.
"Every athlete knows it that when you are going for the Olympics, you need three out-of-competition tests. The conducted tests should have at least 21 days interval," Ogba said.
"So, this new board of the AFN led by Okowa couldn't do that. They were able to conduct just two tests. The last one they were to conduct for the athletes didn't meet the 21-day requirement."
On the role of the sports ministry in the matter, Ogba said there was no where in the world where sports ministers supervised the testing of athletes, adding that it was the duty of the Gusau-led board, who were receiving correspondences from the World Athletics, that should have ensured the athletes conducted the mandatory tests.
"It's not Sunday Dare's fault, it's also not his duty. The minister even approved funds for the second tests for the athletes. Where in the world do sports ministers conduct tests for athletes? It's the job of the federation, but the last board didn't do their job.
"Many of the athletes based abroad didn't also go for the tests, these are sports people who should know the rules."