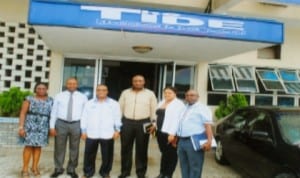 Newly posted Commissioner of Police to Rivers State, Mr Dan Bature has said he will ensure a fair playing ground for all parties and improved security in the state.
He gave the assurance when he paid a courtesy call to Governor Chibuike Amaechi, yesterday in Government House, Port Harcourt.
He said, "We are aware of the developments generally in the country. We want to assure His Excellency that, we will do all that it takes to ensure the situation gets better than the way everybody enjoys security in the state. Once more, I thank you", Bature said.
"The Nigerian Police alongside other sister agencies are responsible for internal security in Nigeria. Therefore, I am fully aware that, the tasks of ensuring adequate security and the challenges associated with it are our responsibility. My boss (Ogunsakin) has fully briefed me on his achievements in the past few months. And, these successes are unconnected with cordial relationship he had enjoyed with the Rivers State Government and the good people of Rivers State. It is a challenge that we have to sustain if we want to carry the state to the next level in terms of policing to ensure adequate protection of lives and property in Rivers State", he further stated.
He however called for the subsisting co-operation between the Rivers State Government and the police to be sustained.
Meanwhile,  Governor Amaechi has implored Bature to display professionalism to earn the respect and support of government and people of the state.
Amaechi said while welcoming the new State Police boss, "If you keep to social justice, believe me, you will be the friend of everybody. The Rivers State Government will continue to support you, once that is kept. But, if it is not kept, you can ask Mbu to confirm that, when we found out that, he was a card carrying member of PDP, we stopped funding the police. And they were not too happy. But, we will fund the Nigerian Police if you continue to maintain your responsibility", Amaechi said.
The Chairman of Nigeria Governors Forum (NGF), who recalled the antecedents of former Police Commissioner in the state, Mbu Joseph Mbu said he was a politician in police uniform who attempted to cripple the economy of the state.
Amaechi said, the former police boss deviated from his professional role of protecting lives and properties by serving politicians of the Peoples Democratic Party(PDP).
According to him, "Unlike Mbu Joseph Mbu, who clearly showed us that, he was a registered member of PDP. In your own case, (Ogunsakin) you know that, we had disagreement, but, you realized your responsibility to ensure the security of lives and property as the paramount responsibility of the Nigerian Police. It is important you keep that peace. And I wish to thank you for that peace. I am also sure, Rivers people are happy about that. And the way Mbu was going, Rivers economy would have collapsed completely. Fortunately for us, they took him away and brought you (Ogunskin) and you restored calm. You tried to create a platform for all parties to have access to reach you. And as you go, please, go with that same spirit. The Police in Rivers State, should discharge their responsibility as it concerns the protection of lives and property".
"Let me welcome the new commissioner of Police and say that, if the Federal Government refuses, I will repeat what I said, when I was sworn in as Governor in 2007. I said, if the Federal Government refuses to provide legitimate source of livelihood for Nigerians in our state, Nigerians will provide for themselves illegitimate source of livelihood. And that, includes kidnapping, robbery, stealing by people who will hire or provide police or military uniforms. And that illegitimate source of livelihood becomes its own economy which automatically frightens the legitimate economy", he said.
The State Chief Executive also advised the new commissioner of Police, Dan Bature to ensure social justice rather than partisan politics, warning that, the absence of social justice may breed resistance and breakdown of law and order in the state.
"Now in the same manner, when it comes to security, as a former student leader, I understand that, immediately, the police become partisan in politics and does not provide security for everybody, other parties will be compelled to provide security for themselves. I know this as a politician since 1987 when I joined politics. And, one thing about security is that, it is cash based. They will provide for themselves the means with which to protect themselves.
"The Nigeria Police is supposed to mingle and have the confidence of the Nigerian people. But, the moment, it becomes the agent of the other party, then, you are no longer the Nigerian Police. You automatically lose that title. You are coming into a situation where, the right thing must be done according to social justice, the absence of it, is what breeds crime and resistance. The only thing we ask you is social justice. If you ask any of the commissioners of police who had served in Rivers State, I have never requested for favours, because, I don't have the need for it. We believe in law and order. But, when you don't keep law and order, what you are inviting and get is resistance."
Earlier, the out-going Police commissioner, and newly promoted Assistant Inspector General of Police, AIG, Tunde Ogunsakin said, he had discharged his duties as a professional police officer since he assumed office on 12th February, 2014 in Rivers State.
According to him, "the task has been onerous as a result of the various contending interests in the political, economic as well as other facets of human endeavors that we had to grapple with. In the area of crime prevention, we have been very proactive and have put in place adequate measures to ensure that crime is brought to the minimum. We embarked on intensive patrols of all nooks and crannies with a view to ensuring that criminals are not allowed to thrive in any part of the state. On crime fighting, I strategically marshaled a formidable operational plan that speedily responds to distress calls to all forms of criminalities, particularly violent crimes of armed robbery, kidnapping and cultism in the state.
Ogunsakin also commended Governor Amaechi for the co-operation rendered by his administration.
"I want to thank His Excellency, Rt. Hon. Chibuike Rotimi Amaechi for the hand of fellowship extended to me while I remained at the helm of affairs of the Rivers State Police Command. There may have been areas of conflicts but, these were eventually resolved in the interest of the security of the state", Ogunsakin explained.