NHIS To Introduce Mobile Health Insurance Programme
The National Health In
surance Scheme (NHIS) says it will introduce the novel concept of Mobile Health Insurance to make registration and access to quality health care easy for Nigerians.
This is contained in a statement by  NHIS Executive Secretary, Dr Femi Thomas, in Abuja on Saturday.
Thomas said the concept for which a Memorandum of Understanding had been signed with an indigenous mobile financial institution would be first of its kind in the world.
He said the initiative was "a game changer'' in the health sector, adding that with the programme, Nigerians would be able to register for various programmes from their mobile phones.
According to him, this will remove both physical and financial barriers to access at once.
"The programme will simplify opportunities and processes for Nigerians to register, make payment and choose the health care provider of their preference, all at the touch of a button," he said.
Thomas said that this would qualify an enrollee to access care after a strategic waiting period of 30 days.
He said that enrollees would be able to pay, depending on their convenience, on a yearly, monthly or weekly basis.
"The manual operations and bottlenecks associated with referrals between Health Maintenance Organisations (HMOs) and Health care Providers (HCPs) will disappear in this arrangement.''
He said the HMOs would be required to work 24 hours to take care of referral cases arising at any point of the day for the overall wellbeing of  Nigerians.
Commissioner Lauds Navy On Covid-19 Containment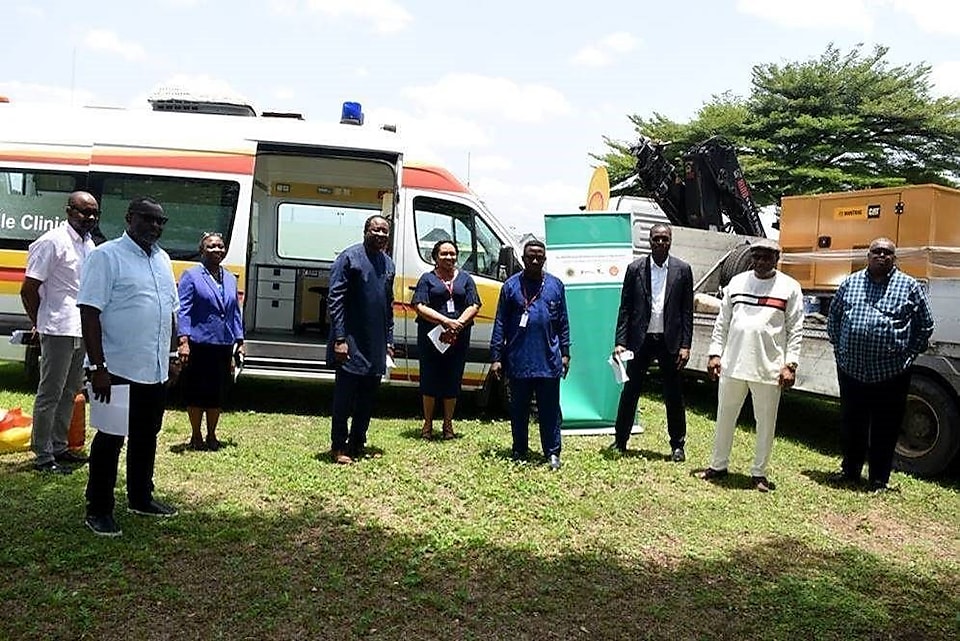 Rivers State Commissioner for Health, Prof Princewill Chike, has lauded efforts made so far by the Naval Command at Borokiri, Port Harcourt, towards checking the trend of the Covid-19 pandemic in the State.
Making the commendation recently when the naval medical team paid him a courtesy call in his office, the commissioner stated that the state government and Rivers people appreciate the fact that the naval health facility is made accessable to people living in their environment and beyond.
"The  Rivers State Government appreciates all your effort aimed at curbing the spread of the Corona Virus in line with your corporate social responsibility for host communities in the state by making your (health) facility accessible", he said.
Prof Chike continued that, "the job of every health personnel is humanitarian. Lives of citizens of our country are paramount and should therefore not be compromised".
While assuring that the state government is doing everything possible to fight the spread of the pandemic, the commissioner stated that he'll personally pay occasional visits to the naval healthcare facility, and also assured of the preparedness of the state ministry of health to partner with other private healthcare delivery services.
"The State Ministry of Health (MOH) is committed in partnering with other private health facilities in the state to curb the spread of the ravaging pandemic", he said.
Speaking earlier, the Commander, Naval Medical Centre Borikiri, Navy Captain U. O. Nzeribe-Agbangwu, said the navy health services were not restrained to its personnel but extended to other individuals who need to access the facility for heart care. 
The commander said, "over 70 percent of our patients are civilians, and, in line with our corporate social responsibility, we constructed a borehole for supply of water to the host community".
Nzeribe-Agbangwu also expressed satisfaction over the support the Naval healthcare facility got from the ministry in the heat of the pandemic in 2020.
By: Sogbeba Dokubo
Covid-19: Pregnant Woman, 15 Others Die In Edo
The Edo State Government has confirmed the death of a 33-year-old pregnant woman at Stella Obasanjo Hospital in Benin and 15 other persons across other Covid-19 facilities.
Head of the state's Coronavirus Case Management, Dr Ebomwonyi Osagie, who disclosed this at the daily press briefing on the virus, however, said that the victims were not vaccinated.
"This particular patient came in and died about three hours after presentation at the Stella Obasanjo Hospital; late presentation is a major issue in managing crisis.
"She is about 28 weeks pregnant, already having pre-eclampsia, so, the debate is actually if it is the pre-eclampsia that killed her or Covid-19.
"The woman has Covid-19, which pushed her more toward developing pre-eclampsia and then death. Some other women have pre-eclampsia and are successfully managed.
"Late presentation is an issue, because the patient died three hours after presentation, which means that there is little that would have been done to manage the situation, so, we are appealing to private hospitals to let patients go very early for treatment.
"So far, a total of 537 samples were collected, with a total of 1,004 confirmed cases, 103 recovered and were discharged and 16 deaths recorded within 48hours.
"We have 70 people in admission, 296 people in home care, 344 discharged and 50 deaths, since the outbreak of the pandemic," Osagie said.
The Permanent Secretary, Ministry of Health, Dr Osamwonyi Irowa, said that the cases were rising, with more people being admitted, just as the state was recording very high mortality from COVID-19.
Irowa further said that vaccination was fighting the pandemic and appealed to residents to avail themselves the opportunity of taking COVID-19 vaccines made available by the Federal and state governments.
Agency Trains 40 Health Officers On Emergency Response
The United States Centers for Disease Control and Prevention (US-CDC) on Monday kicked off a two-week capacity building programme in Lagos for Nigerian experts on public health emergency response.
The training seeks to certify the first cohort of 40 participants drawn from the Nigeria Centre for Disease Control (NCDC), state-level ministries of health, Nigeria Port Health Services, and  Nigerian military in the Public Health Emergency Management Professional Certification (PHEM PC).
The US-CDC Nigeria Country Director, Mary Boyd, said: "The devastating impact of the Covid-19 pandemic illustrates now more than ever the importance of ensuring the public health and health care systems can adequately prevent, respond to, and recover from health emergencies.
"Particularly those whose scale, timing, or unpredictability threatens to overwhelm routine capabilities,"  a statement by the mission in Lagos, quoted.
The Tide source reports that PHEM PC training, a first of its kind in Nigeria, adapted from US-CDC Atlanta, equips emergency managers, incident managers, state epidemiologists, first responders, watch managers, and other public health experts with the knowledge, competencies and skill sets they need to respond to public health emergencies.
During the intensive programme, participants will receive specialised training in crisis and emergency risk communication as well as public health emergency management functions and operations.
The PHEM training is part of the U.S. Government's efforts to support pandemic preparedness globally.
The US-CDC, NCDC, and Georgetown University are collaborating to deliver this training.
In 2019, Nigeria became a Global Health Security Agenda (GHSA) partner country committed to achieving GHSA 2024 targets and International Health Regulations (IHR) requirements.
US-CDC supports the Government of Nigeria (GON) to achieve these targets by strengthening workforce development, surveillance, emergency response, and laboratory capacity among other areas.