In the history of mankind, only very
few people have the courage to trans
late their dreams into reality. For those who have been able to rise from their beds, fasten their belts and occasion a watershed in the history of man, their memories linger on forever. Neither the vagaries of time nor the propaganda of their opponents can dim their value and achievements in the psyche of people who draw quality inspirations from their selflessness, aspirations and accomplishments.
The above epithet encapsulates the life of the Rivers State governor, Rt. Hon. Chibuike Rotimi Amaechi who turns 49 today. From a humble beginning at Umuordu, a rural settlement of Ubima community in Ikwerre ethnic nationality of the present Ikwerre Local Government Area of Rivers State, where he was born 49 years ago, Amaechi has left no one in doubt that he is a rare specie who is sure-footed and destined to occasion a watershed in the history of mankind. He came. He saw. And he conquered.
Although, the harsh reality of his humble background did not give him a place to grow up in treasure like some of his peers, the young Amaechi then did not succumb to the pressure of his poor beginning.
His childhood personifies the lives of great men and women who were born dirty poor but struggled from the grass all the way to grace. Like the M.K.O. Abiolas and Goodluck Jonathans of this world, Amaechi shared the wall of humble beginning with other children who had no opportunity to live their childhood days in the laps of luxury.
The challenges Chibuike faced in his tender years, all the way to his university days in University of Port Harcourt, was not for the faint-hearted. His was a story of perseverance in the face of frightening odds occasioned by poverty. But the young Amaechi was not deterred. He accepted who he was, but cared more about what the future had in stock for him. He dreamt big and he strove to achieve his dream.
This humble beginning manifests in Amaechi's personal life till today, and guides him in the way he handles the affairs of the state since October 25, 2007.
The paradigms of Amaechi's vision for Rivers State in the last seven years, have thrown up intriguing, yet robust intellectual engagement not only in the appraisal and analysis of his administration, but also interestingly in the interpretation and understanding of his character and personality.
The story of Rivers State under Amaechi's watch, has uniquely posted some positive entries on the balance sheet of the State, to the admiration of both his admirers and critics, which has elicited astonishment and sometimes envy of his meddlesome adversaries. His velvet revolution in education, health, urban renewal, agriculture and social infrastructures particularly rekindles hope in the common man and holds a gentle promise of a better future for the state.
In fact, it can be argued that Amaechi makes the governance of the state his personal credo. Often times, he offers his able shoulders as the lever upon which the problems of the state rest.
He is, to his admirers, what Nguyeh Singh Cung, popularly known as Ho Chi Minh, was to the people of Vietnam. Both leaders share common qualities. While 'Uncle Ho' as Cung is fondly called, delivered his country, Vietnam from the draconian French rule, and touched the lives of his people in a permanent, positive form, Amaechi rescues his state from the political and economic complexities foisted on it by several years of corrupt and inept leadership.
On each account of his stewardship as a former Speaker of the State House of Assembly for eight years and now governor of the oil rich state, Amaechi has succeeded in not just turning around the fortunes of his people, but has also translated the dreams of the state's founding fathers into reality.
At 49, Amaechi personifies late Martin Luther King Jnr. He embodies rare courage and selflessness that distinguish him from the pack of other leaders. He is not just a consummate politician but an embodiment of courage who often times snatches victory out of the jaws of sure defeat.
His fearless pursuit of whatever he believes is right, even when it is unsafe or unpopular, makes him an uncommon hero, or an enigma of some sorts that might take Rivers State another century to produce.
On many occasions, he has had daunting challenges which, to many people, looked insurmountable and were capable of drowning him in the murky waters of Nigerian politics. But on each occasion, he rose up to the challenges to prove to skeptics that what is required of a great man of strong character and principle is to always take the path that is right and just.
His State House of Assembly election victory which he got through the election tribunal in 1999, his governorship mandate that took him a long tortuous, judicial road to claim in 2007, his re-election as the Chairman of the Nigerian Governors Forum (NGF) against all odds, his war against militants in the state, his ban of commercial motorcycles popularly known as 'Okada' in 2009, the demolition of waterfronts and other illegal structures that once served as hide-outs to criminals in the state and the demolition of houses and buildings that paves way for his urban renewal programme are his uncommon attributes.
These rare attributes are, however, not strange nor surprising to those who know Amaechi from his university days as a dogged, unassuming union activist. At the University of Port Harcourt where he served as the president of the National Union of Rivers State Students (NURSS), Amaechi was well known for his abrasiveness, as he was for his uncommon stand on issues that bothered on the welfare of his fellow students. He was a student activist who, at the risk of his life and academic career, led several agitations and protests against what his school mate, Dr. Alex Otti called the bourgeois' attitude of the then university authorities, a replica of what the Nigerian ruling class presently typifies.
One of Amaechi's favourite authors who he often quoted whenever policemen tried to disperse the protesting students is Franz Fanon. He once told the overzealous policemen during one of the student's protests against the school authorities that, "when you drive people from the arena where opinions are expressed, they only go to converge at the cellar where revolutionists are born."
That was vintage Rotimi Amaechi. And till date, this fearless, down-to-earth attitude radiates in him. Anywhere, anytime, he speaks without paltering with the truth. Unlike many Nigerian politicians who pander to sly, dribbly style of speaking, Amaechi calls a spade its real name.
For this reason, many people have continued to see him as a fearless and dogged fighter, just as some others interprete his mien and actions as confrontational and arrogance. From whichever perspective one sees Amaechi's personality, or the conclusion drawn from his actions, his stubborn, somewhat 'defiant' streak has surely helped in securing him to a treasure base.
However, those who may want to unravel the mystery behind Amaechi's success against all odds and human adversities may have to unbolt the providential, mystic and sometimes uncanny role his first and middle names play in his life. Chibuike literally means 'God is my strength,' while Rotimi which is a shortened form of Oluwadurotimi in Yoruba language literally stands for 'God stands by me' or  'God is with me.' The divine mystery behind these two names has always secured victory for Amaechi in the face of sure defeat.
By all reckoning, Chibuike is a child of uncommon providence. When his parents gave birth to him on Thursday, May 27, 1965 at Umuordu, little did they know that their son would have the fortune of sharing a birthday with their State two years later, let alone piloting its affairs 42 years after. But by providence, much less than by happenstance, Amaechi is today the executive governor of the state, and the only serving governor who shares a birthday with the state he pilots and the day Nigeria sets aside as the Children's Day.
And for the past seven years he has been occupying the driver's seat in the State, the governor has given a good account of himself as a leader who has a grasp of the people's problems. The tremendous internal peace and harmony in the state is one. The good working relationship he enjoys with other arms of government is another. Above all, the velvet revolution he brought into governance is indeed an icing on the cake of his administration.
Besides his enduring legacies in every sector of the state's economy, is also his simple, uncommon personality. Unlike some of his contemporaries who relish the unnecessary brigandage of officialdom, or who have allowed themselves to be carried away by the exaltation of their office, Amaechi radiates simplicity both in appearance, utterances and actions. Amaechi, from many accounts, is not a friend without a personal touch. He demonstrated this quality recently when he visited the Fruits GardenMarket at D-Line, Port Harcourt to buy some fruits by himself. The scenario created by his personal touch with the hoipolloi, which constitutes the market, gave Amaechi out as a man who does not forget his humble beginning. Many people who sometimes see him driving himself without the usual retinue of cars and security paraphernalia are often caught wondering about his uncommon simplicity and humility.
He is also one governor who shuns the whim and fancy of speech writing to convey his message and government policies. More often than not, he speaks extempore. This quality, needless to say, endears him to journalists and the larger population.
Certainly, by the time the history of Rivers State would be written, Chibuike Rotimi Amaechi will occupy a  large volume of space, not necessarily because he is a governor, but because of new, velvet changes he brought into governance and politics of the state, and the refulgent, shinning legacies of his administration which make him peerless among his peers.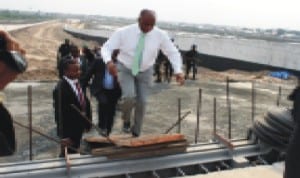 Boye Salau