Mrs Edith Okari, a busi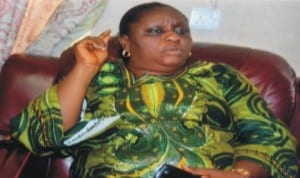 ness woman and wife of the Permanent Secretary, Special Services Bureau, Secretary to the State Government's (SSG) Office, Rivers State, was kidnapped last month and freed by her abductors about two weeks ago. In this interview with our Deputy Editor, Mr. Arnold Alalibo, she gave an insight into her ordeal in the hands of her captors. Our photographer, Mr Chris Monyanaga, was also there to take the snapshots. Excerpts:
What are your names?
My name is Edith Okari
Were you kidnapped recently?
Yes
How did it happen?
I own a business at 131 Aggrey Road, Port Harcourt. I sell jeans. I have a restaurant there. At about 8pm on the 25th of April, I was attending to some customers in the restaurant precisely. Two people came to hire my vehicle. I have a cooling van there. They came to hire my vehicle and to buy some drinks. I was negotiating with them. I was already done with the transaction. I just said let me walk the customers up to the door. Before we knew it, we heard gunshot outside the restaurant. Before we knew what was happening, two young men came into the restaurant. And when they came in, they asked us to lie on the floor. So we were kind of wondering what was happening and before we knew what was happening, there was another gunshot outside and they inside shot another gun. So by this time, we were afraid so we had to obey them and lay down. The next thing they picked me up among all the people lying down. They just came, dragged me to a vehicle outside. I was not blindfolded.  My shop is close to the post office around town area, so they just took me to Borikiri and they took me to a waterfront at Ndoki. And there was a ready flying boat there. And they took me by the flying boat. And they zoomed off. Sincerely, I do not know where they took me to because it was in the night. But I knew that they were a kind of missing their way along the line and they were  saying 'this is not the place, this is not the place.'
Finally, before we got to where they took me to, it is like two hours plus. So we got there finally. In a bush. You know I don't know whether you people are familiar with the riverine terrain? Mangrove in the bush. You know from the mangrove we entered into a bush. So that was where I stayed with them. I stayed with them one week. And in the course of this period, there was rain, sun, there was no shelter, no house. It was just real mangrove like that. We got there on Friday night. Saturday past, Sunday, Monday. So I was eager and I told them they should allow me speak to my husband. So somehow, they gave me an opportunity that Monday evening to speak to my husband. What they did was a kind of asking for millions of naira. And when they spoke to my husband, my husband said he does not have that kind of money. So they said I would remain there. I was there that Monday, Tuesday they did not give me an opportunity to talk to anybody. Wednesday, Thursday, Friday. They were bringing food asking me to eat, you know when you are in a place like that, I was not happy, there was no appetite to eat. But somehow sincerely they were not hostile. They were just there. Somehow, they would threaten me along the line saying that 'if they didn't bring the money we would kill you' and they would do all manner of things.
But miraculously, on Friday, I was just there praying within me. I didn't know what happened, but before Friday, Thursday we had an experience. We heard some kind of footsteps in the bush. They now held me,' madam, madam, madam.' They took me deeper into the forest again. Trying to escape with me.
May be they thought they were people coming to rescue me that Thursday. But along the line nobody came. But Friday afternoon there were some people in the bush with me; there were other people that come and go. But that Thursday afternoon, what they do is that two would go to the waterfront, two would be with me where I was. But that Friday what I noticed was that they had just two guns with them. So what they did, they would leave one gun with the one securing me. The other would go for operation  with the other gun.
What they did was we were there the next thing I heard was they were running. They were running from the waterfront. I was scared. I said; wao! What was happening? They now beckoned on their colleagues 'go away, go away, go away security agents are coming.' All of them ran away and leaving me there. I said, aha! I was even calling their names. At a point I was calling their names. I said aha! What is happening? They said 'madam, madam.' They ran. This time they refused to take me along. But the previous day, when they heard gunshot I don't know whether they were sea pirates. That day when they heard the gun shot, they took me by my hand, taking me further into  the bush. But that Friday, may be they really saw the people; so they ran away without even asking me to follow them. So, I was kind of scared inside the bush I was all alone. I was saying aha! Why are you people running, why are you people running? They ran into the bush. And the next thing I saw were some security agents. Initially, I was scared too. But they said to me 'we are security agents let's go'. They miraculously brought me that Friday.
When did you secure your release?
2nd May.
How much did they quote for your ransom?
They said N100m. So when my husband said he is a civil servant he doesn't have the money, they put off the phone and never to call him again.
Did you say you knew them?
Along the line as we are talking, you know I have been with them. As we were talking, they now said they are not from Rivers State. I was not blindfolded. I was seeing them throughout the period. They now told me that they are not from this place.
What was their next move when your husband said he was unable to afford the ransom. Did they reduce the amount?
Initially, when they called him and asked for a hundred million, my husband said he was a civil servant and he doesn't have, they put off the phone. I was kind of crying pleading with them that my husband is truly a civil servant he did not have that kind of money. Even if he has to borrow who will loan him without collateral? Without talking to my husband, they were telling me if my husband can bring N70m; they brought it down to 50. They brought it down to 30 before this one now happened.
Did you say no ransom was paid?
No ransom was paid
How were you treated when you were with them?
Well, you know now they needed money. At a point in time they would be friendly because they know that the place we are is not a friendly place. Mosquitoes, cold there and all that. So if they see me feeling bad, they will come and say 'madam, eat. You need to eat for you to be alive. Call your husband. Tell him that you are suffering. Let him release the money so that you can go.' You know at other times they would be hostile. They would just be cocking the gun  and threatening. You know they needed the money they would be threatening me. Sometimes, they are human too they would now say, 'madam, you are catching cold.' They will now make fire for me all that. I won't say hundred percent they are hostile. And I would not say they are friendly hundred percent. You know they are just in-between. You know sometimes they would feel sorry for me. Sometimes when they remembered what they were there for, they would be hostile.
Do you know where you were taken to?
I am not familiar with the area. What I know is that they took me from Ndoki waterfront and it was in the night. So I cannot know and that is not my area. I am from the riverine area. When I travel to my place I go with boat. So, I don't know that part they took me to.
Some of the kidnapped victims like Elechi Amadi etc made some observations when they were released, that some of the kidnappers are intelligent and educated, but are jobless. From your interaction with them, did you see them as educated people or mere jobless people?
I will not say they are completely educated people. They are not. But  you know I did not hear them speak good English. They were into their language. They spoke Ijaw. But when they talked to me, they spoke English as in normal broken English. So I don't see them  people who are educated. May be they are educated. I don't know if they were just hiding it from me. But initially, when we got there, they told me that they are doing this; this is their business. They are doing it for money.
Was there a formal report of the incident to the police or were they on a routine work of combing the bush in search of kidnap victims when they found you?
I don't know I was there, may be they were just doing that.
Do you attribute your rescue to effort by the State Government?
I should think so. Because the way the rescue came is not something I expected ordinarily. I thought, because of the ransom demanded, I thought they would wait until the ransom was paid. But surprisingly it just came. So I just thought it was the handwork of the state.
Your kidnap incident coincided with the abduction of the Chibok girls. Given your own experience, how can you assess the condition faced by those girls?
Well, as I was telling my husband as I came back, this is something you don't even wish your worst enemy. So, for me to have first spent one week there, I knew what I went through compared to people who are there for one month. I wonder what they will be going through. So it is not something that one will begin to describe the experience. It is very terrible. It is very terrible. It is a terrible situation.
Do you suspect insider conspiracy with your kidnappers?
Well, I do a business that involves every kind of persons. So I wouldn't really say l am suspecting A or I am suspecting B or any body. I don't know whose hand is in it. I don't put anybody in mind.
Before the incident occurred, did you notice suspicious movements around you?
Where I do my business is a very busy area. Sometimes you see people come they want to buy. Other times too you see people follow their friends. They want to buy. So you wouldn't say when A comes to your store you begin to suspect A, B comes you begin to suspect. You can't be suspecting everybody. You understand. So I was not suspecting anybody so to speak.
Do you see the hand of God in your rescue, and how would you express your testimony to the world?
Generally, like I have given testimony on the Sunday before my release. On Sunday I went to church and testified to the glory of God. Even the State Security that has come to rescue me; if not God they would not have succeeded considering where I was taken to. Do you understand? If not that the hand work of God is there, they would not have, they would not have succeeded  to have rescued me. What if as they were running and they say 'oya, since we have not gotten anything, let us shoot her,' I would have gone. So the hand work of God is more than even what the State did.
What was the outcome of police investigations into the matter?
I wouldn't know. I wouldn't know.
As a  wife and mother, what thought processes went through your mind when you were in the bush?
That one is just something I do every day. Of course, now you are in a strange place with uncertainty. Where you are is not where you are supposed to be first and foremost. So I think of my children, what they are going through. At a point I wanted to talk to my husband, they said my husband could not talk to me that he was not feeling fine. So, me I was not sick there and somebody was telling me that my husband is not feeling fine. You know that kind of thing. I said aha! What is happening to my husband? Let them just give him to speak with me. Let me just hear his voice. They didn't even allow me. So alot of thoughts here and there. I have an aged mother. I have my younger ones. I have people around me even  people I am catering for. You know plenty things. So, at every point in time, I just go through a lot of things. And you know in the midst of all these, I will find myself crying. Nobody to say sorry. I will just be crying. When I cry and I am tired of crying, I would clean my tears, I will sit back. When I remember them again, I start crying. So, is not something I will begin to say all over again. But all what I will say is that it is not an experience you will wish even your worst enemy to go through.
Where you left in an open bush?
Open place. Open place. I was there seven days and it rained three times. And all on me.
What advice can you give to security agents to reduce kidnapping?
Well, I am not a security personnel. They know how to do their job. But I know that if they are truly investigating things like this, incidents like this, they will stop. You understand. They should put more efforts especially in areas where they know that kidnappers pass with their captors.
While they were taking you to Ndoki water side did you not pass through checkpoint?
I passed through one
Nobody stopped you?
Nobody stopped me
Did you shout?
No, I was scared
How did the incident affect your business and family economy generally?
It had effect For instance, if I am there doing my business may be I am expecting to make a profit of N10,000 a week and I am not there, people who are working with me or who are working for me will not be able to achieve that. And if they don't achieve that, of course, it will bring down the level of the economy. If that should happen to may be three, four, five persons you know what it means. You understand? If I come out and see that my earning is not what I am supposed to earn and I see that I am not doing very well, I have some workers and will say 'you, I want to lay off. Because I am not meeting up.
What advice do you have for the government in this regard?
Well, everybody is advising the government to create opportunities for employment. That is what we are advising the government to do. And again, most of these people it is not just creating opportunities  like you will see that I went to the university. I am a graduate. But when there was no job, I was employed as a school cert in local government and I worked as level 04. I started there before after three years I was upgraded. So most of these boys when they see their mates driving flashy cars you don't expect them to work with a  salary of N20,000. They will say it is too meager. So they want a very fast one. They want to go on a very fast lane. And I don't think the government right now can employ people and start paying them hundred, two hundred thousand, especially when you are not even a graduate. Even with graduates it is not easy talk of somebody who is not educated. It is even more difficult. Seriously we are still praying for the government to create opportunities. Some of them would want to work no matter how small the salary will be.
Did your captors voice their grievances?
They did. The first two days, we were there they were just very angry with the government. I told you they speak Ijaw language. So they are very angry that the government is not doing anything for the South-South. So they are the people who have asked them to go into this trade. Because ordinarily what the South-South is supposed to achieve they are not achieving. So, that is the real reason they are going into this.
What precautionary measures will you advise Nigerians and Rivers people in particular to take?
Everybody has to be very careful. Because if there are security agents and they are working the way  they ought to work, may be most of these things would not have taken place. But because we know that there is no security, everybody has to be very careful. Know when you come in. you understand. Avoid night movements.
As a mother and one who has gone through this ugly experience what advice can you give to the kidnappers?
Okay, I will advise them to stop whatever they are doing, especially those of them who are involved  in this kidnap part. One day surely nemesis will catch up with them. They should look for something meaningful to do. They cannot continue this trade till the end of their lives. They should look for something meaningful may be because there is no job today that is why they are involved in this. But they should look for something, or any other thing to do. Because if they continue, if they succeed this time they may not succeed other time. So I definitely know that someday somehow the law will catch up with them.
So my advice to them is that they should desist from what they are doing and look for something meaningful to do with their lives.

Arnold Alalibo