Generally speaking,
the institution of marriage is an honour unto women, especially when such women are sought after by aspiring suitors into her father's house.  Yet, marriage has an equally telling experience for those who met their spouses by accident; either by social or religious circumstances.
However, marriage which goes by mutual conscent, irrespective of the circumstantial factors underlying their first meetings, often has a better story.
When, therefore, I journeyed from Port Harcourt, the capital of Rivers State on that blessed Saturday morning, otherwise known as Holy Saturday, to Ikuru Town in Andoni Local Government Area, I was filled with expectations.  First, Ikuru Town is one of the communities in Andoni Local Government which the Rivers State Government wants to reach by road before the end of 2014.  Secondly, the community has enjoyed a better share of political patronages in the local government area, and thus enjoys regular mention in the media.
Thirdly, Ikuru Town is home to many lovely families from Andoni Local Government Area to whom I am acquainted.  So, my journey to Ikuru Town was to satisfy a lot of curiosities.
Of course, my visit to Ikuru Town did not disappoint.  Several factors made that possible. I was going to attend an event that celebrates womanhood and my arrival at Pa Levi's home gave me yet another reason to smile.  True, if Andoni people are said to be receptive, the welcome reception at the entrance of the house was indicative of a genuine culture of giving which is symptomatic of the Gogo-Levi Charles' family.
The women of Andoni who were seated under the canopies gave out their welcome smiles freely, so much that those who came into the community could hardly recall how rough the sea was.  That reminds me, folks, the Ogoni-Andoni-Opobo road has entered Ikuru Town.  Almost eighty per cent of dignitaries who attended the womanhood celebration of Mrs Rosemary Gogo Charles came into Ikuru Town on this faithful day by road.  Yes, I can confirm.
The "Ikwun Ekwun and Okobong ceremonies" of Mrs Rosemary Gogo Charles were indeed the events of a lifetime.  It was one of the most colourful "wrapper tying events" I have seen in life.  Women of Obolo Kindgdom, who knew what it meant to be called a woman, were on hand to lead the way.  Indeed, when Mrs Rosemary Gogo Charles arrived from the dressing room unto a waiting horses-driven-cart for a procession round the community, no one was left in doubt that this woman was loved by her husband.
Decked with ornamental beads, Mrs Rosemary Gogo Charles, the celebrant, shone like a million stars.  She was so gorgeous that women who attended the ceremony were unable to hide their sense of satisfaction with the quality of love on display.
I had never witnessed an Ikwun Ekwun and Okobong ceremonies before that faithful day, yet it was visible to all, including yours truly, that the essence of such womanhood celebration was to demonstrate love for a woman that has proven to be virtuous.  Loads of wrappers were involved and so were adornments that are not common to daily wardrobes. Rice and stew were also plenty.
It is a necessary event for all certified women of Obolo, I was told but somehow I asked if Mr Gogo Levi Charles would have ventured the path of these ceremonies if his wife was not lovely, caring and supportive?
Indeed, no one would dare.  To further this fact, Mr Gogo Levi Charles, brought his friends to be with his family on the day, and guests turned up in their numbers.
Rivers State Governor, Rt. Hon. Chibuike Amaechi led the pack.  His wife, Dame Judith Amaechi, who represented him was physically involved in according Mrs Rosemary Gogo Charles the honour she deserves.  The State Deputy Governor, Engr. Tele Ikuru was present too.
Others who graced the occasion were Senator Magnus Ngei Abe, Chief Davies Ibiamu Ikanya, Hon. Dakuku Peterside, and his wife, the Secretary to the Rivers State Government, Mr George Feyii, and his wife, several Commissioners, Permanent Secretaries, Heads of Tertiary Institutions and Traditional Rulers.
Of course, the Chairman of Andoni Local Government Area, Hon. Orom Nte Ereforiokuma and his wife were in attendance, members of the Rivers State House of Assembly, Chieftains of the All Progressives Congress (APC) as well as Councilors (male and female) from all parts of Rivers State.
The State Commissioner for Budget and Economic Planning, Mr Gogo Levi Charles, may have done a yeoman's job attracting these personalities to Ikuru Town, but the virtue associated with his wife, Mrs Rosemary Gogo Charles did the rest.  She is calm, always smiling, cheerful, receptive and God fearing.  She showed in every way possible that she loves her husband and was ready to proof it.
One brilliant addition to these spates of good tidings is that the event had more than an overdose of native airs celebrating the event while traditional music also complimented the occasion.
It therefore goes, in my estimation that the womanhood celebration of Mrs Rosemary Gogo Charles, was yet another major attraction that dragged the high and mighty to Ikuru Town, in Andoni Local Government Area.
Returning to Port Harcourt, therefore was next on my agenda but I did not obey that call until I had celebrated a thanksgiving service the next day, with the Gogo Levi Charles family.
All is well that ends well, William Shakespeare said, but in Gogo and Rosemary, one set of couple that is best together has been born.
Thanking God for them is an understatement.  Congrats! Madam Rosemary Gogo Charles.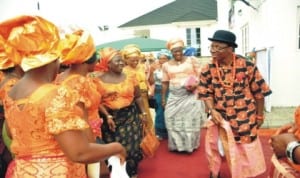 Ndigbara Kalugbene