Good news for cocoa
farmers!! Cocoa Research Institute of Nigeria (CRIN) is working toward the production of a new variety of cocoa which can mature in just nine months with higher yields.
According to Dr Anna Muyiwa, the Head of the Department of  Crop Improvement at CRIN, if the variety, now under observation, passes all trial stages, it would replace the current variety which matures between 18 and 24 months.
With this development, cocoa researchers stress that the Federal Government's plans to reposition cocoa farming via Cocoa transformation agenda are very much on course.
The government's desire to revive cocoa production is hinged on the fact that the crop serves as a veritable source of income and employment generation for many farmers in the 14 cocoa-producing states of the country.
In spite of its economic importance, analysts observe that the country's cocoa production, which is estimated at about 250,000 tonnes, is far below the potential capacity.
The analysts, however, contend that with the ongoing research efforts, involving genetic modification of cocoa varieties, many young people would be encouraged to go into cocoa farming.
They argue that the genetically modified cocoa variety would address some of the existing challenges which have been hindering cocoa farming, resulting in the inefficient performance of Nigeria's cocoa in the international market.
However, agricultural researchers stress that the advantages of the new cocoa variety include the elimination of ageing cocoa trees and the replacement of old cocoa farmers.
They believe that the new variety will also improve the contribution of cocoa to the country's Gross Domestic Product (GDP), currently estimated at 38 per cent.
Speaking at the B4FA Media Fellowship in Abuja recently, Muyiwa stressed that the use of selected and improved cocoa varieties, with desirable traits in terms of high yield as well as disease and pest resistance, was cardinal to sustainable cocoa production.
"Breeding of superior cocoa genotypes which are tolerant to cocoa swollen shoot virus, black pod disease and identification of major drought limitations will boost cocoa production.
"Achievements in the area of agricultural biotechnology include determination of the genetic diversity of cocoa collection which shows that a large variety replacement has taken place in cocoa grown in commercial farms.
"Two methods employed in cocoa biotechnology enhancement include tissue culture; somatic micro-propagation and use of microsatellite markers to study genetic diversity in cultivars (local varieties).
"Ongoing is the use of temporary immersion bioreactor systems to scale up the production of plantlets and mass propagation of the newly released cocoa variety; the CRIN TC 1-8 hybrid genotypes.
"There is no doubt that cocoa improvement in Nigeria has gone through the stages of selection, screening and evaluation of genotypes for economic traits,'' she said.
Besides, Muyiwa said that other scientific approaches aimed at boosting cocoa production included grafting techniques, cocoa seedling raising, rejuvenation of old and moribund cocoa plantations and simple soil testing techniques.
"These techniques are widely adopted by the farmers for the production of hybrid cocoa beans which attract high price in the world market.
"It is expected that all these efforts will generate more than 365,000 jobs in the next four years to improve the livelihood and income level of more than 250,000 farm households,'' she said.
In the meantime, the International Institute of Tropical Agriculture (IITA), Ibadan, has expressed its intention to complement ongoing researches on evolving hybrid cocoa varieties and encourage more young farmers to go into cocoa cultivation.
In one of the recent editions of IITA's publication, The Bulletin, the institute announced that it would provide vital support for Nigeria's cocoa transformation strategies to double cocoa production in the next few years.
"Specifically, the institute plans to help the country in the development of high-quality and clean planting materials, using improved breeding techniques,'' the institute said.
However, Dr Lava Kumar, a virologist at IITA, stressed that only clean planting materials technology would help Nigeria to rapidly propagate improved cocoa seedlings that could be used by farmers to replace old and unproductive trees.
"This is an important step towards cocoa transformation because we need to increase Nigeria's cocoa yield; it is actually a game changer for the sector,'' Kumar was quoted as saying at a roundtable of a team driving the clean planting materials technology.
He said that Nigeria accounted for about five per cent of the world's cocoa production, adding, however, that efforts to increase production were hampered by old and unproductive cocoa trees, poor infrastructure, pests, diseases, low farmer education and inadequate supply of farm inputs, among others.
Dr Peter Aikpokpodion, a plant breeder with the CRIN, was also quoted as saying that the IITA initiative would help farmers to have access to clean planting materials.
Aikpokpodion, who is the leader of the cocoa transformation team, nonetheless, expressed the optimism that the zeal and commitment exhibited by members of the team signified a bright future for cocoa sector.
However, Mr Sangogade Ajala, a cocoa farmer in Ibokun, Osun State, commended the research efforts of the institutes, saying that he had been recording tremendous yield ever since he started cultivating the hybrid cocoa variety.
"Farmers in this area call it bud; we find out that the current variety grows to maturity faster; between one and half years and two years with high yields.
"Not only that the farmers get increased cocoa beans, when we weigh the bags for marketing, we often discover that the bags have greater weight than the previous variety that takes longer years to mature,'' he added.
All the same, analysts urge the Federal Government to pursue its Cocoa Transformation Agenda to a logical conclusion.
Dr Akinwumi Adesina, the Minister of Agriculture and Rural Development, assured the citizens of the government's commitment to implementing the agenda.
He pledged that aggressive and purposeful public-private partnerships would play a pivotal role in the agenda.
Adesina said that such concerted efforts would enable Nigeria to record a remarkable improvement in cocoa production, while restoring the country's past glory as a leading exporter of cocoa.
Kayode Olaitan  writes for NAN.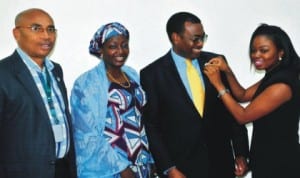 By Kayode Olaitan