Lagos Residents Blame Illiteracy For Drainages Stuffing
Road users in Lagos
have attributed the stuffing of drainages by residents to ignorance and illiteracy.
The road users told our source in separate interviews that the residents needed to change their orientation to curb stuffing of drainage in the city.
A banker, Mrs Dorathy Dung, told our correspondent that illiteracy was responsible for the dumping of refuse in drainage.
Dung commended the ongoing infrastructure development by the State Government, describing it as laudable.
"If not illiteracy, how can any sane person just wake up and begin to pour refuse in drainage?," she asked.
A teacher, Mr Sanusi Pedro, said that the problem was due to ignorance.
Pedro said that the State Government had embarked on media campaigns to curb the trend.
He noted, however, that residents should make effort to drop the habit.
"Some people are already used to sweeping rubbish directly into gutters, they forget all that government is saying on radio and television.
"There are several campaigns going on to stop this bad habit but people are just careless.
"Just three weeks ago the road and drainage at Kodeso road was inaugurated, go there now and see what traders have done to the structure," he said.
On his part, Malam Ileanwa Danladi, said that government should enact a law against dumping of refuse into drains.
Danladi said that enforcement of such laws would serve as deterrent.
Also, Alhaji Adamu Sarki, a clearing agent and Mrs Samiat Shogo, said that drainage channels should be completely sealed to make them inaccessible to those who abused them.
Reacting to the development, the Commissioner for Works, Dr Obafemi Hamzat, told The Tide that government was meeting with various stakeholders to curb the trend.
"Ordinarily, we should not be meeting with anybody but we want to keep reinforcing it.
"We have said repeatedly that, the drains are not garbage cans.
"If you block it, water would flow elsewhere so, it is in the interest of the residents to make it free, if not, it would be flooded.
"Again and again, we would be meeting the stakeholders," he stated.
The commissioner said that various companies were at a recent meeting held with residents of Ikeja in January to stop stuffing blocking of drainage.
Stakeholders Want Implementation Of Waste Management Policy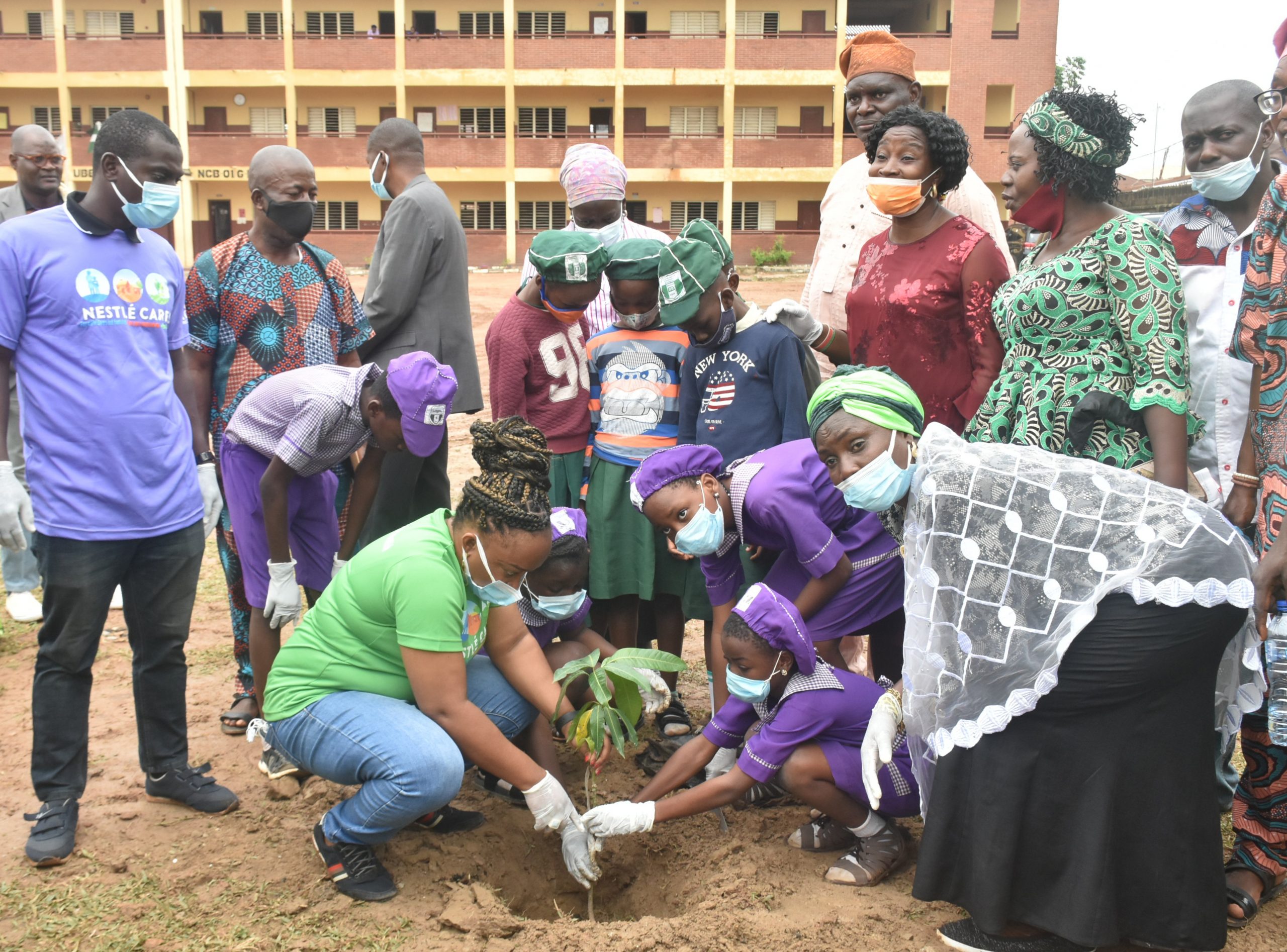 As Rivers State and Nigeria joined the rest of the world to celebrate the 2021 World Environment Day last Saturday, some civil society organisations have called for the implementation of the nation's waste management policy.
They said this at a tree planting programme organised by African Clean-up Initiative, Rivers State Network, in collaboration with School of Environmental Health Technology, Rivers State College of Health Science and Management Technology and Junior Chamber International (JCI) in Port Harcourt Metro at the college premises in Port Harcourt.
Declaring the event open, the Dean, School of Environmental Health, Rivers State College of Health Science and Management Technology, Port Harcourt, Mr Cyprian Mbato said the event was to create awareness and insight of what the World Environment Day is all about.
"The World Environment Day is a day in which we spread awareness about the environment and the need to conserve it.
"Moreover, it is essential to advocate for a greener environment and conservation of nature"
According to him, the continuous sensitisation will enable future generations to lead a healthier life.
"It is essential for all to realise that every little deed matters when it comes to saving the environment.
"No matter how small, a step you are taking to lead a greener lifestyle, it does make a difference", he said.
Also speaking, the Rivers State Chairman of Waste Management Society of Nigeria (WAMASON), Mr Benson Abu called for the restoration of the national ecosystem.
Abu also called for support for the national policy on solid waste management and the plastic waste management policy initiative and support for restoration or conservation initiative including cleaning up of a lake, beach, park and other national areas.
He also called for greening of homes, business, school or public space as professional members with indigenous trees or plants as well as halting products and services that are not environmentally friendly.
Also speaking, President Junior Chamber international, Port Harcourt Metro, Mr Martin Luther William said the celebration is important as it will help to create awareness on the importance of tree planting to protect the environment.
He stressed the need for members of the public to cultivate habits that are environmentally friendly.
Later in an interview, Rivers State team leader of African Clean-up Initiative, Rivers State Network, Miss Grace Belema Leonard said the organisation is working with a vision of planting one million trees in Africa to promote environmental sustainability across the continent.
She said over one 100 trees will be planted in Rivers State before 2025.
By: John Bibor
Disquiet In Rivers Communities Over 2021 Flood Outlook
There is disquiet in some Rivers State Communities over the 2021 flood outlook.
The Nigerian Hydrological Services Agency (NHISA) had predicted that some states in the country including Rivers State will experience coastal flooding this year.
Some of the communities particularly those along the Orashi River said the situation will spell doom for them as they are yet to overcome the damages caused by last year's flooding.
Speaking in an interview with The Tide in Port Harcourt, the Eze Igbu Ubie of Ubie Kingdom Ahoada West Local Government area, Eze Augustine Maxwell Okpokiri said another flooding this year will spell doom for his people.
Okpokiri said his people are passing through hard times following the level of devastation caused by last year's flood.
According to him, NHISA's prediction has made his people to be agitated over the hardship that lies ahead if the prediction comes to pass.
He said a part from losing farmlands, buildings and other properties to flood, lives were also lost in his Kingdom.
Okpokiri said victims of the disaster have not received any help from any quarters.
He also blamed the Federal Government and its agencies for refusing to come to the aid of his people.
The Ubie monarch also urged the Federal Government to evolve measures that will put to rest the incessant flooding in the area.
Who spoke under condition of anonymity, said the experiences of last year must never repeat itself.
He urged the government to dredge the Orashi River to allow the free flow of waters.
By: John Bibor
Environmental Pollution: 707 Plant Species Endangered In Nigeria – Expert
Out of the 4,600 plant species, about 707 have been said to be endangered with hundreds of species since gone into extinction in Nigeria.
This is due largely to the loss of habitat occasioned by environmental degradation and climate change.
Professor of Plant Physiology at the Ignatius Ajuru University of Education, Prof Stephen Umunna Offor revealed this at the 25th Inaugural Lecture of the university held at the main campus, Rumuolumeni, Port Harcourt, recently.
Delivery the lecture with the theme, "The Grandeur of Plants; Our Life and our Environment", Offor revealed that the international Union for the Conservation of Nature (IUCN), has categorized our plants and animals in Nigeria as being endangered.
Offor who explained that an endangered species or plant is an organism or a population of organizing that faces a high risk of becoming extinct due to loss of its habitat, high death rate and changes in the environment and prey said that the death rate of the plants due to exploitation and deforestation outweigh their birth rate over a period of time now.
Offor stated that every species and factors serve an important purpose in the community maintaining that plants, which serve as the primary producers play the major role in any ecological system by providing the primary source of food and oxygen as well as purifying the environment for the entire system.
The plant professor regretted however that the activities of ATPhase which functions to transport variety of different compounds like ions and phospholipids for energy in the environment have been adversely affected by environmental stress arising from toxicity of petroleum hydrocarbon.
He said "in Nigeria, the destruction rate of the environment has so far exceeded the breeding and recovering rate that the situation can only be come proper environmental education and training of the masses."
While noting that the human life was dependent on plant, offor stressed the need for every stakeholder including the government and industrial organizations to owe it as a duty to protect any plant in the Nigeria environment and ensure their survival under stress and abnormal condition.
By: Lady Godknows Ogbulu