Coaches Hail Body For Safety Training
Some football coaches in
the FCT have in Abuja commended the Search and Groom Youth for Development Centre for organising the public safety integrative training on youth resilience.
Some of the coaches who spoke to the Tidesports in separate interviews in Abuja said the training was timely as it would help in disaster management.
The Chairman of FCT Coaches Association, Godwin Bamigboye, said the training was commendable because it had exposed them to other ways football can be useful outside competition.
"It is a very huge success and the purpose of the gathering is being achieved.
"We need to appreciate the Search and Groom Centre and Mifalot Education and Society Enterprises from Israel for putting the training together," he said.
Bamigboye said football could be used to create relief in camps for disaster victims by engaging them in football and taking their minds away from problems.
"Coaches are ready to contribute their quota in humanitarian service by enlightening the youths on what they can do during emergency situations.
"We want to specifically contribute our quota in camps for internally displaced persons, especially when we have flood.
"If we are available to give them hope by teaching them the game of football, we will help to mitigate their suffering and they will be happy because we are giving them hope.
"Football can be used as an instrument of peace and development. It can be used as an instrument of unity to bring hope to the people," he said.
Coach Ngozi Eze of FCT Queens Female FC said her assessment of the programme was high, stating that it was very commendable.
She said the three-day programme made much impact, and more time should be given for the training.
"What I learnt in the last edition has been implemented in my team, and this has helped a lot in managing the players,'' Eze said.
She said the training should be held yearly and the days for it should be extended for greater result.
Coach Ibrahim Bako of Medical Strikers FC of Gwagwalada said the public safety training through football was a transfer of knowledge on how to manage some players in the club.
He said the training should be done regularly to make the coaches conversant with the programme.
Also, the coach of Bwari Football Academy, David Emmanuel, said the programme was a platform to unite people who have been displaced from crises by putting smiles on their faces.
"For me, organising it annually is not enough. It should be a frequent programme, it should be taking place regularly as a platform to engage the younger ones in football,'' he said.
Coach Gambo Danlami of AMAC FC said the programme was a good programme for youths to learn about disaster management.
WAFU Zone B Qualifier: Rivers Govt Throws Weight Behind Angels FC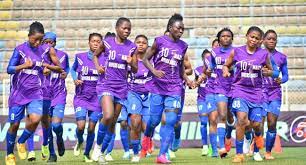 Rivers State Governor, NyesomWike, has placed a marching order to accord the necessary support needed to aid the Jewels of Rivers, Rivers Angels FC  qualify from  the  West African Union(WAFU) B and ultimately win the CAF Women's Champions League Cup.
The Rivers State Commissioner for Sports, Boma Iyaye  disclosed this, Monday, in a press statement signed by the state government's press officer, Daniel Nwankwoala.
The commissioner commended the team for its victory over Hasaacas Ladies of Ghana in the opening match of their group qualifier, played at the weekend.
He promised to give the necessary support needed, as ordered by the State Governor, to enable the team get the desired results, playing their CAF Women's  qualifier and win the cup as well.
"The Governor has placed an order to ensure that the team lacks nothing needed,  to help boost their morale, help them perform optimally and aid victory, as they embarked on this maiden competition,"  Iyaye said.
Earlier, head coach of the team, Edwin Okon,  has expressed optimism that his team will perform even better, having prepared adequately for the competition.
"We will fight to the end, my girls will do even better job. I can assure you that, the(players) are  in high spirit and determined to win.
"I am glad that we don't have injuries worries, so, we are set and ready to do Nigeria proud," he added.
It would be recalled that the Port Harcourt, Nigeria representatives started  their campaign in the WAFU Zone B qualifier  with a 2-0 win against their Ghana opponents, Hasaacas Ladies on Saturday, to get closer to qualification for the semi-finals.
By: Nancy Briggs
Sports Minister Hails Anyanacho,Offiong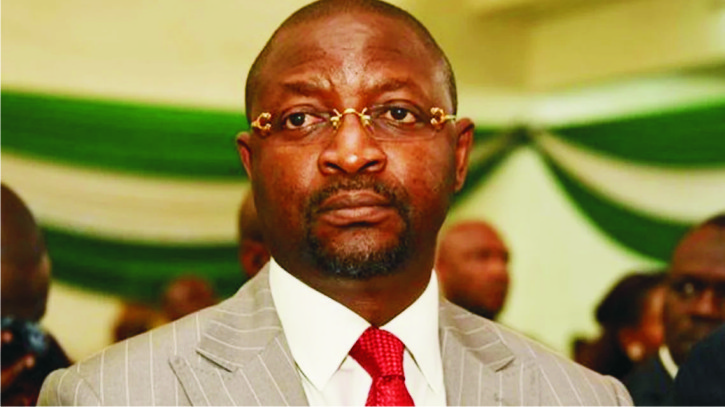 Minister of Youth and Sports Development, Sunday Dare, has described Elizabeth Anyanacho as a future star.
Anyanacho lost 12-7 to Turkey's Nur Tatar in the Round of 16 of the women's 67kg taekwondo event at the 2020 Tokyo Olympics on Monday morning.
Dare, who watched the bout, congratulated the 22-year-old despite the defeat.
"You've done well against a world champion. Keep your focus. The world will soon rise to salute you in the near future," Dare told Anyanacho.
Tidesports source reports that he was also on hand to encourage Edem Offiong, who lost 4-1 in the second round of women's table tennis to the USA's Lily Zhang.
"You exhibited strength and talent. Nigeria thank you for making the country proud at the Olympics," Dare told Offiong.
The pair of Godwin Olofua and Anuoluwapo Opeyori also lost their second Group B match in the men's doubles badminton event against Denmark's Kim Astrup and Anders Rasmussen, while Dorcas Adesokan was beaten 2-0 by Spain's Clara Azurmendi in the opening Group B match of the women's badminton singles.
We Won't Give Up On Playing For Nigeria – Ogwumike Sisters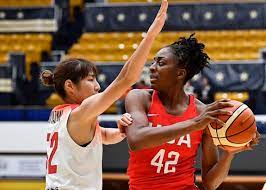 Nneka Ogwumike, Chiney Ogwumike and Elizabeth Williams say they haven't given up their dream of representing Nigeria in the future after they were denied the opportunity to play for the country women's basketball team at the Tokyo Games.
The three WNBA stars, who all have American and Nigerian citizenship, would have strengthened D'Tigress squad at the Olympics, but the Court of Arbitration for Sport ruled they were ineligible to represent Nigeria at the moment after having played for the United States.
"I still have a lot of pride and high hopes for the Nigerian team as it is composed now," Nneka Ogwumike said.
"So, maybe this time around, I won't be a part of it directly, but I certainly do hope that I can be in the future."
"I think the fight has just begun," Chiney Ogwumike said. "I cannot accept to being called a naturalised citizen, when I have full citizenship.
"People don't know the extent to which my family, and myself in particular, ever since I was at Stanford, has been going back to Nigeria to help. So to have someone say that I am not Nigerian is not fair to my family or my heritage or myself. It just does not feel right at all."
Williams, who plays for the Atlanta Dream said, "It's really about the principle now. We're still going to keep appealing and fighting because I think people need to understand there are a lot of us that have dual citizenship. Even if we grew up here, our households look very different than what people think, and that part of us is very real.