NAICOM Boss Wants Micro-Insurance At Grassroots
The Chief Executive Officer of National Insurance Commission (NAICOM) Mr. Fola Daniel has said that micro-insurance would protect low income earners in the country.
The NAICOM boss said this during the International Micro Insurance Conference, organised by the commission in partnership with other agencies in Abuja.
Daniel in an interview with newsmen stressed the need for policy makers, insurance practitioners and micro finance operators to take micro insurance to the grassroots.
He noted that micro insurance would grant grassroots access to insurance policies with low premium and quick compensations in case of claim.
The policy, according to him, would cover life, health, accident, agriculture and property.
He said the cost would be reduced through collaboration with other sectors like micro-finance banks, cooperative societies and the telecom sector.
The Chief Executive added that micro insurance was very profitable as the sell of millions of premiums would translate into millions of profit with low premium margin.
It would be recalled that farmers small and low income earners agitated for micro insurance policy as the existing policies does not consider the grassroots with low income.
Osinbajo Tasks Judiciary On Technology, Innovation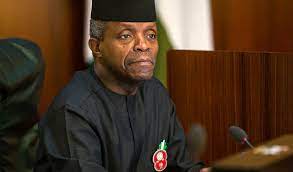 Vice President Yemi Osinbajo says the Nigerian judiciary must embrace technology and innovation for efficient service delivery.
Osinbajo said technology was imperative for the evolution of the profession and national development.
The vice president disclosed this in a statement by his spokesman, Laolu Akande, on Monday in Abuja.
He said when he delivered a pre-recorded speech as guest speaker at the 2021 Annual Law Week of the Nigerian Bar Association (NBA) Lagos Branch.
The theme of event is, "Disruption, Innovation and The Bar."
Osinbajo said that technology and innovation would ensure that the country's justice delivery mechanism was run on a system of enforceable, discernible laws and efficient institutions.
The vice president said that the country's justice delivery system could support critical investments in the current dynamic economy.
"Questions also need be asked about the readiness of our profession to engage in new markets as presented by the African Continental Free Trade Area(AfCTA).
" Already Nigerian Banks and financial services are crossing borders in Africa, acquiring banks in several African countries.
"So, the AfCTA will open new trans-border commercial opportunities, and our profession should pay attention to the rules of engagement for legal services and how they may propel our business."
According to the vice president, innovation in Nigeria's legal profession requires urgency to fit into the world which thrives on knowledge economy and jobs are threatened by digitisation and Artificial Intelligence (AI).
He cited the example of how continuous improvement in the quality of smartphone cameras disrupted global sales of digital camera.
"AI is commonly used to perform tasks such as legal research and due diligence, document and contract review, and the prediction of legal outcomes – these are tasks that would have been performed by lawyers.
"With the continuing progress in technology, it is only a matter of time before the time capsule catches up with us in Nigeria."
He called for continuous improvement in the institutional capacity of judges, court registries, court staff, and court infrastructure.
Osinbajo said that as digitalisation had already disrupted other industries, it was possible to predict that AI would go further and disrupt the business model of the legal industry.
"For example, the AI legal service called ROSS is an AI system that can research and offer legal opinions about questions that may be posed by lawyers.
"And ROSS is then able to provide an answer; a properly considered legal opinion, taking into account the case laws and statutory authority in order to be able to come to that conclusion.
"So, providing predictive legal opinion is no longer the exclusive domain of lawyers, and as the years go by, it will become even more so.
"We are part of the global marketplace for investment and legal services.
"So, the extent to which we can attract business to our country depends in part upon investor perception of the quality of our justice delivery system; If we are seen as inefficient and ineffective, we would lose out to more efficient systems."
On the issue of delay in the country's justice delivery process, Osinbajo said that the country's judiciary ought to find ways to tackle jurisdictional challenges, particularly delays in court judgments, among others.
"I argued an appeal at the Court of Appeal in 2013, only to learn yesterday as I discussed with former colleagues in the law firm where I worked, that the appeal at the Supreme Court is not even listed to be heard in 2021.
"As someone said; our problem is not access to justice, it is exiting the justice system with some credible result.
"Should we not be evolving a cost award system that recognizes the court as a finite public resource, and as such delays and other dilatory tactics are visited with deterrent costs?"
The vice president said that the Law week, as well as future engagements, provided an opportunity for some reflections by legal practitioners.
He suggested a hybrid approach to legal education in the country and urged the association to consider how innovation in technology would impact on legal education in the future.
"Even mock trials can be more effectively done online and courtroom processes can be put on videos and re-watched several times by students. Of course, we may still retain court and chamber attachments," he said.
Of 1,561 Candidates, 880 Graduate From Law School-DG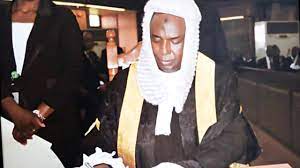 The Nigerian Law School says out of the 1, 561 candidates who sat for the December examination, 880 passed.
The Director-General of the School, Prof. Isa Ciroma, SAN, made this known yesterday in Abuja, while presenting the new wigs to the Body of Benchers at the 2020 Call to the Bar ceremony.
"Four others were from previous Bar examination,'' he said, adding that the new wigs had met all the required and set conditions by the Council of Legal Education.
"I am happy to affirm that they all have exhibited good manners and decorum during their training.
"They have also been groomed in the best ethics and ethos of our noble profession.
"The screening committee of our distinguished body carefully perused the records of each of the aspirants and found them worthy to be presented for the Call to the Nigerian Bar.''
Ciroma said that the school had begun a special remedial course for students from the National Open University of Nigeria (NOUN).
"The programme began on June 28, at the Nigerian Law School Headquarters, Bwari, Abuja. We thank all distinguished members of the Body of Benchers, for their support,'' he said.
The Chairman, Body of Benchers, Justice Olabode Rhodes-Vivour, congratulated the new wigs and charged them to adhere to the provision of rules regarding the profession at all times.
"As a lawyer, you are an officer of the court and accordingly, you are not to do any act or conduct yourselves in a manner that will obstruct or adversely affect the course of justice.
"The practice of Law is not a right but a privilege. It is a privilege that can be lost should you fail to live up to the requisite professional standards imposed upon you by virtue of your entry into the community of lawyers.
"You must, therefore, strictly adhere to the provisions of the Rules of the Professional Conduct and maintain best practices at all times.''
He stressed that the Body of Benchers Legal Practitioners Disciplinary Committee was always determined to discipline any lawyer found wanting or breaching set rules of the profession.
Rhodes-Vivour said that the committee had been carrying out its mandate "in a just and fair manner'' without giving any room for compromise or ill-will.
He said that between January and July, the committee disbarred six lawyers and suspended some for between two and four years, while one lawyer was admonished during the period.
Rhodes-Vivour advised the graduates to continue to update their knowledge on both statute and case law in order to attain more understanding on especially, international jurisdictions.
In 2020, the Council of Legal Education said that out of a total of 2,515 students who participated in the examinations, 1,864 passed the Bar Final Examinations conducted in January.
The director-general who described the performance as outstanding, said that among the 1, 864 students who were successful, only five made First Class while 632 others failed the examinations.
"Candidates graded in First Class are five, Second Class Upper 77, Second Class Lower are 633, those who got pass marks are 1,067 and those with Conditional Pass are 82.
"632 candidates failed the examination, 17 were absent and 2 results are withheld."
Chiroma further explained that only 0.2 per cent made First Class, 3.06 per cent made Second Class Upper, 25.17 per cent made Second Class Lower and 42.42 per cent passed.
He said other performances include a 3.26 per cent for those with conditional pass, 25.12 per cent failed the examinations, 0.7 per cent were absent and 0.8 per cent results are being withheld.
NGO Trains 300 Returning Migrants On Business Development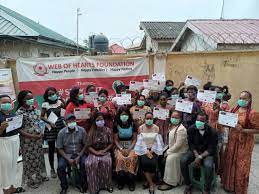 Web of Heart Foundation, a Non-Governmental Organisation, says it has trained and empowered more than 300 returning migrants, youths and internally displaced persons on job creation.
Its Executive Director, Mrs Bose Aggrey, made the declaration yesterday in Lagos at the graduation of its "Create and Start Module'' trainees.
The graduating trainees were awarded certificates and given grants facilitated by some investors and soft loans from banks after six months of training to identify and analyse business ideas and opportunities.
"We taught them how to articulate their business ideas into plans; introduced them to investors and equally assisted them to get bank loans.
"It is an opportunity for the participants to put themselves together either to get employed or to become employers,'' she said.
"We introduced investors to the participants when they were pitching and some of them are already getting grants.
"We are working with two banks so they can provide soft loans at low interest rates for the participants,'' she added.
In his remarks, Mr Peik Bruhns, Team Leader of the firm of consultants that conducted the training, said the company had reached out to train 5,000 Nigerians on Micro, Small and Medium scale Enterprises in six months
He said this was done in collaboration with nine organisations, including Web of Heart Foundation.
"I will like to stress the importance of working with returnee migrants because Web of Heart Foundation focuses on assisting them to reintegrate into society.