OTC 2013: Focus On Nigeria
Offshore Technology Conference (OTC) is an oil and gas industry foremost event that could be likened to the Olympics where professionals in the industry and stakeholders across the globe converge to brainstorm for the development of hydrocarbon resources. It covers all aspects of the energy industry and could be described as the best event where technical expertise is acquired. This year's event which is the 14
th edition of the OTC held in Houston's Reliant Centre, Texas from 6th -9th May. Below are some remarkable comments on Nigeria's Oil and Gas industry at the 2013 event:
Nigeria Petroleum Minister Gave The Keynote Address
The Minister of Petroleum Resources, Mrs Diezani Alison-Madueke represented by the Group Managing Director of Nigeria National Petroleum Corporation (NNPC), Andrew Yakubu, in her address accused international traders of being partly responsible for the increasing spate of crude theft in Nigeria as they have developed a high appetite for stolen crude from the country.
In the address, which had the theme, "Development Efforts In West Africa Exploration Zone," Alison-Madueke urged the international traders to cut down their high appetite for stolen crude from Nigeria and join in the fight against the activities of oil thieves and pipeline hackers.
She said for the country to achieve its obligations in the global supply mix, it was paramount for the international communities to stop buying crude oil from Nigeria.
Her words: "It takes two to tango. If those stealing Nigeria's crude do not find a ready market for it, there would be no incentive to steal. That  is why we are appealing to the international community to take action.
"Trading the country's crude by DNA to the destination is being looked into, to ensure that the fingerprints of our crude are traceable to various destinations. I can tell you that as an industry we are happy to work with governments in this regard.
Describing the sub-region as the most important petroleum province in the world, she said the natural advantages of the region's open and unrestricted sea lanes and light sweet crude make it one of the most important province in the world. The Petroleum Minister noted that as the dominant player in the sub-region, Nigeria has pioneered some set of initiatives targeted at ensuring positive impact on the economy.
These initiatives, she listed include growth in crude oil reserves and expansion in production capacity, repositioning of gas for re-industrialisation/stimulation of the economy, regional and export penetration, revitalisation of existing downstream capacities and additional capacity to support energy and reforms of key institution to anchor the growth aspiration of the industry.
On the PIB, she said the bill is further designed to increase exploration and development activities in the region by creating more competitive environment for all players in the industry pointing out this will attract investment into the sector. She noted further that West Africa will continue to play a significant role, post-shale and gas discoveries in the global oil and gas energy supply mix.
Nigeria has sufficient Gas For Power Supply.
Nigeria's inability to transmit and distribute electricity power have been said to the cause of the erratic power supply witnessed in the country and not lack of gas.
The Group Executive Director, Gas and Power, NNPC, Dr David Ige who made the disclosure said the generation of power was not a lone thing, but involves generation, transmission and distribution noting that over the years gas production has increased significantly.
Ige noted that "Infact, at the moment, domestic gas production in Nigeria is at all time high. We are now producing about 1.5billion cubic feet per day of gas which is the highest ever the country has produced. Apart from this, we have another 300million that are available in the East that is not utilised now. So, our gas development is actually on the increase and it is the most aggressive rate. We have grown about 200 per cent year-on-year."
He said the failure to evacuate the gas that has been produced was the reason for the epileptic electricity supply in the country. The Gas and Power Director explained that as supply continually competes with demand, stakeholders are also taking steps to increase gas generation to meet the anticipated increase in transmission and distribution of power.
According to him, "The generation capacity is growing everyday because stakeholders are bringing in new turbines everyday. However, I can say for sure that our current gas availability is not enough for all the generating capacity that is being built and we recognise that. At any point in time, demand is going to be ahead of supply, because demand is pulling supply. Right now, the inability of Nigeria to have stable power supply is not as a result of unavailability of gas but the distribution challenges we are still grasping with. Generation is far ahead of distribution  and transmission."
He disclosed that there was plan to bring additional 130million cubic feet per day with the aim to achieve 2billion cubic feet per day over the next two years.
He stressed further that the country has the capability to generate, transmit, and distribute 4.5gigawatts of electricity of all the supply chains were put in order.
Shell To Continue Force Majeure Declaration
Shell Petroleum Development Company (SPDC), has said the increasing declaration if force majeure by the company may continue until it recovers substantially from the attacks on its facilities.
The Managing Director and Country Chair of Shell, Mutiu Sunmonu who made the assertion told newsmen that there were some steps that need to be taken together, despite all the efforts being put by security agencies, to ensure that vandalism does not continue.
According to Sunmonu "The force majeure you have seen us declare is for us to remove some of the very bad bunkering points because if you don't remove those bunkering points even if you have entire Nigerian Army in the creek, you will still continue to see crude being stolen. So our initial attempt is to remove those bunkering points to complement what the security agencies are doing."
He explained that there has been a recent upsurge crude theft Nembe Creek Truck Line (NCTL), which resulted to frequent production shutdown and massive spills in the communities.
Between February 22 and 25, he noted, 12 flow stations were shut by safety systems three times because of crude theft and about 80,000 barrels of crude were lost to oil theft, he explained further.
He however, said the level of crude theft in the Niger Delta was decreasing and attributed it to the commitment of security agents.
His words: "If you have been following my statements in the media, certainly oil theft was on the increase a few months ago, but I can also tell you that I have also seen increase attention by the government security agencies, the Joint Task Force (JTF) and the Navy. They are really moving in to stem the tide. I wouldn't say I'm happy but at least I can see improvement in responsiveness of government security agencies to the menace. I think the joint security team is getting more effective. We are having almost a daily discussion with them and they do give us good report on their efforts so far."
He was quick to add that he was not expecting overnight solution, but the security agencies should keep at what they were doing as if done for a while there would be significant reduction.
Explaining further he said: "Unless you are in the creek you may not be able to appreciate what the government's security agencies are doing, because of there is hardly any day that they are not foiling attempts, arresting vessels and destroying illegal refineries.
"For instance, in a place such as Bodo in a week or two weeks ago, they foiled over 30 different attempts by crude oil thieves wanting additional tapping points to our line."
He added that the company cannot be certain on the figure of how much oil it was currently losing to oil theft since NCTL was down, but when it is up, it will be able to be certain on the number of barrels reduction in stolen crude.
First Bank Committed To Indigenous Coys
First Bank Plc says out of its N1.5 trillion loans and advances, well over 45 per cent was used to finance oil and gas projects in the country.
The bank's Executive Director, Kehinde Lawanson highlighting financial institutions' commitment to building local capacity and to the energy sector, said 45 per cent of loans and advances components of the bank's balance sheet went to the upstream, midstream and downstream of the petroleum industry.
Lawanson added that the bank also financed 40 per cent of petroleum import into the country noting that since 1958, the bank has been financing projects for international and Nigerian oil companies.
According to him, First Bank was a lender and arranger of hybrid loans in excess of $100million 128KM gas pipeline to Unicem Cement Plant in Calabar, Cross River handled by East Horizon Gas Company; Co-lender 0f $289million to Atlantic Energy for working capital and payment for 55 per cent interests of National Petroleum Development Company; in OMLs 26, 30,34,42; sole financier of the $15.15million facility for acquisition of two vessels by Fymak Marine and Oil Services Nigeria, and provided part of the bridge loan financing for the acquisition of ConocoPhillips' divested interest in OMLs 60,61,62 and 63.
Reactions Trail Protest At NLNG Facility In Bonny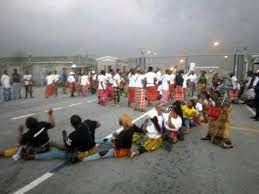 Reactions are now trailing the protest by Finima community against the Nigerian Liquefied Natural Gas Limited in Bonny, Rivers State and the counter protest, which led to destruction of properties and bodily injuries on the protesters.
The lawmaker representing Bonny/Degema Federal Constituency in the House of Representatives, Hon. Farah Dagogo, said the protest and the unfortunate violence would not have happened, if oil and gas multinationals operating in the Niger Delta, were doing things the right way.
Dagogo who described the violence as unfortunate, said it was a sad reflection of the sour relationship that now exist between companies and their host communities, as brothers were being pitched against brothers.
He urged the aggrieved people of Finima Community and all others in Bonny LGA to sheath their swords, adding that other means of getting a workable solution that would be beneficial to all, are being explored.
"The violence that was witnessed in Bonny Local Government Area of Rivers State between Finima community youths and other alleged youths of the LGA was unfortunate, and a sad reflection of the sour and acrimonious relationship that now exist between companies and their host communities.
"The peaceful protest against the NLNG, over the propriety or otherwise of a General Memorandum of Understanding, which was intercepted and later turned violent that has now left many injured and properties razed, would not have been necessary in the first place if things were done the right way.
"While apportioning blames now may not get the desired outcome , it is nevertheless instructive to note that the people of Finima Community and the various impacted communities in the Niger Delta and beyond, where the NLNG gas pipeline passed through, are within their rights to legitimately demand for what is theirs," Farah said.
Meanwhile, the management of the Nigerian Liquefied Natural Gas Limited, has confirmed that there was a protest and counter protest, which led to blockade of the major routes to its facility in Bonny Island on Thursday.
NLNG General Manager, External Relations and Sustainable Development, Eyono Fatayi-Williams, in a statement said as a good corporate citizen, the company applies the principle of fairness and inclusiveness in engaging with its esteemed stakeholders.
"The Company has always considered all stakeholders in the community trusted partners, and it continues to maintain this position.
"NLNG remains fully committed to sustainable development in the kingdom, hinged on active community participation to drive initiatives and projects that positively impact the lives of the community."
This Tiny Country Could Become Europe's Newest Oil Producer

It is rather rare to see enthusiasm for completely new exploration projects in Europe. The overwhelming majority of OECD countries are either in terminal decline or are looking into ways how to ban exploration altogether. The less-appraised parts of Eastern Europe might still have some potential yet in the absence of oil majors such endeavors risk remaining a lifelong pipe dream. Still, the appearance of a new European frontier can rekindle upstream hopes (even if for a short period of time). Europe's latest addition to the list of nations willing to tap into their prospective hydrocarbon resources is located in the southeast of the Old Continent, in Montenegro. The small ex-Yugoslav republic with just slightly more than 600 000 inhabitants has witnessed its first offshore well spudded on March 25, 2021. The 4118-5-1 wildcat was drilled in 100 meters of water to a total depth of 6525 meters, some 25km from the Montenegrin shore.
The first offshore Montenegrin well was spudded by the ENI-NOVATEK tandem, with the Italian major taking on the reins of operatorship. Given the geographic proximity, ENI's interest in offshore Montenegro is quite understandable and was to be expected. In case of any discovery, ENI has the convenient option of accommodating prospective production within its system, the Italian shore is only 500km from the wildcat's location. The first well is targeting an oil reservoir at depths of 6.5km, implying that the Italian major's 120kbpd Taranto Refinery might be a safe backstop for any potential crude produced. Along with Total, ENI has been one of the most active drillers in the Mediterranean, marking suchsupergiant discoveries as the Egyptian Zohr or the Cypriot Calypso. Across the Adriatic from Montenegro, ENI has been developing the Aquila field offshore Brindisi,producing medium density crude of some 36° API.
The case for NOVATEK's participation in an offshore project is much more peculiar, considering that the Russian gas producer has no assets in the Adriatic.Moreover, NOVATEK is on the US' Sectoral Sanctions Identifications (SSI) List, meaning that equity investments and financing matters are substantially encumbered. Luckily for the Russian firm, offshore Montenegro does not fall under any of the three sanctioned areas, Russian deepwater, Arctic offshore, and shale. Domestically, NOVATEK is heavily focused on gas production on the Gydan peninsula and in the surrounding area, compelling it to seek new niches it can fill, new frontiers that could serve as bases for future growth. In a sense, NOVATEK needs to overgrow its LNG specialization and gain market-relevant competence in other segments, too.
NOVATEK's first step into the foreign offshore segment took place in Lebanon where it landed two offshore blocks in a consortium with Total and ENI in 2018. In both cases NOVATEK did not lay claims to operatorship, focusing on building up key relationships with Europe's leading drillers. It seems very likely that it is from the Lebanese joint experience that the Montenegrin drilling ambition branched out into a separate work track. Concurrently, although Montenegro is one of the hottest candidates for EU accession, Podgorica remains beyond the bounds of the European Union. For NOVATEK this is a great boon, as sanctions risk can be negotiated directly with the relevant national authorities, i.e. no involvement of Brussels is required.
Technically,the Montenegrin offshore area has already seen exploration drilling, though that was back in the SFRY (Socialist Federal Republic of Yugoslavia) times, in 1980. Although Yugoslavia was a socialist country with all its peculiarities, it was the US major Chevron that was the operator of drilling operations. The Jadran Juzni (Southern Adria) prospect turned out to wield signs of oil and gas systems which, however, were deemed non-commercial,effectively closing Chevron's offshore endeavors in Yugoslavia. It needs to be pointed out that the current wildcat is farther off the Montenegrin coast the Jadran Juzni well was only 3km from shore. To carry out the drilling, the ENI-NOVATEK tandem contracted the Topaz Driller, a Panama-flagged jack-up drilling rig. The contract was clinched in July 2020, for drilling operations starting in Q1 2021 and taking up to 180 days.
Up to now the work progress of ENI-NOVATEK seems fairly solid. In late 2018 their contractor has carried out a comprehensive 3D seismic survey on the 4118-5 Block, then the summer of 2019 witnessed a string of hydrophysical and geophysical surveys on the prospects. Having completed this, it was assumed that the spudding of the first well would take place in 2020, however, the coronavirus-triggered chaos upended all plans and effectively delayed the wildcat into 2021. Most probably the Italo-Russian joint venture will drill 2 wildcats. Even if the first well turns out to be completely dry or non-commercial, the second well (expected to be spudded in May-June 2021) is targeting gas plays at lower depths, i.e. the first well's fiasco does not automatically foreshadow the failure of the second well.
According to media reports, it will take ENI 4-5 months to finalize the drilling of the wildcat and assess the results. Nevertheless, Montenegro's offshore zone might more activity coming up in the upcoming months. The Greek Energean holds 2 license blocks (4219-26 and 4218-30) and is expected to take a decision on whether it intends to proceed with drilling exploratory wells in its acreage. The data to assess the blocks' resource bounty is already there, Energean carried out 3D seismic surveying on both blocks in 2019 already. The spark of interest towards its off shore zone might compel the Montenegrin authorities to expedite a 2nd offshore bidding round which would presumably cover the 7 remaining unallotted blocks. There is very little probability that Podgorica will be trying to auction off onshore blocks,especially considering their history of dry wells.
Katona is a contributor.
By: Viktor Katona
'NCDMB'll Not Invest In Businesses With Competitive Private Players'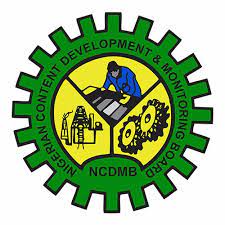 The Nigerian Content Development and Monitoring Board (NCDMB), has said that it only partners with strategic policies and projects that are promoted by the Federal Government and would not invest in oil and gas businesses that have competitive private players.
The Executive Secretary of NCDMB, Engr. Simbi Kesiye Wabote, made the clarification recently when he hosted members of the Women in Energy Oil and Gas (WEOG) Nigeria, led by their President, Dr. Oladunni Owo at the Board's liaison office in Abuja.
He clarified that the Board would not invest in competitive business areas because such investments would compromise its morale position as a regulatory agency.
"Our role is to act as a catalyst of strategic government policies and programmes and we exit once those businesses become successful," he added.
He also stated that NCDMB is a regulatory agency and not an interventionist organisation and would not get involved in programmes outside its mandate.
According to him, in line with the Board's vision to serve as a catalyst for the industrialisation of the Nigerian oil and gas industry and its linkage sectors, the NCDMB has partnered with investors in modular refineries, manufacturing of LPG cylinders, LPG Depots, gas processing facilities, lube oil production plant, and a methanol plant using gas as feed stock.
Speaking further, Wabote listed some policies introduced by the Board to support women in the oil and gas industry to include the inauguration of the Diversity Sectorial Working Group in the Nigerian Content Consultative Forum (NCCF) and the creation of the Women in Oil and Gas Product in the Nigerian Content Intervention Fund (NCI Fund).
He explained that the Bank of Industry (BoI) is responsible for managing the NCI Fund, assessing applications and disbursing loans to approved companies.
He said "the NCI Fund is one of the most successful loan schemes. About 98 percent of the borrowers are paying back because we go through a very rigorous process".
Dwelling on the Project 100 Initiative of the Board, the Executive Secretary stated that it was designed to nurture 100 wholly owned oil and gas service providers in a competitive and sustainable way through targeted interventions, into larger scale players that create high impact.