Madrid Edges Out Man United …Champions League
In his day job, the Turkish referee Cuneyt Cakir is an insurance agent so he will be well aware of the arbitrary, irrational mishaps that can blight the ordinary lives of everyday folk. He is supposed to be the man who offers mitigation against them, but tonight he turned into the force that wreaks the havoc.
A Champions League tie that was tight and intriguing, with Manchester United holding the advantage with a 2-1 lead on aggregate was turned on its head by a decision by Cakir that was just plain wrong. Just shy of the hour he sent off Nani for a high boot on Alvaro Arbeloa that might have merited a yellow card and United's 10 men never recovered.
It was an extraordinary decision, one that Cakir seemed to build himself up to in the small timeframe in which he waved away United players who were trying to persuade him not to blame Nani. He might have heard something in his headset from his assistant on the near-side but whatever went through his mind, it was a disaster. Even Jose Mourinho conceded: "the best team lost."
There is always a tendency for the beaten side to bleat about the referee but this time, as Ferguson jabbed a finger at the referee from the touchline, you had to ask yourself: why so incompetent? There has not been a worse refereeing performance in a Champions League tie since Tom Henning Ovrebo blundered his way through Chelsea's 2009 semi-final against Barcelona.
Floored by the decision, United conceded goals to Luka Modric, a substitute and then Cristiano Ronaldo and bowed out. It had been a game that had promised so much for them.
If you were so inclined, you might have tried to explain the omission of Wayne Rooney as something that the player could regard as a positive thing, but, really, what big player accustomed to starting matches for his club could be happy with anything other than a place in the team?
It was a landmark moment in Rooney's career. It was the first time he was dropped for a significant game, but perhaps not the last. It changed at a stroke the dynamic of his relationship with Ferguson, with this team and the club itself. But tonight was United against Madrid, and even this development in the life of a famous footballer was not going to overshadow the football.
Of the chances there were in the first half, and there were not many, the only really significant ones fell to United. Nemanja Vidic crashed a header against the post from a corner from Ryan Giggs on the right and when the ball came back it fell to Danny Welbeck whom flagged offside, snatched at his chance somewhat and hit it straight at Diego Lopez on the line.
Welbeck saw little of the ball, but when he did he looked a potent as any attacker on the pitch. Robin van Persie was also forced to survive on a mediocre level of service but he too made so much more of it. He got a good shot on goal after 34 minutes from the right side that Lopez blocked but could not hold and yet when the ball bounced out to Welbeck, the Madrid goalkeeper composed himself and blocked the shot. On an average Premier League Saturday afternoon, those kind of chances might have passed without comment but this was Real Madrid and the margins were always likely to be fine.
Ronaldo had been introduced to Old Trafford as the club's once "magnificent No 7" and the response from the home fans briefly transcended the partisan desperation to prevail in this tie. It was a wholehearted outpouring of love and respect for a great player which Ronaldo duly acknowledged. Within a few seconds he got his first touch and was booed, but that was strictly ironic.
Ronaldo was quiet before the break as Madrid failed to get away on the counter-attack after a bright start. Before the end of the first half, they lost Angel di Maria to injury and he was replaced by Kaka. There were some wonderful moments from Giggs, another surprise selection in his 1,000th professional game. Two nifty tackles on Fabio Coentrao, the accomplished left-back, and a superb ball with the outside of his left-foot that set up a half-chance for van Persie, drew applause.
There was no denying that United looked comfortable and if there was a gameplan then it seemed to be working to perfection when, three minutes after half-time they took the lead. It was a goal that owed something to luck in that Varane lost Nani and it was Sergio Ramos turned the ball into his own goal, but even so, it was coming.
By then, Welbeck had the Madrid defence on the run and it was he who helped create the panic. The ball broke left to Nani who crossed it back and, via a slight contact with Welbeck, it was prodded into his own goal by Ramos who could not get his feet sorted out in time.
Even in the period of pressure enjoyed by Madrid that followed the goal, United had control of the game but then the Cakir intervened and the game was turned upon its head. Nani's foot was high on Arbeloa when he made contact and Ramos was soon on the scene to protest to the referee. He was pushed away by Van Persie who, along with Giggs, both seemed to be making the point that Nani's eyes had been on the ball when Cakir pulled a red card out his breast pocket. It was a stunning moment.
Ferguson went up to fury level 10 in record time. He could see what was coming. Within minutes, Rafael headed Higuain's header off the line. Then on 67 minutes, Modric, a substitute brought on after the red card, stepped away from Carrick outside the area and clipped a shot that went in off the post.
United were on the rack, with Ferguson and then Giggs entreating the fans to make more noise. Two minutes later, Rafael lost Ronaldo and he slid in at the back post for the second goal from Higuain's cross. With Rooney on, then Ashley Young and Antonio Valencia in the closing stages, United threw a lot at Madrid but Kaka still hit the post and two goals was always going to be a tall order.
Again, RSG Begins Unveiling, Flag-Off Of Nine Key Projects, 'Morrow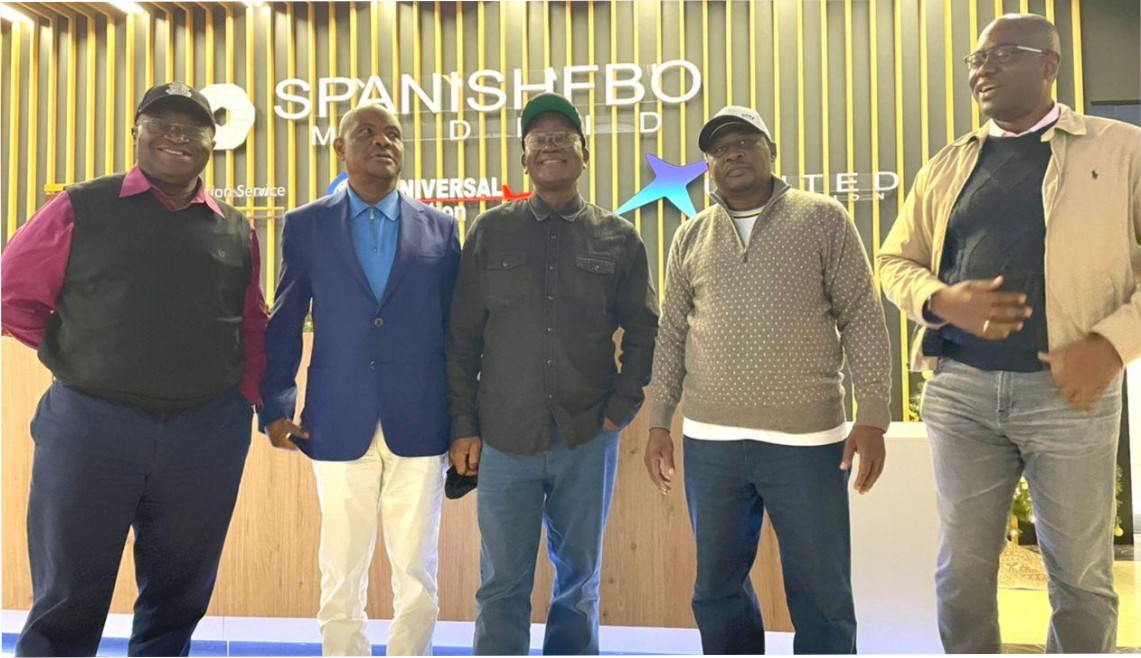 The Rivers State Government has rolled out the drums to herald another phase of official commissioning of key projects embarked upon by the Governor Nyesom Wike-led administration in the state.
A statement by the state government said that the process is in continuation of the commissioning and flag-off of projects by Governor Nyesom Wike.
It indicated that Rumuola flyover would be commissioned tomorrow, while the GRA flyover would be commissioned on Saturday.
The also stated that the government would commission the Ezimgbu Road on Monday, December 13, 2021; with another commissioning of Tombia Road Extension scheduled for Tuesday, December 14, 2021.
The statement said that the governor would commission the Safe Home, Borikiri, Port Harcourt on Wednesday, December 15; while on Thursday, December 16, 2021, the governor would commission the Odokwu internal roads.
Also, the governor would continue the flag-off of key infrastructure projects with Chokocho-Igbodo Road slated for Monday, December 20, 2021; Oyigbo-Okoloma Road on Wednesday, December 22, 2021; and Magistrates' Court Complex, Port Harcourt on Thursday, December 23, 2021.
Wike Justifies N7bn Libel Suit Against THISDAY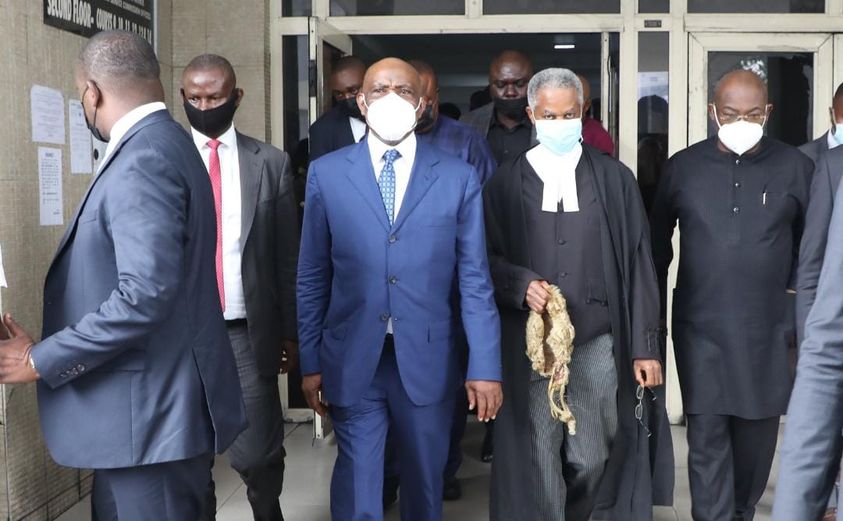 Rivers State Governor, Chief Nyesom Wike, yesterday, appeared before the state High Court in Port Harcourt, to testify as a witness in an N7billion libel suit against THISDAY Newspaper.
Wike said he was in court to seek justice and clear his name as a person from the malicious publication by THISDAY Newspaper, which portrayed him as deceitful, untrustworthy person, who exerts subterranean influences on judicial matters and over court sittings in Port Harcourt.
It would be recalled that Wike had in August, 2020, slammed a N7billion suit being damages for libel written and published in THISDAY's Tuesday, June 23, 2020 edition captioned, "With Wike, Obaseki Meets His PDP's Waterloo; Almost."
The defendants in the suit are THISDAY Newspapers Limited, Leaders and Company Limited, Davidson Iriekpan, Chuks Okocha and Adibe Emenyonu.
Wike, while testifying as witness in suit No. PHC/1505/CS/2020 before the court presided over by Justice A. Enebeli, asserted that the defendants maliciously and falsely portrayed him as an unreliable friend/person.
"When you say somebody cannot be trusted; that cannot be a fair comment. When you say somebody is influencing the Judiciary, that cannot be a fair comment", the governor said.
In his written statement on oath, Wike had stated that the defendants had accused him of influencing the decision of the court sitting in Port Harcourt that granted an injunction restraining Godwin Obaseki from participating in the primaries of Peoples Democratic Party (PDP) in Edo State in 2020.
He stated that the defendants maliciously accused him of undemocratically exerting influence on the primaries process of PDP in Edo State in aid of his ally, Omoregie Ogbeide-Ihama, who was the beneficiary of the court order restraining Obaseki from participating in the PDP primaries.
The governor, who told the court that he was not even aware of the aforementioned suit by Ogbeide-Ihama against Obaseki, said the publication was reckless, false and without regards for the truth.
According to him, contrary to well-known journalistic tradition and practices, the defendants did not investigate properly to ensure the information they relied on was accurate.
"They did not seek to verify the facts from me or in any manner oblige me with the opportunity to state my own side of the story before proceeding to make the false publication" the governor argued.
Wike stated that the defendants further denigrated him before the entire world as a fake democrat, who engages in meddling in the internal affairs of All Progressives Congress (APC) in order to get at his political foe, Chibuike Amaechi.
The governor explained that he was not a member of the APC and has had no hand in the internal crisis which has bedevilled the party both in Rivers State and all over Nigeria.
"By the letter of Messrs E.C. Ukala and Co., Solicitors, under the hand of Emmanuel C. Ukala, SAN, dated 23rd June, 2020, the defendants were given opportunity to retract, and recant the publication as well as to offer apology for the false publication but the defendants spurned the opportunity and ignored the letter completely."
The governor, while responding to claim by lawyer to the defendants, Turudu Ede, SAN, that the essence of the lawsuit was to intimidate and harass his clients, said the whole essence of the suit was to get justice and clear his name as a man of substantial character, honour and repute.
"The essence of the suit is to get justice since they (defendants) refused to retract the publication or apologise. So, I sued them to clear my name."
Speaking to journalists outside the court, one of the lawyers to Wike, Mr. Mark Agwu said his client was in court to seek legal redress.
"To challenge him as a person, it means you have made him untrustworthy, a deceit, a cheat, an influencer of the court, because the publication they made was that he had a role to play in influencing the outcome of that Federal High Court case. Nobody will take that lightly, and especially for a man who believes in the rule of law", Agwu added.
The court adjourned the matter for further hearing to 12th, 13th and 14th of January, 2022.
$130m Fraud: Rivers Sues Saipem SPA, Saipem Contracting Firm, Others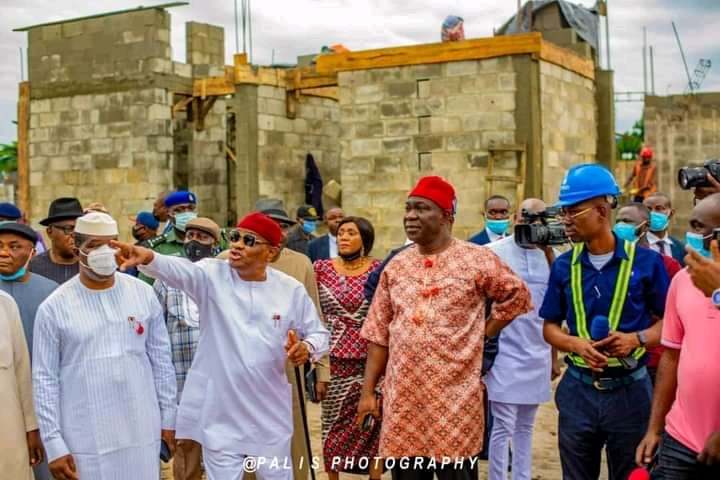 The Rivers State Government has charged two construction firms, Saipem SPA and Saipem Contracting Nigeria Ltd, to court over an alleged conspiracy to cheat and with intent to defraud the state of the sum of $130million, being advanced payment for the construction of the OCGT power plant in Port Harcourt.
In a 16-count criminal charge filed by the Director of Public Prosecution, C.F. Amadi for the Rivers State Attorney General, the state alleged that after collecting the said sum as advanced payment between 2011 and 2018, the defendants have not kept their obligation under the contract.
Others charged alongside the companies were Walter Peviana; Kelechi Sinteh Chinakwe; Giandomenico Zingali; Vitto Testaguzza and Davide Anelli, who are directors and officers of the companies.
The defendants are charged with various offences ranging from conspiracy, cheating and obtaining credit by false pretence, contrary to Section 518 (6) and (7) and punishable under Section 518 of the Criminal Code, Cap 37 Vol. 2 Laws of Rivers State of Nigeria, 1999, section 419A and punishable under Section 419 (A) (1) (b) of the Criminal Code, Cap 37 Vol. 2 Laws of Rivers State, amongst others.
Already, the Rivers State Government has issued a fiat to the law firm of Godwin Obla (SAN) to prosecute the matter before the state High court.
The defendants are equally charged for the offence of false Statements by Officials of Companies contrary to and punishable under Section 436 (b).
The prosecution specifically accused the defendants of obtaining credit of $130million by false pretences or other fraud contrary to Section 419A and punishable under Section 419 (A) (1) (b); obtaining credit of $20,467,942.00 by false pretences or other fraud contrary to Section 419A and punishable under Section 419 (A) (1) (b), obtaining credit of N7,000,000,000.00 only by false pretences or other fraud contrary to Section 419A and punishable under Section 419 (A) (1) (b).
They are charged for obtaining credit of N318,640,173.54, by false pretences or other fraud contrary to Section 419A and punishable under Section 419 (A) (1) (b); attempt to cheat $97million contrary to Section 508 and punishable under Section 509; attempt to cheat $15million contrary to Section 508 and punishable under Section 509; conspiracy to receive a credit of $97million by false pretences contrary to Section 518 (6) and punishable under Section 518; cheating $11million contrary to Section 421 and punishable under Section 421; cheating contrary to Section 421 and punishable under Section 421; cheating N110, 097, 416.51 contrary to Section 421 and punishable under Section 421; cheating by collecting sums attributable to shared facilities already paid for in AFAM Phase I in AFAM Phase II contrary to Section 421 and punishable under Section 421.
Obtaining N20, 467, 942 contrary to Section 421 and punishable under Section 421; obtaining credit of $60,168,936.00 by false pretences or other fraud, contrary to Section 419A and punishable under Section 419 (A) (1) (b); obtaining credit of $1,512,034.00 by false pretences or other fraud contrary to Section 419A and punishable under Section 419 (A) (1) (b) all of the Criminal Code Law of Rivers State, Cap 37 Vol. 2 Laws of Rivers State of Nigeria 1999.
According to the Proof of Evidence attached to the charge and the statement made by the Head, Power Generation/Mechanical of the Rivers State Ministry of Power, one Mr Temple Azunda M., the facts constituting the case in hand are as follows:
Saipem SPA and Saipem Contracting Nigeria Limited and other officers of the duo, herein the Defendants, are Italian companies which services have been retained by the Rivers State Government, herein RSG, in several projects, prominent amongst which is the AFAM Phase II Power Plant Project.
By an initial tripartite agreement made on the January 20, 2010, the RSG under the auspices of the Rivers State Ministry of Power entered a contract with Saipem Contracting Nigeria Limited, Saipem SPA for the construction of the OGCT power plant in Port Harcourt at a total cost of $119million consequent upon which the Rivers State Government made advance payments, in instalments, to Saipem Contracting Nigeria Ltd and Saipem SPA amounting in total to a sum of $130million in all which the Defendants have acknowledged receipt of.
The Defendants were to be given an initial mobilization of 20per cent of the total contract sum which the RSG paid.
It was part of the initial agreement – and indeed a condition sine qua non – that, to access the 2nd tranche of payment of 25per cent from the Rivers State Government, the Defendants would mandatorily have installed the Gas Turbine into the foundations as referenced in ATTACHMENT 1 to VO 007 which states that:
CONTRACTOR shall be entitled to a payment corresponding to 20per cent of the VO No. 007 LS PRICE upon mobilisation to site and commencement of bush clearing activities at SITE.
Upon commencement of bush clearing activities at the site, the contractor shall issue the invoice relevant to the above payment and the owner shall pay such invoice within 14 days from its issuance.
The parties agree that no deduction for recovery of advance payment shall apply on the payment due to the contractor for invoices issued by the contractor in accordance with this paragraph.