Lexy M Blames Elders For Rivers PMAN Crisis
The music industry in Rivers State has come a long way starting from the times of Cardinal Rex Jim Lawson, Prince David Bull, King Sunny Brown who took highlife music to international level to the present era of Daniel Wilson, Arthur Willie Pepple, Peter Stone Cold among others. However, the history of the industry would not be complete without mentioning the likes of multiple instrumentalist, composer and vocalist, Lexy Mueka popularly known as Lexy M.
Lexy M, the immediate past chairman of the Performing Musicians Association of Nigeria (PMAN), Rivers State chapter hit stardom in 1991. His maiden album titled Change was launched in 1997 and turned out to be a huge commercial success, today he has four albums to his credit. However, the Ogoni-born music maestro is irked by the endemic crisis rocking PMAN in the state which had impacted negatively on the growth of the industry in recent times.
In this interview with our entertainment crew, Mr Jacob Obinna and Bemene Taneh, Lexy M spoke extensively on the crisis, the past CARNIRIV and the entertainment industry in the state as well as his pet project.
Commenting on the crisis rocking the Rivers State chapter of the Performing Musicians Association of Nigeria (PMAN), Lexy M said elders of the body were responsible because as elders they know what to do for peace to reign, but refused to do it because they are making money out of the crisis which is why the association moves a step forward and four steps backwards.
The former PMAN boss noted that it took just one patriotic Rivers man, distinguished Senator Magnus Abe to settle the problem between him and Arthur Pepple Jnr when the association had leadership tussle and wondered why the elders found it difficult to bring about lasting peace in the association so that the association would move forward like their counterparts in other states.
He, however, stressed that the only solution to the crisis was for members to follow the constitution. According to him, PMAN has a constitution but people are ignoring it and doing things the way they like. He reiterated that it is only when members start recognizing the constitution and working in accordance to its provisions that things would work. He contended that because he followed the constitution, there was peace and progress during his tenure as chairman.
On the recently aborted delegate conference of the Association in the state, he stressed that the conference was illegally, organisers wanted to use it as a forum to extort money from innocent citizens of the state and course unrest in the state. He disclosed that presently the police was looking for them including the so called administrator of the Association in the state. He urged members to desist from being part of such kangaroo gatherings in future to save the image of the Association.
The seasoned musician and producer also spoke on last year's Rivers State cultural festival (CARNIRIV) and regretted that home based musicians were not carried along rather the Lagos based musicians and their foreign counterparts were celebrated. He also noted that while the few home base musicians who performed at the event were paid peanuts, the Lagos based musicians were paid millions.
He observed that the person who was in charge of the whole event belonged to the entertainment industry, yet he could not carry his people along. According to him, pepple like Arthur Willie people Jnr, Daniel Wilson, Jerry Demon who are stake holders ought to have been celebrated now that they  are alife not when they are dead.
The showbiz personality also faulted the planning. He said the venue was not spread out, he contended that a CARNIRIV band would have been kept in each of the strategic locations like Aggrey Road, Mile I, Ogbunabali, Rumuola Justice Es etc with indigenous  home based artistes to control them which would have given him a sense of belonging that they were celebrating their own thing.
Instead of the huge amount of money that was wasted in one particular venue.
Lexy M also lamented the slow pace of development of the entertainment industry in the state. He suggested that the only way forward was to have a stakeholder's meeting between the state governor and the entertainers. He noted that the state governor had met with all the stakeholders in the state except the musicians and other classes of entertainser, he stressed that it was only in such meet Lexy -M that the governor would understand the plight of the industry in the state.
The award winning multi instrumentalist called for the establishment of an entertainment centre in the state where shows and other concorts would be held just as it is in Museum Centre and Festac in Lagos. He disclosed that based on the slow pace of development in the sector, a group of concerned persons had come together to look for a way forward  for the industry.
The former PMAN boss also noted that the oil companies and other multinational organisations in the state were not helping matters. He reiterated that in all the bill boards from Rumurokuro to Aggrey road their was no face of a Port Harcourt artiste them but they used most of their says no ring tunes in their hand.
My Victory Resulted From Steadfast Prayers, Says MBGN Winner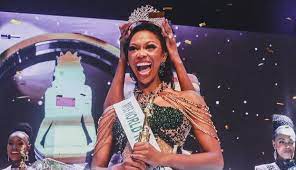 Winner of the Most Beautiful Girl in Nigeria 2021, Oluchi Madubuike, yesterday said that her victory was as a result of steadfast prayers.
Madubuike, who was crowned Miss Nigeria World 2021 on Saturday, took to her Instagram page to appreciate her family and other people who supported her in the journey.
According to her, she was victorious because of the steadfast prayers, love and support that she received from well wishes.
She said, "The little girl in me is screaming with joy at this new reality of mine. I'm sure my dad is with the host of angels in heaven celebrating me!
"I am so grateful to God most importantly for this opportunity and the hand of favour He placed upon my life. I am a living testimony of his divine work.
"To @silverbirdgrp , all our sponsors and partners, thank you all for this opportunity. I promise to maximize it to my fullest potential.
"This victory was a result of the steadfast prayers, love and support. I pray that God will find a way to repay everyone who contributed in a thousand folds."
Madubuike would be representing Nigeria at the 70th edition of the Miss World pageant to be held on December 16, 2021 in Puerto Rico.
Nigerian Female Celebrities Are Not Prostitutes -Movie Producer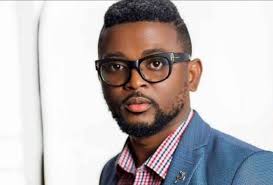 Nigerian movie producer, Samuel Olatunji, popularly known as Bigsam has debunked the idea that successful women in the entertainment industry earn their money through questionable means.
The Public Relations expert took to his Instagram page yesterday to condemn Nollywood actress, Nnaji Charity, who in her Instagram stories wrote that "being a female celebrity in Nigeria is more like an advanced prostitution."(sic)
"To say her post is uncharitable to women is stating the obvious. What is more uncharitable is the fact that she is a woman (that, I believe because these days, you never can tell), " the producer said.
He added, "What you are implying is that all these successful female celebrities, both in entertainment and outside entertainment are prostitutes, got to where they are, or are maintaining what they are by prostitution? Nothing could be farther from the truth.
Naming celebrities such as Linda Ikeji, Toyin Abraham, Funke Akindele-Bello, and Ini Edo, the Dear Affy producer attested to lucrative means by which several female celebrities he has worked with, make their money.
He said, "There was a time someone called me to say Linda Ikeji must be doing fraud or advanced prostitution to make the kind of money she has, that year, Linda was charging 50k per post (now it is 150k). I asked the person to open the blog and we did counting of sponsored post for that day as at 6pm, Linda has done about 20 sponsored posts. That year, Linda was raking in about 2 million daily. Before Covid and after, Toyin Abraham was making over 5 million monthly.
"About 10 years ago, we struck a major deal for Ini Edo, my first cut in the money was over 1.5m. Till date, Ini is making legitimate money quietly and in quick succession to have warranted talk that she's the richest actress in Nigeria. About two or three years ago, Funke Akindele Bello made over 1 million USD from just one of her projects."(sic)
Also mentioning the likes of Kemi Adetiba, Uche Jumbo, and Lizzy Jay, Bigsam said, "If you see all these women living life and living well, don't let your limited brain deceive you that they only make it by gracing beds of powerful men (some of these men actually live off them)."
"Women are doing well and it is possible for the upcoming one to do better without turning to prostitution," he continued.
He further encouraged ladies to ignore the claims by Nnaji as "she doesn't know what she's saying."
Wizkid, Omah Lay Bag High Nominations In AFRIMA 2021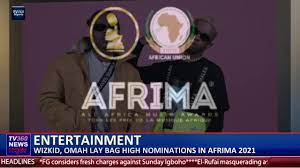 The African Union Commission and the International Committee of All Africa Music Awards have released the 2021 nominees' list.
The list, which was released on Wednesday, features over 400 songs from artistes in the 30 continental and 10 regional categories cutting across African talents and creatives living on the continent and in the Diaspora.
Leading the 2021 AFRIMA nominations scorecard is South Africa's sensation duo, Blaq Diamond with eight nominations for their song, 'SummerYoMuthi' in 'Best Male Artiste in Southern Africa'; 'Artiste of the Year in Africa'; 'Song of the Year in Africa'; 'Producer of the Year in Africa'; 'Best Male Artiste in African Inspirational Music'; 'Breakout Artiste of the Year'; 'Best Artiste, Duo or Group in African Pop'; and 'Best African Duo, Group or Band'.
Also, South Africa's Focalistic made it to the top of the list for his hit single, 'Ke Star' [Remix], featuring Davido and Vigro Deep with seven nominations including 'Best Male Artiste' in Southern Africa; 'Artiste of the Year in Africa'; 'Song of the Year in Africa'; 'Best Artiste, Duo or Group in African Dance or Choreography'; 'Best African Collaboration'; 'Best Artiste, Duo or Group In African Electro'; and 'Breakout Artiste of the Year'. Also, South Africa's Focalistic made it to the top of the list for his hit single, 'Ke Star' [Remix], featuring Davido and Vigro Deep with seven nominations including 'Best Male Artiste' in Southern Africa; 'Artiste of the Year in Africa'; 'Song of the Year in Africa'; 'Best Artiste, Duo or Group in African Dance or Choreography'; 'Best African Collaboration'; 'Best Artiste, Duo or Group In African Electro'; and 'Breakout Artiste of the Year'.