Ethnicity And Nigeria's Democracy (I)
Can we ever find a genuine reconciliation and regeneration in working out a common destiny and political survival strategy under the geographical entity called Nigeria?
This is a question that should interest every patriotic Nigerian, and it is a ponderous mystery that must be unraveled as long as the name Nigeria exists in the polictial lexicon of the world.
Nigeria has had a chequered political history that has earned the country an unenviable reputation and sobriquet of 'a sleeping giant' among the comity of nations. This is largely because of the inability to transform the variegated potentials of the component units of the country into an unfellered and thriving political and economic system. Various segments of the country are literarily pitted against themselves because of false political precepts and the absence of a common sense of  national identity, a trend that whittles down the vision of the country, making Africa's  contribution in the international sphere insignificant.
Recently, at the first graduation ceremony of the Abdusalami Abubakar Institute For Peace and Development Studies (AAIDS) in Minna, Niger State, the need to shore up the corporate existence of Nigeria as an indivisible entity was reconfigured.
Monitoring the event on national television, I noticed the indepth and passionate concern of notable Nigeria leaders to foster the nexus of peace and development in the country as the basis of redeeming it from the luxuriating path of  perdition.
Founder of the Institute and Nigeria's former military ruler, General Abdusalami Abubarka, used the opportunity to appeal to Nigerians to "leverage on the marks of distinction of the various segments of the country as a unifying factor to strengthen the political and economic base of the nation".
The former Head of State, emphasized that unless Nigerians looked beyond the divisive factors and embrace the peace forces, the Nigerian project will remain one shrouded in disparities, and mutual suspicion among the various component units that make up the nation.
Chairman of the event, Gabriel Suswam who is the governor of Benue State, in an emotion laden speech went back through memory lane, explaining how the various ethnic component in Nigeria enjoyed relative peace and freedom before the creation of Nigeria by the British. Suswam decried the growing introlerance among various ethnic groups especially in the Northern part of the country which had resulted to wanton destruction of innocent lives through bloody and riotous campaigns by extremist groups.
According to Governor Suswam, "such extremist notions, arise from the fact that Nigerians are yet to grasp the enduring values and dynamics of democtratic liberties".
Rivers State Governor, Rt. Hon. Chibuike Amaechi, who was the guest speaker at the event drew a symbiotic relationship between peace and development, noting that, "For Nigeria to enjoy peace and sustainable development, Nigerians must see themselves as fellow compatriots, while the leaders must respond to the imperatives of justice through judicious application of the common wealth".
Governor Amaechi's views were shared with the Imo State Governor, Rochas Okorocha, whose remark drew thunderous ovation from the audience.
Okorocha, pointed out that the unity of the country was threathened by the emergence of a domineering political class that consistently hijacks and abuse opportunities of political leadership in the country.
According to Governor Okorocha such emerging ruling class use concepts such as zoning to further undermine the collective will of the nation, and dissociated himself from zoning as a democratic principle.
Okorocha further pointed out that Nigerians see themselves as compatriots outside the country, but fan the embers of disunity at home, and called for a re ordering of this errorneous concepts.
The submissions of there notable Nigerian leaders is an indication that the angling for the control of power at the centre and stubborn refusal to structure our democracy on the strong fundamentals of mutual co-existence and common sense of purpose, is the greatest threat to our democracy.
Although ethnicity may connote tribal loyalty, it is the very opposite of ethnocentricism which is the greatest disincentive to our quest for nationhood.
According to a renowed professor of history, Prof. Bolanle Awe, "ethnic incompatibilities are barriers that cannot be overcome by glossing over them, they are real and most be addressed pragmatically".
As the holy Bible puts it; "can two work together except they agree?"
Ethnocentricism is therefore the abuse of ethnicity.
It is the loath that breeds prejudice in our body polity. It is the cankerworm that erodes our sense of patriotism and creates artificial class differentiation among the various segments of the country,
Musing over the state of Nigerian politics, an analyst once declared; "A nation where a determinate common inferior renders perpetual obedience to a determinate common Superior, or where subject nationalities fight for freedom and triumph nationalities aspire after domination is a nation divided against itself.
Nigeria has waddled in this debacle since independence. The emerging political class base their precepts on criminally conceived political innovations and deceptive revenue allocation formulae perfidiously designed to further alienate and disposses the disadvantaged ethnic minorities that sustain the nation's economy. These ethnic monitories are fortuitously placed in the political contraption through the inexplicable ways of history.
The American example has shown that, the greatest and most distinguishing attribute of a democracy is to recognize and accord the right of various existing interest groups to strive in an atmosphere of justice.
The great and United Nigeria we all yearn for is therefore unattainable, except the individuality of community and ethnic regeneration is far more highly developed.
The tenets of substainable development dictates that the growth of the future must be in quality and value that comes through the concentrated striving of existing smaller ethnic groups who must be allowed a fair share of their resources to develop at their own Space. The revolt in the Niger Delta region of Nigeria which affected the activities of prospecting multinational oil firms stemmed from these denials.
The American democracy, which Nigeria is modeled after, has proven that if ideals are developed locally, the national ones will come pretty near taking care of themselves, and this is the sure way to freedom and self determination.
It is important to remember that the essential characteristic of true liberty is that under its shelter, many different types of life and character and opinion and belief can develop unmolested and unobstructed.
This type of political structure portends hope for the citizens as they can be key participants in national life through their individual and collective contributions to the development of the society.
According to a removed Nigerian economist, Pius Okigbo; "A productive society creates institutions that are platforms of renewal and stability, they are the shelters of continuity". The building of trust and reliability in our collective will to forge ahead in an enlarged political structure therefore depends on the conviction of the people and their willingness to live by civilized principles of democracy and justice.
Nigeria is blessed with divergence of culture and distinctive value systems which could be integrated into a national whole to foster a common sense of identity. This is the beauty and price of protection of sustainable democracy.
The peculiar nature of our environment and cultural evolution demands that we structure our democracy on the use of liberty without abuse, and respect for our individual sense of identify which is reflected in ethnic affiliations.
A functional democracy by global acclaim is one rooted in the realization of the collective hope and dream of the people, a sense of human fellowship, a recognition of the duty of mutual help owed by man to man.
A philosophical postulation has it that; There is no higher religion than human service, to work for the common good is the greatest creed", "we must remember to cater for the less priviledged who live in slums and jungles of our society. A poor man in the north and a poor man in the South South, or any other part of the country shares common features, lack. Nigeria has the potentials to take care of its citizens. As stated by a renowed Prof. of History, Okon Uya, "if we don't want to end up with recurrent foul-ups and failure lets ponder to standback and access conscientiously the essence of our co-operate existence with respect to our divergence feelings and aspirations. The future of  Four democracy deepends on the commitment of the respective ethnic groups to the creed of National unity.
Herein lies the preservation of our national strength.
Food Preservation: Time To Check Traders' Excesses
Have you ever bought oranges, mangoes, bananas, plantain and some other agricultural produce and wondered about their taste? Were they plucked before maturity? Were they cooked or ripened with chemicals, especially calcium carbide among others? Were they washed with detergents?
Calcium carbide is a chemical compound that is industrially used in the production of calcium cyanamide for fertilizer and also in welding. When calcium carbide comes into contact with water it produces acetylene gas that hastens the ripening of several fruits such as mangoes, bananas and apples.
These are some unscrupulous practices by traders in the various major and minor markets around us that pose a big threat to human health.
Food is one of the necessities of life, besides shelter and clothing. Through food, the human body is nourished with various nutrients, including carbohydrates, proteins, vitamins and minerals essential for making a person healthy.
In as much as human beings cannot survive without food, how the food is handled after harvest and during storage can be a big threat to a person's health and general well-being.
Agriculture analysts believe that apart from the abuse of fertilizer application at various stages of planting, the use of chemicals for storage and ripening of fruits has become a huge cause for concern. So also is the washing of fruits, vegetables, nuts and root crops with detergents.
According to them, general abuse of agricultural produce, especially beans and other grains by traders in markets and vendors or retailers at different selling locations have reached an alarming stage.
It is common today to see fruits, vegetables, nuts and root crops retailers and vendors washing them with detergent. Equally disturbing is the traders' use of carbides to ripen fruits and pesticides like Sniper on beans to prevent or remove weevils' infestations.
Chief Akanbi Adeoye, the leader (Babaloja) of Ikosi Market, popularly known as Jakande Fruit Market, Ketu, Lagos State, blames fruits and vegetables vendors and retailers outside the major markets for such practices.
"Our information and security officers have not made complaints about such incidents in this market.
"Here, fruits and vegetables are sold on wholesale basis to traders from all parts of the state and they carry them in bulk to their various markets and selling locations,'' he said.
Mr Adebayo Damola, a trader and wholesaler of plantain, pears, avocado, pineapples and bananas among others, says those who use carbide to ripen fruits and vegetables and wash them with detergents do it outside the major markets.
"Here, we are middlemen to farmers who entrust us with their produce which come straight from their farms.
"We sell in bulk to traders within and outside this market and they take them to places where they sell.
"However, l know that fruit and vegetable retailers and vendors use carbides to make them ripe fast.
"I know too that some wash them with detergents to remove the soil and make it clean enough for display to attract customers,'' he said.
Damola says that in using carbide to ripen fruits, it is not sprinkled on the fruits or vegetables, but dropped at the centre after arranging the fruits in circular form and then cover with cloth.
He adds that it is the heat generated by covering it with cloth that causes the fruits and vegetables to ripen within 20 hours to 24 hours.
An agricultural engineer and retired staff of the Federal Ministry of Agriculture, Umudike, Umuahia in Abia State, Mr Mba Agu, says it is not the duty of traders to apply agro pesticides like Sniper on gains, especially beans.
"The application of pesticides on any agricultural produce, especially on beans and other grains, is for agriculture professionals and not traders.
"Agriculture professionals are trained to apply agro pesticides and insecticides on agricultural produces in a way that it will not be harmful when consumed.
"The problem is that people think that they can use Sniper and any other pesticides on agricultural produce without the input of those trained to do so.
"All pesticides and insecticides are bad and dangerous, at the same time still useful when used in correct proportions.
"If wrongly used, they become hazardous and dangerous for consumption and become cause for an array of health issues,'' he said.
Sniper is one of the agricultural pesticides used to control insects and pests on grains and seeds and other wide range of produce.
Sniper contains Dichlorovinyl Dimethyphosphate (DDVP) 1000mg, Sodium Sulphate and Enzymes as recommended by the World Health Organisation (WHO).
Agu says there are three methods through which pesticides can be applied on beans and other produces for storage.
According to him, the pesticides are mixed in the material at recommended doses, sprayed around the warehouse for bulk storage or surface of the material in a container.
Agu believes that it is time pest control officers leave their comfort zones and enter the markets to sanitise the abuse of pesticides application on grains, especially beans.
He says it is time too that the National Agriculture Council dispatch its seed law enforcement officers to the markets to regularly take samples of grains for laboratory test and analyses.
For Dr John Olaoye, an agriculture engineer and lecturer, Department of Agriculture, University of Ilorin, farmers are and should always be encouraged to minimise the application of pesticides on beans, grains and other produce during storage.
"This is because during the planting stage, a lot of pesticides are used at flowering stage to protect it from pests.
"At the storage stage, it is advisable to use natural materials like pepper or by exposing the produce to oxygen.
"If you must use pesticides and there are residual content on the produce still remaining, it is still harmful,'' he said.
Olaoye notes that the properties in DDVP pesticides were such that can vaporise.
According to him, if professionally applied, by the time of cooking at a boiling point of between 75 degree centigrade and 100 degree centigrade, the material will vaporise and will not be part of what is consumed.
"However, there are herbal formulations which are natural that can be used to prevent grains and other agricultural produce from pests and insects attack that were not harmful,'' he said.
Olaoye says that since the market is the prerogative of the local government councils, the councils should revive their community and public health officers as was the case in the 1950s, 1960s, 1970s and early part of 1980s.
He adds that it is not enough for the local government to collect levy and issue receipts without doing the work of sanitising what comes out from the markets and upgrading the market structures.
The Unilorin teacher says that the community and public health officials check traders, what they have in stock, how they are stored and displayed for sale to ensure they are good for consumption.
They also stamp animals before they are slaughtered for sell as meat in the markets, adding that they also visit houses and test water from public mains and boreholes from which the occupants are drinking.
According to him, it is a pity that community and public health officers are not part of our system any more. However, the sooner the community and public health workers are brought back, the better it will be for everybody. Therefore, it behoves the government, especially local government councils, to be up and doing to safeguard the health of the citizens.
Dr Ikechi Agbugba, a vegetable expert and lecturer, University of Port Harcourt, says the misuse of any chemical on agricultural produce is a killer.
"How on earth will anybody wash fruits and vegetables and any other produce with detergents? What happens to water and sponge?
"This happens because traders always prefer the easy way out.
"The government has to be proactive to be able to check the excesses of traders and food vendors by apprehending and prosecuting offenders,'' he suggested.
According to him, it is better to wash fruits and vegetables with clean water and sponge.
Agbugba says research works have shown that traders and food vendors are ignorant of the implications of what they are doing. He notes that organising and encouraging traders to form associations and get those doing similar trading to register is the easy way to enlightening traders on this.
"The market crier is useful in reaching them and telling them how to improve on handling hygienically the wares they have for sale,'' he said.
On the whole, the federal and state ministries of agriculture should deploy their seeds law enforcement officers and pest control officers to major markets and produce retail outlets to ensure that what they are selling is good for the body when consumed by unsuspecting consumers.
By: Chidinma Agu
Agu is of the News Agency of Nigeria.
Tackling Nigeria's Refugee Crisis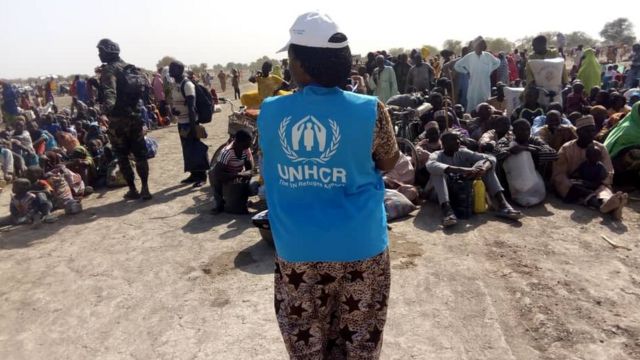 Even as the world marked the 70th anniversary of the adoption of the 1951 Geneva Refugee Convention this year, there have been increasing attempts lately by some governments to disregard or circumvent the principles of the Convention.
The UN adopted the convention establishing the rights of people forced to flee their home countries following the creation of UN High Commissioner for Refugees (UNHCR) the previous year shortly after World War II.
However, there has been rising need for the international community to uphold the key principles of refugee protection as laid out in the Convention, including the right of someone fleeing persecution not to be sent back into the path of harm or danger, especially now that the world refugee crisis caused by conflict, poverty, war, violence, mis-governance and climate change has continued to drive more people out of their homes.
This is as some governments attempt disregarding or circumventing the Convention's principles, through expulsions and pushbacks of refugees and asylum seekers at land and sea borders, to the proposals to forcibly transfer them to third states for processing without proper protection safeguards.
According to Article 1 of the Convention, a refugee is a person who is outside his/her country of nationality or habitual residence; has a well-founded fear of persecution because of his/her race, religion, nationality, membership in a particular social group or political opinion; and is unable or unwilling to avail himself/herself of the protection of that country, or to return there, for fear of persecution.
The Convention not only ensures that refugees get another chance at living through the recognition of their human rights, but also stresses the importance of international cooperation in tackling the problem.
Filippo Grandi, the UN High Commissioner for Refugees, said that the treaty is a crucial component of international human rights law and remains as relevant now as it was when it was drafted and agreed.
 "The language of the Convention is clear as to the rights of refugees and remains applicable in the context of contemporary and unprecedented challenges and emergencies – such as the Covid-19 pandemic," Grandi said.
Globally, over 82.4 million people have been forced to flee their homes and among them are about 26.4 million refugees, half of whom are under the age of 18.
According to the UNHCR flagship report for 2020, Turkey continues to host the largest number of refugees with about 4 million people, 92 percent of whom are Syrian refugees.
Mr John Mckissick, UNHCR Deputy Country Representative in Nigeria, said that one out of 95 people on Earth today had been forced to flee his or her home to either become internally displaced or crossed the border to become a refugee.
According to him, Nigerians have become refugees abroad as a result of insurgents actions, non-state armed groups and organised criminal gangs.
Violent conflicts in some regions continue to increase the occurrences of displacements, leaving citizens with no option but to become refugees or settle in Internally Displaced Persons(IDPs) camps.
Over the last decade, violent attacks of bandits and the Islamist group Boko Haram as well as communal clashes have continued to escalate in Nigeria's North-East, North-Central and North-West regions, according to UNHCR.
To help, UNHCR says it is providing 'protection-by-presence, in the field through strategic protection monitoring, vulnerability screening, provision of material assistance and subsequent individual protection referrals to service providers.
The Agency is also advocating for increased access to social and basic services for displaced persons, respect for the Civilian and Humanitarian character of IDPs camps and a better protection environment overall.
Dr Wole Kuniji, an international law expert, said that to combat the refugee crisis in Nigeria, there should be a focus on the "root cause approach."
Kunuji, a lecturer in the Department of Jurisprudence and International Law, University of Lagos, emphasised that the root cause approach addresses the foundational causes of the increase in refugees.
"The refugee crisis currently all over the world is caused by conflict, poverty, war, violence, mis-governance, climate change, among others.
"Let us figure out solutions to these causes and implement them before the situation escalates," he said.
Suffice to say that all hands must be on deck to tackle and eliminate these root causes if Nigeria will be free from the menace", Kunuji said.
According to him, the provision of Article 33 of the Refugee Convention on  the principle of 'non-refoulement' was the most significant and constitutes the cornerstone of the international refugee protection.
The provision refers to the practice of not forcing refugees or asylum seekers to return to a country in which they are liable to be subjected to persecution.
It asserts that a refugee should not be returned to a country where they face serious threats to their life or freedom and is now considered a rule of customary international law.
Kunuji said that the principle of non-refoulement was also the anchor of the Nigerian Refugees Act, adding that it must be appropriately followed.
Speaking on consequences for the violation of the provisions, Kunuji added that there should be an accountability and monitoring mechanism in the act.
This, he said, would mandate the National Refugees Commission to report to a relevant committee on what has been done regarding the provision.
"It's one thing to have provisions in place and it's another thing to have the political will.
"One way to ensure that there is a process of accountability is for the refugees commission to present a report every year on how they've helped or enhanced the implementation of rights of refugees.
"The UNHCR has a duty to continue to supervise and monitor the  implementation of the provision under the Convention and the Nigerian act," he said.
On the other hand, Mrs Toyin Saraki, Founder, Wellbeing Foundation, said that research and development approach needed to be employed to tackle the refugee crisis.
Saraki, an advocate for refugees, said this could be driven by the philanthropic community in Nigeria.
According to Saraki, the philanthropic sector in Nigeria is ready and would happily partner the government in a more meaningful way, to make the lives of refugees better.
 "This will allow the philanthropic sector help the government not just with funds but also at the frontline with key knowledge that can drive impact."
She added that her foundation believed in the need to make optimum health and social care outcomes a reality for the refugee population.
"We know that every  refuge deserves the right to health guaranteed in any host location, powered by health enhanced certifiable identities.
"Every refugee should have a health record and. We need the government to be able to plan to look after the health, education and care of refugees in our national budget.
"We cannot close our eyes to the infringement of the rights of refugees because any of us can be in such position tomorrow."
"I believe that the community approach is where we need investment to be increased so that we can lift the host community and prepare for the refugee community that keeps increasing."
"It is quite clear that every sector in Nigeria is going to have to come together to prepare for this emergency," she said.
By: Busayo Onijala
Onijala writes for the News Agency of Nigeria.
Odilism As Leadership Philosophy In Nigeria
A pithy Nigerian aphorism declares that when we praise the woman that prepares the red beans porridge (akidi), she will cook another. This piece is an attempt at acknowledging a deserving and worthy akidi cooking son of Rivers State, whose trailblazing leadership philosophy and style brought mirth and joie de vivre to many in Rivers State, Nigeria and the world. This Rivers son is His Excellency, Sir (Dr) Peter Otunuya Odili, former Governor of Rivers State. This piece explores and conceptualises his leadership style, philosophy and achievements as a way of celebrating his 73rd birthday.
By Odilism, we mean a governing philosophy that empathically brought about qualitative, robust and wholesome development to the people via the summation of innovative insights and ideas gleaned from the public sphere. In this governing philosophy, factual and evidence-based discussions are crucial. Odilism understands that the danger in throwing the baby with the bathwater is that it clouds one's ability to robustly discuss a given policy idea with the seriousness that it deserves as even one's detractors can proffer innovative solutions. Thus, oppositional viewpoints were respected and courted. Odilism knew that contesting a viewpoint cum policy is the bedrock of deliberative democracy. This leadership philosophy recognised that such policy debates are the genuine means of producing superior public policy.
Inherent in this governing philosophy is the belief that elected leaders need to engage with one another. Odilism does not believe that contestation of ideas always connotes disputatious behaviour. Rather, it understands that such deliberations help sharpen leaders thoughts, aid resolve their issues and produce superior public policy. Odilism knows that these levels of engagement are needed for significant development in the state or country. Here, engagement is encouraged and not frowned at. This is because public policy debate is the refining point of the policy. When the refining is done properly, it produces delicious policies that obviates societal problems while an unrefined and under-debated public policy decapitates the economy and exacerbates poverty in the place.
Odilism smartly communicates its promises to the people. It enters into a social contract with the voters during electioneering campaigns and systematically completes the policies it promised. The vision, mission and governing ideals are explicitly stated in Odilism. For example, in May of 1998, Odili clearly delineated his vision for Rivers State and computed how his vision would be achieved in his manifesto written and distributed to notable Rivers sons and daughters. In the letter-like manifesto, Dr Odili envisioned a state "where communication, transportation, healthcare, accommodation, drinkable water and electricity will cease to be desires and will become available to all our people no matter where they are in the state". He further noted that he foresees a state, "where every man who qualified for a job gets one without tears". These lofty ideals and promises were aggressively pursued by the Odili, government.
One of the key ingredients in Odilism is the enthronement of God into the affairs of state. Like Dr Odili would say, "when the righteous rule, the people rejoice". This faith-based leadership helped Dr Odili, a man of faith, to lead with empathy and love that is unrivalled in the annals of Rivers politics. It also helped him develop the largeness of heart that is peerless in the Nigerian body polity. He was so generous and free-spirited in giving that he was dubbed, "Donatus". He was a giver and the people's Governor.
Odilism is bold, innovative thinking and flawlessly creative. It produced innumerable positive projects and insights in Rivers State. It went to places and initiated projects others were too myopic to venture. Among the projects and policies of the Odili-led government were the construction and rehabilitation of schools in Rivers State, including the rehabilitation of my alma mater, Community Secondary School, Egberu-Ndoki, in Oyigbo Local Government Area of Rivers State. I was in Junior Secondary School Two (JSS 2) in May of 1999 when the Odili government was inaugurated in Port Harcourt. Other projects include: building of roads, flyovers, skill acquisition training, water supply and numerous gifts to Rivers women.
The most novel and innovative projects and programs of the Odili government were in power, education and health. The government, through the governing philosophy of Odilism, conceived and implemented state-changing and poverty alleviating programs in these three sectors. For power, the Odili-led government was the first and only state government that had a bite at independent power generation in Nigeria. His government conceived and built gas turbines for power generation in Rivers State. This novel and iconic program still produces hundreds of megawatts of electricity into the national grid and is a source of income to the Government of Rivers State.
Even more noteworthy were the cumulative programs targeting education in Rivers State under Sir Odili. His government paid for Senior Secondary School Three (SSS 3) students' examination registration fees. In 2003, I benefitted from this policy as both my National Examination Council (NECO) and West African Senior School Certificate Examination (WASSCE) registration fees were paid by the Rivers State Government. This policy was a life changing one for those at the lower demographic spectrum like myself, as it gave our parents the needed break in fees payment. Furthermore, the Odili led government introduced a "Free School" bus system that was unheard of and one that has not been replicated anywhere in Nigeria. During his tenure, Dr Odili introduced a free school bus that dutifully conveyed students to school and transported them back from school. During this period, all a student need is to wear a school uniform, and such a student will be safely taken to school and back. The drivers were employed by the State Government with thorough background check conducted. The drivers and the conductors were polite, and gracious – a huge customer service experience in a government-funded program in Nigeria. The free school bus provided a safe commuting hub for students all over Rivers State while also providing the students with the collegiality to learn more, debate and solve academic problems. It was a hugely successful program.
The government also subsidized university school fees. As at September of 2004 when I gained admission into the then Rivers State University of Science and Technology (RSUST) and now Rivers State University (RSU), our annual school fee was capped at N8,800 (Eight Thousand, Eight Hundred Naira). That was significantly lower than that of the University of Port Harcourt, a Federal University. When we pay Dr Odili's government will pay us through bursary, N9,800 (Nine Thousand, Eight Hundred Naira). Practically, we went to the university for free. There were scholarships and other education grants that the government embarked on. These empathy-filled, people-oriented educational policies enabled those who were socio-economically and politically disadvantaged to attend, not just secondary school, but also to bag university degrees. These policies were life-altering for many.
Dr Odili's government also introduced one of the best health care policies of our time. The free healthcare policy for the elderly saved lives. For example, my wife's maternal grandfather, late Chief Amadi Wosu of Oduoha in Emohua Local Government Area of Rivers State, was a beneficiary of this fantastic policy. In early 2000, he had a surgery at the then Braithwaite Memorial Hospital (BMH) Port Harcourt for free. Like many aged people, he was discharged without paying a dime. This is an example of how Dr Odili and his government touched lives in Rivers State during his time at the helm.
Sir (Dr) Peter Odili was born on August 15, 1948, in Ogba/Egbema/Ndoni Local Government Area (ONELGA) of Rivers State to late Chief Philip Celestine and Princess Janet Okwei Odili. He epitomises hard work and doggedness that is rare today. His hard work paid off both in his academic and political lives when he not only became a renowned medical doctor and an entrepreneur but also the Governor of Rivers State. His hard work and resolute spirit are infectious. He was so successful as a governor that lofty responsibilities and higher offices awaited him in 2007 but for the "great gang up".
Dr Odili is one of the most remarkable and curious sons of Rivers State. A man of profound humility, and always willing to engage with others irrespective of their placement in the demographic continuum. He is blessed with an elevated analytical acuity and robustly sagacious. As Governor of Rivers State, he closed the window of aristocratic behaviour and divorced Rivers State of political oligarchs. He returned the ship of state to its rightful owners, the people of River State. Dr Odili delicately demolished the moneyed hoity-toity political class in Rivers State. During his tenure, the quality of his thoughts and governing philosophy was outstandingly sophisticated and people-centred that he was asked to continue almost unchallenged in 2003.
Dr Odili is composed, poised, respectable, blessed with the gift of the gab and has style. His carriage and gait are presidential. He is classy and resourceful but not highfalutin. He never went on a namby-pamby weirdo grimy rant like some. He understood that not all places are for fatuous, flippant would be humorous inanities. Unlike those that are clownishly egotistical and who display humility laced with arrogance, Dr Odili served with gusto and loved the people of Rivers State. All these were done with finesse and simplicity that gladdens the mind.
His reign was so fruitful with rural and urban expansion that it is unmatched in the history of the state. Due to the quality of his leadership, he was asked to "Carry-Go" during his second term bid, thereby, giving birth to Carry-Goism as a political concept. While germane and nice with a right. Candidate, the concept has been abused in a farce of self-interest, masturbatory self-indulgence, fame seeking and leaders with run-of-the-mill qualities. Unlike Dr Odili, each of them is manifestly unfit to hold any type of public responsibility. He led Rivers State with dignity, empathy and competence. This is why the heartbreaking underhand and incestuous wickedness meted to him in 2007 is almost unforgivable. Its stupidity, venality and malice occurred at a moment of maximum danger in Nigeria. The 'cabal' reigned supreme but failed Nigeria and her people. However, the people of Rivers State will forever appreciate Peter Odili and his government for their priceless service and competent leadership.
Dr Uwalaka is a research associate at the University of Canberra in Australian.
By: Temple Uwalaka