C Role Of Teachers In Character Moulding
The late management guru, Peter F. Drucker described the 21st century as the era of 3cs; accelerated Changes, overwhelming Complexities and tremendous competition. The world is moving very fast and changes are taking place on a regular basis and the reality of it is that some roles are more sensitive than the others.
A teacher is someone who impacts knowledge to young minds. A role like that of the teacher who is responsible for not only impacting knowledge but also instilling discipline and setting good examples to adolescents our future generation; which are still in their formative years, is an extra sensitive role which is almost sensitive as parenting. In a society like ours which is intensely challenged by youth restiveness, cultism, kidnapping, militancy, partially illiterate literacy to mention a few, people occupying the teaching role needs to buckle up to be able to face the responsibility that their role comes with.
With the introduction of the internet, cable television, mobile phones and information technology all of which has both positive and negative sides, the opinion and character of your young ones are easily shapped by the outside world because they adopt attitudes and behaviour without questioning authenticity. This is partly because of a neuron in the brain called the mirror neuron which helps people mimic what they perceive from their environment.
In the light of this technology advancement, the duty of a teacher has taken a new dimension. Therefore, it takes more than a certificate to be an effective teacher in this day and age. Teachers in this day and age must be; leaders, coaches, inspiration givers and people sensitive to the needs and wants of the 21st century child whilst consistently updating their information level due to constantly advancing technology to be able to combat the negative influence of this technological craze age.
A 9 year old boy had an addiction with raw sugar his mother got to know of.
She tried all that she knew from treat to love yet the boy won't stop. One day she took him to see his teacher and told his teacher about her son's addiction to raw sugar and how disturbing and destructive his addiction is getting.
Her son's teacher asked her to go and return in two weeks. Hon they return after two weeks, the teacher took the boy inside the house and had a private conversation with him. It didn't look like much but after that encounter the boy stopped the habit. A few weeks later, the excited mother asked the teacher saying "why did you tell us to go and come back in two weeks when you knew just how to stop my son's former addiction?" the teacher answered; "as at that time I was struggling with sugar addiction, I had to cure myself first before I cure others".
The moral of the story is that nothing is as powerful in shaping of people like the examples set before them. Also people especially children, are susceptible to change and improvement when they perceive likewise in persons expecting their change and improvement. Character moulding must start with the moulding of the characters of the teachers first and this is not about sugar addiction but rather about setting good examples.
The reality that most homes are dual income (both parents) or single parent homes, were parents are busy looking for how to pay bills with little or no time dedicated to the moulding of their children's character has resulted in the detriment of the character of their children. They come home late and leave early life style has comewhat transferred the responsibility of character moulding to school teachers; illiterate house helps; television miscreants and etc. of all the character moulders of our young ones beside parents, teachers are most likely to usurp a higher level of authority of which if they take extra care of just become a little more observant can save the child from straying.
Now let's look at the strategies through which we can shape the character of pupils.
Beliefs are formed by what the people we respect and honour think about us. People like our parents, teachers, coaches, pastors and mentors. An experiment was conducted in the San Francisco Bay Area by Dr. Robert Rosenthal's of Harvard University in the late 1960s or primary school's year the principal called three teachers to his office, and said "we have been observing your teaching styles and we have concluded that you the three best teachers in this school. As a special reward for teaching excellent we are going to give you each one classroom of the brightest child in school. These children have been selected on the basis of recent IQ tests, and we expect them to make jumps of 20 to 30 per cent in academic achievement over the course of the coming year. But, because we don't want to be accused discrimination, we want you to keep this confidential.
The teachers were happy. They taught with commitment and zest. At the end of the school year when the result came out, the three classes led not only the entire school district, but their grades achieved a leap of 30 to 30 per cent academic achievement.
Later on the principal called the three teachers into his office and congratulated them. The principal then explain to them that it was all an experiment. He told them that the students were not exceptional and they too were not exceptional teachers but they performed because a credible person (the principal) believes in them, and the students perform because their teacher believes in them.
He also added that believe in the pupils as well as their teachers will be adopted regular practice.
Thierry Henry former Arsenal No. 9, made his first team debut in 1995, helped Monaco take the French title in 1997 and played a major part in France's victory in the 1998 world cup. Prior to his joining Arsenal FC, Wenger Arsenal coach always told him "You are a No. 9" so when Henry came to Arsenal FC he put his theory to test and the rest as they say is two premiership title, two FA cup wins and over hundred premiership goals. If you raise your belief bar, your pupils will raise their performance to march up with the standard you set for them.
Instill Discipline. It takes discipline to achieve greatness. It takes discipline to live your mark on the sands of time. I take discipline to be all that you can be.
Discipline is a choice you don't receive it from birth you develop it.
Discipline is a natural outgrowth of people who want to achieve big dreams; they know what if they are disciplined financially, spiritually, emotionally and relationally, they will he able to achieve their dreams.
An effective teacher is suppose to be able to instill discipline with the knowledge that every pupil his or her care can amount to greatness due to a teacher diligent concern. And to achieve this amount of discipline every teacher that intends to make an impact should push aside the thought that this is a meagerly paid job on children and not mine but rather passionately give to their pupils what they would that their own children should have considering the fact that they are our future leaders.
Discipline is not the easiest thing to do but it is very much possible to be discipline, and every good teacher should imbibe the culture of discipline themselves to effectively discipline their pupils. The best way to discipline is to remember the reward of that particular discipline. Reading for hours a day is not easy, while others are having fun. But remind yourself of the joy of knowing more about your line of duty.
In a world full of distractions such as ours, some of which are subtle while the others are obvious, only a discipline person can choose to focus on a growing child even it means sticking with it like a pit-bull until they get what they want.
Encourage pupils to set goals. Goals can change the character of a person. I once heard a successful leadership consultant says that because he knew that he was going to train leaders around the world he did not smoke when his friends were smoking as a student and he achieved this as a result of his setting not-to-smoke as a goal.
Advantages of Goal Setting. Goal setting enhances a pupil sense of accomplishment after achieving each goal. It increases the level of believe they have in themselves as well as the trust you as a teacher have in them. The process of setting and achieving goals increases a sense of responsibility. It enables the pupils become aware of their potentials. It also gives the joy of being successful at developing your pupils.
How Goals setting works for pupils. Goal settings should start with little tasks before moving more tasking ones. A time frame should be attached to each of their goals. Writing and reviewing of their goals should also be instilled.
Paul Foh is the founder of Katalysts Business Academy, Port Harcourt.
Paul Foh
Tackling Nigeria's Refugee Crisis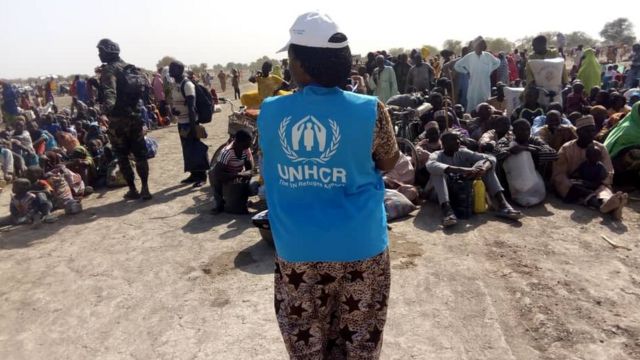 Even as the world marked the 70th anniversary of the adoption of the 1951 Geneva Refugee Convention this year, there have been increasing attempts lately by some governments to disregard or circumvent the principles of the Convention.
The UN adopted the convention establishing the rights of people forced to flee their home countries following the creation of UN High Commissioner for Refugees (UNHCR) the previous year shortly after World War II.
However, there has been rising need for the international community to uphold the key principles of refugee protection as laid out in the Convention, including the right of someone fleeing persecution not to be sent back into the path of harm or danger, especially now that the world refugee crisis caused by conflict, poverty, war, violence, mis-governance and climate change has continued to drive more people out of their homes.
This is as some governments attempt disregarding or circumventing the Convention's principles, through expulsions and pushbacks of refugees and asylum seekers at land and sea borders, to the proposals to forcibly transfer them to third states for processing without proper protection safeguards.
According to Article 1 of the Convention, a refugee is a person who is outside his/her country of nationality or habitual residence; has a well-founded fear of persecution because of his/her race, religion, nationality, membership in a particular social group or political opinion; and is unable or unwilling to avail himself/herself of the protection of that country, or to return there, for fear of persecution.
The Convention not only ensures that refugees get another chance at living through the recognition of their human rights, but also stresses the importance of international cooperation in tackling the problem.
Filippo Grandi, the UN High Commissioner for Refugees, said that the treaty is a crucial component of international human rights law and remains as relevant now as it was when it was drafted and agreed.
 "The language of the Convention is clear as to the rights of refugees and remains applicable in the context of contemporary and unprecedented challenges and emergencies – such as the Covid-19 pandemic," Grandi said.
Globally, over 82.4 million people have been forced to flee their homes and among them are about 26.4 million refugees, half of whom are under the age of 18.
According to the UNHCR flagship report for 2020, Turkey continues to host the largest number of refugees with about 4 million people, 92 percent of whom are Syrian refugees.
Mr John Mckissick, UNHCR Deputy Country Representative in Nigeria, said that one out of 95 people on Earth today had been forced to flee his or her home to either become internally displaced or crossed the border to become a refugee.
According to him, Nigerians have become refugees abroad as a result of insurgents actions, non-state armed groups and organised criminal gangs.
Violent conflicts in some regions continue to increase the occurrences of displacements, leaving citizens with no option but to become refugees or settle in Internally Displaced Persons(IDPs) camps.
Over the last decade, violent attacks of bandits and the Islamist group Boko Haram as well as communal clashes have continued to escalate in Nigeria's North-East, North-Central and North-West regions, according to UNHCR.
To help, UNHCR says it is providing 'protection-by-presence, in the field through strategic protection monitoring, vulnerability screening, provision of material assistance and subsequent individual protection referrals to service providers.
The Agency is also advocating for increased access to social and basic services for displaced persons, respect for the Civilian and Humanitarian character of IDPs camps and a better protection environment overall.
Dr Wole Kuniji, an international law expert, said that to combat the refugee crisis in Nigeria, there should be a focus on the "root cause approach."
Kunuji, a lecturer in the Department of Jurisprudence and International Law, University of Lagos, emphasised that the root cause approach addresses the foundational causes of the increase in refugees.
"The refugee crisis currently all over the world is caused by conflict, poverty, war, violence, mis-governance, climate change, among others.
"Let us figure out solutions to these causes and implement them before the situation escalates," he said.
Suffice to say that all hands must be on deck to tackle and eliminate these root causes if Nigeria will be free from the menace", Kunuji said.
According to him, the provision of Article 33 of the Refugee Convention on  the principle of 'non-refoulement' was the most significant and constitutes the cornerstone of the international refugee protection.
The provision refers to the practice of not forcing refugees or asylum seekers to return to a country in which they are liable to be subjected to persecution.
It asserts that a refugee should not be returned to a country where they face serious threats to their life or freedom and is now considered a rule of customary international law.
Kunuji said that the principle of non-refoulement was also the anchor of the Nigerian Refugees Act, adding that it must be appropriately followed.
Speaking on consequences for the violation of the provisions, Kunuji added that there should be an accountability and monitoring mechanism in the act.
This, he said, would mandate the National Refugees Commission to report to a relevant committee on what has been done regarding the provision.
"It's one thing to have provisions in place and it's another thing to have the political will.
"One way to ensure that there is a process of accountability is for the refugees commission to present a report every year on how they've helped or enhanced the implementation of rights of refugees.
"The UNHCR has a duty to continue to supervise and monitor the  implementation of the provision under the Convention and the Nigerian act," he said.
On the other hand, Mrs Toyin Saraki, Founder, Wellbeing Foundation, said that research and development approach needed to be employed to tackle the refugee crisis.
Saraki, an advocate for refugees, said this could be driven by the philanthropic community in Nigeria.
According to Saraki, the philanthropic sector in Nigeria is ready and would happily partner the government in a more meaningful way, to make the lives of refugees better.
 "This will allow the philanthropic sector help the government not just with funds but also at the frontline with key knowledge that can drive impact."
She added that her foundation believed in the need to make optimum health and social care outcomes a reality for the refugee population.
"We know that every  refuge deserves the right to health guaranteed in any host location, powered by health enhanced certifiable identities.
"Every refugee should have a health record and. We need the government to be able to plan to look after the health, education and care of refugees in our national budget.
"We cannot close our eyes to the infringement of the rights of refugees because any of us can be in such position tomorrow."
"I believe that the community approach is where we need investment to be increased so that we can lift the host community and prepare for the refugee community that keeps increasing."
"It is quite clear that every sector in Nigeria is going to have to come together to prepare for this emergency," she said.
By: Busayo Onijala
Onijala writes for the News Agency of Nigeria.
Odilism As Leadership Philosophy In Nigeria
A pithy Nigerian aphorism declares that when we praise the woman that prepares the red beans porridge (akidi), she will cook another. This piece is an attempt at acknowledging a deserving and worthy akidi cooking son of Rivers State, whose trailblazing leadership philosophy and style brought mirth and joie de vivre to many in Rivers State, Nigeria and the world. This Rivers son is His Excellency, Sir (Dr) Peter Otunuya Odili, former Governor of Rivers State. This piece explores and conceptualises his leadership style, philosophy and achievements as a way of celebrating his 73rd birthday.
By Odilism, we mean a governing philosophy that empathically brought about qualitative, robust and wholesome development to the people via the summation of innovative insights and ideas gleaned from the public sphere. In this governing philosophy, factual and evidence-based discussions are crucial. Odilism understands that the danger in throwing the baby with the bathwater is that it clouds one's ability to robustly discuss a given policy idea with the seriousness that it deserves as even one's detractors can proffer innovative solutions. Thus, oppositional viewpoints were respected and courted. Odilism knew that contesting a viewpoint cum policy is the bedrock of deliberative democracy. This leadership philosophy recognised that such policy debates are the genuine means of producing superior public policy.
Inherent in this governing philosophy is the belief that elected leaders need to engage with one another. Odilism does not believe that contestation of ideas always connotes disputatious behaviour. Rather, it understands that such deliberations help sharpen leaders thoughts, aid resolve their issues and produce superior public policy. Odilism knows that these levels of engagement are needed for significant development in the state or country. Here, engagement is encouraged and not frowned at. This is because public policy debate is the refining point of the policy. When the refining is done properly, it produces delicious policies that obviates societal problems while an unrefined and under-debated public policy decapitates the economy and exacerbates poverty in the place.
Odilism smartly communicates its promises to the people. It enters into a social contract with the voters during electioneering campaigns and systematically completes the policies it promised. The vision, mission and governing ideals are explicitly stated in Odilism. For example, in May of 1998, Odili clearly delineated his vision for Rivers State and computed how his vision would be achieved in his manifesto written and distributed to notable Rivers sons and daughters. In the letter-like manifesto, Dr Odili envisioned a state "where communication, transportation, healthcare, accommodation, drinkable water and electricity will cease to be desires and will become available to all our people no matter where they are in the state". He further noted that he foresees a state, "where every man who qualified for a job gets one without tears". These lofty ideals and promises were aggressively pursued by the Odili, government.
One of the key ingredients in Odilism is the enthronement of God into the affairs of state. Like Dr Odili would say, "when the righteous rule, the people rejoice". This faith-based leadership helped Dr Odili, a man of faith, to lead with empathy and love that is unrivalled in the annals of Rivers politics. It also helped him develop the largeness of heart that is peerless in the Nigerian body polity. He was so generous and free-spirited in giving that he was dubbed, "Donatus". He was a giver and the people's Governor.
Odilism is bold, innovative thinking and flawlessly creative. It produced innumerable positive projects and insights in Rivers State. It went to places and initiated projects others were too myopic to venture. Among the projects and policies of the Odili-led government were the construction and rehabilitation of schools in Rivers State, including the rehabilitation of my alma mater, Community Secondary School, Egberu-Ndoki, in Oyigbo Local Government Area of Rivers State. I was in Junior Secondary School Two (JSS 2) in May of 1999 when the Odili government was inaugurated in Port Harcourt. Other projects include: building of roads, flyovers, skill acquisition training, water supply and numerous gifts to Rivers women.
The most novel and innovative projects and programs of the Odili government were in power, education and health. The government, through the governing philosophy of Odilism, conceived and implemented state-changing and poverty alleviating programs in these three sectors. For power, the Odili-led government was the first and only state government that had a bite at independent power generation in Nigeria. His government conceived and built gas turbines for power generation in Rivers State. This novel and iconic program still produces hundreds of megawatts of electricity into the national grid and is a source of income to the Government of Rivers State.
Even more noteworthy were the cumulative programs targeting education in Rivers State under Sir Odili. His government paid for Senior Secondary School Three (SSS 3) students' examination registration fees. In 2003, I benefitted from this policy as both my National Examination Council (NECO) and West African Senior School Certificate Examination (WASSCE) registration fees were paid by the Rivers State Government. This policy was a life changing one for those at the lower demographic spectrum like myself, as it gave our parents the needed break in fees payment. Furthermore, the Odili led government introduced a "Free School" bus system that was unheard of and one that has not been replicated anywhere in Nigeria. During his tenure, Dr Odili introduced a free school bus that dutifully conveyed students to school and transported them back from school. During this period, all a student need is to wear a school uniform, and such a student will be safely taken to school and back. The drivers were employed by the State Government with thorough background check conducted. The drivers and the conductors were polite, and gracious – a huge customer service experience in a government-funded program in Nigeria. The free school bus provided a safe commuting hub for students all over Rivers State while also providing the students with the collegiality to learn more, debate and solve academic problems. It was a hugely successful program.
The government also subsidized university school fees. As at September of 2004 when I gained admission into the then Rivers State University of Science and Technology (RSUST) and now Rivers State University (RSU), our annual school fee was capped at N8,800 (Eight Thousand, Eight Hundred Naira). That was significantly lower than that of the University of Port Harcourt, a Federal University. When we pay Dr Odili's government will pay us through bursary, N9,800 (Nine Thousand, Eight Hundred Naira). Practically, we went to the university for free. There were scholarships and other education grants that the government embarked on. These empathy-filled, people-oriented educational policies enabled those who were socio-economically and politically disadvantaged to attend, not just secondary school, but also to bag university degrees. These policies were life-altering for many.
Dr Odili's government also introduced one of the best health care policies of our time. The free healthcare policy for the elderly saved lives. For example, my wife's maternal grandfather, late Chief Amadi Wosu of Oduoha in Emohua Local Government Area of Rivers State, was a beneficiary of this fantastic policy. In early 2000, he had a surgery at the then Braithwaite Memorial Hospital (BMH) Port Harcourt for free. Like many aged people, he was discharged without paying a dime. This is an example of how Dr Odili and his government touched lives in Rivers State during his time at the helm.
Sir (Dr) Peter Odili was born on August 15, 1948, in Ogba/Egbema/Ndoni Local Government Area (ONELGA) of Rivers State to late Chief Philip Celestine and Princess Janet Okwei Odili. He epitomises hard work and doggedness that is rare today. His hard work paid off both in his academic and political lives when he not only became a renowned medical doctor and an entrepreneur but also the Governor of Rivers State. His hard work and resolute spirit are infectious. He was so successful as a governor that lofty responsibilities and higher offices awaited him in 2007 but for the "great gang up".
Dr Odili is one of the most remarkable and curious sons of Rivers State. A man of profound humility, and always willing to engage with others irrespective of their placement in the demographic continuum. He is blessed with an elevated analytical acuity and robustly sagacious. As Governor of Rivers State, he closed the window of aristocratic behaviour and divorced Rivers State of political oligarchs. He returned the ship of state to its rightful owners, the people of River State. Dr Odili delicately demolished the moneyed hoity-toity political class in Rivers State. During his tenure, the quality of his thoughts and governing philosophy was outstandingly sophisticated and people-centred that he was asked to continue almost unchallenged in 2003.
Dr Odili is composed, poised, respectable, blessed with the gift of the gab and has style. His carriage and gait are presidential. He is classy and resourceful but not highfalutin. He never went on a namby-pamby weirdo grimy rant like some. He understood that not all places are for fatuous, flippant would be humorous inanities. Unlike those that are clownishly egotistical and who display humility laced with arrogance, Dr Odili served with gusto and loved the people of Rivers State. All these were done with finesse and simplicity that gladdens the mind.
His reign was so fruitful with rural and urban expansion that it is unmatched in the history of the state. Due to the quality of his leadership, he was asked to "Carry-Go" during his second term bid, thereby, giving birth to Carry-Goism as a political concept. While germane and nice with a right. Candidate, the concept has been abused in a farce of self-interest, masturbatory self-indulgence, fame seeking and leaders with run-of-the-mill qualities. Unlike Dr Odili, each of them is manifestly unfit to hold any type of public responsibility. He led Rivers State with dignity, empathy and competence. This is why the heartbreaking underhand and incestuous wickedness meted to him in 2007 is almost unforgivable. Its stupidity, venality and malice occurred at a moment of maximum danger in Nigeria. The 'cabal' reigned supreme but failed Nigeria and her people. However, the people of Rivers State will forever appreciate Peter Odili and his government for their priceless service and competent leadership.
Dr Uwalaka is a research associate at the University of Canberra in Australian.
By: Temple Uwalaka
How Fake News Hurts Newsroom Relationship
It used to be so easy. A reporter brings a story and the excited editor goes through it and simply publishes it, confident that the claims are correct.
Very often, impressed editors offered some morale boosting rewards – a bottle of wine, lunch, dinner or cash. And even more. Trust was mutual.
Not anymore. With the prevalence of fake news, most editors, also known as gatekeepers, no longer trust the frontline soldiers and would use every available binocular to search for the truth.
Analysts have said that it is difficult to blame the editors for being more careful, considering the many cases of gaffes, brazen lies, fake news and wrong information the conventional media embarrass themselves with, on daily basis.
Few weeks ago, an influential media house published a story quoting the World Health Organisation (WHO) as saying that 146 million Africans die of tobacco-related diseases every year. The editor so trusted the reporter and did not ask how many Africans would have been left after just two or three years of such harvest. The reporter had, on her own, added three zeroes to her copy.
Not long ago, a media house published a story quoting a state governor as pouring encomiums on his estranged predecessor at a birthday ceremony. Very harmless story. Easy pick for every editor. But trouble started immediately the story went out. It was fake. No such ceremony took place. The reporter just imagined it.
Last year, a report announced the opening of airports after the COVID-19 lockdown. Eager prospective passengers rushed to book tickets only to be turned back. What they read was false. Fake. The reporter just deceived everyone.
The craze for fake news has indeed taken over today's media space, with both the social and traditional media struggling to outdo each other in the spread of hoaxes.
The instances are just everywhere. Aside from the fake news, photos or videos are purposefully created and spread to confuse and misinform. Photos or videos are also manipulated to deceive, while old pictures are often shared as new.
In some cases, photos from other shores are shared in the Nigerian space, ostensibly to create the impression that they are local scenes.
Umaru Pate, a professor of Mass Communication and Vice Chancellor, Federal University, Kashere, says the trend is "dangerous, unethical, provocative and subversive to peace and societal serenity''.
"Fake news misinforms and misdirects society with severe consequences on individual and national systems. It heightens tension, builds fear and mistrust among people.''
Information Minister Lai Mohammed, has equally deplored the trend, declaring recently that fake news could "threaten and destroy'' the country. He has also launched a campaign against it.
The minister recently observed that every news manager was faced with the challenge of managing fake news, and expressed the fear that the purveyors could push the country into crises.
Dr Sylvester Usman, a university teacher, has echoed similar worry.
"Fake news will make media practice lose its appeal; it will challenge the credibility which is the base of journalism practice," he said.
He challenged editors to rise up against the bastardisation of journalism by the new media, and emphasised the resuscitation of investigative journalism to tackle national challenges and help government plan better.
But as the scourge rages on, analysts have continued to wonder why the tendency to lie appears more common in the information age.
Mr Emeka Madunagu, publisher and editor-in-chief of Metrostar, an online publication, says fake news prevail because journalists pursue traffic, rather than accuracy.
Madunagu, former editor, Saturday Punch, advised media managers to equip newsrooms with gadgets and technologies that could detect and remove fake news and images.
Prof. Pate believes that fake news is partly caused by the absence, or late arrival, of official information, which creates a vacuum filled by rumours and imaginations.
According to him, desperate politicians, ethnic jingoists, foreign interests and mischief makers have also taken advantage of the explosion in social media platforms – Facebook, Twitter, Youtube, Google, Nairaline and WhatsApp – to spew fake news and hate messages which inflict confusion into the society.
While urging media houses to focus more on investigative reporting, he cautioned against selective reporting and the promotion of prejudicial stereotypes about groups and individuals based on incomplete facts, mischief and ignorance.
Analysts have also called for more training to boost research capacities among media professionals so as to minimise shallow reporting and episodic attitudes in news coverage and programme production.
They have also cautioned the media against promoting statements of politicians, ethnic champions, religious zealots and other interested parties without critical inquiry about specific social conflicts.
"Such groups are usually prone to spreading fake news against perceived rivals," Alhaji Aminu Mohammed, one such analyst, says.
While urging media gatekeepers and news content managers to be more critical, the analysts have pointed out that publishing fake news could confer legitimacy, credibility and massive reach to such fakery and confuse the audience about truth and falsehood.
Worried by the effects of such misinformation, many Nigerians have always wondered if it is possible to quickly spot fake news to avoid being misled.
Mr Dapo Olorunyomi, publisher of Premiums Times, believes that the best way out is to establish a fact-check unit in every Newsroom.
Olorunyomi, whose outfit has established a channel "Dubawa", through which it trains media practitioners on fact-checking, emphasises the need to build wide contacts and use the internet to carry out a fact-check on every story to determine its integrity before publishing or airing same.
He also suggests the need for readers, listeners or viewers to check multiple sources, and try to establish trusted brands over time.
Madunagu has a more proactive approach to the menace.
"When a reporter comes with a sensitive story, I will calm him down and ask him to relax.
"When he relaxes, I will debrief him. In the course of doing that, I will try to see whether he brought himself into the story. There are times I did that and the reporter told me to kill the story. It means he was not so sure of the exciting claims he penned down," he said.
He said that the situation is serious and warned editors against rushing to publish any "beautiful scoop" filed by reporters who are out there on the field.
"Editors should not totally trust reporters. These days, I don't.
"Editors must have phone numbers of other Editors. These days, hunger is pervasive; for little money, people can tell lies. They can write anything. So, one must be very careful. When editors are handling sensitive stories, they must be very careful," he said.
Most editors agree with Madunagu and believe that Nigeria will be the better for it if editors in traditional mediums, who determine information the public is served, strive for reliable information which is crucial to her growth.
But even as the editors strive for accurate information, some have noted the challenges of ownership influence, social malpractices and corruption, media professionals acting as judges or advocates for hidden interests, and cases of senior editorial staff acting as consultants to politicians and religious groups.
The existence of cartels among reporters covering specific beats has also been noted as another factor responsible for the adulteration of what is reported. Very often, the cartels form "gangs'' that decide what information to publish with pecuniary interests threading through the discussions.
Analysts say that such "unholy fraternity'' has often led to the "burial'' of some hard truths that would have been useful in the nation's search for greatness.
Another challenge is the "copy-me'' syndrome, a practice where reporters receive reports of events they did not cover, from colleagues, and publish same, not minding if what they had been "copied'' is fake news.
Not a few reporters have lost their jobs to this scary practice, yet it still persists.
Unfortunately for editors in most media houses, the heat is usually extended to them with no one concerned about their pleas or claims to innocence.
Such sweeping sanctions, analysts say, have forced editors to suspect every story with some "dodging" sensitive reports they believe have the potential to create trouble.
Madunagu captured it more succinctly.
"These days, I use every binocular to check the veracity of every story. I won't want to take medicine for what should not be my headache."
Unfortunately for the reporters, most editors today have similar fears over their copies. Such fears rule most newsrooms today.
By: Ephraims Sheyin
Sheyin writes for the News Agency of Nigeria (NAN).