…Understanding Odemwingie's Frustrations
A few days after I was named Super Eagles Media Officer, I messaged three players: Joseph Yobo, Vincent Enyeama and Osaze Odemwingie.
My intention was to let them know I'd need their cooperation to build a bridge between the media and the squad.
In Osaze's case, however, I added something extra. And in his joking reply, he promised me I would get my biggest headache from him. When the headache came, it turned out to be anything but a joke.
The first real crisis I had to manage involved none other than Mr Odemwingie himself.
I was sitting in a meeting at SuperSport when I got a message from a friend in Chicago asking if I'd seen what Osaze was tweeting about then coach Samson Siasia.
The moment I saw the fiery tweets, I rang him up and asked him to take them down. He dug his heels in, but after a few minutes of back and forth, he relented. By then, it was too late, the damage had been done.
And I spent the rest of my brief time in the post managing the Osaze/Siasia rift until it was finally settled in the latter's final days as coach.
Osaze and I have come a long way. It's been 10 years and counting. In that time, I have come to know the young man as a combustible fireball crackling underneath wooden floorboards.
Osaze Odemwingie does not do half measures. It is at once his greatest virtue, and his biggest frailty.
When he suits up in that green and white shirt, or any other for that matter, he leaves it all out on the pitch. When he calls someone out for not doing their job, he spares nothing. And when he is backed into a corner, he comes out swinging.
This latest, messy episode with Stephen Keshi is Osaze coming out guns blazing from inside of a corner, ten years in the making.
It is the culmination of years of frustration with the Nigeria set-up, and things he has been continually unhappy about. All catalogued in his initial tweets.
Being left out by Shuaibu Amodu for his first few games in charge despite a fine showing at the 2008 Nations Cup, only for him to speak out, get played and win multiple Man of the Match awards.
That was followed by getting into a tiff with Siaisa at the Olympic Games because he dared to complain about a shortage of kit; then left out again by Lars Lagerback at the World Cup after being named Nigerian Player of the Year for his performances.
Odemwingie's current scrap with Keshi dates back to a qualifying game in Rwanda, when the forward was first to be hauled off in what was a generally bad team performance.
From what he told me, the manner of the substitution left him with a sense of déjà vu. And so he ignored attempts by the manager to make contact. On this occasion, I was involved, again, in brokering peace.
But with fences mended, both coach and NFF were left unconvinced about the player's commitment to the cause when he failed to turn up for the friendly against Venezuela in Miami.
Osaze himself offered little to me but to say he opted out for 'personal reasons'. In any case, both Chelsea's John Mikel Obi and Victor Moses did the same too.
Odemwingie had hopes of making the Nations Cup squad. He was a striker in form, had mended fences with his coach, had spoken to his team captain and was in regular communication with the coach.
Three days before the squad was announced, player and coach had been on the phone discussing schedules.
With the Odemwingies expecting their first baby, Keshi was not sure about the player's focus and was giving no guarantees.
Osaze was willing to make adjustments to his schedule. That, unfortunately, did not seem to be enough. And there were rumblings of 'conditions' attached to his return. Osaze denies it vehemently.
In the end, the decision was taken. He was cut. Ostensibly because there were doubts about his total commitment to the team.
Whether anyone likes it or not, the final decision on who makes a squad is up to the coach. Not the player, not the federation, not the fans, not the media. The coach. But, in making that decision, it is also in the coach's unwritten job description to inform at the very least the senior members of his squad who have been axed.
It is a hard task to carry out under normal circumstances. It is even harder in situations like this. But that action defines the man manager. It is a sign of mutual respect.
This is where Odemwingie lost it. To find out in the media that he had not been considered for a 32-man squad was the final straw.
"For me, it was very disrespectful," he told me. "I'm packing my bags and done with the national team. But I needed to tell them my mind."
As much as I may fault Keshi for not making that call, I find it even harder to agree with Odemwingie's route to self-immolation.
In his unbridled tirade, Odemwingie has swung at coaches past and present, his captain, the NFF, the media and even a section of the fans. Going off the reservation doesn't even begin to describe it.
While we both agree that certain things needed to be said, his method, medium and timing has cost him more than just brownie points. He is reduced to looking like a petulant child throwing his toys out the pram because daddy said no.
The tragedy for me is that, just like Osaze's fractious rift with Siasia, this could have been avoided.
And Osaze, for his full-blooded, decade-long service in the green white green, deserves better than to be remembered this way.
Unfortunately, I doubt this particular saga is anywhere close to running its course. Therein lies the bigger tragedy.
Udoh writes for kickoff-Nigeria.
Colin Udoh
Aisha Buhari Cup: FIFA, CAF Presidents Grace Kick-Off, Falcons Win 2-0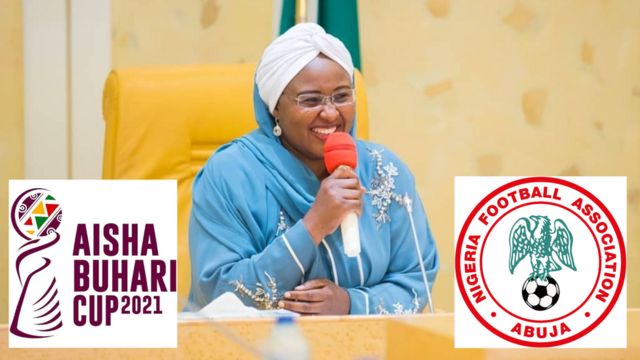 Substitute Gift Monday handed Nigeria a sweet 2-0 victory on the opening day of the maiden edition of the Aisha Buhari Invitational Women's Tournament in the City of Lagos.
Governor Babajide Sanwo-Olu of Lagos State led eminent political big-wigs, and FIFA President, Gianni Infantino and CAF President, Patrice Motsepe led football's top echelon, including President of NFF and FIFA council member, Amaju Melvin Pinnick, to the showpiece at the Mobolaji Johnson Arena, Onikan.
Monday, interestingly a player of FC Robo Queens of Lagos, spurned in the air to meet a cross by Captain Asisat Oshoala in the 83rd minute and nodded past goalkeeper Fatoumata Karenta, six minutes after coming into the fray for Francisca Ordega.
The goal put the Super Falcons in the lead after a rather turgid day on Lagos island, with the Malians showing greater zest and desire in the opening half and returning after the recess with the same impressive fighting spirit.
The visiting Female Eagles had survived a raid on their area in the 5th minute as Nigeria looked to go into the lead with a corner, but the defence cleared. Nine minutes later, Ordega sidenetted from another quick dash upfront, and in the 18th minute, Ageusissa Diarra tested Goalkeeper Chiamaka Nnadozie from a 30-yard free-kick.
In the second half, Uchenna Kanu sidenetted in the 67th minute, before Oshoala, who should have scored with only the goalkeeper to beat, failed to get past Karenta. In the 74th minute, Karenta again saved from Kanu.
In the 83rd minute, Monday rose highest in the box and nodded past Karenta, bringing so much excitement to the arena.
One minute into added time, Monday was again at the end of an Asisat's assist, and looped the ball over an advancing Karenta to put huge smiles on the faces of Nigerians.
Enyimba Appoints Finidi George As Head Coach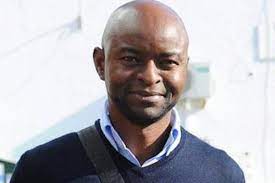 The former Ajax and Real Betis winger, George Finidi, who replaces Fatai Osho whose contract expired at the end of August, has joined the eight-time Nigerian champions, Enyimba FC, on a two-year contract.
George, a legend of Nigeria's men's senior national team, made 62 appearances for the Super Eagles in an illustrious playing career that lasted up to fifteen years.
He was a key member of the glorious era that won the Africa Cup of Nations in 1994 and represented the country at two FIFA World Cups, the 1994 and 1998 editions.
Tidesports source reports that at club level, George won the UEFA Champions League with Ajax in 1995 and went on to play for Real Betis, RCD Mallorca, and Ipswich Town.
His first official game as Enyimba head coach will be the CAF Confederation Cup's second preliminary round fixture against Senegalese side, Diambers FC in mid-October.
Speaking to Enyimba's media immediately after putting pen to paper, George said, "I have to say it's a great opportunity for the club to have this confidence in me.
"I want to thank the chairman, the members of the board, and the supporters for even thinking about me. On my own part, I will be here to just work and do the job. It's never going to be easy but I'm here to work and make the team win."
Chairman of Enyimba, Felix Anyansi Agwu, stated that the arrival of George represents a new chapter for the club.
"I believe that the time has come for us as a club to open up a new chapter, a chapter that will showcase the many hardwork that has been going on behind the scene and usher in lots of success.
"For us to have engaged a coach like Finidi George who is coming from Europe is a clear statement of intent about our aspirations," Agwu said.
Arteta Sees Light For Arsenal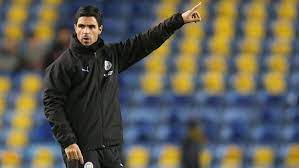 Arsenal manager Mikel Arteta says he sees a bright future for the club despite suffering their worst start to a season for 67 years.
The Gunners climbed off the bottom of the Premier League table with their first goal and first points of the campaign by beating Norwich 1-0 last weekend.
However, Arteta's position is still under scrutiny ahead of tomorrow's trip to Burnley after spending £150 million ($207 million) on new players during the transfer window.
The Spaniard claimed after beating Norwich he had enjoyed the "best 10 days of his career in this industry" during an international break when his side was rock bottom of the table.
And Arteta was equally optimistic on where Arsenal are headed with all six of his summer signings aged 23 or under.
"I'm telling you I'm very positive most of the time. I've seen the light and I can see bright lights," he said at his pre-match press conference on Thursday.
"There can be bumps in the road within that light, but I can see a lot of light."
Arteta is also hopeful the criticism his squad suffered after defeats to Brentford, Chelsea and Manchester City will only serve to make them stronger.
"It's tough because it hurts, because you want to see something different. But what you want is not always what happens," he added.
"Things happen for a reason and maybe what is happening had to happen and it's going to be really good for the club and really good for myself and everybody experiencing that situation. We have to believe that."