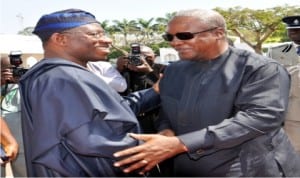 Rivers State Governor, Rt. Hon. Chibuike Rotimi Amaechi says his administration will complete the Aluu road linking the University of Port Harcourt to make the road motorable.
He also said he would get the Zenith Bank to start the construction of a model secondary school in UNIPORT once the university authority provides land for the school building. Zenith bank had reached an agreement with the Rivers State Government to build the school.
Governor Amaechi stated this when the Acting Pro-Chancellor and Chairman of the Governing Council of the University of Port Harcourt, Rev (Dr) Walter P. Eneji led a delegation of Principal Officers including the University's Vice-Chancellor, Prof. Joseph Ajienka on a courtesy visit to him in Government House, Port Harcourt, Wednesday.
He said, "one thing I can tell you is that the things I had promised you before like the Aluu road, I will do. One of the reasons why the road is in that state is because the rains came and we stopped. Usually, once it is rainy season in Rivers State its almost impossible to construct. It has now stopped; we will mobilize the contractor to go back to site to complete the road before the next rainy season."
On the school's appeal for take-off of the model secondary school project, the governor said that once the university gives land- 21 hectares of land to government, work would start on the school.
Giving details about the model secondary schools, Amaechi said the schools were built on 21 hectares of land and have all the needed facilities for both staff and students.
"There are 12 hostels for 1,050 students and two children per room. You have about six classrooms, two dining halls, between 12 and 15 staff quarters, you have an auditorium, you have science labs and there you have workshops, you have a library and an office administrative building then you have sports, football, lawn tennis, basketball then security".
Earlier, the Acting Pro-Chancellor and Chairman of Governing Council of UNIPORT, Rev (Dr) Walter P. Eneji thanked the governor for granting them audience.
He appealed for the governor's intervention in some of the challenges being faced by the university and also congratulated him for his achievements and the recent conferment on him, with a honorary degree by the University of Sokoto.
Meanwhile, the governor said the new Port Harcourt Mall sited at the premises of the former SUPABOD Stores would be unveiled in the next two years.