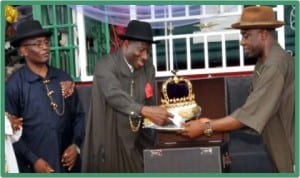 The Peoples Democratic Party, PDP, in Rivers state has dismissed calls made by the Action Congress of Nigeria, ACN, for a public debate with Governor Chibuike Amaechi over the purchase of an aircraft by the Rivers State Government describing it as laughable and done in bad taste. The ruling party equally questioned what ambiguity there was in the explanations by the state Honourable Commissioner of Information and Communications on the issue.
The PDP in a statement said the explanations made by the state government were not ambiguous as claimed by the ACN, expressing shock that a party that contested for the governorship of the state few months back could degenerate into an apparently, incurable state of amnesia to the extent it is unable to remember facts of a statement made only few days ago.
The statement signed by the State Publicity Secretary, George Ukwuoma, said the challenge is nothing but a last ditched attempt by a desperate political party to arm-twist Governor Amaechi and the ruling party to a quick acceptance of his pleas for re-admission. He said the governor and the PDP in Rivers State will not succumb to such antics adding that such tricks would collapse in the face of its players."
Mr Ukwuoma explained that Rivers State Government sold-off two of its aircrafts, one, a DASH 8 early in 2011 and the second, an 8-year-old Embraer jet was put up for sale in 2012.
"What is ambiguous about this?" the PDP asked."
The PDP said ACN's accusation on Governor Amaechi did not follow due process smacks turning the truth face-down considering the governor's knack for due process.
"It would be too soon for ACN to forget that until Governor Amaechi came into office, there was no statutory apparatus for due process. Some time ago, the ACN in its Janus-face attitude, raised false alarm that the Administration was delaying implementation of contracts over its due process policy. The same party now cries wolf where there was none, a pack of lies in character and content.
The PDP berated the ACN for its consistent disrespect for the Office of the Governor, saying that the people of the state are satisfied with the purchase of the aircraft and explanations by their government.
He advised that, the opposition should purge itself of hypocrites in its midst masquerading as leaders, re-build its dilapidated membership and pursue true democratic path if it must be taken seriously.