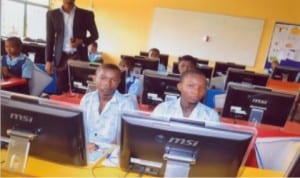 Spokesman of the Nigeria Comptuer Society, Mr Tajudeen Ejalonibu,  on Tuesday said that access to quality internet service would promote local technology entrepreneurship and innovation among youths in rural communities.
Ejalonibu told our correspondent  in Lagos that with quality Internet access, young people living in rural communities would be able to come up with solutions to meet their local and global needs.
"High speed connectivity, low cost of living and serenity in the rural areas, may even attract well-established high-tech companies to set up shop in these communities, thereby creating job opportunities and pockets of innovation across the country," he said.
Ejalonibu said that giving rural dwellers Internet connectivity would enable them gain access to vital information needed for their day-to-day work.
"For example, they can gain quick access to important government information and again, farmers can look for information on the best variety of crops to plant, the most appropriate pesticide to combat plant diseases or the latest market figures for their commodities," he said.
Ejalonibu said the need for internet access in the rural communities could not be overemphasised because it was capable of reducing rural-urban migration and ending congesting in major cities.
"Internet access in rural communities will attract investment, which will in turn attract indigenes back home where working conditions will be more convenient," he said.
Ejalonibu said Internet access remained critical in rural areas because of lack of alternatives, such as telephone lines, libraries, newspapers, good roads and efficient public transportation.
"It is also important to train people about the risks of the Internet, such as security and privacy, because many rural dwellers are unaware of such risks at the moment," he said.