Climate Change, Poverty, Distractions, and Denial
Since the United Nations Convention on Climate Change (UNCCC) came into force in 1995, the Conference of the Parties (COP) to the UNCCC has met annually to assess progress in dealing with global climate change. From November 26 until December 7 in Doha, Qatar, the Conference of the Parties will meet again, for the 18th time, thus the title "COP18."  Among other things, COP18 will bring together various world leaders in order to adopt decisions and resolutions, publish reports, and attempt to establish legally binding legislation to reduce greenhouse gas emissions.
While many Americans are immersed in election season politics, football season, and climate change denial, Nigerians face not only climate change effects but increasing insecurity challenge. The time is upon us to face the increasingly conclusive scientific evidence, reflect upon our theological and moral affirmations, and for both ecological and economic reasons, ensure that the United States and Nigeria contribute toward a fair and binding agreement at COP18 in Qatar.
In addition to the overwhelming consensus among credible scientists about the validity and seriousness of climate change, the scientific body of knowledge also reports that climate change has a direct influence on poverty, especially within the developing world. Extreme weather has an impact on productivity and can raise the price of staple foods, such as grains, that are important to many households throughout the world. And studies have shown that global warming increases the frequency and intensity of heat waves and drought in many areas. While these realities have a deep and dramatic impact upon developing nations, they have also shown an increase in consequences within Europe and North America.
According to the Intergovernmental Panel on Climate Change (IPCC) and the United Nations Development Programme (UNDP), climate change is a deep and wide-ranging global concern, for it increases poverty and halts sustainable development in the following ways: "There has been considerable research surrounding – climate change and agriculture. Among other things, climate change affects rainfall, temperature, and water availability in vulnerable areas, thus it has a strong influence upon productivity, agricultural practices, and distribution of rural land. It also worsens the prevalence of hunger through effects on production and purchasing power, thus some predict the number of people to be impacted by malnutrition to be nearly 600 million by 2080."
"Of the 3 billion population increase projected worldwide by 2050, the majority will be born in countries that already experience water shortages. As the temperature of the earth warms, changes in rainfall, evaporation, snow, and runoff flows will be affected.  As a result of accelerated ice sheet disintegration, rising sea levels could result in 330 million people being permanently or temporarily displaced through flooding. Warming seas can also fuel the increase of more intense tropical storms. An increase in temperatures leads to illnesses and deaths. In specifics, climate change alters the geographic range of mosquito-born diseases, such as malaria, thus exposing new populations to the disease."
The report of the World Health Organisation's Commission on Social Determinants of Health points out that disadvantaged communities are likely to shoulder a disproportionate share of the burden of climate change because of their increased exposure and vulnerability to health threats. More specifically, more than 90 percent of malaria and diarrhea deaths are experienced by children aged 5 years or younger, mostly in developing countries. It is clear that the world cannot afford to engage the false debate of environmental sustainability versus economic growth; the two go hand in hand within an interconnected system.
In many ways, the global economic downturn shows how a failure to promote environmental sustainability drives economies into further crisis, not only in the developing world, but also within those countries that have enjoyed generations of prosperity. And so, as increases in global temperatures lead to dramatic rises of inequality and poverty, the nations most responsible for climate change – such as the US – are called to take responsibility in order to offer sustainable livelihoods for people and places throughout the world. The issue of climate change – and the resulting consequences of economic crisis, inequality, and poverty – has reached a breaking point, and a lack of significant and far-reaching action will lead the world further down a dangerous path.
As Martin Luther King, Jr. once stated: "History will have to record that the greatest tragedy of this period of social transformation was not the strident clamour of the bad people, but the appalling silence of the good people."  Because the scientific evidence surrounding climate change is clear, and the implications for humankind are many, the response to these global challenges needs to be persistent, organised, and significant. As Jesus calls upon humankind to "love thy neighbour," and as the Old Testament prophets remind us to strive for justice, we recognise that within a deeply connected world "neighbour" implies all that God has created, and injustice anywhere is injustice everywhere.
So an implication of Jesus' words and actions is to share and receive the Good News not only on Sunday mornings, but through daily acts of long-term advocacy that promotes sustainable livelihoods. With COP18 in Qatar on the horizon, the time has come when humanity can no longer afford to fight over our resources, and the moment is upon us to prod our elected officials toward legally binding legislation that values the gifts of creation that God has entrusted us to manage. The time is now. God has allowed humankind to serve as stewards of creation, and the time has come to embrace this sacred responsibility more fully, value the resources that God has so graciously offered, and ensure that all of God's creation – in this generation and the next – receives the fullness of life that God has promised.
(Adapted from the writings of: Brian E. Konkol is an ordained pastor of the Evangelical Lutheran Church in America (ELCA), serves as Co-Pastor of Lake Edge Lutheran Church (Madison, Wis.). Have question you may call: 08033399821 or write akpogene@yahoo.com.  Stay and blessed.
Lewis Akpogena
Stakeholders Want Implementation Of Waste Management Policy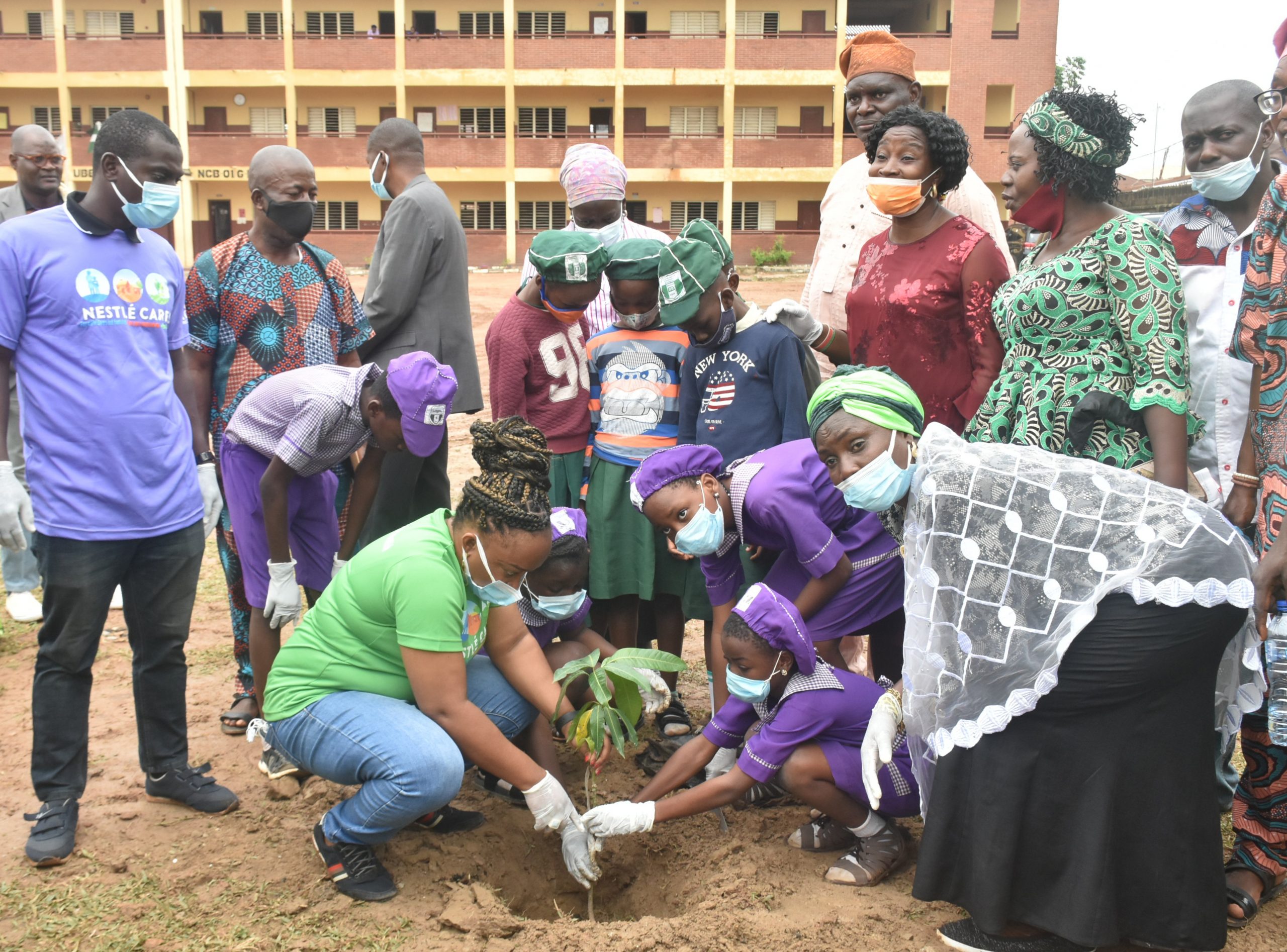 As Rivers State and Nigeria joined the rest of the world to celebrate the 2021 World Environment Day last Saturday, some civil society organisations have called for the implementation of the nation's waste management policy.
They said this at a tree planting programme organised by African Clean-up Initiative, Rivers State Network, in collaboration with School of Environmental Health Technology, Rivers State College of Health Science and Management Technology and Junior Chamber International (JCI) in Port Harcourt Metro at the college premises in Port Harcourt.
Declaring the event open, the Dean, School of Environmental Health, Rivers State College of Health Science and Management Technology, Port Harcourt, Mr Cyprian Mbato said the event was to create awareness and insight of what the World Environment Day is all about.
"The World Environment Day is a day in which we spread awareness about the environment and the need to conserve it.
"Moreover, it is essential to advocate for a greener environment and conservation of nature"
According to him, the continuous sensitisation will enable future generations to lead a healthier life.
"It is essential for all to realise that every little deed matters when it comes to saving the environment.
"No matter how small, a step you are taking to lead a greener lifestyle, it does make a difference", he said.
Also speaking, the Rivers State Chairman of Waste Management Society of Nigeria (WAMASON), Mr Benson Abu called for the restoration of the national ecosystem.
Abu also called for support for the national policy on solid waste management and the plastic waste management policy initiative and support for restoration or conservation initiative including cleaning up of a lake, beach, park and other national areas.
He also called for greening of homes, business, school or public space as professional members with indigenous trees or plants as well as halting products and services that are not environmentally friendly.
Also speaking, President Junior Chamber international, Port Harcourt Metro, Mr Martin Luther William said the celebration is important as it will help to create awareness on the importance of tree planting to protect the environment.
He stressed the need for members of the public to cultivate habits that are environmentally friendly.
Later in an interview, Rivers State team leader of African Clean-up Initiative, Rivers State Network, Miss Grace Belema Leonard said the organisation is working with a vision of planting one million trees in Africa to promote environmental sustainability across the continent.
She said over one 100 trees will be planted in Rivers State before 2025.
By: John Bibor
Disquiet In Rivers Communities Over 2021 Flood Outlook
There is disquiet in some Rivers State Communities over the 2021 flood outlook.
The Nigerian Hydrological Services Agency (NHISA) had predicted that some states in the country including Rivers State will experience coastal flooding this year.
Some of the communities particularly those along the Orashi River said the situation will spell doom for them as they are yet to overcome the damages caused by last year's flooding.
Speaking in an interview with The Tide in Port Harcourt, the Eze Igbu Ubie of Ubie Kingdom Ahoada West Local Government area, Eze Augustine Maxwell Okpokiri said another flooding this year will spell doom for his people.
Okpokiri said his people are passing through hard times following the level of devastation caused by last year's flood.
According to him, NHISA's prediction has made his people to be agitated over the hardship that lies ahead if the prediction comes to pass.
He said a part from losing farmlands, buildings and other properties to flood, lives were also lost in his Kingdom.
Okpokiri said victims of the disaster have not received any help from any quarters.
He also blamed the Federal Government and its agencies for refusing to come to the aid of his people.
The Ubie monarch also urged the Federal Government to evolve measures that will put to rest the incessant flooding in the area.
Who spoke under condition of anonymity, said the experiences of last year must never repeat itself.
He urged the government to dredge the Orashi River to allow the free flow of waters.
By: John Bibor
Environmental Pollution: 707 Plant Species Endangered In Nigeria – Expert
Out of the 4,600 plant species, about 707 have been said to be endangered with hundreds of species since gone into extinction in Nigeria.
This is due largely to the loss of habitat occasioned by environmental degradation and climate change.
Professor of Plant Physiology at the Ignatius Ajuru University of Education, Prof Stephen Umunna Offor revealed this at the 25th Inaugural Lecture of the university held at the main campus, Rumuolumeni, Port Harcourt, recently.
Delivery the lecture with the theme, "The Grandeur of Plants; Our Life and our Environment", Offor revealed that the international Union for the Conservation of Nature (IUCN), has categorized our plants and animals in Nigeria as being endangered.
Offor who explained that an endangered species or plant is an organism or a population of organizing that faces a high risk of becoming extinct due to loss of its habitat, high death rate and changes in the environment and prey said that the death rate of the plants due to exploitation and deforestation outweigh their birth rate over a period of time now.
Offor stated that every species and factors serve an important purpose in the community maintaining that plants, which serve as the primary producers play the major role in any ecological system by providing the primary source of food and oxygen as well as purifying the environment for the entire system.
The plant professor regretted however that the activities of ATPhase which functions to transport variety of different compounds like ions and phospholipids for energy in the environment have been adversely affected by environmental stress arising from toxicity of petroleum hydrocarbon.
He said "in Nigeria, the destruction rate of the environment has so far exceeded the breeding and recovering rate that the situation can only be come proper environmental education and training of the masses."
While noting that the human life was dependent on plant, offor stressed the need for every stakeholder including the government and industrial organizations to owe it as a duty to protect any plant in the Nigeria environment and ensure their survival under stress and abnormal condition.
By: Lady Godknows Ogbulu