Ministry Appoints Registrar For Business Places
Effort of the Rivers State
Government
to provide sustainable business places registration in the state is gaining
more mileage.
The Commissioner for Commerce and Industry,
Mr. Chuma Chinye gave this hint during a meeting with the representatives of
the organized private sector (OPS) in his office recently.
Chinye urged business operators in the
state to respect and obey the laws regulating business places registration, and
called on the OPS to encourage their members to cooperate with government in
order to achieve set goals.
The Commissioner advised the OPS to see
themselves as the champions and ambassadors of commerce and stressed
government's commitment to encourage international best practices in business
in the state.
He noted that the transformation in the
Ministry could not succeed, without the full participation of OPS. Urging them
to bring their input, saying that government is ready to share their vision.
Mr. chinye pointed out that a registrar of
business places has been appointed for the smooth running and full
implementation of know-your customer (KYC) policy, adding that the introduction
of e-business centre was programmed to help the entire business community.
Earlier, the chairman of Nigerian Employee
Consultative Assembly (NECA) and leader of the delegation, Chief Chris Biriowu,
re-emphasised that the organised private sector is committed to working closely
with the state government.
Chief Biriowu, appreciated the Hon.
Commissioner for the laudable initiative and promised their readiness to
partner with the ministry in order to achieve common goals.
Old Students' President Urges Development Of Alma Mater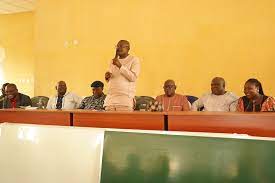 The President of Government Secondary School Ogu(GSS Ogu) Old Students Association in Ogu/Bolo Local Government Area, Rivers State, Hon. Osaki Asobari has advised old students associations in Nigeria, particularly GSS Ogu, to assist and support their alma mater for improved performance.
He said that the benefits of assisting Alma maters are enormous, saying that there is always joy to see students of  your former school performing well in academics, sports and all other useful activities. 
Asobari, gave the advice last Sunday at the association's second quarterly meeting in Port Harcourt, Rivers State.
He stated that as old students, they were  duty-bound to ensure quality standard of learning by contributing  financially and materially  in order to achieve set objectives for the school. 
The president revealed that plans were on top gear to celebrate the school's golden jubilee, end of year thanksgiving service and award ceremony for deserving students. 
"Today, we are all proud to be associated with this noble frontline centre of excellence which has produced prominent leaders and citizens of various fields of endeavour in this country.
Old students of GSS Ogu have done wonderfully well and therefore we should justify it by our support for greater results.
As old colleagues, we shall continue to come together quarterly to appraise our concerns  over our revered institution" Hon. Asobari said. 
The President lauded the state Governor, Barrister Nyesom Wike, for restructuring the school complex, installed with modern facilities for sound academic works.
Asobari further, commended old students like Senator representing South-East senatorial district, Seen.  George Sekibo, Director of Finance Niger Basin Development Authority, Alabo Francis Ebenezer, the current Chairman of Of/Bolo Local Government Chairman,  Hon.Vincent Nemieboka , Member representing Ogu/Bolo  in state House of Assembly, RtHon. Evans Bipi and many others for their commitment and support to the school all times and advised members to always attend meetings.  
He finally urged  old  students to be part of all activities to actualize set goals.
By: Tonye Orabere
Rivers Assembly Moves To Amend Anti- Cultism Law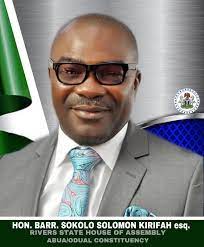 Rivers State House of Assembly Committee Chairman on Judiciary, Hon. Solomon Sokolo, has hinted of plans by the House to amend some aspects of the state anti-cultism law.
He dropped the hint when he led members of the committee on a visit to the new State Chief Judge, Justice Simeon Amadi recently in Port Harcourt.
Sokolo explained that the plans to amend the law was to allow Magistrates courts handle such cases.
Recall that the law had been amended previously, such that most of the cases are handled by High Courts and many suspects are still awaiting trial.
On his part, the Rivers State Chief Judge, Justice Simeon Amadi, had sought for the review  of the Rivers State Anti-Cultism  law, to allow Magistrates handle cult related  cases, so as to reduce the number of inmates on  awaiting trail at the correctional centers on such offences
Justice Amadi reasoned that amendement will also reduce backlog of cases and fasten justice delivery.
The State Chief Judge also pleaded for the activation of the multi court house law to give special courts powers to handle lesser cases such as family matters  so as  to reduce the number of cases before judges 
On his part, Chairman House Committee on Judiciary, Solomon Sokolo, while speaking to journalists assured of the willingness of the house to amend the anti-cultism law, to allow magistrates handle cult related cases.
By: Kevin Nengia
Council Chairman Harps On Peace, Development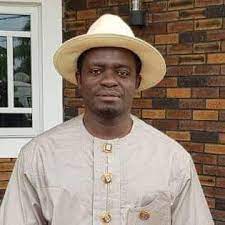 Andoni Local Government Area Chairman, Barr Erastus Awortu, has called on traditional rulers, chiefs and stakeholders, who believe in the peace and development of the local government to rise and work with the council to rescue the area from miscreants, saying that the era of darkness is over in the area.
Awortu made the call when he led some Andoni refugees in Ogoni land in Isiokwan district of the area, back to their various communities last Wednesday.
The chairman said it was obvious that some communities' members including some chiefs and stakeholders had not only lost capacities to solve the insecurity problem plaguing the area, but suddenly became informants to some of the cultist brothers and friends.
"It is unfortunate that all of us are parts of the insecurity problem plaguing our communities, this is because some of us including some chiefs have already taken side with some of the miscreants, may be, to attract their support to our chieftaincy struggle, some of us have sympathy for them as brothers and friends.
"Some of us even served as informants to the boys, but let me tell you, cultists don't have brothers, they do not have any father, neither mother nor sister, they also have no secrets, whatever dealing you are having with them is already known by the opponents, and so when they are coming for their opponents, they also attack you as informant and sypathisers to their opponents.
"I am pleading with all of us, including the chiefs to shun the cult boys in our families and communities let us come together to fight against the activities of the miscreants. Our houses are being destroyed on daily basis, no development is coming to our area, innocent lives are going down every day, our economic activities are stagnant, our children are no more going to school, we are gradually going backward, what benefits do we have?
"Enough is enough, I have already given my consent to security men, not to spare any of the criminals and their informants, if they refused to drop their guns, the era of darkness in Andoni is over.
"We are not against any person or group, but we will not allow any person or group to enter any of our communities with weapons, we must chase them away or bring them to face the wrath of law in the state.
We are also ready to receive any genuine repentant ones and even make them live a normal live," the chairman warned.
Erastus used the opportunity to flag-off 20,000-gallon capacity tank water project at Ibotirem Community in Isiokwam District of Andoni LGA.
According to him, his administration has commenced the water project as proactive step to check cholera outbreak ahead of the dry session, usually associated with the disease in Nigeria. "Andoni is an area where cholera is almost endemic, basically because we lack potable water; so, the provision of potable water is one of the cardinal concerns of my administration.
"We will ensure that we banished cholera out of Andoni."
Awortu explained that while the council administration endeavoured to ensure the safe return of displaced person, it would also ensure that the area no longer remained vulnerable to cholera.
He said "just as we are trying to ensure the safe return of displaced persons, we also find it necessary to provide potable water in the communities to check cholera, which leads to deaths during dry season.
By: Enoch Epelle