Can CBN Achieve Its Cashless Policy?
It is no longer news that the Central Bank of Nigeria (CBN) is seriously gearing to commence the implementation of a nationwide cashless policy by June1, 2012.
Of major concern, however, are media reports that the ongoing pilot tests of the policy in Abuja and Lagos have continued to reveal fresh inadequacies almost on an every-other-day basis without a matching speed at remediation.
Much as Nigerians may appear to admire the ease with which modern technology is being used to facilitate non-cash payment for goods and services in the developed world, there is enormous doubt as to whether situations on the ground down here can accommodate a wholesale importation of such complex but seemingly simple payment culture.
If there are countries that need a cashless policy, it is surely the likes of Nigeria, Zimbabwe and the Francophone nations which would usually require a huge stack of their bank notes to exchange for a unit of American, British or Eurozone currency.
Whereas an American belle can conveniently walk through New York's Wall Street with $3,000 (in $100 bills) tucked inside her handbag, her Nigerian counterpart can hardly carry an equivalent sum (N465,000 in N1,000 notes) on Broad Street in central Lagos without seeing the Area Boy in any man that smiles at her.
The CBN intends that its cashless policy would serve to encourage the use of such alternative payment channels as automated teller machines (ATMs), point of sales (PoS) terminals, mobile banking, Internet banking and electronic funds transfer alongside the long existing use of cheques and bank drafts.
Even before the kick-off of its trial runs, the apex bank had already placed ceilings on personal and institutional daily cash withdrawals at the banks.
Its initial approval of N150,000 and N1 million daily cash withdrawal limits for individuals and corporate bodies later got an upward review to N500,000 and N5 million, respectively.
This simply means that any over-the-counter (OTC) cash withdrawals exceeding these sums would attract a 10 per cent default charge and may also run the risk of raising undue security alert.
Among the benefits being touted as derivable from the CBN policy include: tracking of crimes such as armed robbery, kidnapping and money laundering; reduced risk of carrying bulk cash; saving man-hours spent queuing at the bank; easier accounts auditing; faster service at reduced cost; 24-hour service; immediate notification of transaction on user's account; electronic buying and selling in line with modern global practice; ready access to data for economic planning and research; and elimination of problems associated with issuing change after payment.
For Nigeria, the planned introduction of a cashless policy may be ill-timed. This is partly because the country is yet to place a firm grip on its pitiable electricity supply situation. And considering that nearly all the payment channels are built on gadgets that depend on stable power sources, it becomes disturbing how the CBN hopes to achieve its new policy without first ensuring that the nation, particularly the urban centres, enjoys a modest electricity supply.
Furthermore, Nigeria suffers from high rates of illiteracy and rural underdevelopment. Even to this day, there are communities in this country where barter is still the chief means of exchange for goods and services. The absence of banks and inadequate money supply means that such communities have continued to suffer exclusion from the nation's financial system.
This exclusion of the rural population was made even worse by the recent upsurge in armed robbery attacks, kidnapping, resource- control militancy and its associated brigandage which led to the closure of many rural bank branches, especially in southern parts of the country.
Apart from these, there is also this growing doubt in the ability of the CBN to successfully manage the cashless process.
It would be recalled that the financial systems regulator had on a number of occasions failed to push through some of its own regulatory measures. For example, in spite of its massive campaigns aimed at discouraging the abuse of naira notes (particularly at the eateries, parties and other ceremonial grounds), Nigerians have carried on as if the campaigners were a bunch of killjoys.
Even more poignant was the relentless rejection by Nigerians of the CBN's recent attempts to reintroduce the use of coins alongside the nation's currency notes. Instead, reports were rife that local jewellers preferred to melt such coins and have them molded into ornaments and other objects of greater face value.
Added to this is the discovery that deposit money banks (DMBs) have continued to flout the apex bank's directive that they stop the practice of wholesale banking and concentrate on their traditional commercial banking services.
The CBN's cashless policy is reportedly being pursued as part of measures aimed at accomplishing a stable financial system pursuant to its FSS 20:2020 vision which in itself dovetails into the wider national Vision 20:2020 project. If this is true, then the remaining eight years would still have been ample for a step-by-step approach to the introduction of the alternative payment channels than the simultaneous roll-out method being adopted.
Already, the ATMs which, at the time of their deployment a few years ago, held some promises of a success story are now confronted by long queues and a plethora of complaints. Out of the three machines that may be found at any urban bank branch, only one can be said to be functional at any given time. As for the other two, they would almost certainly be 'temporarily out of service!'
Having apparently failed to maximize the benefits accruable from using the already existing ATMs, there is nothing to suggest that the nation stands to pull off much from the planned introduction of new multifunctional machines and the licensing of Independent ATM Deployers (IADs) into a system that would soon get saturated with diverse electronic payment channels and their vendors.
Another make-or-break factor in the implementation process is the readiness of the telecommunication network providers to improve the quality of their services. Already, Nigerians are being heavily fleeced for making mostly voice calls and using short message services (SMS). One can, therefore, imagine what awaits the nation when m-banking and the other network-dependent services are forced on the citizens.
A number of these telecoms firms are already partnering with the banks in attempts to outsmart their competitions at e-payment solutions development. What's more, their banker partners are now in the market with very tantalizing newspaper advertisements some of which even tend to suggest that such solutions possess fail-safe characteristics. But try as they possibly can, it will only be a matter of time before mischievous bank staff, retail agents, poor network and Internet hackers rip the entire system to shreds.
Going further, the Economic and Financial Crimes Commission (EFCC) and indeed all the law enforcement apparatus should brace up against the impending upsurge in cases of identity theft, issuance of dud cheques and other related misconducts.
Cashless policy may be the vogue, but certainly not for a clime with so much illiteracy, poor infrastructure and a terrible maintenance culture. Talking of Nigeria, that is.
Ibelema Jumbo
FG To Eradicate Multiple Taxation In Mining Sector – Adegbite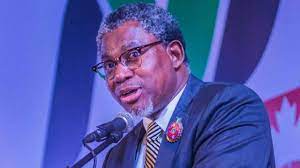 The Minister of Mines and Steel Development, Mr Olamilekan Adegbite, says the Federal Government is setting in place various measures to eradicate multiple taxation for miners.
At the flagship Forum last Tuesday in Abuja, Adegbite said the ministry was engaging with the three tiers of government to resolve this issue.
He said that this informed the recent webinars and advocacy engagements by the ministry with all stakeholders in the country involved in the mining industry.
He said that though the constitution vested control of mineral resources in Nigeria in the Federal Government, the fund goes into the Federation Account, of which everybody participates.
He added that all the 774 local governments got money from that account but if they cut corners by disturbing the miners with unnecessary local taxes they get discouraged.
"So, it is double jeopardy when you go and do all these illegal taxes, or you go and disturb the miners, when you will benefit from what is derived in your place, you get a 13 per cent derivation.
"You also get your share of the federal accounts as of course laid down statutorily. So, it is a continuous process, we educate everybody and I think we are getting good results."
The minister said there was a Mineral Resource Committee (MIRENCO) in every state and the chairman was nominated by the governor of that state, so that he would be in the know about everything going on about mining in that state.
He said that the chairman of that committee was to oversee all the activities between the miners, the community, the state government and the Federal Government.
"So, on that committee, the Federal Government has representatives, the local government has representatives, the governor chooses the chairman and then Ministry of Environment and other stakeholders bring in representatives as well.
"So, through this committee, everybody can participate, and make sure that we work in harmony, bake a bigger pie so everybody can share.
"So, it is continuous advocacy, we let them know what we are doing and of course they can also participate, where they do not understand or where the governor has any problem he can always ask the chairman."
On the issue of rock blasting, he said cities had expanded to meet quarries.
According to him, quarrying is a necessity, because stones are needed to make concrete when building roads and houses.
Nigeria Lost N53.26bn To Gas Flaring In Two Months – NNPC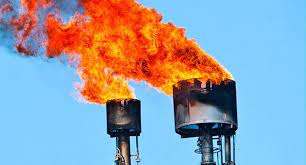 Nigeria lost an estimated N53.26billion in the first two months of this year as international oil companies and local players flared a total of 33.04 billion standard cubic feet of natural gas.
The oil companies wasted 17.53 billion scf of gas in February, compared to 15.51 billion scf in January, according to data obtained from the Nigerian National Petroleum Corporation.
With the price of natural gas put at $3.93 per 1,000scf as of Wednesday, the 33.04 billion scf flared translates to an estimated loss of $129.85million or N53.26billion (using the official exchange rate of N410.13/dollar).
The NNPC, in its latest monthly report, said out of the 206.05 billion scf produced in February, a total of 133.06 billion scf was commercialised, consisting of 40.15 billion scf and 92.91 billion scf for the domestic and export market respectively.
It said this implied that 64.48 per cent of the average daily gas produced was commercialised while the balance of 35.52 per cent was re-injected, used as upstream fuel gas or flared.
Gas flare rate was 7.67 per cent in February (i.e. 565.52 million standard cubic feet per day), compared to 7.73 per cent in January (i.e. 554.01 million scfd).
In January, a total of 223.55 billion scf of natural gas was produced, translating to an average daily production of 7,220.22 million scfd.
Out of the total gas output in January, a total of 149.24 billion scf was commercialised, consisting of 44.29 billion scf and 104.95 billion scf for the domestic and export markets respectively.
Firms producing less than 10,000 barrels of oil per day will pay a gas flare penalty of $0.5 per 1,000 scf.
The penalties paid by oil and gas companies for flaring gas in the country will be invested to build midstream gas infrastructure in host communities, according to a new provision introduced into the Petroleum Industry Bill by the National Assembly.
"Moneys received from gas flaring penalties by the commission (Nigerian Upstream Regulatory Commission) pursuant to this subsection, shall be transferred to the Midstream Gas Infrastructure Fund for investment in midstream gas infrastructure within the host communities of the settlor on which the penalties are levied," the Senate and House of Representatives said in subsection (4) of section 104 of the bill.
Nigeria To Boost Trade Volume Through ECOWAS TPOs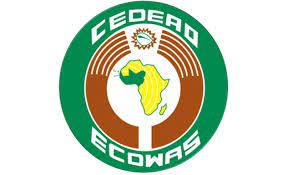 Nigeria is poised to boost its non-oil exports following the official launch of the Economic Community of West African States (ECOWAS) Trade Promotion Organisations (PTOs).
With Executive Director /CEO of the Nigerian Export Promotion Council (NEPC) Segun Awolowo, as the inaugural president of the ECOWAS TPOs, the NEPC is repositioning the nation's export through the implementation of its N50 billion Export Expansion Facility Programme (EEFP), a part of the Economic Sustainability Plan whose development and implementation is being led by the Vice President.
EEFP is expected to significantly raise the volume of non-oil exports in Nigeria, and it's a spin-off of the Zero Oil Plan developed by Awolowo and approved by the President.
Besides providing financial support for the average Nigerian exporter, EEFP is also going to see the establishment of top-notch warehouses close to airports where Nigerian goods meant for export would be packaged to globally competitive standards ahead of their exportation.
The EEFP, in line with the FG'sEconomic Sustainability Plan (ESP), is focused on cushioning the effects of the Covid-19 pandemic on non-oil export businesses,thereby safeguarding jobs and creating new ones.
In March, Minister of Industry,Tradeand Investment (MITI), Niyi Adebayo, officially flagged off the EEFP and launched the first online Grant Management Portal (GMP) for non-oil exports.
While the EEFP is being implemented by the NEPC, the Federal Ministry of Industry, Trade and Investment is the supervisory body over the agency and its operations.
It was learnt although the programme anticipated 500 beneficiaries, since the launch, it has received over 3,500 applications for the grant, out of which over 2,000 were verified after meeting the eligibility criteria.
Federal Government officials said further details and plans on disbursement to final successful beneficiaries are being awaited.