Borno
Governor  Kashim Shettima of Borno has promised to reconstruct public schools destroyed recently by Boko Haram members in Maiduguri metropolis.
The group had taken responsibility for setting ablaze 10 schools in the city last month.
Shettima, who was inspecting one of the schools at Gwange, said the destruction of the schools was a huge set back, but pledged to ensure their quick reconstruction.
"It is hard, it is disturbing that our own sons are busy going about burning schools.
"The burning of schools can not be justified under any guise because the Prophet of Islam during his time urged Muslims to seek  knowledge even in far away China."
Shettima said burning centres of learning was unIslamic and unjustifiable.
"These schools serve many purposes; in the morning pupils take lessons, in the afternoon they serve as adult classses and in the evening women classes are held.
Ekiti
A non-government organisation, Centre for Human Development, has been rallying support for all female candidates ahead of the local government election in Ekiti State.
The executive director of the centre, Prof. Simi Afouda, said this at a meeting with artisans and other segments of the Society at Aramoko-Ekiti last Tuesday.
She urged the electorate to give woman a chance to be elected into political offices, saying that doing so would speed up development especially at the grassroots.
The CHD is being supported by the department for international development, United Nations Development programme to canvass support for more women to take elective positions.
FCT
The Prisoners Rehabilitation and Welfare Action (PRAWA), an NGO, has called for the sensitisation of the public on their fundamental human rights to address insecurity in the country.
Mr Tony Agbor, the Assistant Programmes Coordinator of PRAWA in the FCT Zone, made the call in an interview with newsmen on Tuesday in Abuja.
He said it was unfortunate that the security challenge in the country was hindering efforts at growing the economy.
"The issue of insecurity in Nigeria can be looked up from the position of people who are predisposed to violence.
"Government should look at providing basic access to information that will educate people on their rights and how to better exercise their rights.
"Government should take a look at this angle and provide capacity building in this area, creating awareness around laws that are set is vital."
Gombe
The Magistrates' Court number one, Kasuwar Shanu Gombe, on Tuesday arraigned one Abubakar Inuwa, 37, of Tudun Wada quarters Gombe, for alleged criminal breach of trust and cheating.
The Prosecutor, ASP Aminu Ibrahim, told the court that on January 23, the accused person collected the sum of N1.5 million from one Alhaji Abubakar Ahmed of Bajoga, Funakaye Local Government Area of Gombe.
According to the prosecutor, the accused person was sent with the money to give Alhaji Sadiq Umar, a brother to Ahmed and the accused converted the amount to his own personal use, thereby committing an offence contrary to section 311 and 320 of the Penal Code.
Counsel to the accused, Mr Sunday Akporido, who cited sections 341 and 36 of the Constitution, urged the court to grant the accused person bail.
Kaduna
The Kaduna State Fadama III Office says it has so far disbursed N300 million to 17,254 farming groups in the state.
The Project Coordinator, Mr Ishaku Dauda, told newsmen in Kaduna, that the group included 5,496 women.
.Dauda said that the programme had also constructed 30 kms of feeder roads, enabling farmers to transport their produce to the markets.
According to him, 100 stalls were also constructed in selected rural markets in Birnin Gwari, Zaria and Sanga Local Governments areas state.
Dauda said that the programme had also assisted Fadama User Groups with irrigation pumps, processing machines, sprayers, work bull and ox ridges, to boost their productivity.
Kano
Hotel owners in Kano State say there are experiencing low patronage due to the prevailing insecurity in the state.
Some of the operators, who spoke to newsmen in Kano said that the low level of patronage had affected their profits and the cost of maintaining facilities.
The hotel owners said the prevailing situation had prevented many people from coming into the state to do business and that the development had forced many customers to stay away from hotels.
Mr Mike Ado, a Hotel Manager, said that the situation in the state had adversely affected businesses and other social activities.
"Many customers, who come to the state from far and near including neighbouring Niger and Cameroon, for business, have stopped coming here due to the security challenge.''
Lagos
The Chairman of Nigerian Insurers Association (NIA), Mr Ladipo Ajayi, has promised to ensure that unlicensed intermediaries were stopped from selling insurance products.
He told  newsmen in Lagos that the association was determined to stamp out quacks.
Ajayi said that some unlicensed intermediaries planned to form a cartel to monopolise products of  few insurance companies.
"Now, the NIA is working to stamp out this practice.
"Every insurance company must be able to sell its products anywhere in the county.
"Anyone, who must be involved in the distribution of insurance products, must be licenced by the National Insurance Commission (NAICOM) and be subjected to its control,'' he said.
Ajayi said that the association was taking the measure to ensure that insurance companies got the commensurate premium to be able to pay claims when they arose.
Nasarawa
The Nasarawa State Police Command has arrested a herdsman with 20 rounds of AK 47 ammunition and one cartridge of a single barrel gun.
The arrest followed repeated attacks on Kadarko town and environ in Keana Local Government Area of the state.
Confirming the arrest the Police Public Relations Officer (PPRO) Mr Cornelius Ocholi, said that the suspect was arrested on Monday evening at Kwarra Village on his way to Giza Development Area.
Ocholi told newsmen that the suspect, in his confessional statement, said, the ammunition were given to him by one 'Burorno' now at large, to be taken to their kinsmen who were fighting 'a war' in Giza.
He said that the suspect was being detained at state Criminal Investigation Department (CID) in Lafia, while investigation was on to arrest more suspects following useful information given by the suspect.
Ogun
The National Association of Women Journalists (NAWOJ) has called on the Federal Government to impose stiffer penalties for rapists to serve as a deterrent to others.
This was contained in a communiqué issued at the end of its 2012 National Executive Council (NEC) meeting held in Abeokuta last Saturday.
NAWOJ also advocated for a legislation to cater for domestic violence as well as protect young girls against harmful traditional practices and molestation.
"NAWOJ is also calling on the Federal Government to domesticate the CEDAW bill and the total elimination of all kinds of violence against women,'' the communiqué said.
The association urged the Federal Government to fully implement the 35 per cent affirmative action and commended the Inspector-General of Police for the removal of road blocks across the country.
It, however, advocated for the introduction of community policing, vigilante groups and other security structures to assist the police in ensuring the safety of lives and property.
Oyo
The Acting State Librarian in Oyo, Mrs Adetokunbo Adigun, says the State Library Board is to open its e-resource centre in April.
She told newsmen  in Ibadan that the move was in line with the governor's resolve to ensure that the library met world standards.
Adigun, who commended Gov. Abiola Ajimobi for his desire to transform the state, further said:
"The Ajimobi-led government is different. Innovative intellectuals are positioned in key sectors in restoring the state to it previous glory as a pace setter.
"The library itself is already beaming positively as reflected by the improvement in infrastructure and socio-dynamic services, and I must say, the feedback is overwhelming and encouraging.
"The icing on the cake for us will be the inauguration of our e-resource centre later in April by His Excellency, the first of its kind in the history of this state,'' she said.
Plateau
An optometrist, Dr. Francisa Ekwuribe,  has described glaucoma as a major cause of irreversible blindness in humans.
Ekwuribe, who works at the Tadam Medical Centre, Jos, told newsmen that only a few sufferers were, however, aware that they had the disease.
She explained that eye disease lacked early warning signs or symptoms in most people, a situation that usually makes it difficult for such individuals to be aware of what was happening.
" The Optometrist described glaucoma as an eye disease that damages the optic nerve that is responsible for transmitting electrical impulses to the brain.
Ekwuribe said the damage usually occurs as a result of elevated pressure of the fluid in the eye.
According to her, such pressure is also known as "intraocular pressure''.
FG Vows To Check Modern Day Slavery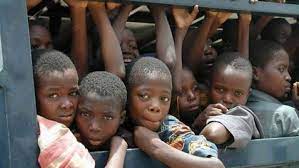 The Federal Government says it plans to check modern day slavery through awareness creation activities on the effects of illegal immigration, child labour, sexual abuse and other vices.
Director, International Cultural Relations, Federal Ministry of Information and Culture, Mrs Memunat Idu-Lah, stated this in an interview with The Tide source in Abuja yesterday.
The United Nations Educational, Scientific and Cultural Organisation (UNESCO), designated August 23 each year as the International Day for the Remembrance of the Slave Trade and its Abolition, and Nigeria is preparing to join other member countries to commemorate the day.
Idu-Lah said the ministry in collaboration with other relevant stakeholders would use the celebration to showcase the experience of victims of trafficking, to educate Nigerians on the tricks of potential traffickers.
She said: "We are looking at the effect of this slave trade on Africans and the effects of what we termed as modern day slavery.
"We have learnt in history about how people are enslaved; now we can see how people are being trafficked.
"There is illegal immigration where people are moving to locations they are not sure of their means of livelihood.  Many of them die in transit, all those vices, child labour, sexual abuse, all sorts of things that are going on.
"We want to see how we can use this celebration to also reach out to people to create awareness, let them know that these things people are doing are another forms of slavery.
"And it means we are not yet out of slavery, as of those of us who went to school and study history, we learnt of Trans-Atlantic slave trade.
"We should be able to look at what is happening now and correct these modern day slavery."
According to her, this is because generations to come will sit down and read what we did during our own time.
"It will be bad if we as educated as we are, cannot check this modern day slavery that is going on.
"One of the ways of checking it is through awareness because a lot of people don't even know when they are being lured to be trafficked, they don't know.
"Through this celebration, we can reach out; we might be having people who have experienced it,
"They will come out to tell people their experiences and alert people on the kind of languages traffickers use, how they lure them.
"People will get to know that when somebody comes and says those kinds of things they will know that this is a possible trafficker," Idu-Lah said.
Imo Police Resist Armed Bandits' Attack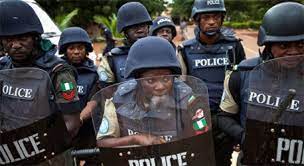 The Operation Restore Peace team of the Imo State Police Command has repelled armed bandits attack at Njaba town in the Njaba Local Government Area of the state.
The Imo State Commissioner of Police, Mr. Abutu Yaro disclosed this in a statement issued by the Command's Public Relations Officer, CSP Michael Abatham at the weekend.
According to him, the convoy of bandits was moving towards Njaba town to launch an attack but were intercepted by Operation Restore Peace team of the Nigeria Police , Imo State Command . 
The Commissioner explained that during a fire fight which ensured immediately, one of their operational vehicles was de-mobilised and two of them neutralised while the remaining ones scampered into the bush.
According to the Commissioner, one Ak 47 rifle was recovered with ten rounds of live ammunition and a locally made double barrel pistol with two expended cartridges.
The Police boss stated that the team detonated an Improvised Explosive Devices (IED) into the parking lots of a nearby Njaba Police Station causing minimal damage. 
 Mr. Yaro said that cordon and pursuant exercise is on going  in the area while advising members of the public residing in the area not to panic as the ongoing Police clearance operation is designed to root out violent criminals in that axis.
He appealed to them to avail Police information of  persons seen treating  bullet wounds or hiding within the community.
NDLEA Intercepts 35 Wraps Of Cocaine, Drugs En Route Italy, Turkey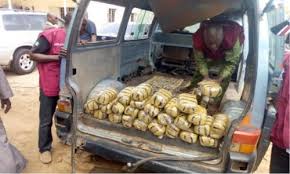 The National Drug Law Enforcement Agency (NDLEA), says it has recovered 35 wraps of cocaine from a lady passenger at the Murtala Mohammed International Airport (MMIA), Ikeja, Lagos.
NDLEA's Director of Media and Advocacy, Mr Femi Babafemi, disclosed this in a statement made available to The Tide source yesterday in Abuja.
Babafemi said that the suspect, Okafor Ebere Edith was arrested on July 31, during the outward clearance of passengers on Air Cotevoire bound to Monrovia Liberia.
He said the suspect, who tucked pellet of cocaine in her underwear to beat security checks at the airport, was however picked up for search.
This, he said, included questioning during which the wraps of the illicit drug were found on her.
"During preliminary interview, the suspect claimed that the desire to make money pushed her into drug trafficking," he said.
Babafemi said the operatives arrested another suspect, Echendu Jerry Maduakolam, an intending male passenger going to Istanbul, at Gate A Departure hall of the MMIA on July 27.
He said the suspect was arrested during outward clearance of Egypt Airline bound to Turkey in possession of 78grams of Cannabis mixed with dried bitter leaf.
"On the same day another intending male passenger, Egbon Osarodion going to Milan, Italy was arrested at the airport's Gate A Departure hall.
"This was also during outward clearance of passengers on Egypt Airlines with different quantities of 225mg Tramadol and Rohypnol concealed in foil papers wrapped in a polyethylene bag," he said.
Babafemi disclosed further that NDLEA operatives, Kontagora Area Command, Niger State, raided a warehouse at Mailefe village in Kontagora Local Government Area of the state.
The spokesman said the operation was carried out on July 29, at a warehouse where suspected drug supplies for bandits operating in parts of the state were stored.